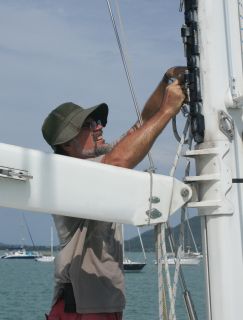 Jon preps the mast & boom for removal
In 2011 we decided to do a major refit on Ocelot. The major boat work we were looking at was: remove/replace teak decks, paint the topsides and cabin top, check/replace rigging, and varnish the interior.
After 10 years on Ocelot (16 years old) and 40,000 nautical miles, it was time, and since Sue and her brother had just sold their parents house, we had the money needed. The SW monsoon was almost over, so we had no reason to head over to eastern Malaysia. The time was right.
Where to do the work:
Thailand and Malaysia were close by and convenient. The Philippines were cheaper but further away. They also had no teak and got the occasional typhoon. The Caribbean was too far away, and other potential places were too expensive. Malaysia had the advantage that equipment could be imported into Langkawi duty free, but Malaysia is affluent enough that few locals want to work on boats. Thailand charges import duty but they have a skilled and relatively inexpensive labor force, and most of our expenses would be labor.
We also needed a boatyard to work in. Satun is just NE of Langkawi, but the yard there is far from everything and we didn't know any people there. There are more than 4 boatyards in Phuket that can take catamarans, and that's where most of the qualified workers are. Coconuts is the cheapest, but it's just a flat sandy spot. Au Po Marina and Boat Lagoon both have concrete boat stands, but they're 2‑3 times as expensive as Coconuts.
Who would do the work:
Perhaps the most important criteria was who would do the work. Unfortunately, there's a language barrier, as neither of us speak any Thai beyond the pleasantries - greetings, thank you, etc. We decided that we needed an overseer, someone to manage the workers and take responsibility for the costs, quality, and timeliness of the work. Talking to other cruisers we had come up with the names of 3 well‑recommended project managers: Nai, Oh, and Boat Lagoon. A 4th name was recommended when we visited the Coconuts yard: Golf, who is the primary boat contractor there [ed: Golf is no longer welcome in Coconuts, or anywhere in Ao Chalong, because of unpaid debts].
We talked extensively to all 4. Boat Lagoon we knew would be the most expensive, and (somewhat to our relief) they completely blew us off. After promising to come look at Ocelot and talk to us, they never showed and never even apologized. Not very professional, in our opinion. We'd contacted both Nai and Oh several weeks earlier but by the time we actually got to Phuket, both were too busy to take on all the jobs we wanted done. They both sent alternate representatives, but we had no information on either of them and neither were completely responsive to our needs. Consequently we got partial quotes from them, with suggestions that we take the jobs they couldn't do to someone else.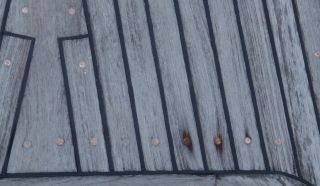 Tired teak decks, with screws up & worn down wood
Golf, on the other hand, was very responsive. He visited Ocelot several times, his prices were good, and he claimed he could do everything we wanted done. He supplied 3 references when we asked and all 3 reported good quality work from him. Some jobs had run late, but Golf had stuck to his quoted prices. We checked out the quality of some of his jobs and they seemed good. But most telling, Golf did not seem to be satisfied with doing anything less than the best job he could. When we asked him to quote on repainting our cabin top in a good 2‑part polyurethane paint, he replied that what was really needed was to replace the gelcoat. When we pointed out that this would mean replacing our molded‑in anti‑skid, he replied that it would be no problem for him, as he could make us new anti‑skid. When we asked for samples, he brought several for us to choose from. The quality was good enough that we decided to rip off our (hot, heavy) teak decks and replace them with (cool, light) gelcoat anti‑skid.
Jobs to do:
The decks: Our first desire was to get rid of our teak decks. They're hot and ours are starting to look pretty ratty. Thailand being the land of teak, most folks wanted to replace our teak decks. This had a certain appeal, as the prices were good ($300‑500/sq‑m). Europeans seem to love their teak, so putting anything else on could affect resale value. But we have no plans to sell Ocelot soon, and we prefer the lighter weight, cooler feet, and easier maintenance of gelcoat with molded in anti‑skid. Golf said he could do it either way, and the price difference was negligible.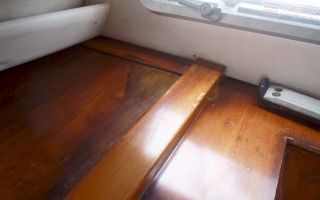 Interior teak doesn't like getting wet over & over
Interior Varnish: Ocelot's interior is all varnished teak (except for the headliner and the sleeping areas). After 10 years, much of it needs to be stripped back to bare wood and then coated with 10 layers of new varnish. This is a huge job, best done with a spray‑gun in a workshop. We've tried varnishing, and while we can do OK on small patches, this is something we'd rather leave to professionals.
(Varnish: "High-fiction coating applied to nautical stories to improve their audience holding capacity over frequent retellings."
from Beard and McKee)
Woodwork: Several small jobs need to be done, and again, these are best left to professionals as Jon can not match the quality of Ocelot's existing woodwork. The cockpit table needs to be remade, 2 areas around our entryway have soft wood that needs to be removed and rebuilt, the lattice work that our chain runs over needs to be replaced, the whole galley sink area needs to be re‑thought, the cutlery drawer needs to be moved to make way for the new stove, the teak "eyebrows" over our forward windows need to be replaced (probably in fiberglass), several wooden strips in each of our 4 bathrooms need to be replaced with something more waterproof, etc.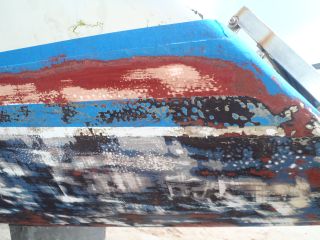 10 yrs & 4 colors plus a few blisters! Old bottom paint
Bottom Work: We want to remove 10 years of accumulated antifouling (bottom) paint. This will undoubtedly reveal some minor blistering in the gelcoat just at the waterline. The blisters need to be ground out, dried, filled with epoxy and faired over. Then the entire bottom should be painted in 2‑3 layers of epoxy to make it more waterproof before getting its new coat of antifouling.
Repaint Topsides: "Topsides" are the hulls of the boat, the part between the waterline and the deck. Ocelot's are getting a bit chalky, and they were never repaired correctly after our too‑close encounter with a sleeping whale off Mozambique. Repainting is a lot of work, as the hull has to be "long‑boarded" (sanded with a long board, to remove any ripples or other blemishes) until it's mirror smooth and then sprayed with an expensive linear polyurethane paint. And, of course, Ocelot has a lot of surface area between the waterline and the deck...
Repaint Cabin Top (basically, all exposed gelcoat): If our vertical topsides are weathering, our cabin top, which looks right at all that UV streaming down at us, is even worse. We talked to several people about repainting our cabin top but Golf said that painting wasn't the answer. He could do it, but it would look bad again pretty soon. What it really needed was new gelcoat. Along the way, he'd repair all the dings and nicks that Ocelot has accumulated. He'd grind off our existing anti‑skid and lay down more that he'd make himself. It impressed us that he'd want to do a quality job, and his price ($10,500) was competitive with other quotes we got to just paint the cabin top.
Optional Jobs: We also had several jobs that didn't really need to be done, but we'd like to do them if the price was right.

Sun damaged vs OK bimini. Need to replace it soon.
Extend the Sugar Scoops: We'd like to extend our sugar‑scoops, so the water exits cleanly instead of swirling around our transoms. In doing this, we'd extend the outer railing but not the inner railing, so the bottom swim‑platform would be open on 2 sides (back and inside). Not only will this addition improve sailing performance and buoyancy aft, it will make it much easier to get on and off dinghies. Perhaps even more important, it will modernize Ocelot, as most new catamarans have this feature. We'd also create new stainless steel swim ladders that fall into recesses in the floor, so the ladders wouldn't be in the way when not needed. (Ocelot's current ladders are real ankle‑twisters). We were very pleasantly surprised at Golf's quote for this work ($2,600). We looked at other boats he's done this to and the workmanship looks excellent.
Replace Cockpit and Aft-deck teak: Our cockpit is usually covered by our bimini, so the teak there is in much better shape. And since that teak is shaded, it's cool and pleasant on the feet. But it is showing signs of wear, and it's screwed down in addition to being glued down. New teak decks are just glued down, so the teak can wear much longer before it needs to be replaced. We were still dithering about whether we wanted to spend this money or not ($3,000) when Golf's team started tearing out our old teak. OK, I guess we replace it .
New Hard Bimini: This is a project that we've wanted to do ever since we bought Ocelot, but it was always going to take too much time. Our Bimini (the 3rd one we've had) is only a few years old and cost $1,000 in South Africa, yet it's already deteriorating. Now Golf has some ideas he thinks will work well for us.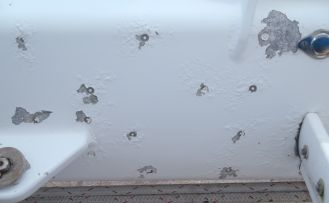 Corrosion around Monel rivets on our aluminum mast
Mast Work: Ocelot's mast hasn't been taken out and stripped down ever, and it's 16 years old. We've replaced the forestay in Tahiti and the cap‑shrouds in Brisbane, but neither operation required removing the mast. The 8 diamond stays are rod‑rigging and need inspection, there's a bit of corrosion around some of the rivets, and we'd like to put the masthead wiring into the wiring conduits inside the mast. Most of the wiring needs to be replaced after 16 years, several of the ropes ("running rigging") need replacement (and need checking to make sure they're not chafing each other), the radar needs replacing after being zorched by lightening, and we'd like to put in our masthead spinnaker halyard. But the mast is actually in pretty good condition and we were debating if we really needed to do this work when Golf said that he'd pay for the crane, if necessary. It seems that Golf wants to put a tent over Ocelot and a mast sticking up would upset that too much. OK.
Work:
Quote (US$)
Replace side & forward decks with Gelcoat (15 m2):
4,100
Re-varnish interior:
9,200
Woodworking (cockpit table, 4 heads, entryway, drawers,
chain lattice, aft cabin bed, galley, over fwd windows, etc):
1,600
Remove old bottom paint & repaint bottom (14m, 1.4m deep):
3,000
Repaint topsides (14m x 1.3m) (not underneath):
7,900
Repaint topsides (including underneath):
+ 2,300
Repaint cabin-top & cockpit area (50m2) in Gelcoat:
10,500

Sub-Total:

$ 38,600
OPTIONAL JOBS
Extend sugar-scoops:
2,600
Replace cockpit & aft deck teak (9 m2):
3,000
Mast – remove, strip, service, & replace (18m):
3,000
Clean engine rooms, some de-rusting:
330

Optional Jobs Sub-Total

$ 8,900

Total Amount:

$ 47,500
Clean Engine Rooms and De-Rust the Engines: This is a messy job in small spaces that we're happy to pay someone else $330 to do.
There are also several smaller jobs that we will be doing ourselves: Install new faucets in all 4 bathrooms, rewire the mast, new foredeck lights, install new galley faucet, replace our depth transducer, install a new radar, install larger hatches over our forward cabins, rework our saloon cushions, new covers over our aft storage compartments, epoxy coat the rudders, etc. Should keep us off the streets and out of trouble...
The table on the right shows Golf's quoted prices to us for the work to be performed by him. The actual costs for the work varied from this a bit and we hope to publish them when the work is complete. However, it should be noted that Golf did not finish ANY of these jobs, and squandered about $30,000 of the money we gave him on himself, probably on drugs and/or gambling. We fired Golf in November 2012 after paying him about $60,000 and it then took over a year to finish Ocelot, even with 6‑10 good workers.
The Thai police claim to draw a distinction between a simple deadbeat who doesn't pay his bills, and someone who takes money but then doesn't perform the service contracted for. The police don't want to play debt collectors, so they consider deadbeats who don't pay their bills to be a civil matter and not within their jurisdiction. We clearly fall into category #2, and in theory the police will go after someone who doesn't perform on their contract, but in practice, when it's between a Thai and a foreigner, the police (and the entire Thai legal system) tends to turn a blind eye. While we have action pending against Golf, we seriously doubt we'll see any of our $30,000 back. And we don't believe he has any of it left anyway.
Instead of doing a completely blog-ish page with the latest postings on top, we've broken these posts into weeks with the individual days in order, so they're easier to read.
Thai Refit: Refit Summary 2012 | 60 Christmas | 59 Fair Sugar-Scoops | 58 Finish Galley Wood | 57 Deck Filler | 56 Fire Golf! | 55 Hull Joint | 54 Sink Cabinet | 53 New Eyebrows | 52 Foredeck Work | 51 New Hatches | 50 Test Bimini | 49 Fwd Cabin Hatches | 48 Hatch Frames | 47 Glass Scoops | 46 Inject Bimini | 45 Cockpit & Bimini | 44 Scoop Steps | 43 Bimini Mold | 42 Level Ocelot | 41 Mast Conduits | 40 Replace Helm | 32 Fly to USA | 31 Raise Transoms | 30 Foam Foredeck | 29 Rebuild Engines | 28 Grind Spars | 27 Foredeck Repairs | 26 Transom Walls | 25 Foam Helm | 24 Shape Transoms | 23 Start Transoms | 22 New Bows | 21 Cockpit Surgery | 20 Dismantle Cockpit | 19 Fair Topsides | 18 Remove Forebeam | 17 Dismantle Engines | 16 More Deck Work | 15 Start Deck Repairs | 14 Rip Apart Galley | 13 Remove Decks | Xmas Break | 4 Strip Ocelot | 3 First Extension | 2 Remove Teak Deck | 1 Haul Out
Ocelot Pages: Up | Ocelot Layout | Ocelot's Deck | Cockpit Photos | Inside Ocelot | Kronos 45 Specs | Modifications | Refrigeration | Venezuela Haul Out | Tonga Haul Out | Thai Refit 2013 | Thai Refit 2012
Top Level: Home | Destinations | Cruising Info | Underwater | Boat Guests | Ocelot | Sue | Jon | Amanda | Chris | Site Map | Make a Comment
---
This site is
sponsored by:
Copyright © 2000‑2014 Jon and Sue Hacking -- HackingFamily.com, svOcelot.com. All rights reserved.