One of the delightful differences between cruising now and cruising in the '80s is all the advances in communications that are now possible.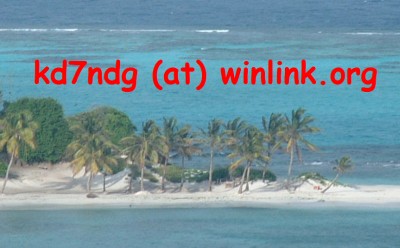 Our preferred eddress for short messages and timely responses
Usually, the best way to contact us is by email, of which we have 2 types. The recommended way if the text is small (no attachments) is to send it to our Radio Email account at left. We check that almost every night so we can get back to you quickly.
However, this email comes to us over the SSB radio - extremely slowly (usually 1-2 minutes/page). Therefore we ask you to send email in plain-text only.
Important Note: Due to increasing spam and recent changes to our email server, you must now include //WL2K somewhere in the subject line. Otherwise, your email will be bounced and we will not be notified. You will have to resend the email. Once we email you, your eddress will be in our white-list and you will no longer need the //WL2K.
Hotmail and Yahoo users, please remember to check the plain-text button when composing your emails. This is usually on your address book entry for us. Otherwise you will be sending "HTML mail" which has a bunch of formatting tags embedded in it. The winlink servers will strip out all of the HTML tags to reduce email size, and the resulting text will arrive badly mangled. Also, please ask us before sending any attachments and do NOT include our message when replying. Yes, several limitations, but this is still the best way to contact us and we welcome your emails.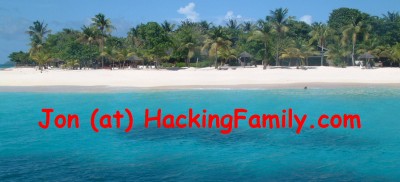 Eddress to use for larger or less time-critical content
For larger content, please use the email address shown at right. Please note that checking this eddress means packing up a computer in a waterproof container, schlepping it ashore in the dinghy, and taking a taxi to a cyber-cafe that will let us plug into their network. We check these eddresses as often as practicable, but sometimes there can be a delay of a few weeks (or even months). There are few cyber-cafes in some of the out-of-the-way places we prefer to visit.
Unfortunately, spammers love to send scanners out to sniff websites for email addresses, and we hate spam. So we've written our email addresses into graphics that humans can read, but automatic scanners can't. It's sad that we have to go to such lengths, but such is the Internet these days.
In 2004 Iridium decided to change their billing options, drastically increasing their rates, so we've cancelled our satellite phone for the time being. We still have the phone so if we find a more reasonable sat-phone option, we'll post the info here. (If you have information here, please let us know!)
We do usually have a mobile (cell) phone, but we don't have roaming coverage, so we buy a new SIM chip whenever we get to a new country. This means that our phone number keeps changing. If you email us and ask, we'll send you our current number. This information is also usually included in our newsletters (sign up here).
When we have continuous internet access, we're usually on Skype as sv-ocelot.
Finally, Jon's father Colin has graciously offered to handle our snail-mail for us. He opens it and if he deems it important, he sends it to the next group coming to visit us. His address is:
Colin Hacking
850 Webster St, #802
Palo Alto, CA 94301
USA
Jon's Pages: Up | Pre-History Stories | Contact Us | Brewing Beer | FrontPage 101 | FrontPage FAQs | Radio Email | Resume | Web Archives
Top Level: Home | Destinations | Cruising Info | Underwater | Boat Guests | Ocelot | Sue | Jon | Amanda | Chris | Site Map | Make a Comment
---
This site is
sponsored by:
Copyright © 2000‑2013 Jon and Sue Hacking -- HackingFamily.com, svOcelot.com. All rights reserved.