Our Home Page started getting too big, so we decided to move some of our older information here. We'll also keep an archive of previous Home Pages (click on the buttons to the left) organized by date. The evolution of the site is amazing, even to us. Our April 2002 home page is almost embarrassing in its simplicity.
Previous news of Ocelot's travels:
News from November 2014:
We're currently in NE Indonesia, in Raja Ampat. We've been enjoying the world class diving and snorkeling in this area. After our 3 March launch from our 2+ year refit, we transited the Strait of Malacca for the 4th time, left the boat in Johor Bahru (near Singapore) and explored northern Laos and Vietnam for a month, a great trip which we've now written up and illustrated! When we got back to Ocelot we rounded Singapore and sailed into the South China Sea, over Borneo with a jaunt up the Kinabatangan River to see the wildlife with Jon's father. Then we entered Indonesia, sailing over the top of Sulawesi and Halmahera before coming south to Raja Ampat, where we've been since October.
News from April 2014:
We've splashed! After a monumental 2 year effort, and many trials and tribulations, we sold our tent, mounted and connected the mast, and Ocelot was launched on 3 March 2014. We immediately went up to the north end of Phuket to get Ocelot ready for cruising again. This stretched for several months, but at least we could have fun in the meantime. We cruised through Phang Nga Bay and down to Langkawi, where we basked in the warm glow of working and playing with several other cruising boats around. It was here that we decided to join a rally out to Raja Ampat, in eastern Indonesia.
News from November 2013:
Last November (2012) we realized that Golf had ripped us off to the tune of $30,000, as we'd already paid him $60,000 and he'd only spent half of that on Ocelot, and he had no more money to finish the work. So we fired him and for the last year have been trying to complete the work, managing the workers ourselves. At the time, only Baw and Houa were still working on Ocelot, but we've since built up a pretty good team of 8 guys, with Baw being our team leader and Houa doing the woodwork. We've finished all the fiberglass work, laid down the new nonskid, epoxy coated the bottom, sprayed the whole boat in new gelcoat, and polished that gelcoat. The new bimini is mounted, the mast and spars have being painted, the interior woodwork and varnish work are almost finished, the new stainless steel is up in Bangkok being electro‑polished, the forebeam and anchor support have been remounted, and all the many bits and pieces are being remounted as fast as we can. At this time we hope to launch in early 2014, but we still have lots of work to do.
News from September 2012:
In June and July we went back to the US for Amanda's graduation from UW (Oceanography, cum laude!) We also flew to Maine to celebrate the wedding of our dear friends Mike and Laura Jean. We came back to Thailand with Amanda to continue Ocelot's massive Thai Refit. We've now mostly finished the new rigid bimini (cockpit shade), designed and built by Jon and Amanda. Golf's team has mostly finished the structural aspects of the new sugar-scoops and they're starting on the cosmetic aspects, especially in the cockpit.
News from January 2012:
We've just returned from a glorious trip back home for 8 weeks of family time over Thanksgiving and Christmas. Now we're back with Ocelot, up on the hard at Coconuts Boatyard in Phuket, Thailand, where Golf and his crew are stripping her down to her bones to give her a major refit, including extending the transoms, scraping off 10 years of accumulated bottom paint, new paint on the topsides, new gelcoat on the cabin-top, all interior varnish removed and built back up, new bimini, refurbish the mast, new decks, etc, etc.
News from May 2011:
We've just returned to Thailand after 3 months in India. This was not entirely planned, as we'd hoped to cruise with our friends on Vamp over to the Maldives, Chagos, Madagascar, and South Africa. However, the SW Monsoon came in and we had no option but to return to SE Asia. This will give us time to explore this area more fully, and maybe give Ocelot a bit of Tender Loving Care after taking care of us so well for so long.
News from October 2010:
We're still in SE Asia, having sailed down the Malacca Straits, around Singapore, and up the northern coast of Malaysian Borneo. On the way we spent 3 months trekking in Nepal with Christopher and Amanda and our dear cruising friends from Vancouver Island, Scott and Sonia.
News from October 2009:
We made it! In almost exactly 3 months since leaving Richards Bay, we've sailed over 5,000 nautical miles (5,750 statute miles, or 9,200 km) as we crossed the Indian Ocean to Mayotte (9 days), Madagascar (2 days), Seychelles (4 days), Maldives (9 days), Indonesia (11 days), and finally to Malaysia (3 days). A total of 38 days at sea on passage. We're now in Malaysia and we plan to stay mostly in the Malaysia and Thailand area for most of 2010.
News from July 2009:
While we'd originally planned to go around South Africa and continue on to the Caribbean to sell Ocelot and move ashore for a while, we decided in 2008 that we'd like to continue cruising. We had planned to sail from South Africa in June 2008 (after cyclone season had ended) to the northern Indian Ocean (via Mayotte) to catch the monsoon across to the northern Maldives and back to Langkawi, Malaysia.
But the summer in the US beckoned, so in June 2008 so we left Ocelot at Tuzi Gazi Marina in Richards Bay, South Africa and flew with Amanda back to the States. She entered the University of Washington, Seattle, as an oceanography major in September 2008. Jon and Sue spent another 6 months in the States, working and visiting family and friends.
Now it's just Sue and Jon aboard Ocelot. We've been back in Africa since April doing a lot of boat work and a bit of traveling, Ocelot's almost ready for her voyage back across the Indian Ocean to SE Asia. Let's see if Africa can let us go!! Stay tuned!
News from April 2008:
After cruising Indonesia for from August through October 2007, we arrived in Singapore and immediately flew back to the USA for the month of November. This gave us a chance to celebrate Thanksgiving with the entire Hacking clan, which we haven't been able to do for many years.
From Singapore we sailed up the Straits of Malacca to Malaysia and Thailand. Christopher joined us for 3 months (his winter quarter at university) for our adventures in Malaysia, Thailand and Sri Lanka. After he left from Colombo, Jon, Sue and Amanda sailed south to the Maldives and the Chagos archipelago.
In late June 2007 we left Chagos for the Seychelles, switching continents from Asia to Africa! After 3 months there we sailed south to Madagascar for a month, then Mozambique and South Africa.
While we'd originally planned to go around South Africa and continue on to the Caribbean to sell Ocelot and move ashore for a while, we've recently decided that we'd like to continue cruising. So we're heading back to SE Asia! We plan to sail from Richards Bay, South Africa, in mid-May (after cyclone season has ended) for Mayotte, a small French atoll just west of northern Madagascar. Then we plan to sail into the northern Indian Ocean to catch the monsoon across to the northern Maldives and back to Langkawi, Malaysia. There we plan to put Ocelot in a marina and fly home to put Amanda in university. Sue and Jon then plan to return to Ocelot in November - but like most cruisers, our plans are prone to change on short notice! Stay tuned!
News from September 2006:
We stayed in Australia from November 2005 through July 2006. During the cyclone season (November-April) we left Ocelot in the Brisbane River on the pilings while we toured inland and did boat projects. We left in May to begin our 2,200 mile journey up the coast of Queensland and over the York Peninsula to Darwin.
Although sailing to Australia was our original goal when we left St. Maarten in 2001, we joined the Darwin-Indonesia Rally which left in July 2006, and we're cruising for 5 months in Indonesia, Malaysia and Thailand. Christopher will be leaving university for 3 months to join us in Thailand in December. From there we plan to sail west to India -- but like most cruisers, our plans are prone to change on short notice! Stay tuned!
News from April 2006:
In October 2005 we sailed southwest about 700 miles to the French territory of New Caledonia. After a glorious month inside the reef of New Caledonia we crossed 800 miles of the Coral Sea to Brisbane, Australia, arriving in November, 2005. Sadly, we gave Vanuatu a miss: partly for time and partly due to the malaria issues.
Sailing to Australia was our original goal when we left from St. Maarten in 2001. Now that we've arrived - well, there's so much more world to see! After waiting out cyclone season in South Queensland, we want to go to Darwin by June. We've signed up for the Darwin-Kupang rally (July) and we're preparing for 3 months in Indonesia. Current plans put us in Thailand for Christmas, but like most cruisers, our plans are prone to change on short notice!
News from December 2005:
The past year we have been in the Republic of Fiji, where we enjoyed the colorful Indo-Fijian culture and food as well as the easy, laid-back Fijian hospitality. In October 2005 we sailed southwest about 700 miles to the French territory of New Caledonia. After a glorious month inside the reef of New Caledonia we crossed 800 miles of the Coral Sea to Brisbane, Australia, arriving in November, 2005. Sadly, we gave Vanuatu a miss: partly for time and partly due to the malaria issues.
Sailing to Australia was our original goal when we left from St. Maarten in 2001. Now that we've arrived -- well, there's so much more world to see! Our current plan is to stay in southern Queensland throughout the cyclone season. Stay tuned for our further adventures. Like most cruisers, our plans are prone to change on short notice!
News from April 2005:
During our 4.5 month stay in the Kingdom of Tonga we explored lots of the anchorages of the Vava'u Group, sailed south to the wild Ha'apai Group for a couple weeks, hauled Ocelot out for emergency repairs in Neiafu, and spent many fun days in the town anchorage participating in the yacht races, Friday night parties, and general camaraderie of the cruising life. We did lots of scuba diving and snorkeling, and enjoyed several Tongan feasts and dance shows.
In October 2004 we finally left Tonga for the 3-day sail west through the reefs and islands of eastern Fiji to Suva, the capital, on the southeast corner of Viti Levu. Here Chris could take his SAT university entrance exams as well as submit his applications to 8 different universities. In Suva we found an interesting, bustling city, as well as the first affordable skilled laborers for some time, so we stayed there (with short excursions to see friends or go snorkeling) until Christmas, which we spent with lots of other cruisers in Savusavu. From January through March we've been just about the only cruising boat exploring the western (drier) islands of the Mamanucas and Yasawas, doing lots of snorkeling and diving. There are lots of small resort islands our here which are very friendly to us, letting us use their facilities for no charge, so we've also been playing some tennis by day and dancing and singing with the locals at night.
On a more personal note, Arthur, our lovable but long-suffering sea-cat, was able to tell us very clearly that he really didn't like it when his world moved, so we've sent him back to live with Jon's father in California. He seems very happy there, despite the resident Pomeranian, and he's promised to email us regularly. The Australians tend to go ballistic at yachts bringing in animals anyway. And although this stricture does not always include teenagers, Christopher has also decided not to risk the Australian's wrath. He'll be starting his studies at the University of Washington, where he plans to major in some aspect of Computer Science and Engineering. The apple didn't fall far from the tree, it seems. We will, of course, miss them both dearly.
News from July 2004:
After a lovely visit to the States to touch base with friends and family after 20 months on the boat, we returned in January, 2004 to re-join Ocelot and Arthur (who had been cared for a local teenager and family while we were gone). After two weeks of boat cleaning, sail and headstay repairs we had a fabulous 8 weeks of visitors. During that time, we traveled back and forth between Tahiti and Moorea 4 times, then sailed west to Huahine, Raiatea & Tahaa, Bora Bora and Maupiti. We did lots of scuba diving and snorkeling, hiking, bicycling, watching Tahitian dance shows, and general exploring. We had hoped to return to the Tuamotus, but the weather and the time never worked out. If you missed our last update that featured the Tuamotus and the Marquesas check them out. They were some of our favorite places in French Polynesia. In May we jumped off for the 1,400 mile sail to the Kingdom of Tonga.
News from January 2004:
We have three major regions to cover in this update: Inland Ecuador, the Galapagos Islands, and the beginnings of French Polynesia. A completely new part of the site is our newsletters section, which contains our e-mails sent from the boat by radio while we were on passage. They capture our day-to-day thoughts and feelings, and now they're illustrated. Also, check out Sue's log page for her essay on the plundering of the Galapagos.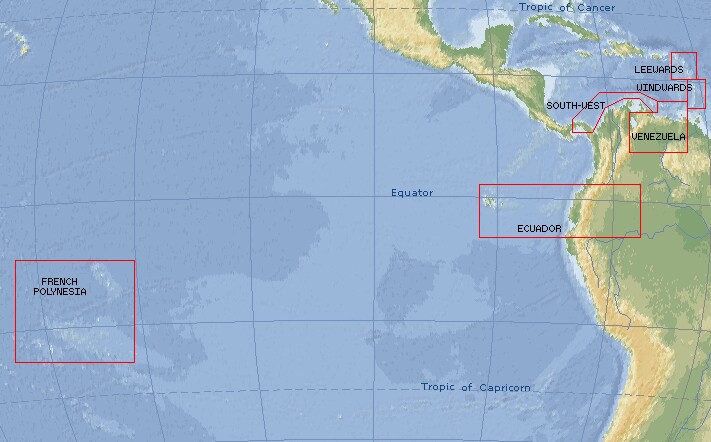 After a short time in Panama, we went through the Canal and proceeded to Ecuador. We took a short inland tour of Ecuador by bus, then sailed to the Galapagos Islands. We explored the Galapagos from Ocelot and even took a multi-day cruise on a tour boat to explore places where yachts are forbidden. We stayed as long as possible in the Galapagos, and met several new cruising families, but eventually had to leave on the long passage to French Polynesia. When we finally completed the long and calm passage, we arrived in the beautiful and mountainous Marquesas islands (northern group in French Polynesia). We explored the Marquesas for a few weeks, glad to be back on land, before pushing off for the much shorter passage to the Tuamotus. In the low coral atolls of the Tuamotus, we got to do our first SCUBA diving since our certification in Bonaire. We also saw lots of Polynesian dancing and got to interact with some local families. Finally, we sailed to Tahiti (sorry, no page yet) where Ocelot is anchored while we took our first trip home to the Pacific Northwest as a family in 20 months.
News from April 2003:
After a successful transit of the Canal on March 22, 2003, we spent a week moored off the Balboa Yacht Club, near Panama City, Panama. It was a hectic week of provisioning for 7 months of travel, installing a new anchor gypsy (the cog on the anchor winch that pulls up the chain) and 250 feet of new anchor chain, working on lots of little boat projects, fueling up, and updating our paper and electronic charts of the South Pacific. On March 31 we left on northerly winds for the 600 mile passage south to Manta, Ecuador. We plan to travel inland in Ecuador for a week or so enjoying the cool air of high elevations and the mountain scenery before sailing west to the Galapagos Islands later this month.
News from January 2003:
Venezuela! Since our last update we've been immersed in the South American scene and loving it. The political upheavals didn't really affect us until our last few days when the shelves in grocery stores were lacking beer and milk. We never felt any danger in the least, but the problems caused friends and family to cancel their December visit to Ocelot. Such is life in the Third World.
So check out all our new pages on where we went and what we did in Venezuela. Our Landfalls section got so big that we've now split it into 3 sections: Windward Islands, Leeward Islands, and Venezuela. If you're considering coming down to visit and want to see how much fun our visitors have, check out the Boat Guests pages, including a checklist of what to bring. Sue has added another "letter" (including comments on Venezuelan politics), and more info of provisioning the boat on her Cruising Cuisine page. She has also taken over the Flora & Fauna pages and expanded them with both West Indian and Venezuelan birding pages as well as other Venezuelan Flora & Fauna. Jon has added a page on our haul-out with pictures of Ocelot out of the water and comments on Venezuelan politics. If you didn't read Amanda's pages before, check out her Old News area to catch up on what we've been doing. Chris has added a big section on our trip inland to Mérida & Los Llanos. We've also added a site map in case you get lost.
October, November, and December 2002 were spent in beautiful friendly Venezuela. Most of the time we were anchored on the island of Margarita where we got several boat projects done: lots of fabric work (bimini extensions, aft deck coverings, new upholstery below), and a new washing machine. We had a great 2 week-trip inland to the Andes and to Los Llanos for wildlife viewing. Jon's brother, Tony, and his family visited us for three weeks and we sailed them to the mainland (Golfo de Cariaco), and the island of Blanquilla. We also spent three days "on the hard" in Chacachacare, Margarita to re-paint the bottom and do some maintenance. Our final blast in Venezuela was spent in the off-shore islands of Los Roques and Las Aves with their clear water and coral reefs to dodge and explore.


Click on an island to see that island's page (Scroll down to see more...)
News from June to September 2002
June, July, August, and September sped by. We played in Martinique with cruising friends, then headed south to St. Lucia again, then to new territory -- the Grenadines and Grenada. Two sets of friends (Amanda's teacher, John Hamilton, and friend Becky Haiduck, and Chris's buddy Kenny Quayle and his dad, Casey) got to cruise prime vacation land -- the Grenadines -- with their white beaches, palm trees and clear water. We also participated in the Carriacou Regatta festivities and dinghy race, and danced to steel drums at the Grenada Carnival. (Yes, it's in August...) In southern Grenada we did lots of boat work like installing the radar and mounting a 2nd GPS. Sue took a short trip to Seattle to see her mom, and then we headed off to Venezuela to be with some more cruising friends.

News from April to May 2002
After three and a half months in St. Martin and its surrounding islands we headed south on April 7. We stopped briefly in St. Kitts, Nevis and Montserrat (the volcano was wonderful) then sailed on down to Guadeloupe to meet friends. We picked up Gina & Terry Cole in Guadeloupe in April and sailed south to the Saintes, Dominica, and Martinique with them. Then we hopped across the channel down to St. Lucia to pick up Emilie Cobb, and sailed back north to Martinique with her. We spent a month in Dominica in May, awaiting friends on Sea Eagle to join us, then all headed south for hurricane season, repeating Martinique and St. Lucia. Cruisers who don't have friends come visit don't do this sort of thing, but if we didn't have friends come to visit we wouldn't be having half as much fun!
Archived Homepages: September 2016 | August 2015 | November 2014 | April 2014 | November 2013 | September 2012 | January 2012 | May 2011 | October 2010 | October 2009 | July 2009 | April 2008 | September 2006 | April 2006 | December 2005 | April 2005 | July 2004 | January 2004 | April 2003 | January 2003 | November 2002 | May 2002 | April 2002
Jon's Pages: Up | Pre-History Stories | Contact Us | Brewing Beer | FrontPage 101 | FrontPage FAQs | Radio Email | Resume | Web Archives
Top Level: Home | Destinations | Cruising Info | Underwater | Boat Guests | Ocelot | Sue | Jon | Amanda | Chris | Site Map | Make a Comment
---
If our information is useful,
you can help by making a donation
Copyright © 2000‑2019 Contact: Jon and Sue Hacking -- HackingFamily.com, svOcelot.com. All rights reserved.