Sue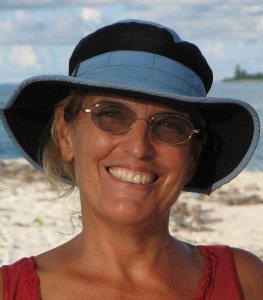 Afternoon on the beach, Chagos 2007
Welcome to the "mom" pages!
I've changed the format of this section of the web site to allow it to expand. Besides being a mom on a sailboat, I'm also a published author. For information on my writing check out my pages under my professional name, Sue Muller Hacking.
My Log entries go all the way back to our first few months on the boat in 2002. They're a collection of writings about life aboard a cruising boat. On the first log page you'll find links to not only my most recent entry, but the previous ones as well, and a brief description of what I write about.
We spend a lot of time provisioning the boat, both with food and boat supplies, and I've written a lot about that aspect of cruising. You'll find it divided into geographical regions from the Caribbean across the Pacific to the Indian Ocean with suggestions and hints for provisioning an ocean-going sailboat. You can see more information for cruisers under our special Cruising Information section.
Chris, Amanda and I all cook aboard Ocelot and have created a section with some of our favorite recipes, all adapted to the sailing life and a small galley. You'll find our bread recipes plus breakfast, lunch, dinner and dessert favorites.
---
Sue's Pages: Up | Sue Muller Hacking | Logs | Provisioning
Crew Pages: Sue | Jon | Chris | Amanda | Rainer Dawn | Boat Guests
Top Level: Home | Destinations | Cruising Info | Underwater | Boat Guests | Ocelot | Sue | Jon | Amanda | Chris | Site Map | Make a Comment
---
Lifetime
Commodores
of the
Seven Seas
Cruising
Association

If our information is useful,
you can help by making a donation
Copyright © 2000‑ Contact: Jon and Sue Hacking -- HackingFamily.com, svOcelot.com. All rights reserved.