73 Cockpit Drains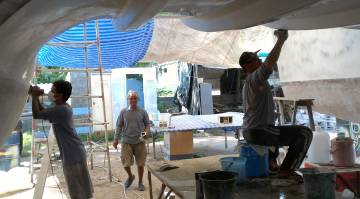 Nut, Houa, and Pla working under Ocelot's bridge-deck
Summary: Boy and his wife Kit started working for us - a delightful, hard working and talented couple who speak English pretty well. Kit did intricate detail work on the mast and then jumped down into the port engine room and cleaned it thoroughly. Boy helped Jon remove and replace the 4 toilet‑out sea‑cocks and also went with Jon on a great spending spree, buying lots of plumbing fittings in town. Jon used those fittings to put together a pair of diesel manifolds for the new forward tanks, and also cut out and de‑cored 2 engine‑room vents and the 2 aft shower holes, and drilled out and installed 12 PVC nipples in the cockpit that will become 6 more cockpit drains.. Houa bought teak planks for the cockpit table and started tearing apart the 2 sides that need work, epoxy sealing the good wood and gluing new teak into one of the sides. On Tuesday a pickup truck pulled out right in front of Jon, causing him to smash into the side of the pickup. Jon was not badly hurt, but the scooter needed work, which the driver's insurance company paid for. Lek continued wet‑sanding the port topsides and then joined Pla and Nut sanding off the repair bumps from the starboard topsides. The rest of the team spent much of the week chipping off poorly adhering gelcoat from the deck and cabin‑top. The problems are more extensive than originally thought, so we've decided to have AME prepare the cockpit and sugar‑scoops, so they'll take full responsibility for everything working. Unfortunately, some miscommunication caused them to only come 1 of the 3 days they were planning to. Amanda's college house‑mate Liz visited so Amanda didn't come in much this week, preferring the beaches and bars of Phi Phi Don, but she and Sue did get 2 layers of Nyalic on most of the spreaders as well as the base of the mast.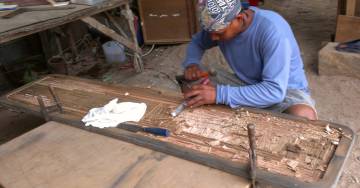 Houa chiseling out the cockpit table, to replace with good teak
Monday, March 25:
A discouragingly slow beginning to the week with much of our team out (it IS Monday) but a surprisingly good day, after all! After several months of essentially no precipitation we even had a half an hour of, well, drizzle, anyway. And westerly winds. The seasons, they are a changin'!
Jon and Sue arrived at the yard at 8:15 (wanting to be there when the guys arrived) to find only Lek. He was already hard at work on the wet sanding of the port hull, now up to 1200 grit. By afternoon he was using 1500. It's looking very shiny!
By 8:30 we had Pla and Nut, actively wet‑sanding under the forward part of the bridge‑deck. But no Baw, Yoong or Bank. Turns out that Baw was off fishing yesterday, and so couldn't come in today. No word on the whereabouts of Yoong or Bank. Pla was his usual stoic self -- a solid worker all day, just keeping at it.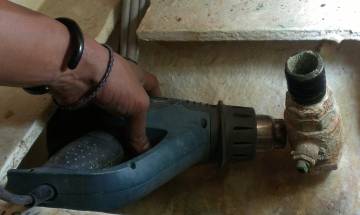 Heating a recalcitrant sea-cock to facilitate removal
Jon took Nut off the bridge‑deck sanding at mid‑day and got him working on power sanding the gelcoat lip at the water line. By afternoon he had finished the port inner waterline, so now we're ready for epoxy barrier coat on the hulls!
We expected to see Houa a bit late today as we know he was off finding teak for the cockpit table, but when he hadn't showed by 11am we asked Cris to call him. Seems he had to go all the way to Thalang (in the middle of Phuket Island) after checking out and rejecting teak at many of his "normal" suppliers in Phuket town. He arrived after lunch with 8 strips of nice hand‑picked teak, ¼"x4"x8' (6mmX10cmX2.5m). These are about 30% longer than he wanted, but it was the best teak he could find.
The good news is that we got 2 new workers today. Boy and his wife, Kit, have been employed off and on by cruising friends for several months now. They are available to work for us this coming month, while our friends are home in Australia. We set them up working on the detailing of the mast spreader brackets, and they did a thorough job of getting rid of old paint and scratch marks. Kit did finger/hand sanding all day, just working steadily along.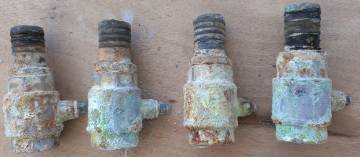 Embarrassing to admit these were even on board...
Jon pulled Boy off the mast to more challenging work inside the boat. Boy is a yacht skipper (and a good chef) and knows boat systems, electrical, plumbing, you name it. He does everything except carpentry, he says.
So together Jon and Boy worked at removing our sea‑cocks from the 4 head through‑hulls. These have not been removed in 18 years, so it was about time, but Jon's been worried about them. They're so corroded that he thought they'd be well and truly seized onto the pipes that form the through‑hulls, and that putting a big wrench on them might rip out those through‑hull pipes. But a bit of encouragement with a heat gun and Boy had them off easily! Jon's yelp of excitement was heard over the sound of power tools.
Jon and Boy also explored the ways in which to plumb our new forward tanks (ex‑water, future diesel) to the engines. Boy had the great idea of using a manifold so that we can choose to use the forward or the aft tanks, or connect the tanks together. Jon's in engineering heaven now, glad to have someone to throw ideas around with!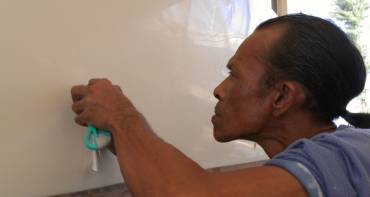 Lek, looking for imperfections to fill on the port topsides
Sue spent hours on the mast spreaders. She did some machine polishing (one‑handed) on the last of the flat spreaders, then worked on the aluminum rods that are part of the top spreaders. We may just leave those rods shiny from polishing rather than trying to hand‑sand them, as it seems like more trouble than it's worth. She also attacked the flat spreaders with 400 grit wet sand paper which is a tough, but rewarding job.
Amanda's college house‑mate Liz is visiting for the week, so it's unlikely that we'll get any useful work out of either of them. They hung out at Karon Beach today. Since Liz is from the frozen NW, she arrived with the complexion of a block of ice. Now she's more the color of strawberry ice‑cream...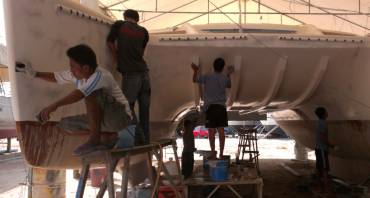 Yoong, Baw, Pla, Nut & Bank working on Ocelot's bows
Tuesday, March 26:
Yikes. How to describe today? Good for all the work that got done, bad for the fact that Jon ended the day with a scooter accident. He is fine, but the bike is not. He was on a clear road and a jerk‑o‑witch driver in a pickup truck turned right in front of him, across traffic, causing Jon to slam into the back of the bed of the truck and do a belly plant into our scooter handle bars, and then flip into the road. Ouch. Two hours later the police and the other guy's insurance company had it all sorted out and we get the scooter repaired and 3 days of rental paid for. The front forks of the scooter are bent, so the front wheel is not straight; the basket in front of the scooter is smooshed, and the steering is stiff in 3 places. Jon took the afternoon off, but realized that it could have been a LOT worse...
At the yard, we had all the workers today. Lek was still alone on port topsides, and he's now up to 1500 grit sandpaper. Under the bridge deck we had Pla, Nut and Bank using 1200. And on the inner topsides on starboard we had Yoong and Baw working with 1200 grit. We have asked the guys under the bridge deck to go ahead and finish up to polishing. But on the topsides we want to stop at 1200 (or, in Lek's case, 1500) because there is still lots of masking and gelcoat spraying to happen up on deck, and if the tape used for masking comes lose, or dissolves (like it's done before) we don't want to wreck a polished hull. Better to leave it unfinished and then do the finishing touch‑ups later.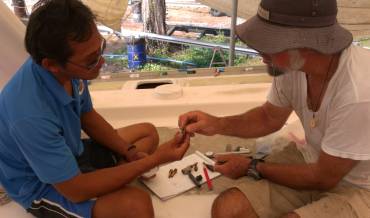 Boy & Jon designing how to plumb in diesel tanks & showers
Jon and Boy spent the morning engineering how we're going to plumb in the new diesel tanks, and how we want to handle the shower water. The showers have always had a small pool under the grate in the shower room, with a switch to pump out each shower. But the pumps are big and heavy and require a heavy strainer. Even with the strainer, sometimes hair gets past and mucks up the valves of the pump, requiring them to be stripped and repaired every few months. So in South Africa we bought a pair of small tanks, each equipped with a small bilge‑pump and a float switch. The water from either of the showers on that side of Ocelot will flow into the tank by gravity, and the bilge‑pump will automatically pump the water overboard. The bilge pump is a centrifugal type, which doesn't clog very easily, and the tank has a strainer to keep most of the hair out. This should be simpler, lighter, and more reliable than the old system.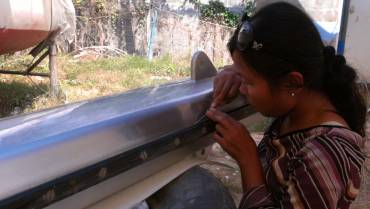 Kit, Boy's pretty wife, doing meticulous detail work on the mast
For the 2 new 120 liter (32 gallon) diesel tanks up forward, Jon was originally going to just have them drain into our aft 170 liter (45 gallon) diesel tanks, but discussing it with Boy they came up with a better system. We'll create a small manifold with valves so the engines can draw from either the forward or the aft tanks, or the forward tanks can be used to fill the aft tanks. This requires some valves and fittings, but should make things much more flexible. We also decided to install a "sight glass" next to those forward tanks - basically, a length of clear hose running vertically next to the tanks, that will let us see how much fuel is in either tank (we've used a similar system on our forward water tanks for years). Since we can't get to the tops of the tanks to install a gauge (or even a clean‑out) this is the next best arrangement.
Then Jon and Boy took our scooter into town for some good male bonding at the hardware store. This was a new place for Jon, near the familiar Kittipan store. But the name is unbelievable: Udomwongwattanakit. Really! We have their card. Jon found so many wonderful plumbing supplies that he ran out of money. They don't take credit cards and the local ATM was being stupid, so he had to put some items on hold. Jon's pretty sure there's some sort of space warp or worm‑hole towards the back of the store, as they seem to have ANYthing we wanted! It was after this trip to town, as he was out buying lunch in our own neighborhood that he had the accident.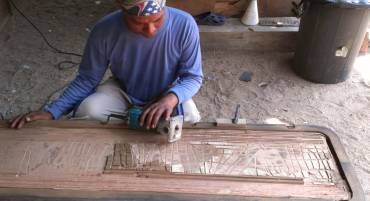 Houa, the surgeon, thinking about his cockpit table operation
Boy had accompanied Jon to Phuket town, and it was he who told Sue about the accident, and drove her out to the place where Jon was engrossed in a discussion with the police about it, right next to our neighborhood hardware store. Jon seemed fine so Sue returned to the yard to oversee things.
Kit spent the day detailing the mast. She's done a great job with a tiny sharp tool getting the old paint and primer out of weld lines and tiny corners. Our final coat of Nyalic will be on bare aluminum, so that's great. Boy, once he was back from town, worked with Sue and Kit on the mast and spreaders. He did more polishing of spreaders, and the insert for the base of the mast. Guess he was waiting for Jon to return before doing the plumbing stuff, which is fine.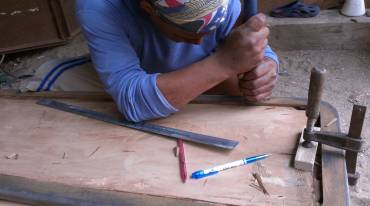 Chiseling edges of the teak laminate frame before epoxy sealing
Houa worked on several of the 4 sides of the cockpit table, finding interesting things, like the dead carcass of some kind of burrowing worm. He also found a bit of hard metal embedded in the plywood and teak veneer which broke his router bit, so that was a 490 Baht ($17) "Oh Dang!" He got one of the sides all routered out and sanded, and epoxy put on in preparation for the laying of the new teak strips.
A stainless steel worker named Chai, from a local machine shop that's done work for us before, came by to quote on sleeving the holes in our tangs on the mast and forebeam. Since the mast can't be moved far, this work has to be done in situ. While Chai was at the yard, we also asked him to quote on a pair of stainless steel "shoes" for our bows. These would go from somewhat above the waterline down to where the hull curves aft. They're mainly to help us fend off logs and other floating debris (and perhaps the odd dock). Our new sharper bows should be more hydrodynamic, but they're also a bit more tender, as the glass is thinner than it was.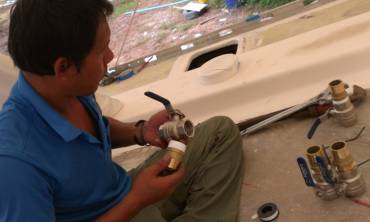 Boy assembling the 4 toilet through-hull stop-cocks
Mike from AME stopped by to talk about the next steps for our gelcoating. The main thing is that we need the cockpit and the sugar‑scoops to be meticulously prepared (sanded, filled, cleaned) before he sprays, as we don't want any more mess ups with non‑sticking gelcoat. Mike understands, but he's charging us over $600 to do that prep‑work. This is not a bad rate for 3‑4 days of work by 4 guys, and it puts all the responsibilities for the job on AME, so they can't point to our guys and say they didn't prepare the surface correctly.
Amanda and Liz went off to Phi Phi Don Island for 2 days of beaches, bars, and night clubs, sunning, swimming, and partying hearty. If they haven't forgotten where we stay, we should see them tomorrow evening, probably somewhat sleep deprived...

Nut filling the de-cored area around Jon's engine room vent
Wednesday, March 27:
Hot, hot, hot. Amanda and Liz returned on the morning ferry from Phi Phi Island because it was so killer hot down there. Funny thing, they didn't show up at the boatyard!
All our workers showed up, though, so we had a busy day. Jon has a sore arm and a bruised groin but no lasting effects from the bike accident. So he took the rental scooter back into Phuket town to pick up the remaining big bag of plumbing supplies for the diesel tank and the shower drain projects. Jon and Boy worked on plumbing projects for much of the afternoon.
Tomorrow AME is sending a team to fill, sand, and prepare the cockpit and the sugar‑scoops, getting them ready to be sprayed with gelcoat. It's better to have all holes, etc cut into where they're going to spray, so Jon started working on that. First up are the engine‑room blower vents. These were covered by the new steps, so Jon cut new vent holes in the fronts of the steps. Then he de‑cored the foam and asked Yoong and Nut to fill where the foam was with epoxy mud. Other projects in this vein are 4 cockpit locker drains, and holes for the shower nozzles out on the sugar‑scoops.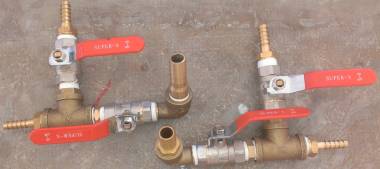 Jon's piping manifolds for the 2 new forward diesel tanks
Jon also put together some of the piping for the new diesel tanks up forward. We need a diesel shutoff valve, of course, but we're also putting in a vertical pipe that will show the level of diesel in each tank, and that pipe should have a shutoff valve as well. The 2 sides are almost (but not quite) mirror images of each other, and the handles for the valves must not interfere with each other. All this required some careful assembly before Jon got it right.
Kit worked all day on the mast again, doing an amazing job of detailing the area around the spinlocks, cleats and winches at the base of the mast. She was especially stoic, given that this area is in the sun most of the day.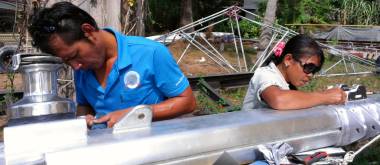 Our new workers, Boy & his wife Kit, working on the mast
Under the bridge‑deck our Team of Five: Yoong, Baw, Nut, Bank and Pla actually finished up their sanding with 1500 grit sandpaper. We asked them to stop there and to leave the final sanding and polishing until after the decks have been sprayed. We know they were disappointed, as it is very satisfying to finish a project, especially a polishing one, but we're the ones that have to pay if anything gets marred or scraped and has to be repaired later. Out on port topsides, Lek has only a small area still to go to also be finished with 1500 grit sandpaper.
Sue went from work area to work area today trying to assess what was happening and to get pictures, as usual. She put a lot of thought into all the small projects that still need to be attended to, and in what order. Starting tomorrow we'll have the teams all spread out doing different things, which will be a bit crazy making, but should feel like good progress, at least.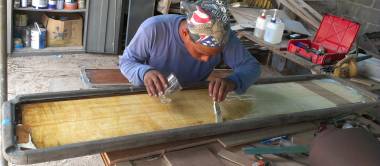 Houa sealing the routered inside of the cockpit table with epoxy
Houa got much of the plywood and teak veneer wood routered and chiseled off the table top, leaving the laminated teak around the outside. Tomorrow he'll finish the chiseling, sand the surface, and put on the epoxy barrier coat. The epoxy he put on the other half of the table seems to have gone well. Some of it leaked through gaps between the outer laminated teak and the inner plywood/teak veneer, but that will just serve to seal that surface better. It will all be sanded smooth and then covered with epoxy and varnish anyway.
Thursday, March 28:
Oh My Gosh. An exhausting, busy, crazy day. And no wind so it felt pretty HOT. But things are moving...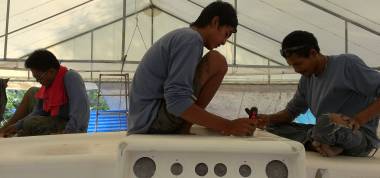 Yoong, Bank, & Baw scraping bad gelcoat off the cabin-top
Up on the cabin top we had Baw, Bank and Yoong working with newly sharpened and shortened (to make them stiffer) scrapers. Their job was to find and scrape off all the remaining areas of gelcoat that are not adhering, something that Amanda had been working on for many days. We have a hard time with this situation, as the gelcoat is not adhering due to inadequate surface preparation by these very same men (bit of poetic justice there). They don't care much for AME, as they think they can spray gelcoat themselves, so they're gleefully chipping off "Mike's" gelcoat, not realizing that the fault is their own. So when they shake their heads and sort of make faces like they can't believe everything that is coming off, we try and keep our mouths shut. Pointing fingers is not good, as ultimately we are up for paying for the work, no matter what.
However, this made us realize that it's probably worthwhile to have AME do the prep‑work for the complicated cockpit and exposed sugar‑scoops. This way, there should be no finger pointing, and AME will take all responsibility for the gelcoat in these important areas.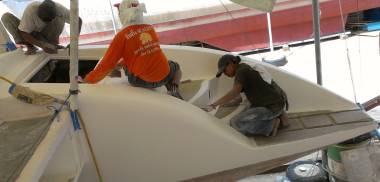 Some of P'Wat's team preparing the starboard sugar-scoop
So today P'Wat brought a team of 3 workers to sand and prepare the cockpit. We haven't seen them do anything that our guys didn't do, but the sugar‑scoops will probably need some special attention, as neither the antiskid nor the gelcoat seem to like our bare fiberglass. P'Wat threatened to bring 6 guys tomorrow and finish the preparation phase quickly, but we asked that he bring only 3, even if that means taking 2 days. Part of that is because today was pretty crazy, and part is because Jon still has work to do in those areas before they can be sprayed, and he needs the time.
Houa made good progress on the cockpit table, finishing all the routering out of the old teak and plywood substrate. He then sanded it, and in the heat of the afternoon got on a layer of epoxy, plus a lot of epoxy in the deeply recessed corners. That done, he sanded the other half of the table that he had epoxied a couple days ago.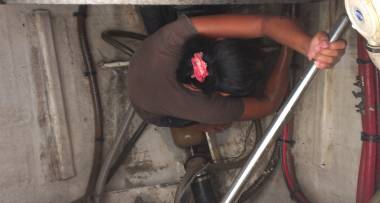 Kit cleaning our port engine room (with work-platform removed)
We had a team of 3: Nut, Pla and Lek, working on the port topsides. This is an area that has been all shiny and finished looking, except for the hundreds of tiny pinholes that had already been prepped and filled with gelcoat last week, making the topsides look like they had a bad case of acne bumps. Today they worked with 800 grit sandpaper (and water) and smoothed out those dit‑dots to blend them in. Tomorrow, they will hit the areas with 1200 grit paper, working back towards the shiny finish.
Kit was the heroine of the day, doing the nastiest job. We had asked her to clean the stepping surfaces of the port engine room so that when Jon goes up and down to cut the holes for the vent and shower, he doesn't track grease and dirt all over the decks. Well, she took the job to heart, and before we knew it she had cleaned the hoses, wires, walls, steps, and even under the aluminum work platform. When Jon saw that, he asked if she was OK to clean more, like forward, under the engine. So she did, using powdered laundry detergent as a degreaser! We now have (one) sparkling white engine room!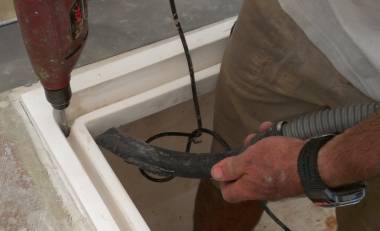 Jon drilling out a drain hole in a cockpit locker gutter
Boy worked all day on the plumbing for the heads. He removed old sink fittings and cleaned up the parts we will keep. And he moved on to start assembling the new shower drains that will go under the floorboards.
Jon got the starboard engine vent hole cut in the new sugar‑scoop steps. Unfortunately, yesterday's epoxy filler in the port vent never cured. We're not sure why, as we were pretty sure that Nut was experienced with the epoxy pump system. So that had to be scraped out, and Nut will not be given more epoxy jobs until he's received further instruction. Jon will fill both cored areas tomorrow, himself.
Jon's afternoon project was to fit new water drain pipes in the gutters of the cockpit lockers and to fit matching pipes in the floor of those lockers so the water drains overboard. We originally had only 4 small drain holes for the entire cockpit, and often the water came in fast enough (or we had too much dirt in the gutters) that water would overflow onto Jon's tools down in the locker. With 6 new drain pipes in the gutter corners, 3 on each side of the cockpit and each attached by a new hose to a new drain hole in the floor, we hope to have drier cockpit lockers in future.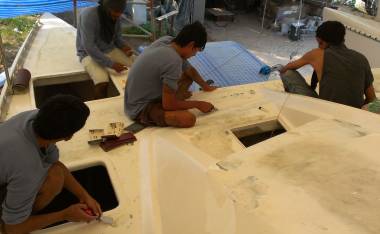 Nut, Yoong, Bank & Baw chipping gelcoat from Ocelot's decks
Friday, March 29:
A slightly frustrating Friday, which is not the end of the week here.
The frustrating job, for all involved, is the continued scraping of "new" gelcoat from the cabin top and decks. The base of the decks is the epoxy‑fiberglass we laid when we repaired the decks. On top of this has gone polyester filler in some places, sometimes Thai gelcoat, and in some places nothing at all before Mike sprayed on our Ocelot gelcoat. The problem is that all of these layers have to adhere strongly to the other layers, or we've got a problem. Jon suggested that the guys round off the corners of their scrapers, otherwise they could take off everything with the sharp edges.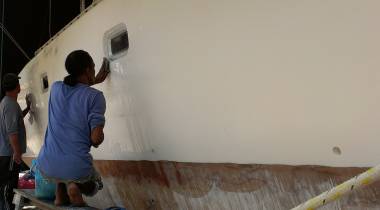 Pla & Lek sanding the gelcoat dots on the starboard topsides
When we checked in with Yoong, Baw and Bank we could sometimes see them sliding the scrapers under gelcoat (and sometimes white Thai gelcoat or filler) but sometimes they were just pick‑pick‑picking away. We are definitely losing a lot of the gelcoat that was sprayed on a few weeks ago. The big worry is, how do we prepare the deck in those places to be sure that the next spray of gelcoat really sticks? We are a bit leery of the ability of our guys to make consistent quality (not too wet, not too dry) and well mixed polyester filler, but we're going to have to put down some filler in order to smooth the decks again. We are never quite sure if they have really sanded well and acetone cleaned the areas where they are putting the filler. But hopefully they're learning what is necessary, just as we are. Baw certainly is, but he is hesitant to step into the leadership role with the yard workers that we want him to take, probably because most of them are older than he is.
Obviously, the decks were not always correctly prepared in the past (poor surface preparation is the main cause of poor adhesion for these materials). But some of these problems date back to when we canned Golf and hired some of the yard's workers. They were a bit too enthusiastic in laying down filler, and much of that is what's coming off now.
Our topsides team of 3, Pla, Lek and Nut, almost finished sanding off all of the gelcoat bumps from the pinhole repairs on the starboard topsides. They should be moving on to 1200 grit tomorrow. The hull is getting back its shine. It's just been a sort of round‑about way to get there. We still haven't heard a satisfactory reason for why so many pinholes appeared after the hull was finely polished. And apparently they are still finding more.
We found our old fittings that held the shower‑heads that go back in our sugar‑scoops. They're a bit sun‑bleached, but might sand up nicely. We discussed where we want the new showers (the old location was covered by our new steps) and Jon drilled out the holes for the showers and de‑cored them. But just at the end of the day, Mike called to say that AME just received a shipment of new shower‑head holders to replace our old ones! He'll bring a couple with him when he comes down tomorrow.


Starboard cockpit locker - the 2 small holes in the floor and the
2 holes in the gutter corners will get short bits of PVC pipe epoxied
in. The short PVC pipes will be joined by plastic drain hose.
The 2 bigger holes in the floor will be left as drains for the lockers
Jon made some good progress on the new drain holes and drain pipes for the cockpit hatches. But just as he had everything prepared and cleaned, and ready to mix micro‑balloons into his epoxy, he discovered that we have no more micro‑balloons. He gave a short lecture to Baw and the guys about the need to tell us if we're running out of something so we don't get caught short. But Sue talked to Houa, and the 2 of them recalled buying 2 kgs of micro‑balloons just 2 weeks ago. Ocelot has had NO micro‑balloon projects for 2 weeks, so we should have had 2 big bags of the fluffy white stuff. Gone. Houa has agreed to lock the cabinets during lunchtime, as many people walk near our shed to use the toilets. But we are out over $30 of material, and lost time for the project. <sigh>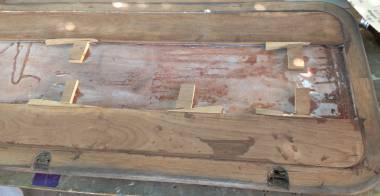 2 strips of teak, held by wedges, being epoxied into the table
Houa fitted and epoxied‑in the first 2 teak strips for the cockpit table. He fitted the pieces first, without glue, by laying them on the sanded plywood base, then using small bits of wood super‑glued to the existing plywood, and tiny wedges to push the teak firmly into place. When he had cut the ends and fitted the rounded corners exactly, he removed the teak, smeared on some epoxy glue, and bedded the teak into place, holding it securely with his wedges. We're sure the table will be beautiful, but definitely no lighter than it was.
Amanda and Sue spent the morning in the storage unit/apartment nearby, sorting the Ocelot Refit materials into different boxes. Everything was inventoried long ago, but not much effort was made to categorize or sort by project. We now have a box of rigging materials, one of electrical and some plumbing, and one of deck hardware. Back in our apartment we have many new items to be added to those collections. We almost wish for the simpler days of tearing the boat apart. Almost, but not quite!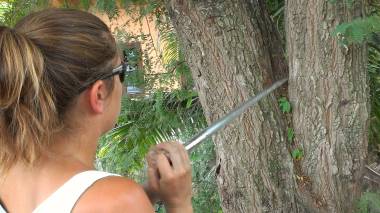 Amanda bending one of the spreader poles straight again
We had 2 of P'Wat's workers on board today for half a day. These 2 women just work, work , work, and the cockpit white areas are looking very nicely sanded and white, once again. But again, they didn't do anything our guys haven't done. The trick is to keep the areas white and clean until we gelcoat.
Kit and Boy are off on a 2‑day job in Yacht Haven, so we won't see them again until Monday. That may be a blessing, as it gets really crazy with so many projects and workers all around at once.
Saturday, March 30:
Thank Goodness It's Saturday, except that we have to work tomorrow morning. Nyalic Day again. Third week in a row. No rest for the weary.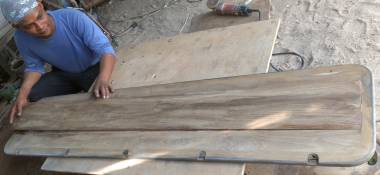 Houa fitting the center teak section into 1 side of the cockpit table
Sue and Amanda arrived early to see the day begin with our normal teams in place. Pla, Nut and Lek were finishing up the pinholes repairs out on starboard topsides. This team is so independent we sort of forget about them during the day, so we don't even know how far (or up to what grit sandpaper) they go by day's end.
Baw, Yoong and Bank took up scrapers and attacked the non‑sticking gelcoat on the cabin top and foredeck. Yes, still. This is getting depressing. We are finding so many big patches where the over‑enthusiastic and under‑competent workers screwed up 3 months ago. Some of those workers are now gone, but their legacy carries on as we peel back Ocelot White gelcoat beautifully adhered to Thai white gelcoat, both of which were applied over very dirty, sometimes unsanded filler. We could weep. It seems that some of the workers thought the goal of the project was to get Ocelot's decks as white and pretty as fast as possible, without concern about the substrate. We are now paying (and re‑paying) the price. But at least they're now sanding back the edges of where they've chipped back to good gelcoat, so it looks like we're approaching the end of this phase.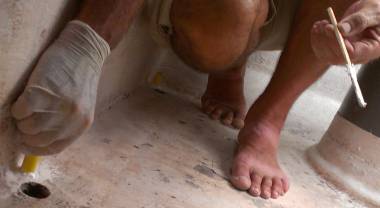 Epoxying in a cockpit drain pipe - another is under Jon's knee
Houa may have made the best progress of the day. He got the center 2 pieces of teak wood trimmed and epoxied into place on the movable half of the cockpit table, so that's looking really good. The workshop was fragrant with the sweet scent of sanded teak. He's still got some cleanup to do on that half, but he's also working on putting teak into the other (fixed) half of the cockpit table.
Amanda and Sue aluminated themselves once again. Amanda with the power polisher working on the 4 long spreader poles that had their paint very crudely stripped (read: butchered). It takes hours for Amanda to get the deep scratches out, so that Sue can hit the poles with 400 grit and then 600 grit sandpaper so that they have a nice burnished look. Two of these 4 poles were a bit bent, so Jon found a conveniently forked tree branch, wedged the poles between them, and Amanda gently bent them back until they were straight. We hope to be applying Nyalic to the lowest part of the mast and most of the spreaders tomorrow (Sunday) when there is less yard dust.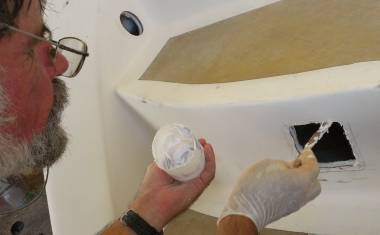 Filling the de-cored engine vent & deck-shower openings (above)
In the morning, Mike from AME arrived, bearing 2 new deck shower sets for us. These are even better than our old ones, in that the shower head retracts entirely into its holder (our old ones left the shower heads protruding a bit). Being new, they also look much better, but they're slightly larger than our old ones. So Jon spent a few minutes enlarging the holes he'd drilled in the sugar‑scoop steps to hold these fittings, and ensuring that they were properly de‑cored.
Just after noon, Jon and Amanda had to go into Phuket town to retrieve our newly repaired scooter from the fixit shop. As usual, a trip to town takes several hours, especially since nobody spoke much English. Although we had Jon's passport (which seemed to be necessary) we did not bring the ownership papers (which were not mentioned when we asked what to bring). Apparently, Thais usually carry the ownership papers on the bike, although we'd think this would make theft much easier. They eventually let us leave with the scooter, probably because they were just as frustrated with the language barrier as we were.
About 4:30 Jon was able to finally get around to his epoxy jobs, with Amanda as his trusty helper. The 2 of them think in similar ways so they work well together. They (re)acetone cleaned the 12 cockpit drain holes (6 in the hatch gutters and 6 in the floor of the cockpit lockers) and the de‑cored areas, then mixed up 2 batches of epoxy, one with micro‑balloons as filler and one just straight epoxy. Amanda painted the straight epoxy into all of the holes and on all 12 of the short PVC pipes that will become part of the cockpit drains. Jon smeared a bit of filler in the holes but more on the pipes before gently fitting the pipes into place. With one more batch of filler they filled the de‑cored areas of both deck shower fittings, and the square engine vent holes. Assuming it all kicks (and we can't remember when Jon last had an epoxy failure) these areas will be ready for P'Wat's team to carry on on Monday with the sanding and cleaning of the cockpit prior to gelcoating.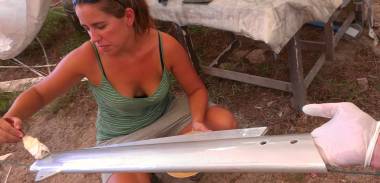 Sue stabilizing a spreader while Amanda paints on Nyalic
Sunday, March 31:
Third Sunday that we've worked in a row, and a very successful day it was, too!
Sue and Amanda headed out on Scooter (yes, newly repaired after Jon's accident) to arrive at the yard at 9am. They wet sanded 7 mast spreaders plus the new prod with 1000 grit paper, then hung them up between the tent poles. They wiped them down with biodegradable detergent, then rinsed them with clean drinking water.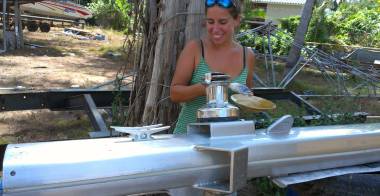 Painting the second coat of Nyalic onto the base of the mast
While the spreaders dried they gave the same treatment to the base of the mast below the line clutches and left it to dry in the glaringly hot sun. Back in the shade, they wiped the spreaders with isopropyl alcohol and they were ready to Nyalic. The application went pretty fast, with Amanda brushing (with her special brush with cloth wrapped around to keep the bristles in) and Sue stabilizing the swinging aluminum spreaders.
That done, they did the alcohol wipe on the mast and got the Nyalic on smoothly, despite the direct sun on the aluminum.
Thinking their half day of work was done, they met Jon at Flint's One Bakery for our standard Sunday brunch! Rested and fortified, Amanda quipped that in truth sometime we should consider putting a second coat of Nyalic on right on the same day, as this would save having to wash and alcohol wipe again. Ding. Brain alert! We had the perfect opportunity to follow up that great idea, we just had to get the oomph to do it. And we did.
Back to the yard at 1pm. Sue and Amanda wiped the spreaders and mast base with a soft lint‑free cotton glove, and then they re‑applied more Nyalic. The second coat always seems to take a bit more Nyalic, maybe because it doesn't brush on quite as easily. But it still self‑levels and looks great. The amazing thing is that now we've done the whole mast (lots of it with 2 coats), and all the big spreaders with 2 coats, and we still have Nyalic left in the first quart can!
Thai Refit: Next | Up | Previous | 122 Launch! | 121 Final Frenzy | 120 Mast & Boom | 119 Polish & Wax | 118 Mount Cleats | 117 Furnish Cockpit | 116 Bimini Legs | 115 Stern Jewelry | 114 Start Headliners | 113 Cockpit Hatches | 112 Decks Washed | 111 Tomcat Painted | 110 Gelcoat Salon | 109 Diamonds On | 108 Foredeck | 107 Anchor Platform | 106 Prepare Mast | 105 Mount Forebeam | 104 Worker Walkout | 103 Bimini Up! | 102 Spray Bimini | 101 Spray Forebeam | 100 Sanding Deck | 99 Spray Port Deck | 98 Spray Stbd Deck | 97 Cabin-top Gelcoat | 96 Start Deck Gelcoat | 95 More Varnishing | 94 More Varnishing | 93 Varnishing | 92 Finish Nonskid | 91 Epoxy Hulls | 90 Broken Finger | 89 Teak & Varnish | 88 Varnishing Started | 87 Start Cockpit Teak | 86 Bow & Stern Molds | 85 Laying Nonskid | 84 Polishing Cockpit | 83 Laying Nonskid | 82 Cockpit Gelcoat | 81 Finish Templates | 80 Spraying Gelcoat | 79 Rudder Tubes | 78 Cut Teak Blocks | 77 Start Templates | 76 Teak Chain Lattice | 75 Shower Controls | 74 Chip Cabin Top | 73 Cockpit Drains | 72 Polish Bridgedeck | 71 Port Aft Cabin | 70 Spray Bridgedeck | 69 Spray Portside | 68 Rudder Bearings | 67 Spray Starboard | 66 Fair Starboard | 65 Bad Epoxy Filler | 64 Spray Foredeck | 63 Spray Deck Gutters | 62 Prep for Gelcoat | 61 Spray Targa-Bar
Ocelot Pages: Rebuild Decks | Extend Transoms | Cockpit Area | Below Waterline | Bimini | Spars | Deck Hardware | Exterior Lockers | Salon | Galley | Cabins | Heads | Interior Floors | Electrical | Maintenance | Weekly Logs 2012 | Weekly Logs 2013
Top Level: Home | Destinations | Cruising Info | Underwater | Boat Guests | Ocelot | Sue | Jon | Amanda | Chris | Site Map | Make a Comment
---
Lifetime
Commodores
of the
Seven Seas
Cruising
Association

If our information is useful,
you can help by making a donation
Copyright © 2000‑ Contact: Jon and Sue Hacking -- HackingFamily.com, svOcelot.com. All rights reserved.