88 Varnishing Started
Summary: A good week, despite having to fly to Bangkok for a day to renew our visas, but on Sunday we celebrated "The Day All of France Celebrates Sue's Birthday." Other accomplishments for the week include:
Filler added around the 6 targa‑bar access panels so the panels sit flush with the surface
Underside (filled area) of the targa‑bar re‑sprayed with gelcoat
Targa‑bar sanded up to 1,500 grit
Machine polished several of the access hatches for the targa‑bar
Both port and starboard interiors cleaned
Planned the sugar‑scoop lighting, including a nighttime test with 2 different types of LED
Stuck down nonskid on the port bow, under the salon side windows, and under the galley window
Glassed the swim-ladder hinge areas and sanded them smooth
Discussed the varnishing projects and options with Baw
Starboard interior teak sanded, masked, and 1 coat of varnish brushed on
Flew to Bangkok for a day to renew our Thai "retirement" visas
Drilled some drain holes in the battery compartment hatch gutter
Teak stuck down under where the cockpit table goes
Cockpit table sanded for epoxy/varnishing
Celebrated Sue's birthday on Sunday with friends and much festivity in Ao Po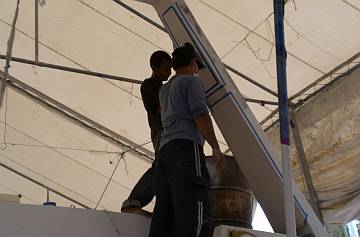 Baw & Pla masking the targa-bar for more filler
Monday, July 8:
Bit of a late start for Sue and Jon as they scootered down from another lovely weekend in Ao Po. But we had a full contingent of workers, plus a new one, a friend of Heru's.
More work happened today on the Targa Bar. Lek continued wet sanding on the port lower side. Pla and Baw checked all the access panels and pointed out how they no longer fit very well. Hmm. Result of too much fiberglass, too much gelcoat, not enough filler around the edges in some places. Baw's quick fix was to tape the edges of the access panels, screw them in place, and put filler on the targa‑bar around the edges of the panels. By afternoon he had the filler sanded flush on those 2, and all it needs now is a touch up repair with gelcoat. It looks good enough we may decide to "fix" the other 4.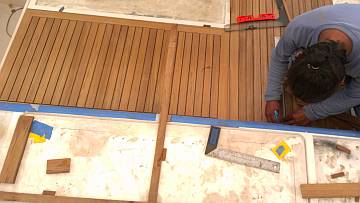 Houa's new teak in the cockpit so he can lay out the 4th hatch
Heru and his friend spent the day inside Ocelot cleaning, in anticipation of the varnishing project. They vacuumed the starboard cabins and got them all wiped down. Almost looks like our familiar home. Almost.
Houa did a lot of detail work on the 3 cockpit locker hatches. They each got their calking lines cleaned out of any excess Sika, and another top sanding. We asked him about all the extra Sika 298 that he put into the circular indents where the big handles will go. We had thought it was a waste to put any Sika there at all, as the handles will be set right down on the bare fiberglass. But Houa said that if he hadn't put the Sika, he couldn't be sure that the teak was sealed, and we might get water underneath the handle. OK. We can accept a bit more Sika being used if it's assurance of a water tight fit.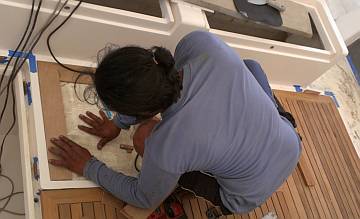 Houa starting to work on the area under the cockpit table
Houa's last project of the day concentrated on the area where the cockpit table goes. He measured it up and build a template so he can start building that section in his workshop. He also checked measurements for where the teak will line up forward of there, under the helm seat. Pretty exciting to see the teak (albeit not finished) on the cockpit hatches, IN the cockpit!
Jon had to play electrician/technician in the morning repairing a broken 220v grinder. Again. Then he moved to the fun job of planning out where to put the new sugar‑scoop lights, and how to run their wires. We'd like more than 1 LED light on each set of steps, but at $40 for each light, the extra ones may have to wait.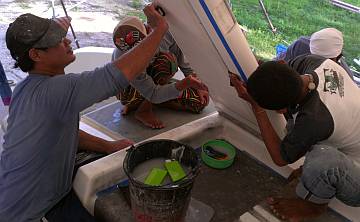 Our team getting Baw's newly laid filler ready for gelcoat
Sue played Jill of all Trades today, trying to stay on top of all the projects, and anticipate the next ones. We are beginning to think about actually varnishing. So the big questions arise -- which varnish? Do we use 2‑part polyurethane or much cheaper regular varnish? Who carries what brands and at what prices? So many questions. Baw helped by phoning some shops for us where he either knew someone, or we needed help with the Thai. Sue stopped by Top Marine on the way home and got more information, including how many square meters the varnish and the polyurethane each cover. Turns out that a square meter of Epifanies 2‑part polyurethane costs 2.5 times what a square meter of Epifanes varnish costs. The next step is to figure how many square meters (including how many coats) we need of each. A nice geometry/math problem for tomorrow.
Mike stopped by to make a plan for the coming week. We hope to go away for Friday and Saturday (Sue's birthday coming up!) so we need to have the week pretty well organized, with plenty of work for the men on those 2 days. We hope to be gluing down more nonskid tomorrow.

Pla bringing the newly glued bow nonskid to the bow work team
Tuesday, July 9:
A great 3‑prong day, with advances on the targa bar, swim ladder area and more nonskid!
After yesterday's decision to "fix" the access panels in the targa bar, Baw dove right in. He and Pla taped up the perimeters of the overhead and portside access panels and got filler put on to match the (sticking out) height of the panels. As time allowed throughout the day Pla and Heru and Baw all spent time sanding that filler flush. Lek continued his detail work on the base of the targa bar around the stainless steel boot which needed a lot of attention. Tomorrow morning Baw will spray gelcoat on those newly filler‑ed rims of the access panels.
Mike came by after lunch and our team of 5 were once again the main nonskid layers. We figure that our preparations for laying nonskid have a "half‑life" of about a day. That is, once we've sanded and cleaned and positioned a new nonskid piece, that work is only valid for a day before the cleaning has to happen all over again. Today the guys used some of the morning to be sure the wood lattice for under the water‑jug weights were right, and to clean up the deck so we could lay the nonskid easily. Once Mike was there they only needed 15 minutes to clean the port bow and its nonskid piece with acetone. Houa was the glue mix‑master again, duly following Mike's recommended amounts of both polyester glue and catalyst.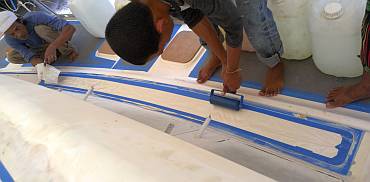 Squeezing excess glue from the under-side-window nonskid
The team got 4 pieces of nonskid laid in 1½ hours - the port triangular bow piece, the port and starboard long skinny pieces under the side windows (these areas have never had nonskid before), and the big rectangle under the galley window in the cockpit. So cool!
But getting the guys to stick around and do the recommended "finger‑wipe" after 15 minutes is like pulling teeth. Although Baw did try a new thing today. About 30 minutes after the galley window piece was down, and the glue was really starting to kick, he pulled off the blue tape on the aft edge and also pulled off the little wooden "marker block" so that he could finger wipe where it had been. This one action will save a lot of time tomorrow when the guys clean up the rims and sand the edges of the new nonskid. Too bad it didn't get done on every one!
After Mike left, Jon turned his attention to the debacle with the swim ladder hinge areas. These are at the very back of the new extensions and haven't really been properly thought out. But before we can spray gelcoat in that area we need to work out exactly what needs to be done, and even nonskid will get in the way, so this is the time to sort it all out (in fact, it's past time, as the swim platforms will require 4 days for the nonskid, 2 days each side and we don't want to do them both at the same time as they're our access to get on board).

Baw and Jon discuss how to handle the swim-ladder hinges
With calipers and the hinges in hand, and Sue as scribe, Jon made a ton of measurements of each hinge (they are all different!) and each of the slots they are to fit into (which are also quite different). No two of anything are the same.
After consulting with both Houa and Baw, Jon decided to glass over the gentle depressions that are currently in the platform for the hinges. Then we'll use a router to cut out the areas where the hinges will go, making sure that the hinges fit correctly, and that the tops are flush with the deck. We probably won't spray gelcoat where the hinges go, as that would require cutting the fiberglass back further, so we'll just mask off where the hinges go and spray around them. The bottoms of the hinges could dam up some of the water in the ladder grooves, so we'll have to add some filler to the bottoms of the grooves so the water can escape easily.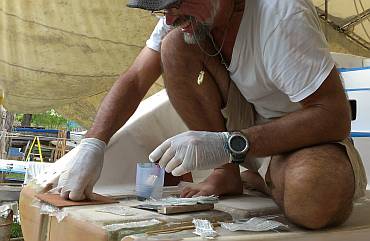 Epoxying fiberglass strips down where the hinges will go
Our plans were only finalized at about 4pm, and Jon immediately started cutting small fiberglass strips to fill the current depressions. Baw said he needed to prepare to spray gelcoat on the targa‑bar or Lek and Pla would run out of things to do (we LOVE it when Baw thinks that way!) So Jon put on gloves and pumped out some epoxy and started filling the depressions with the strips of fiberglass, with Sue as his assistant to cut more strips as needed. Jon stayed until 6pm to get everything done, the 4 hinge areas covered in polyethylene with a weighted board over them to push the fiberglass flat. Tomorrow Houa (with a new, long, tungsten‑carbide router bit) will create very accurate cut‑outs for each carefully selected hinge.
Our 2 new guys (gosh, we haven't even learned their names!) got the port cabins and passageway all cleaned up. Months of fiberglass dust and general boatyard dust was vacuumed and then wiped away. Baw will get them started sanding soon. Then we'll have varnish and wood dust (which somehow feels "cleaner" than fiberglass and boatyard dust...)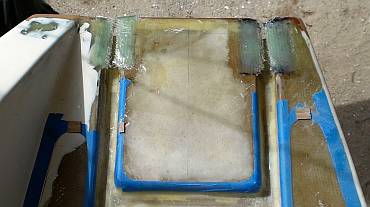 Fiberglass the next morning - hard, but it needs more work
Sue spent the day playing photographer, errand girl, and banker. She also got to deal with a Thai scooter flat tire, but since she couldn't get the little scooter shack guy to understand her miming "change the inner‑tube" Baw offered to take the scooter in for her at lunch time. Five dollars (150 baht) gave the rental scooter a new tube. Since it's rented for the month, it's up to us to fix flats!
Wednesday, July 10:
Bit of a panic day for us. When Sue went to to the bank yesterday, she browsed our passports and realized that our visas did not expire on July 25th as we'd thought, but on July 3! So Sue had to go to immigration in the morning to see what we could do about it. The good news is that they're not about to throw us out of the universe, and that it's nothing that mere money can't solve. But the late fees are $40/day, which adds up pretty quickly (we're over $200 already). Getting new visas means a flight to Bangkok to visit the US Consulate, but the Consulate appointment schedule is booked up for 2 weeks!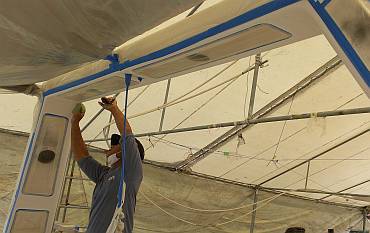 Pla cleaning the masked off targa-bar before the gelcoat spray
After a frantic call to the Consulate followed by 3 email exchanges, they granted us emergency appointments for tomorrow (all they need to do is notarize a paper that we have sufficient income to stay in Thailand). Then Sue had to book us flights to Bangkok and back. "Us" because bureaucracy demands that we both appear, even though all our finances are in both our names. <sigh> We leave here before 6am (the airport is almost an hour away) and don't return until well after dinner.
Meanwhile the guys made progress on Ocelot. They masked off the targa‑bar and with Lek doing the chemistry down below, Baw sprayed a full liter of gelcoat on the filler that he'd put on yesterday around the 6 access panels. By afternoon it had cured enough that they could start the sanding/polishing routine. Baw had them start with 400 grit so they wouldn't take off too much too quickly.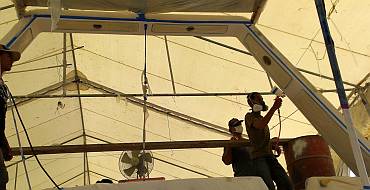 Heru and Pla help Baw spray gelcoat on the targa-bar
Our 2 new guys were sanding the varnish in the forward starboard cabin. This is our normal cabin, which means that any "teething" mistakes will be in our faces, but hopefully they won't have many. The doors are already off the cabinets and the floors are out, but there are lots of shelves that need sanding. These areas are actually in pretty good shape, so they only need a light sanding and a couple coats of varnish.
We had a long discussion with Baw about what varnish he wants to use where. We want the floors done in a 2‑part polyurethane, which is significantly more durable (and 2.5 times more expensive) than normal varnish (1‑part polyurethane is just regular varnish with ground up solid polyurethane thrown in as a filler, and isn't nearly as durable as the 2‑part). Unfortunately, when Baw first started working for us over a year ago, Golf had Baw start the floorboards with polyurethane, but then had him cover it with normal varnish. But Baw assured us that he can take off that thin layer of varnish and spray on several coats of polyurethane without any problem. In fact, he can spray all the floorboards at the same time, laying down multiple coats one after another until he gets the finish he wants, all in the same day. OK...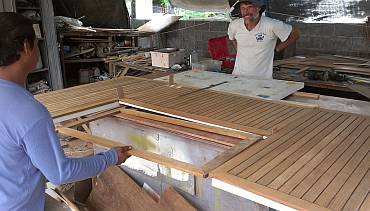 Houa's cockpit layout, including the cockpit table area frame
Baw wants to varnish the cockpit table, which we've always just oiled. The problem with outdoor varnish is that it needs a light sanding and 2 more coats 4‑5 times/year. Yes, there are products that claim longer life, but they lie. In the tropics, if you don't re‑varnish every few months, the ultraviolet will destroy the varnish and it will have to be completely removed and 8‑10 layers built up again from scratch. We don't usually have ANY outdoor varnish, but when Houa refurbished the table we realized it has a very thin veneer of teak, and we don't want to mess it up again. Better to protect it with some varnish. It's more work, but we should get a longer‑lasting table and we'll certainly please Baw and Houa.
Other high‑wear areas include the rim (fiddle) around the nav‑desk, the salon table, the rim around the galley, and the grab‑rail on the athwart‑ship bulkhead in the salon. Baw wants to coat these in epoxy before putting polyurethane on them. This makes them more durable, but also harder to repair (if/when they need repair). Here we will also probably go with his suggestion. Baw has much more experience than we do in applying varnish, and has lots of comments about ease of application of various products, but he doesn't really know about longevity, so Sue has been perusing the cruising forums, looking for information. Putting a thinned coat of epoxy (so it penetrates the wood) followed by a couple coats of un‑thinned epoxy and then varnish to protect against ultraviolet apparently lasts very well.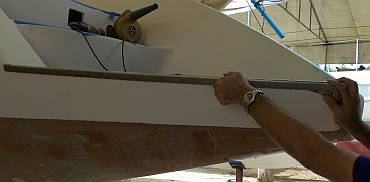 Testing the fit of the protective stainless steel edging
Houa had fun with the cockpit teak. Since the cockpit was being used for spraying gelcoat, he took the 3 (mostly) finished hatches and positioned them in his workshop exactly as they'll line up in the cockpit. Then he positioned the 4th hatch (that goes over the battery compartment). The problem here is that with the wide "king‑board" around the outside of the hatches, it's difficult to get the interior teak to line up with the other hatches. However, that battery compartment hatch is a good foot (30cm) above the floor of the cockpit with the helm seat covering it much of the time, so we told Houa not to worry about lining up the individual teak strips. He'll make the frame around the outside and then fill the inside with teak boards that are the same size as elsewhere (40mm, or about 1½"). The fact that the boards don't exactly line up with the rest of the cockpit won't show.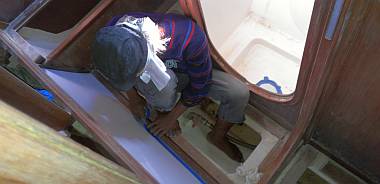 Preparing the starboard cabins for varnish - sanding and masking
Jon's fiberglass from last night set up nicely so Jon spent some time cleaning it up and sanding it flat. It needs a bit more epoxy before we can start routing out the sides to fit the hinges, but that will have to wait until Friday.
Mike made a cameo appearance in the afternoon (well, as cameo as he ever gets) to see if the stainless steel edges they're making for our swim‑platforms are going to fit. They're currently just tacked together so they aren't polished at all, but the fit looks pretty good! When we finish the swim‑ladder hinges, AME can trim the edging down and finish the welding and polish them. We're looking forward to seeing them!
Thursday, July 11:
A day of bureaucracy and traveling! We accidentally overstayed our retirement visas and had to fly to Bangkok for the day to get financial papers notarized at the US Embassy (for $50 each). We were up at 5am, scootered north for an hour, and caught the 7:30 flight to Bangkok. Three train rides later we were on the Chao Praya River playing tourist for 1 hour before our 1pm appointment with the embassy.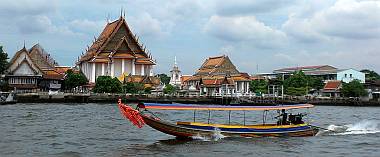 Colorful longtail blasting past a beautiful Wat in Bangkok
It was probably on the river, where Jon was taking maps out of his pocket to see where we were, that our scooter key fell out of his pocket...
Another subway/train ride, a nice walk through a park while munching on a street‑food lunch, and 15 minutes of security measures at the embassy (where the key was discovered to be missing), 30 minutes inside to get 2 papers notarized, and we're back on the streets again. Since the day was still young (we'd only been on the go for 10 hours) we decided to try for a coup. The late fee for not getting out of the universe when our visa expired is $20/person/day, and we're already 7 days overdue. But if we can start our new visas today, we can stop running up these charges.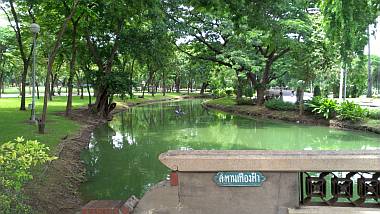 We walked through picturesque Lumphini Park in Bangkok
Unfortunately, Bangkok immigration is out in the boonies, far from mass transit. But a 1km walk, 2 more subway/train rides, a $3 taxi ride, and a 2km walk found us at the Thai immigration government complex north of the city. They wanted umpteen copies of our passports, plus photos of us, which we could get done downstairs (if these places want so many copies, why don't they have a copy machine!).
It was only after we'd jumped through all their hoops that the wheels came off our plans. We normally tell officials what they want to hear. It makes everything much easier and keeps everyone happy. But sometimes we don't know what they want beforehand. In this case, it was a Bangkok address. Since we've been living in a Phuket hotel, Bangkok immigration wouldn't process our new visas. <sigh> So we ended up wasting the afternoon, and we needed another taxi ride and 2 train rides to get back to the airport.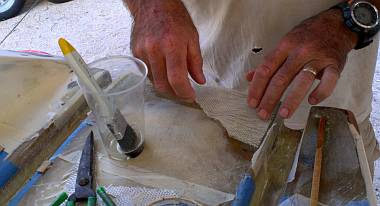 Laying the last (we hope) bits of glass on the swim platform
But the good news is that it gave us time to call the scooter rental company to see what could be done. We were not looking forward to a $40 taxi ride home and then having to both scooter back up to the airport in the morning to retrieve Sue's scooter. But Michelle, the owner of Nina's Cars, promised to send his spare key up to the airport by taxi, and when we landed, there the taxi driver was, holding a sign for Ocelot Family! This cost us $25, but had the benefit that Sue could ride back in the taxi, saving her a long and harrowing night ride back down the island behind Jon on the scooter. Whew. Looooong day!
Friday, July 12:
Back at the yard after our day in Bangkok, to find things moving along much as they have been all week.
The targa bar was still a center of attention. Lek and Pla were up there all day with very fine sandpaper putting a final sanding polish to the gelcoat.
Baw and Heru had the fun and satisfying job of putting a final machine polish on lots of pieces. They did the 2 pieces of interior hatch trim that Houa built for the forward cabins. Then they attacked the 6 access panels for the targa bar and got 4 of them polished up to a mirror finish. Beautiful!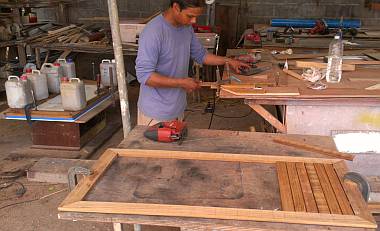 Frame being set onto a hatch on left, trimming teak slats in front
Houa had the frame for the "under table" part of the cockpit all built and spent the day creating the short planks that fit inside it. He super‑glued them together with a couple small struts to hold things together when he goes to lift it into place on top of the bonding Sika.
Our two quiet, new guys (who are so shy we don't even see them enough to know their names) continued the interior dry sanding in the starboard passage and cabins. They are under Baw's direction, and he goes down to check on them several times a day. We may see the beginning of interior varnishing tomorrow, assuming the sanding dust is fully cleaned away. To that end, Sue scootered out and bought the first lot of Epifanes gloss varnish which Baw will thin and apply over the existing (still good) varnish below.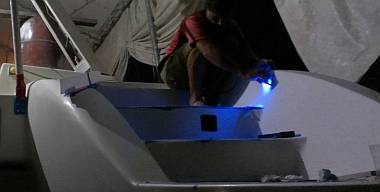 Trying out LED lights (shot before we turned off the overhead)
Jon did a bit of work in the battery compartment, planning out where the drains will go. Then he attacked the swim ladder hinge areas on the back of the swim‑platforms. Having sanded back his epoxy from Thursday, he checked the height and level of each area, then built small "dams" of masking tape to contain the epoxy resin. He got several more layers of fiberglass (tiny pieces, sort of 2‑finger size) put on the depressed areas and filled in some areas with a bit of resin. Let's hope that's enough and we can move on.
For a new adventure, we returned to the yard after dark, where we met up with the couple on the catamaran Nakamal. Like us, they are looking to put small blue LED lights on their (newly) extended sugar‑scoops. Dieter brought 2 different lights that we are both considering, and we tried them first on Ocelot, then on Nakamal. Jon attached the smaller, downward‑pointing light to a 12v wire and we tried it out in several positions. Then we did the same with the slightly larger rectangular light. We're pretty sure we'll mount the light on the "wall" of the sugar‑scoop, not on the steps, as we're probably only buying 1 for each side. But the jury is still out as to which light we liked better.

Smoothing out some final flaws in the swim-ladder hinge areas
Saturday, July 13:
Wow. A busy day with a lot of accomplishments to top off the week.
To prepare for the first day of The Great Interior Varnishing, Baw spent time sanding and shaping the bristles of his bamboo varnish brush. These brushes are made from boar's hair glued into a series of bamboo sticks, sort of like a set of pan pipes with bristles! As bought, the bristle bunches are very wide, and all the bristles are of an even length. By running the bristles over sandpaper, Baw shaped and tapered them, making a big mess of boar's hair! When he had the final thinness he wanted, he super‑glued the remaining bristles into place.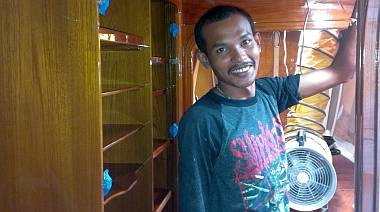 Baw, justly proud of his varnish in the starboard forward cabin
With the starboard forward cabin masked off with polyethylene over the door, and the extractor fan sucking air out the hatch, Baw donned his Darth Vader mask and began applying the first coat of Epifanes High Gloss varnish, thinned with 20% thinners for better application. He applied varnish by brush over areas that already have intact varnish, and that had been hand sanded, cleaned with water and alcohol, and then tact‑rag wiped this morning. He got a shiny layer of gloss varnish on both the forward and the aft cabins on starboard.
Meanwhile, on the port side of the boat, Heru continued to work with one of the new guys, sanding and cleaning in preparation for varnishing port cabins.
Jon continued to work on the swim platform ladder hinge areas. He got a final layer of epoxy resin thickened with silica on each side, filling the small depressions left after yesterday's epoxying. Before the new layer had fully kicked, he used pieces of polyethylene over the epoxy and a small piece of wood to compress and smooth out the epoxy. He even did some of the smoothing by hand. This should reduce the amount of sanding necessary on Monday.
Then Jon drilled 2 more drains in the hatch gutter over the battery compartment (which also houses the autopilot brain, the solar controller, the inverter, and several other electronic components). The 2 existing drains are being rerouted to drain directly into the under‑deck wave‑breakers, which is where the new drains will go as well, so 4 new holes have to be drilled through the bridge‑deck. This is a bit dangerous, as missing the wave‑breakers (which act as channels for draining water away) means ruining our lovely polished gelcoat down below. As the Russians say, "measure 7 times, cut once!"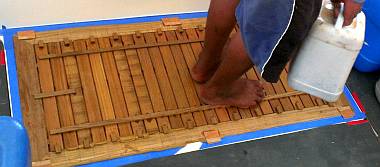 Houa bedding down the teak where the cockpit table will go
Houa unveiled yesterday's new teak frame around the aft central section of the cockpit (the part that is under the cockpit table). He prepared the fiberglass under that teak by long‑boarding with 60 grit, then cleaning with acetone. After waiting for the acetone to fully evaporate, he applied Sikaflex Primer by brush to both the floor and the teak planks that he had aligned and super‑glued into a rectangle yesterday. After the primer was ready, he squeezed out copious amounts of brown Sikaflex 298. This he leveled with a plastic spatula with 5mm teeth. The rectangle of teak boards was lowered into place and pressed down. Houa used his own body weight (bare feet) and carried 12 lb. (5 kg) jugs of sand to add to his weight. When he was sure it was all evenly pressed down, he used a board to push individual planks to be sure there were no air pockets. He finished by weighting down the entire section with big water jugs. This was the first time we've had new teak put directly onto the boat!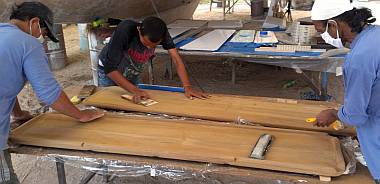 Pla, Baw, & Lek sand the folding cockpit table that Houa rebuilt
With the varnish drying down in the starboard cabins, Baw asked for the cockpit table to be brought over from the store room. He, Lek and Pla set up a work space under Ocelot where they carefully hand‑sanded the table with even finer grit than Houa had when renovating it. After much discussion, we have decided to go with a thinned epoxy coat, followed by 2‑part polyurethane for UV protection and a final coat of AwlBrite. We thought about varnish over the polyurethane but then Baw says we can't repair the varnish if it gets gouged, whereas we can repair damaged polyurethane, and we can renew its pristine look every 6 months or so. We've never used AwlBrite. Hmm. We Shall See.
Off to Ao Po to spend Sue's birthday weekend with good friends!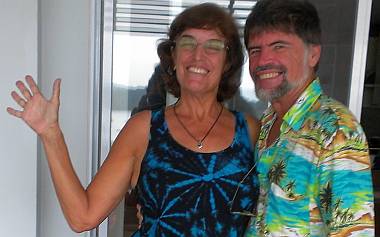 At Sue's birthday brunch of BBQ waffles and mimosas
Sunday, July 14:
Bastille Day! Also known as the Day That All of France Celebrates Sue's Birthday!
We woke up to a soft gray morning drizzle that cleared into a blue sky high cloud day with lovely views north to the Guilin‑like karst mountains of Phang Nga Bay. We made Skype calls to family while Bruce prepared a sumptuous brunch. Champagne and nectarine juice (aka Mimosas), fresh hot coffee, waffles(!) done in his cast iron waffle iron over the barbeque, real maple syrup (aka maple syrple), toasted nuts, raisins, and fresh banana slices. Good conversation, good friends.
Sue scootered off for a midday $10 1‑hour massage as a birthday treat, and returned to find more cruising friends had arrived. Michael and Sue from Infini are back from Florida and added to the festivities. We were soon playing Farkle, laughing, munching, enjoying cold white wine and a great cruisers afternoon. More guests, a cruising mother/daughter couple who Bruce and Alene met in Panama years ago when Coco (now 13) was a toddler. They are sailing for Africa tomorrow!
Dinner was barbequed pork on hot rolls, with a big salad, fried onions and potatoes. All fresh and local from the nearby market. Topped off with carrot cake and ice cream. We were all stuffed. There were lovely, thoughtful gifts for the birthday girl, topped off with a best‑ever serenade -- a song for Sue, a take‑off on The Beatles' classic When I'm Sixty‑Four.
Thai Refit: Next | Up | Previous | 122 Launch! | 121 Final Frenzy | 120 Mast & Boom | 119 Polish & Wax | 118 Mount Cleats | 117 Furnish Cockpit | 116 Bimini Legs | 115 Stern Jewelry | 114 Start Headliners | 113 Cockpit Hatches | 112 Decks Washed | 111 Tomcat Painted | 110 Gelcoat Salon | 109 Diamonds On | 108 Foredeck | 107 Anchor Platform | 106 Prepare Mast | 105 Mount Forebeam | 104 Worker Walkout | 103 Bimini Up! | 102 Spray Bimini | 101 Spray Forebeam | 100 Sanding Deck | 99 Spray Port Deck | 98 Spray Stbd Deck | 97 Cabin-top Gelcoat | 96 Start Deck Gelcoat | 95 More Varnishing | 94 More Varnishing | 93 Varnishing | 92 Finish Nonskid | 91 Epoxy Hulls | 90 Broken Finger | 89 Teak & Varnish | 88 Varnishing Started | 87 Start Cockpit Teak | 86 Bow & Stern Molds | 85 Laying Nonskid | 84 Polishing Cockpit | 83 Laying Nonskid | 82 Cockpit Gelcoat | 81 Finish Templates | 80 Spraying Gelcoat | 79 Rudder Tubes | 78 Cut Teak Blocks | 77 Start Templates | 76 Teak Chain Lattice | 75 Shower Controls | 74 Chip Cabin Top | 73 Cockpit Drains | 72 Polish Bridgedeck | 71 Port Aft Cabin | 70 Spray Bridgedeck | 69 Spray Portside | 68 Rudder Bearings | 67 Spray Starboard | 66 Fair Starboard | 65 Bad Epoxy Filler | 64 Spray Foredeck | 63 Spray Deck Gutters | 62 Prep for Gelcoat | 61 Spray Targa-Bar
Ocelot Pages: Rebuild Decks | Extend Transoms | Cockpit Area | Below Waterline | Bimini | Spars | Deck Hardware | Exterior Lockers | Salon | Galley | Cabins | Heads | Interior Floors | Electrical | Maintenance | Weekly Logs 2012 | Weekly Logs 2013
Top Level: Home | Destinations | Cruising Info | Underwater | Boat Guests | Ocelot | Sue | Jon | Amanda | Chris | Site Map | Make a Comment
---
Lifetime
Commodores
of the
Seven Seas
Cruising
Association

If our information is useful,
you can help by making a donation
Copyright © 2000‑ Contact: Jon and Sue Hacking -- HackingFamily.com, svOcelot.com. All rights reserved.