64 Spray Foredeck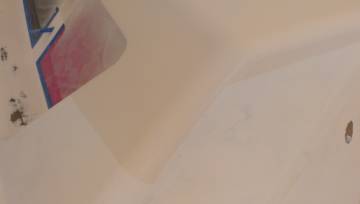 Color difference between old and new gelcoat (new on top)
Summary: The week started slowly but we ended up getting a lot done. Nut spend several days sanding the underwater parts of the hulls (for which he received additional pay) removing the high spots so we don't have to use as much filler to fill the gouges left by the grinders that took off the gelcoat. K worked with Houa all week. They epoxied and sanded the headliner boards, then ripped out some wet plywood in the portside cabins. Houa ripped out some rotten wood from the portside heads and started making plastic‑wood replacements. Jon mounted and trimmed the portside aft cockpit door and disassembled our feathering Kiwi prop, finding a bent spring inside. He drilled a pair of drain‑holes in the new hatch gutters up forward, so we can mount PVC drain‑pipes in them. He also found how to modify West System epoxy pumps so they'll work with our Epotek epoxy! Baw's team worked on the foredeck, directly in front of the salon, and on the targa‑bar, getting them ready to be sprayed with gelcoat. Sue and Amanda kept a close eye on Baw's team, asking them to fill small defects they'd left behind. Friday and Saturday were gelcoat spray days, as Mike and his team from AME sprayed the foredeck, the lower targa‑bar, several hatches and louvers, and touched up 2 areas of the bimini. Our team did much of the masking, and provided support when they weren't sanding the sprayed bits. Jack put tiny blobs of gelcoat on the pinholes that formed in the gelcoat, saving us an additional sanding step.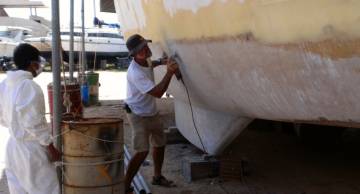 Jon showing Nut how he wants the hulls smoothed out
Monday, January 21:
Bit of a slow day at the yard today. Baw seems to have fallen sick over the weekend, and Cris needed some of our men to work on other boats that are in the yard, which was fine with us. Lately we've really had too many workers to manage efficiently. We had hoped to go over Ocelot with Baw and Cris to discuss what still needs to happen, but it will have to wait for another day.
In the end we only had Houa, K, and Nut helping Team Hacking. Nut started by peeling all of the masking tape markers out from under the gelcoat that Mike sprayed on Saturday. The gelcoat seems to have setup nice and hard. Then we set Nut up smoothing the underwater parts of the hull a bit. When Golf's workers took off the gelcoat, they used grinders that put some really deep gouges into the hulls. We don't want grind all the way to the bottom of those valleys, but we wanted Nut to take off the high bits. This will save us a lot of (expensive) phenolic filler when we come to fill the gouges. Nut had finished the outside of starboard hull by the end of the day. We tried to tell hem that he's sanding too much, but these guys have their own ideas about that.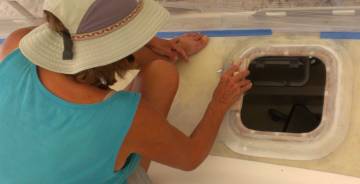 Sue working on the hatch coamings
Nut was using a grinder with a 6" (15cm) sanding disk on it to smooth the underwater lines of Ocelot's hulls, but it soon became apparent that he didn't have much experience with grinders. So Jon asked Houa to give Nut some pointers and safety tips so he didn't hurt himself. (Jon himself almost tore his privates off when a grinder got away from him.)
K was helping Houa. He started by lightly sanding some of the headliner panels that were epoxied on Saturday. This wasn't strictly necessary, as the contact adhesive that they'll use to hold the foam of the headliners to the plywood doesn't care if the epoxy is sanded or not, but Houa seemed to want it done. After a while K moved over and started to sand the cockpit seat, which probably needed it more.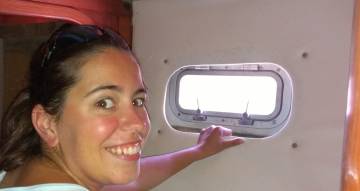 Amanda pulling a headliner (OK, sideliner) out of a cabin
Jon worked on the aft‑deck. First he measured and drilled out the holes for the port aft cockpit door. It needed a fair amount of trimming to hang correctly so it would open and close smoothly (which the original doors never did). Then he moved to the emergency rudder bearings to grind off some of the excess epoxy mud that was put in when the areas were de‑cored. The cover‑plates should fit fine now, even after gelcoating.
Amanda spent most of the day sanding the prod to get it ready for Nyalic, but she also had to run some errands as the guys found they needed sandpaper and other supplies.
Tuesday, January 22:
A fairly quiet, but steady-progress sort of day on Ocelot. Cris has promised us more men for tomorrow, which will be good. After the whirlwind activity of the past 2 weeks we were ready for a break, but we didn't expect to be down to 3‑4 workers!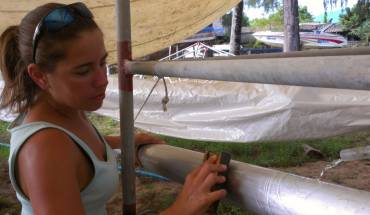 Amanda sanding a nice finish into our prod
Amanda and Sue took advantage of the quiet morning to explore the inside of Ocelot, down in cabins they hadn't been in for months. We made some discoveries:
Amanda's bunk (and the mirror bunk on starboard) could be made several inches longer without needing to re‑make the headliner.
We missed 4 pieces of headliners when taking them to the shop to be re‑covered.
Houa needs to re‑make the plywood backing on 2 of those due to water damage.
We may need to remove the port light in Amanda's cabin because it is mounted on wet plywood, so it will continue to leak.
Dang. More work. But Sue and Amanda managed to finish sanding the prod with 400 grit, so they're ready to move on to 600 and 1000.
We learned that none of the current workers at the yard are enamored of fiberglass grinding (which could be interpreted to mean they are all quite sane) so it was suggested that we offer a hazardous work pay bonus to Nut for the grinding. So for these few days he gets an extra 100 baht (US$3) a day, a 20% pay raise. Although he took a lot of breaks (probably to stretch his back and neck and to cool off) he got the entire starboard hull finished, and a fair ways down the port hull, down the center line. Nut is young, but quite keen to learn and we really like working with him.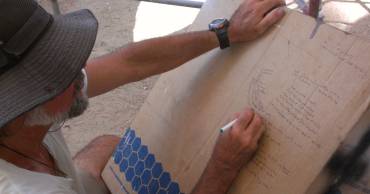 Jon working out the order of the layers - on an old box!
Jack was putting final (we hope!) filler on the helm seat, and we look forward to seeing some sanding/smoothing going on soon.
Houa is still busy with the headliner project. With the new pieces Amanda and Sue pulled from Ocelot's interior, he'll have even more work. The main project today was creating the long plywood strips that rim the salon headliner pieces. The old strips will have to be ripped off by the TMT canvas people when they re‑cover the salon headliners.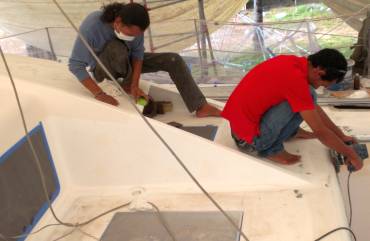 Jack & Baw smoothing Ocelot's foredeck for gelcoat
Baw was out for the morning tending to some family matter, but was back after lunch. We had a long talk with him and Cris about the next important tasks. We'll be concentrating on the hull prep and the foredeck area. Mike from AME wants to spray the gutters of the foredeck later this week, so we asked Baw to please work on getting that area ready. Luckily, Mike is willing to let us call the shots on when we're ready, so we'll we able to monitor the progress in the next few days and know when to schedule the next big gelcoat shoot. We're aiming for Friday.
Jon spent a few hours cleaning our Kiwi feathering prop. He noticed that some of the bits that are supposed to move, don't, so he'll have to strip it down and give it some TLC. He also worked out what we think is a good way to merge all the new layers that are going onto the hulls, and how to handle the waterline area where they all come together. It's pretty complex, given that we want:
No polyester below the waterline
No steps (some of the layers could be up to 1mm thick)
Epoxy as the last layer before the antifouling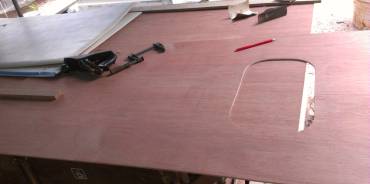 Pieces of headliner, new and old, in Houa's woodshop
Wednesday, January 23:
A slow day at the yard, but probably more for Team Hacking than the workers. Sue and Amanda were off for a few hours dealing with immigration, then Jon took the scooter up to Boat Lagoon for more errands (and to recover our phone).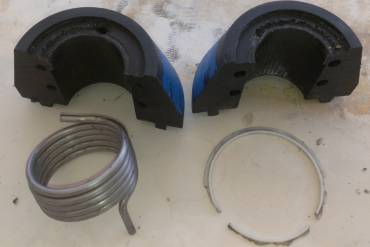 Top of spring should stick out at 90°. Hubs damaged but OK.
Meanwhile, Houa and K together finished the headliner project. We now have all the water‑damaged pieces remade and ready to be sent back to TMT Tents for their foam and vinyl covering. K got the pieces all epoxy coated, while Houa finalized the long strips that will hold the salon headliners in place. Late in the afternoon Houa was once again working on the plastic panels for port heads, and K will be starting down below tomorrow removing the old brown rubber that covers panels of plywood in the port cabins.
Up on deck, Baw and Jack sanded and added filler to places around the foredeck and the leading edge of Ocelot above the trampoline line. The foredeck itself is the next area that Mike wants to gelcoat so we were pleased when Baw announced that it was all finished. The guys then moved on to doing final prep work near the "eyebrows", as we call them, the cabin top extensions that cover the forward port lights.
Nut continued his sojourn into the realm of fiberglass dust, grinding the left‑over bumps from port hull under the waterline. We'll all be happy when this is done as it puts fiberglass in the air and makes it very unpleasant to work on the aluminum boom and mast off to port (downwind) of the boat.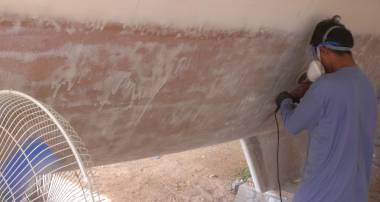 Nut finally finished sanding the hulls smooth(er) today
Jon's technical challenge of the day (besides 2 hours of Phuket traffic) was the Kiwi feathering prop. He stripped it down and found that the big internal spring had straightened out. The end of the spring is supposed to stick out at 90° and fit into a hole in one of the plastic hubs. It was no longer in its hole and had chewed up the tops of the hubs, so the prop was slipping (and probably didn't go into reverse at all). The hubs are probably savable, but the spring should be replaced.
Thinking back, this might have happened when we had an argument with a reef as we were leaving the Andaman Islands. We try not to have those sorts of arguments - the reefs always win. So we'll need to order some parts from New Zealand before we can put that propeller back together.
Thursday, January 24:
A hot and high overcast morning, but it didn't deter the workers on Ocelot.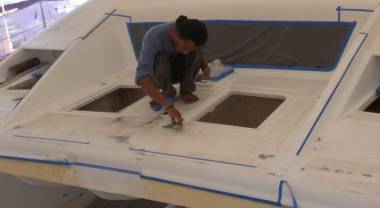 Jack touching up some spots on the foredeck
We had some time with Cris and Baw in the morning going over the order of priorities. Having Cris to interpret has been fantastic, as we can get across more complex requests than just "please do this now". We actually can get into discussions of "why" and "why not" or "how best" to do something. It seems like we all learn and benefit from these discussions.
One on‑going discussion centers around the gelcoating process and the order in which little defects are fixed. Baw and the Thai team favor wet sanding a whole area (like the targa bar) with 400, then seeing what needs fixing, then touching it up, and often re‑spraying again! Mike and the AME team favor sanding just the obvious defects with 240 or 180, fixing them, and then sanding the whole area. The targa bar has many little pinholes (possibly from poor preparation) and they are fixable. Through Cris we succeeded in convincing Baw and Jack to compromise: they dry sanded the targa with 240, then finger sanded the problem areas, touched the pinholes with a handheld drill bit, and touched up all the little defects with our Ocelot White gelcoat. The targa will now be ready for a second spraying on Saturday.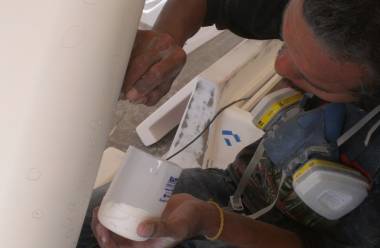 Baw touching up tiny spots on the targa-bar with gelcoat
Down below, Nut put in another half‑day on the hull sanding, and finished just after lunch. Yay. No more fiberglass dust, at least for awhile! No doubt he was just as happy as we were!
Sue and Amanda put in some hours double‑checking the foredeck to be sure it was ready for tomorrow's gelcoat spray. They were a bit surprised to find a fair number of small indents or pinholes in the filler or in the Thai white gelcoat that Baw had sprayed on weeks ago. They marked the spots, and in the afternoon Jack touched them up. They will be sanded at 8:30 in the morning.
In trying to understand how it is that Baw said it was ready to spray, we came to one conclusion. For the Thai team, a gelcoat spray is not a one‑time deal, like a paint spray job. They seem to prefer to do a "throw‑way" spray first. This lets them find any shape defects, but it can also introduce pinhole defects, or problems with the surface preparation. We need to work with the Thai workers to understand that we want pre‑gelcoat spraying to be as accurate and finicky and careful as a pre‑paint job, as we don't expect AME and Mike to do a "throw‑away" spray, then come back to do it again (even though that's exactly what we're doing with the targa‑bar...)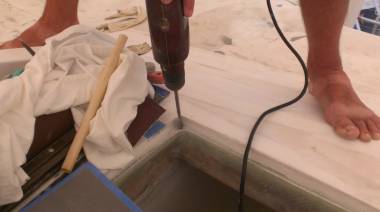 Jon boring a drain hole in the new starboard locker gutter
Jon worked on several projects. He found some small PVC pipe and drilled new drain holes for them into the 2 new foredeck lockers. Next step is to epoxy the PVC pipes in there to seal the edges and be sure the water drains correctly.
Jon also had some interesting discoveries. One of the joys of using West Epoxy is the pumps you can buy that measure out the correct mixing ratio with no mess or fuss. It's strange that no other epoxy manufacturers realize the value of that and make their own pumps, but none do (that we've found). Unfortunately, West Epoxy is very expensive outside of the US, and other epoxies generally have different mixing ratios. But yesterday Jon bought a pair of West epoxy pumps, took them apart, and made 2 interesting discoveries: 1) the pumps can easily be set to whatever mixing ratio you want, and 2) the pumps can fit any other epoxy bottle easily. So he modified the pumps to work with our locally produced but quite good and much cheaper Epotek epoxy! We'll be writing this up with full directions on our Epoxy page Real Soon Now...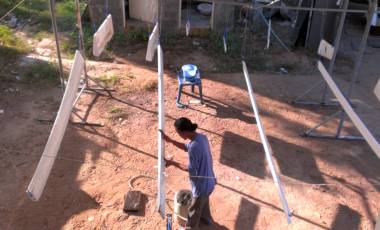 Jack washing some of our newly hung louvers
Houa was probably happy to see all the headliners disappear, when TMT came to collect them. He now has his workshop back, and was able to return to the project of replacing the rotten wood panels on the port side heads.
K, who is pretty much Houa's assistant now, spent the day working in the hot, stuffy forward cabin. Below the headliner, and above the floor boards the cabins have all had a bizarre brown rubber covering over plywood. Years ago Jon and Sue removed several of these panels in the starboard cabins where water had damaged them, and replaced the areas with white formica, which looked simple and bright and stayed clean. Now K is removing the rubber and plywood from the port cabins, and he and Houa will be gluing up white formica against the hull itself. No more plywood under port lights in the cabins, please!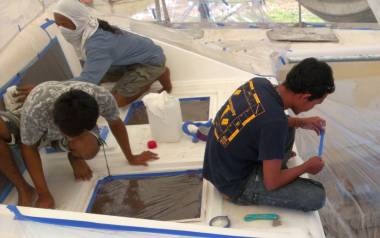 Nut, Lek & Baw masking Ocelot's foredeck for the gelcoat spray
In the afternoon the guys set up ropes just in front of Ocelot and hung our many hatches, louvers, and covers up for Mike to spray tomorrow morning. Then they washed them all and wiped them with acetone. We're hoping that Mike can spray them and some of the foredeck on Friday, and then spray 2 repair spots on the bimini and put a second coat on much of the lower targa‑bar on Saturday. We Shall See...
Friday, January 25:
A great day at the yard, with a bit of rain last night to settle the dust!
Team Hacking and the guys jumped right into last minute preps for the big gelcoat spray. Sue hit the foredeck with 120 grit sandpaper to smooth off the last minute touch‑up spots put on by the guys yesterday. As soon as that was done, Baw and his team, and Amanda and Sue masked all the vital places and neighboring boats and our own cabin top with either polyethylene plastic, a vinyl cling wrap or woven plastic sheeting. We were thankful that the breeze was lighter today.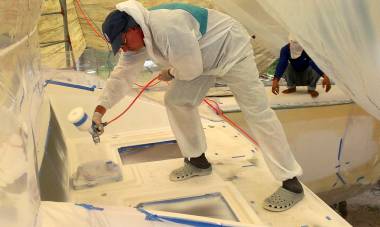 Mike spraying gelcoat inside a plastic tent of masking material
Mike was there early but his AME team didn't get there until after 10. The first order of business was to re‑spray the compass binnacle as last week's spray was too thin. Then they moved to the foredeck, which got more gelcoat then Mike had expected because we'll actually have very little nonskid up there, as the anchor windlass takes up a lot of space. Mike finished the foredeck by standing on a scaffold and shooting the leading edge above the PVC pipe that will be our trampoline holder.
After lunch we started up the compressor again and the AME team got a couple nice coats of gelcoat on the loose hatches and louvers that the guys had hung up, washed, and acetoned. This wasn't all the "small bits", but we're hoping to get more done tomorrow.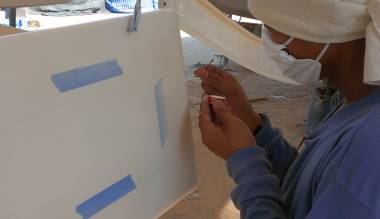 Jack touching up holes wet-on-wet from a tiny capful of gelcoat
Sue and Amanda left the yard during the morning spray and headed a few miles towards Phuket town on the scooter. TMT, the folks doing our headliners, said that the 2 rolls of vinyl we had ordered (a couple weeks apart) were from 2 different dye lots, and so not quite the same white. Grrrrrrr. All this effort to get the whole boat interior looking clean, new and white, and now we'll have some slight discrepancies between panels. After phone calls to Bangkok (made by Nok, at TMT who speaks good English) it appears that nothing can be done except to throw out hundreds of dollars and start over, so we chose not to do that. Instead, we'll have them carry on with the new vinyl covering, and when we get the panels to the boat we'll see how they look. If we still have left‑over stuff from the new dye lot, we'll fix any that drive us nuts. Chances are, we will ignore the differences...
Houa and K were in and out of the port side hull all day. Houa working on head panels and both of them working on taking out the old, wet plywood. The request for big plastic garbage bags at the end of the day was a hopeful sign that all the de‑construction is over, and now they can move onto the fun of putting the new white formica coverings on.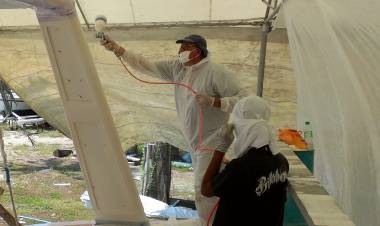 Mike re-spraying the targa-bar behind plastic masking
Jack, Nut and Lek spent the post‑spray time prepping the targa bar for its final gelcoat which is due to happen tomorrow. This involved sanding down the little dots of gelcoat that were dabbed on yesterday to fill pinholes, and being sure the entire surface was free of shiny gelcoat.
Jon measured the distance from the waterline to the centerline of the hull at several points, and determined that we'll have about 70 square meters (650 sq ft) of hull below the antifouling‑line that we'll want to coat in epoxy (our wetted surface area is somewhat less, as we're bringing our antifouling‑line about 3" above where we think the waterline will be). West System apparently says that we should have at least 0.5mm of epoxy to form an adequate water‑barrier to protect our polyester hulls. That equates to about 35 liters of epoxy that we'll need to roll on, plus what we'll need to fill in the gouges Golf's men made in our hulls.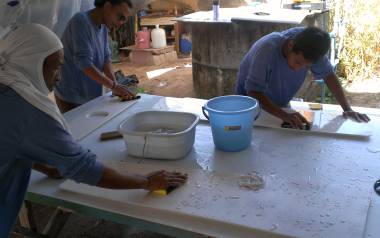 Lek, Jack & Nut sanding the parts that were sprayed yesterday
Saturday, January 26:
A great end to the week, with good work done and good vibes all 'round. Knock on wood...
Today was another AME/Mike gelcoat spray day. Baw and Nut jumped into the masking of the cockpit and sugar scoops so that the targa bar could be sprayed (again). This time we moved the big support drums farther away from the targa bar so that Mike could get better access. We had put lots of time into preparing the structure, filling all the little voids and sanding the existing gelcoat for good adhesion, so we hoped for a really good spray result.
Mike and his 3‑person team all arrived before 9:30 (which is good, given the traffic jams in Phuket) and they got the targa bar sprayed by 11:30. First thing in the afternoon we moved the bimini out from under Ocelot and flipped it over. Jon, Amanda and Baw sanded all the bits that needed re‑spraying and the AME team masked it so we were ready for an edge touch‑up spray. Mike also got 6 smaller items gelcoated: the 2 cockpit doors (which Baw had gelcoated earlier), 1 of the engine hatches (we had had to stand on them for the morning spray), the 2 small hatches from the new deck lockers, and 2 sides of the helm seat!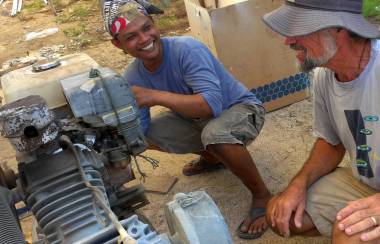 Houa & Jon trying to revive a recalcitrant compressor
After 30 minutes or so, when the gelcoat was just starting to harden, Jack would go around with a tiny cap‑full of gelcoat and a small stick to fill in any holes that appeared. The bits he dabbed on will stick proud but they're easily sanded flush with the rest of the area.
While Mike's team was spraying, most of our team worked on the final sanding/polishing of the small hatches that were sprayed yesterday. This will be a "fill‑in" job for when they need something to do while the boat is being sprayed. They will all be back on the main boat again on Monday, one team on the portside deck and another team on the starboard topsides.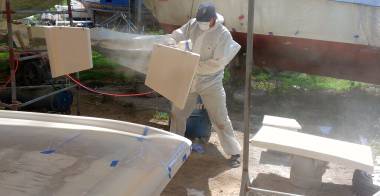 Afternoon spray of bimini & hatches - Mike wreathed in overspray
All went well with only a minor hiccup when the compressor quit. It just died. Off. Not even a sputtering or pop. It took long enough to start again that we had to borrow another compressor, but it didn't have the capacity of ours. Luckily, Mike has come to take these set‑backs in stride, so when the compressor stopped he just casually carried on spraying the helm seat (using the residual compressed air in the tank) and made sure that if he couldn't get more pressure soon, the seat would be coated well enough to easily overspray with minimal sanding. Luckily, we got the first compressor going again, after much laughing and teasing amongst Jon and the guys, and Mike finished with 3 good coats on the helm seat.
K and Houa continued their interior work, and we would see them parading by with bits and pieces of the head panels or old wood they had taken out. Their preferred method to get into or out of Ocelot is to slither through the holes where our emergency hatches were.
Being Saturday and pay day, the work sort of fizzled out by 4:15 or so. Jon, Sue and Mike retired to the cleared cockpit (after rolling up most of the masking plastic) and enjoyed a few beers while discussing the next steps to be taken to getting Ocelot beautiful. We also sent some beers down for the guys - it's been a good week!
Thai Refit: Next | Up | Previous | 122 Launch! | 121 Final Frenzy | 120 Mast & Boom | 119 Polish & Wax | 118 Mount Cleats | 117 Furnish Cockpit | 116 Bimini Legs | 115 Stern Jewelry | 114 Start Headliners | 113 Cockpit Hatches | 112 Decks Washed | 111 Tomcat Painted | 110 Gelcoat Salon | 109 Diamonds On | 108 Foredeck | 107 Anchor Platform | 106 Prepare Mast | 105 Mount Forebeam | 104 Worker Walkout | 103 Bimini Up! | 102 Spray Bimini | 101 Spray Forebeam | 100 Sanding Deck | 99 Spray Port Deck | 98 Spray Stbd Deck | 97 Cabin-top Gelcoat | 96 Start Deck Gelcoat | 95 More Varnishing | 94 More Varnishing | 93 Varnishing | 92 Finish Nonskid | 91 Epoxy Hulls | 90 Broken Finger | 89 Teak & Varnish | 88 Varnishing Started | 87 Start Cockpit Teak | 86 Bow & Stern Molds | 85 Laying Nonskid | 84 Polishing Cockpit | 83 Laying Nonskid | 82 Cockpit Gelcoat | 81 Finish Templates | 80 Spraying Gelcoat | 79 Rudder Tubes | 78 Cut Teak Blocks | 77 Start Templates | 76 Teak Chain Lattice | 75 Shower Controls | 74 Chip Cabin Top | 73 Cockpit Drains | 72 Polish Bridgedeck | 71 Port Aft Cabin | 70 Spray Bridgedeck | 69 Spray Portside | 68 Rudder Bearings | 67 Spray Starboard | 66 Fair Starboard | 65 Bad Epoxy Filler | 64 Spray Foredeck | 63 Spray Deck Gutters | 62 Prep for Gelcoat | 61 Spray Targa-Bar
Ocelot Pages: Rebuild Decks | Extend Transoms | Cockpit Area | Below Waterline | Bimini | Spars | Deck Hardware | Exterior Lockers | Salon | Galley | Cabins | Heads | Interior Floors | Electrical | Maintenance | Weekly Logs 2012 | Weekly Logs 2013
Top Level: Home | Destinations | Cruising Info | Underwater | Boat Guests | Ocelot | Sue | Jon | Amanda | Chris | Site Map | Make a Comment
---
Lifetime
Commodores
of the
Seven Seas
Cruising
Association

If our information is useful,
you can help by making a donation
Copyright © 2000‑ Contact: Jon and Sue Hacking -- HackingFamily.com, svOcelot.com. All rights reserved.