Transoms
This page is still very much under construction...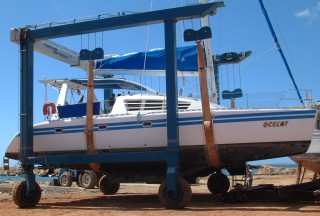 Never thought we'd see Ocelot flying!
Extending the transoms was originally on our "maybe" list, but we're very glad we did them. Ocelot's sterns were originally pretty abrupt, with the hull ending still several inches down in the water. This created turbulence when sailing, slowing us down somewhat. Getting to the small swim platforms involved climbing 3 essentially vertical steps up the back wall of the engine room, which was difficult when schlepping scuba tanks or even just groceries. The swim ladders were big and heavy teak and stainless steel affairs which folded up on top of the limited space available, so they made getting into and out of a dinghy a bit dangerous with their large holes between the rungs ready to twist an ankle.
What we wanted was to extend the transoms such that the rocker (the curve of the bottom of the hulls) didn't change, but came up clear of the water, with the top making a larger swim platform. We wanted the outside walls to extend to the ends of the swim platforms gracefully, but the inside walls could remain the same, to facilitate getting in and out of a dinghy. Finally, we wanted the swim ladders to be out of the way when they weren't needed, but instantly available when they were, and we wanted the edges of the (now somewhat more vulnerable) transom to be protected with stainless steel.
Transoms :

Thai Refit: Up | Rebuild Decks | Transoms | Cockpit Area | Below Waterline | Bimini | Spars | Deck Hardware | Exterior Lockers | Salon | Galley | Cabins | Heads | Interior Floors | Electrical | Maintenance | Weekly Logs 2012 | Weekly Logs 2013
Ocelot Pages: Ocelot Layout | Ocelot's Deck | Cockpit Photos | Inside Ocelot | Kronos 45 Specs | Modifications | Refrigeration | Venezuela Haul Out | Tonga Haul Out | Thai Refit
Top Level: Home | Destinations | Cruising Info | Underwater | Boat Guests | Ocelot | Sue | Jon | Amanda | Chris | Site Map | Make a Comment
---
If our information is useful,
you can help by making a donation
Copyright © 2000‑2019 Contact: Jon and Sue Hacking -- HackingFamily.com, svOcelot.com. All rights reserved.