---
----- Site Description -----

Our Destinations pages, divided between the Caribbean, Pacific, and Indian Oceans, tell where we've been and our impressions of each place, as much for the land traveler as the cruisers. Amanda has done a great job with the 'hot-spotted' maps, making the geography much more intuitive.
---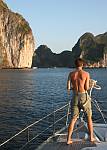 Our Newsletters section is split into Pacific Ocean Newsletters and Indian Ocean Newsletters. These have illustrated copies of the email newsletters we've sent and reflect our at‑the‑moment thoughts including passages at sea. To receive our newsletters as email, you can sign‑up and manage your own subscription. Our mailing list is as private as we can make it, and never shared with anyone.
---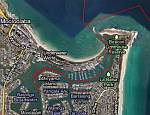 Our Cruising Information section contains valuable cruiser-specific info for sailors following in our wake: A whole Equipment section, articles on cruising with teens, transiting the Panama Canal, yacht provisioning and recipes, FAQs, as well as pages on specific areas like Australia and Indonesia. We've also added links to other cruiser sites and some downloadable Track Files.
---
| | |
| --- | --- |
| The Flora and Fauna section documents many of the plants and animals we've encountered, divided into geographical regions. There's also a Marine Mammals section. | |
---
| | |
| --- | --- |
| | Our Underwater pages showcase our underwater photography, reef life and scuba diving. Dive sites include GPS locations so others can find these sites as well. We have new dive information on Raja Ampat and Triton Bay, Indonesia. |
---
| | |
| --- | --- |
| On our Ocelot pages you can see pictures of the original boat from the deck, cockpit, and inside, her layout, specifications and even some of the modifications we've made to turn her into an ocean cruiser. More recent pages take you through the details of our major Thai Refit. | |
---
| | |
| --- | --- |
| | The Boat Guests pages are designed to make everyone jealous of our visitors and want to come down themselves! We've even included a What to Bring page. |

WHAT'S NEW

----- January 2016 -----
Cruisers: Looking for accurate charts? Now you can make your own groups of perfectly geo‑referenced navigational (KAP) files from Google Earth. All the tools are free, and we show you how on our newly updated page.
See our updated Google Earth / KAP files page...
----- August 2015 -----
Cruisers: With the help of our friend Behan on s/v Totem, we've now got 2015 information for cruising the Maldives, updated from our last visit in 2009. Thanks Behan!
See our new Cruising Maldives page...
We've now added a way to comment on any page - just click the Make a Comment link at the bottom of each page.
----- June 2015 -----
Want to Build a Bimini? We've now brought all our bimini building info together on just 1 page, for easier reference. It has over 30 illustrations & many links back to the days we actually did the work.
See our new Bimini Building page...
----- March 2015 -----
We've updated our Diving Indonesia page with all of our dive sites through Raja Ampat and Triton Bay. These unspoiled waters provide superb diving.
See our updated Diving Indonesia page...
----- February 2015 -----
We've published a new page on Venomous Sea Creatures, like the deadly Stonefish (& Lionfish & Scorpionfish) as part of our Reef Animals series.
See our new Venomous Creatures page...
----- January 2015 -----
We've now illustrated our 4 latest Malaysian newsletters, as well as our 7 latest Indonesian newsletters. Check 'em out!
See our 4 new Malaysian Newsletters...
See our 7 new Indonesian Newsletters...
(Sign up to receive our newsletters here!)
----- August 2014 -----
In May and June we took an inland trip to the northern highlands of Laos (68 photos) and Vietnam (43 photos)
See our 4 illustrated Laos Newsletters...
See our 4 illustrated Vietnam Newsletters...
----- Older -----
Cruisers: Do you know the difference between cut‑thread & rolled‑thread turnbuckles? Or which type you want? Or how to check which you have?
Before you buy your next turnbuckle,
Check out our new Turnbuckles page...
Cruisers: We have now updated several of our Cruising Information pages with superbly detailed satellite photos of our anchorages, live Google Maps & new Track Files.
See our Cruising Madagascar page
See our Cruising Indonesia page
See our Andaman Islands page
See our Cruising Marquesas page
See our Cruising Galapagos page
Cruisers: We are now publishing track files in both OpenCPN & MaxSea formats. We are also asking cruisers to email us their tracks so other cruisers can download them. Lets start a Track File Bank!
See our updated Track Files page
Where's Ocelot? See our new position tracking map at the bottom of this page!
---
Want to build your own website? Jon has published 2 pages of tricks and traps for others attempting to put together a website like ours.
Read Jon's FrontPage 101 and FrontPage FAQ pages
Welcome to the Hacking family website with Sue, Jon, Chris, and Amanda on Ocelot, our Kronos 45' (14m) now 48' (15m) Wauquiez designed catamaran. We've been on this trip since December 2001, sailing from the Eastern Caribbean through the Panama Canal, across the South Pacific and the Indian Ocean to Africa, then back to Asia.
LATEST NEWS: We're back in the US until March 2016, while Ocelot waits for us in Langkawi, Malaysia. In the past year we've sailed down the west coast of Papua, and then west across the entire length of Indonesia to Singapore and Malaysia (see our map). In 2016 we hope to go back up the north coast of Borneo so we can jump back into Raja Ampat towards the end of the year, when the winds are favorable. Stay tuned...
Our voyage has had many goals, but a primary one was to show our kids something of the world outside America and help them feel like citizens of the world. In that, we think we've succeeded. Of course, the other goal was to see as much of this blue planet as we could, enjoying people and destinations in far flung corners of the world. That's an ongoing process, and we'll be out here as long as we're healthy and having fun!
---
----- Ocelot's Intrepid Crew -----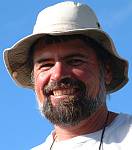 Jon is an Electrical & Computer Engineer (see his resume) so his pages include his technical slant on some of the boat systems as well as a collection of stories from when we cruised in the 1980s. He's our resident electronic navigation expert and has shared his latest GE to KAP files with dozens of cruisers.
---
Sue's pages give insights into the cruising life and include things like provisioning information. Sue, aka Sue Muller Hacking, is a writer (see her bio) with several published books and hundreds of articles to her credit. She continues to write for The Triton offering travel info to the crews of megayachts.
---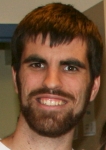 Christopher graduated from the University of Washington (UW) in Computer Science and Engineering in June, 2010! He is now working as a software engineer and loving it. It's so nice to have someone in the family earning real money! While no longer aboard full time, he wrote about our inland travels, underwater photography, his projects and schooling during his 3.5 high school years aboard Ocelot.
---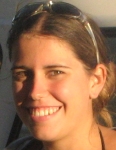 Amanda graduated cum laude from the University of Washington in 2012 with a Bachelor of Science degree in Oceanography and now is doing surveys on the coast of Washington. She lived aboard for 6.5 years and logged more than 20,000 miles on Ocelot. While no longer aboard full time, she's shared her unique teen perspective, logs of our travels and her high school projects.
---
Sue's new guidebook is selling well in Western Washington. Perfect for those summer and fall hikes! Take A Walk details 110 parks and walking trails within 30 minutes of Seattle and Puget Sound (Olympia to Everett). This is her 3rd edition, with lots of new and updated trails.
See Sue's Take A Walk Book