Indian Ocean Newsletters
Up | Caribbean Destinations | Pacific Destinations | Indian Ocean Destinations | Pacific Newsletters | Indian Ocean Newsletters | Flora and Fauna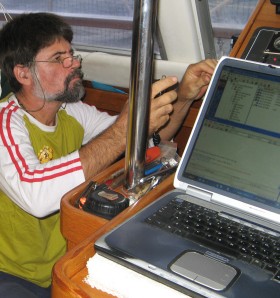 Jon tuning the radio to send email
This section is a collection of the newsletters we've sent out by email from Ocelot while we've been cruising the Indian Ocean.
As these were originally sent out via our low-bandwidth radio email system, they're usually pretty short. But we wanted to preserve them as they really reflect our at-the-moment impressions of where we've been and what we've seen and done and, most importantly, what we felt and thought.
When they were originally sent by email, these newsletters were just plain text. By putting these letters on the website we've been able to add photos -- so check them out! Clicking on a photo will yield a larger and more detailed version of that photo.
If you'd like to be added to our newsletter mailing list and get these sent to you directly, feel free to sign up. Our list is as private as we can make it, never shared with anyone, and you can take yourself off the list or change your subscription to a new address whenever you want just by clicking this link.
Our newsletters from the Pacific Ocean, as well as those from the Indian Ocean, are arranged by the destination we were sailing to at the time. The first few newsletters for a given destination are often "passage notes" that were sent out while we were on passage to that destination, but they also include those newsletters that we sent out once we'd arrived.
For example, our Indonesia collection begins with our 4-day passage from Darwin to Kupang and then continues with 5 more newsletters that we sent out as we cruised through this 3,500-mile-wide Muslim country past venting volcanoes and wonderful dancing and diving.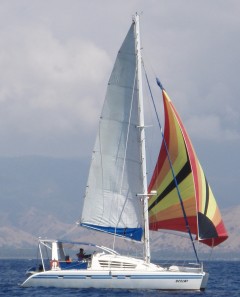 Ocelot with her mini-spinnaker
sailing through Indonesia
Our Malaysia and Thailand newsletters include sailing up the (formerly pirate infested) Malacca Straits, cruising the Phuket area, and our inland tour of Thailand.
Our Sri Lanka newsletters document our delightful passage from Malaysia to Sri Lanka as well as our wonderful tour of the Sri Lankan interior.
Our Maldives section contains several letters that are published here for the first time. They were sent but never received (a day in the life of Ocelot on passage, returning to the Southern Hemisphere, etc.) as our email-forwarding list-server was misbehaving at the time. Most of them are passage notes from our trip there, but we also wrote some newsletters while we were enjoying the Maldives.
Our 2 months in the Chagos Archipelago, just 300nm south of the Maldives, were pure heaven. We only sent a single passage note when we arrived and another newsletter explaining how we'd found paradise.
Our 1,024 mile, 7 day trip to the Seychelles was fairly boisterous, but then we spent 3 months exploring this fun group of islands.
Our trip to Madagascar was interrupted by high-winds, so we ducked into Farquhar Atoll to wait for a better weather window. But once we arrived we had to rescue some French sailors and the catamaran they'd chartered from certain destruction on the rocks. Then we took an inland tour of northern Madagascar before cruising down the NW coast.
On our passage to South Africa we hit a sleeping whale, doing some damage to our port engine room. But once we arrived, we bought a car and did 3 road trips, first to Zimbabwe and Zambia, then through the Kruger Park and down the coast to Cape Town, and finally a Game Park extravaganza through Namibia and Botswana.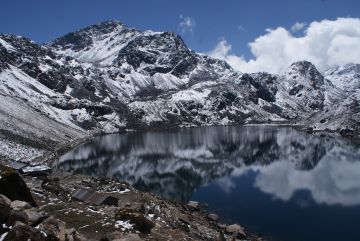 We trekked around Gosainkund Lake, in northern Nepal
When we sailed back across the Indian Ocean to Malaysia in 2009 we sent out 3 newsletters about Mayotte in the Comoros - Leaving South Africa, Sailing to Mayotte, and Exploring Mayotte.
For the rest of our 2009 Indian Ocean crossing, we added to our Madagascar, Seychelles, Africa, Maldives, and Malaysia newsletters, so they all got new content from our later visits.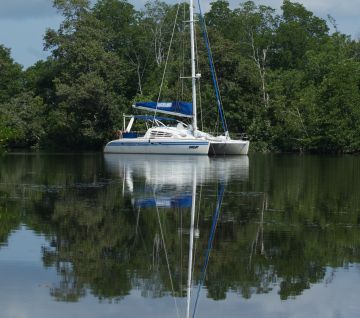 Ocelot anchored far up the Klias River, Borneo
In the Spring of 2010 we visited Nepal and published 11 newsletters with hundreds of photographs. These pages also, for the first time, include interactive Google Maps that show exactly where we went, with descriptive markers for special places like passes, lunch stops, or where we spent the night. The detail on these satellite photos is amazing - you can see not only the guesthouse we stayed at, but the actual room. Even our trail, often only 3' wide, can usually be seen. The Earth view is particularly fun, as it shows the 3 dimensional terrain in impressive detail, allowing you to "fly" through the mountains above our trail (or anywhere you want, really) especially if you open the link in a new window (links are provided for this under each map). All Very Cool!
The remainder of 2010 saw us sailing the coast of Malaysian Borneo, with trips up several rivers to see the wildlife (proboscis monkeys, wild orangutans, awesome birds), with a couple stops in the Sultanate of Brunei. We finished off the year back in Peninsular Malaysia.
2011 has been a time of adventures and misadventures. We explored Phang Nga Bay, Thailand (for the 4th and 5th times!) with friends on board, then set sail for India. First stop, the Andaman Islands, 300 miles northwest of Phuket. After a couple weeks there, we headed west for the coast of India to the city of Chennai (the old Madras). We had an emergency haul out there, then left the boat to travel to the Himalayas once again -- this time to northern West Bengal and the small state of Sikkim where we undertook an early-season trek to the flanks of Mt. Kanchenjunga, the world's third highest peak.
We left Chennai in mid-April 2011 heading for the Maldives and Chagos once again, but we were too late in the season -- the SW monsoon had already arrived and we were unable to make southing, so we headed back to Thailand to give Ocelot some Tender Loving Care.
Most of these letters were written by Jon, but everyone took a hand in them at one time or another. If you want to know who wrote an individual letter, usually it's the first name at the bottom.
Enjoy!
Up | Laos Letters | Vietnam Letters | India Letters | Nepal Letters | Indonesia Letters | Malaysia Letters | Thailand Letters | Sri Lanka Letters | Maldives Letters | Chagos Letters | Seychelles Letters | Madagascar Letters | Mayotte Letters | Africa Letters
Caribbean Destinations | Pacific Destinations | Indian Ocean Destinations | Pacific Newsletters | Indian Ocean Newsletters | Flora and Fauna
Top Level: Home | Destinations | Cruising Info | Underwater | Boat Guests | Ocelot | Sue | Jon | Amanda | Chris | Site Map | Make a Comment
---
Lifetime
Commodores
of the
Seven Seas
Cruising
Association

If our information is useful,
you can help by making a donation
Copyright © 2000‑ Contact: Jon and Sue Hacking -- HackingFamily.com, svOcelot.com. All rights reserved.