Most of our dives in Indonesia were done in the clear and relatively un-fished waters of Komodo National Park. The park covers a handful of small islands between the larger islands of Flores to the east and Sumbawa to the west. Although the park includes one small fishing village, the over-fishing we'd noticed throughout this region of Indonesia seems to have been curtailed. This, combined with a good flow of water through the various channels between the islands, makes for excellent visibility and a wonderful variety of undersea life.
We dove in Indonesia together with other cruising friends who had compressors on board. As is customary we either paid for the fills at the going rate of about $5/tank, or we traded fills for gasoline for their compressors. After our Sabolan Besar dive we moved the boats to Labuan Bajo and were able to get professional fills (again about $5/tank) from Bajo Dive Center.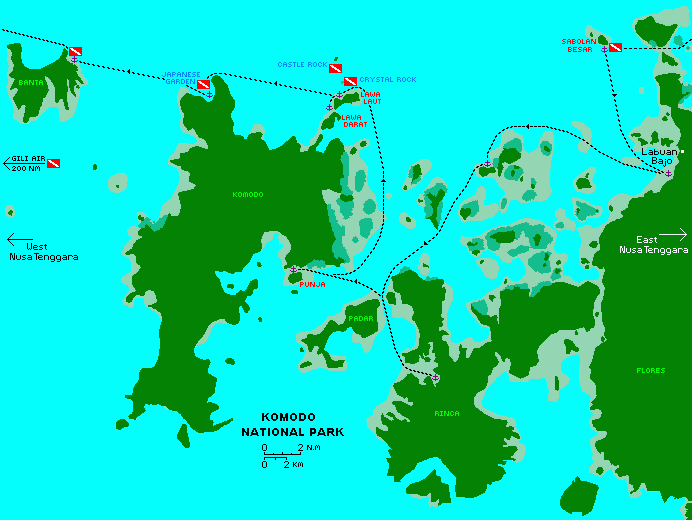 Our track through Komodo National Park. Click on a dive-flag to go to our description of that dive.
This is our first diving since Fiji, and our primary underwater photographer (Chris) has left, so now Amanda is learning to do most of the underwater photography. She's also the only one who can read the camera underwater any more...
---
Type:

Wall dive

Access:

Small sandy anchorage off the east end of the island

Position:

8° 24.0'S, 119° 48.8'E (note: charts are 1/4nm off)

Depths:

20-70' (6-21m)

Date:

23 August 2006

Visibility:

About 80' (24m)

Dive shop:

8 miles SSE in Labuan Bajo, Flores Island

Snorkeling:

Yes, on the reef nearby to the north

Features:

Nice and easy wall dive
(Jon) This was our first dive in over a year, so we decided to start with a pretty easy dive. We circumnavigated the island in Ocelot, looking for a decent anchorage but the only place was off the eastern point in a nice patch of sand, so we anchored there with fellow cruisers Vagabond Heart and our dive partners Rob and Dee off Ventana.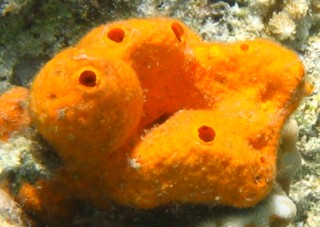 One of many bright sponges seen in Indonesia
We dove north of the anchorage, but the entire island is surrounded by great looking coral and one could probably do several different dives here. We anchored the dinghies in a small sandy patch and splashed into 15' (4m) on the edge of a drop-off. Continued down the wall to about 60' (18m) and headed north along the wall into a slight current. Saw lots of fans, sponges, and colorful soft corals. Most of the deeper hard corals seemed old and dead but the soft corals and fans were stunning. Saw several small fish, mostly old friends. After about 20 minutes we ran into a strong current (just as I saw some big fish feeding in the distance) so we turned around. Came up to about 40' (12m) for the trip back which made for better light, brighter colors, and more concentrated growth. A good refresher dive after not diving for so long.
(Sue) This was my first chance to use the new gear I brought back to Ocelot over a year ago, so I was happy to have it be a relaxing, virtually no-current dive along the wall of the island. We swam north at about 65' (20m) until there was current, then returned, moving up the slope for different sea life and less depth. There weren't many healthy hard corals, but the soft corals and anemones were bright and lively.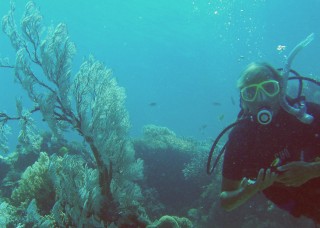 Sue making friends with a sea fan
(Amanda) This was a nice mellow dive to start off our several-week diving frenzy. We got a list from one of the local boats of all the good dive spots - this meant we frequently had a dive boat come into our otherwise peaceful anchorage, but we also got to see the absolute best of Komodo National Park underwater. And while the best was actually closer to Komodo Island, this site was nice too.
We could probably have dived anywhere around Sabolan Besar, but chose the SE corner because there was a small sand patch we could anchor on. We dove north of the sand patch (on the east coast) because it looked like it dropped off faster, but the reef looked just as nice (from the surface) on the south coast. Unfortunately, while the region is a national park, that designation doesn't really apply to the water - or it's just not enforced. There were several fishing boats around the island when we arrived, all on the west side. But once we got in it was obvious they'd been all around the island. There weren't any large fish, though we saw some nice small ones. But the reef was intact - colorful corals and crinoids, lots of small blue-veined red sponges that look like hearts, and several large (3'+, 1m) barrel sponges.
We swam north along the wall, then turned around when we hit a slight current to drift back with it. We made our safety stop on the reef/sand line and ascended. Mom and I snorkeled back to Ocelot, but the sand was devoid of life except for a few little shrimp gobies.
---
Type:

Sea-mount dive

Access:

Dinghy - 2 Boat moorings in NW Gili Lawa Laut bay

Position:

8° 25.934'S, 119° 33.784'E (take your GPS)

Depths:

20-70' (6-21m) - deeper if you want

Date:

30 August 2006

Visibility:

100' (30m)

Dive shop:

No but dive boats come most days

Snorkeling:

No - top of sea-mount is 20' (6m) deep

Features:

Vast schools of fish, good corals, but watch the current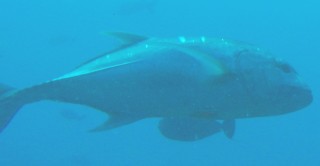 A large Jack swims by at 20 m (66 ft)
(Jon) This was actually my favorite dive for this area. In the NW corner of Gili Lawa Laut island (Komodo National Park) is a small bay with 2 good moorings, used by both dive-boats and yachts. We tended to leave Ocelot on a mooring even though a little swell can make it into the anchorage. An alternate and usually quieter anchorage is about a mile to the SSW, off the pass between the islands, but it's difficult to anchor without damaging the coral. (Some dive-boats complained to the 8 yachts anchored there that they were breaking the coral - which was shamefully true - so it was suggested that the dive companies or park put in some more moorings so boats wouldn't have to anchor.)
Make sure you take a portable GPS with you as the sea-mount is unmarked except for a slightly lighter color in the water. We splashed into 20' (6m) and set the dinghy anchor firmly in the bare rocks (NOT live coral) as the currents can run strongly here (we actually had to abort a later dive here because of current). Dropped down the side of the sea-mount to about 60' (18m) and started circling the mount, heading into the current initially.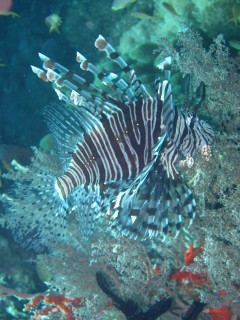 We've seen lots of lionfish in Indo
We were immediately struck by the vast array of fish swarming around us. Many different schools could be seen, keeping together but intermingling as well. I don't think I'd ever seen a whole school of Moorish Idols before. When I'd try to get a picture of a particular fish, another would often get in the way, they were that thick around us. The walls of the mount were also covered in both hard and soft corals, giving us lots to look at and appreciate.
After our initial circumnavigation of the mount we came up to about 40' (12m) and did another slow circumnavigation, seeing more and different scenery. Even our safety stops at 30' and 15' (10m and 5m) had new and varied scenery. Truly a world-class dive.
(Sue) This was my favorite dive so far in Indonesia with seemingly endless soft corals, gorgonians and lots of fish! We splashed into 20' (6m) onto the top of the sea-mount, then descended, clockwise to about 75 feet (23 m). The water was comfortably warm in just 3 mm shortie wetsuits, and the visibility was over 100' (30m). Meandering slowly along the slope of the mount we did 2 circumnavigations in 45 minutes, spiraling upwards. On the eastward side the currents (which were still very weak) converged and attracted many pelagics, especially tunas and trevally. Schools of snapper circled above us. Lionfish hovered above the corals, and schools of damsels and angelfish brightened the scene. The sheer range of new (to us) species of fish was a bit overwhelming, but wonderful. Fat groupers (3' or 1m) slid between the plate coral tables, and eyed us with caution. Fishing is prohibited on the sea mount, but the lure of the big fish must be irresistible -- a dive operator out of Labuanbajo, Flores Island almost had to ram a local fisherman off the site a few days before we got there. Komodo National Park is struggling, and needs more international support to maintain its underwater beauty.
(Amanda) A beautiful dive! The water was warm, the coral was bright and colorful, and the fish were abundant and new! On the east side there must have been some sort of convergence because we had to swim through the massive schools of fish that congregated there. We started deep on the dive (getting to 75') and spiraled our way up, but really there's just as much to see in the middling depths (50' was great). Coral gave way to rock at about 20', and the current was more noticeable there, too.
One thing that sticks with me about this place is the variety of life. Soft corals, hard corals, plate corals, crinoids, sponges, anemones... the list goes on and on, and then there's fish as well! Big titan triggerfish, jacks and trevally, slender fusilier in schools as far as you can see, angelfish, clownfish, rabbitfish, squirrelfish, butterflyfish, and lionfish. Read the last six types and you'd almost think they were anything but fish, but they were and they were everywhere and they were wonderful.
---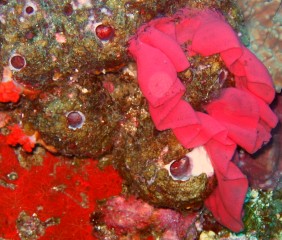 Brilliant reds of algae and soft corals!
Type:

Pinnacle dive

Access:

Dinghy - 2 Boat moorings in NW Gili Lawa Laut bay

Position:

8° 26.4'S, 119° 34.0'E - top of rock is exposed

Depths:

0-100' (0-30m) - deeper if you want

Date:

31 August 2006

Visibility:

100' (30m)

Dive shop:

Not really but dive boats come most days

Snorkeling:

In the big-boat anchorage - look for manta rays

Features:

Fantastic - fish, hard and soft corals
(Jon) Crystal Rock is apparently the classic beautiful dive for this area. From the anchorage mentioned above you can see a small rock that just breaks the surface to the north. It's best to do a live-boat or live-dinghy dive here, as anchoring on the coral is prohibited. Just watch the currents -- they can be strong.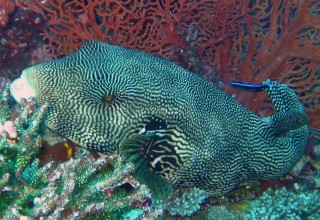 A Map Puffer sits sedately at a cleaning station
Note the blue-striped Cleaner Wrasse by his tail
We splashed into about 12' (4m) and headed down the wall of the pinnacle to about 60' (18m). Started our initial circumnavigation by swimming into what current we could feel (not much). We didn't see the vast schools of fish here as we did at Castle Rock but there were certainly lots of fish and very impressive corals, both hard and soft, all vibrantly competing for the available nutrients. After our initial deep circumnavigation of the pinnacle we came up to about 40' (12m) and made another circuit, reveling in the greater light, more vibrant colors, and different scenery. Another world-class dive.
(Sue) Another primo dive in Indonesia! Thank goodness for Komodo National Park and their preservation activities. The tide was low when we did this dive, and that may have contributed to the sediment in the water (not as clear as Castle Rock, the day before). Or it could have been the wave action on the exposed rock. No matter. The sea life was again fantastic. Amanda took the camera and did a good job juggling dive computer, gauges, floatation and camera. I stuck close by her, as the photographer often lags behind (to take pictures!) or follows a "subject" down a few meters, and has to be coaxed back up to the correct depth. The dive was a feast of fish, corals, sea fans, and sponges.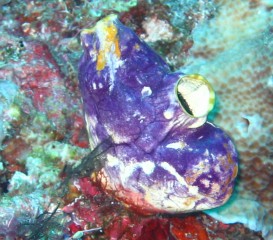 A lovely & common tunicate in Indonesia
(Amanda) Camera dive! After most of our pictures from Castle Rock came out black, due to Dad not being able to see the settings, the camera was handed off to me and my "young eyes." Unfortunately, this entire period of diving coincided with one of our infrequent battery shortages, so we weren't able to use the slave strobe - and while the visibility and light quality really were excellent, everything would have been better with the big flash. (As it was, I used the small built-in flash on the A-80 which seemed to be enough light in this very clear water, especially if I was taking close-ups. It's the fish far away that were hard to capture without the strobe.) Plus I haven't spent as long as Chris did fiddling with the camera and finding out all its quirks and settings. But I think I did okay for my first attempt. I'm afraid Mom did sort of have to keep chasing after me, as I have a habit of seeing the coolest fish only when they're 10 feet below me and swimming away.
At times I had to tell myself to turn the camera off for a while and just enjoy the dive. Otherwise, I would have lagged behind and not seen the big picture. And the big picture was gorgeous. This dive site is an excellent one.
---
Type:

Wall dive

Access:

Dinghy or Dive boat

Position:

8° 26.20'S, 119° 27.16'E (note: electronic charts are 1/4nm off)

Depths:

0-50' (0-15m)

Date:

1 September 2006

Visibility:

80' (24m)

Dive shop:

No

Snorkeling:

Yes, lots of nice shallow coral

Features:

Relaxing easy dive, lots of big sea-fans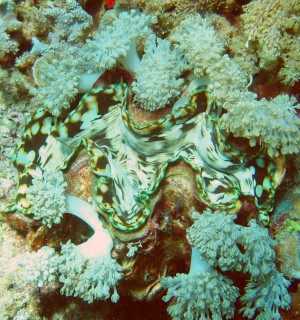 A colorful clam surrounded by soft corals
(Jon) After our last couple dives, this was a nice, easy, relaxing dive. We anchored Ocelot in the southeast corner of Telok Batu Montjo bay (on the northwest corner of Komodo Island) and took the dinghies to a convenient sand patch off the northernmost beach on the eastern shore. Splashed into standing depth, where the sand sloped off gradually. Decided to work our way out to the point of the bay as the current seemed to be running gently into the bay. Dropped down the slope to about 40' (12m) where the sand leveled off and headed north, turning around when we'd breathed half our air and coming up a bit for some different views as we returned to the dinghy.
The coral was laid out more in isolated clumps than the vast fields we'd seen lately, but they were very pretty. In fact, the whole place seemed to have been put together by some ancient Japanese gardener with infinite time on his hands. Each clump of coral had several varieties of both hard and soft corals placed just-so for maximum artistic effect, and each had a cloud of small fish around it. Several different types of sea-fans were present, some almost 10' (3m) across. We also saw several 2' (.6m) clams, the first we've seen since Australia. Very picturesque.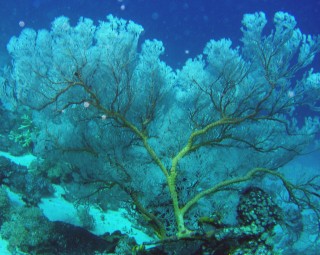 The Japanese Garden was full of sea fans
(Sue) "Japanese Garden" is our own name for this dive, because it seems to fit the beautiful layout of perfect coral bommies teeming with colorful fish, all gently interspersed with white sand. It would be a wonderful learning dive site as there was so much to see even in about 25' (8m).
(Amanda) If I hadn't already been certified, this spot would have been a great place to do it. Beautiful soft white sand in 15 feet, with little bommies of beautiful coral all around it. Of course, there was no dive shop there so I doubt anyone has ever had that pleasure.
The Japanese Garden wasn't as abundant in life as some other dives we've done, but it was a nice change. The small blobs of coral were close to each other but obviously separate. Here was a field of soft corals. There's a big rock with an anemone and a moray eel. That one's got a huge sea-fan. Over there is a giant clam, colorful spotty mantle protruding beautifully. It was a wonderfully-laid-out site.
---
Type:

Gently sloping field

Access:

Dinghy or Dive boat

Position:

8° 24.40'S, 119° 19.24'E

Depths:

0-70' (0-21m)

Date:

2 September 2006

Visibility:

80' (24m)

Dive shop:

No

Snorkeling:

Yes, lots of nice shallow coral

Features:

Relaxing easy dive, lots of soft corals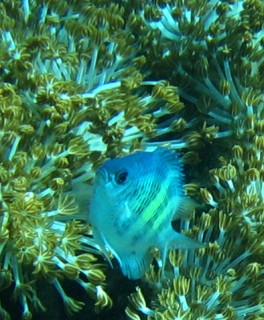 Staghorn Damsel in Starburst Anemone
(Jon) This was another fairly easy dive. The bay offered a nice big sandy patch to anchor Ocelot in 15-20' (5-6m) and then we took the dinghy just a bit north, although we could have started right off Ocelot if we'd wanted to. Splashed into about 10' (3m), reset the dinghy anchor to avoid the coral, and headed up current and down slope to about 50' (15m) where it started to level off.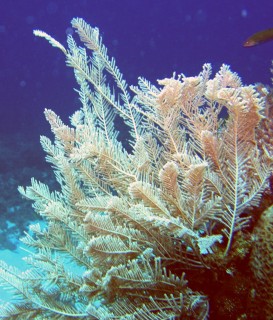 A feathery soft coral off Pulau Banta
The most remarkable thing to me about this dive was the profusion of soft corals. There were certainly some hard corals - we saw brains, elk-horn, plates, and several new varieties in bright red and another in dark green - but the colorful soft corals were what really caught the eye. Vast fields of them growing one on top of another, for as far as we could see, augmented by sponges and sea-anemones with some new varieties of anemone-fish.
As normal for us, we turned around (and came up a bit) when we got to half a tank of air (1,500 psi or 100 bar) but we were surprised to find that we returned to the dinghy so quickly. We'd actually been swimming into a fairly stiff current and hadn't realized it. Something to remember...
(Amanda) Mom, Dee, and I took the dinghy out before the dive to check currents, since the site we'd chosen was pretty exposed to Selat Sape, the large pass between Komodo and Sumbawa Islands. As it was, the current on the wall was too strong, so we dove on the northwest side of the bay we were anchored in.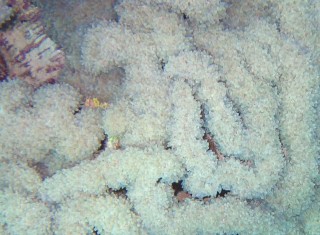 Detail of Ice Crystal coral. Looks cool, huh?
The bay was rather shallow (as diving goes, not judging by anchorage) and sloped off gently to about 70' (21m) where it turned to sand. But we weren't really planning to go deep, and a lot of the best stuff to see was between 10 and 30 feet, where there was light. As Dad said, there was a lot of soft coral, plus sea fans and an interesting orangey-red brain coral. I took the camera, but we were down to Indonesian-made batteries which didn't give us many shots, especially with the flash.
(Sue) Since we had returned to the dinghy with so much air left, I took the camera and dove right from Ocelot in about 10-15' (3-5m) just around the sand and bommies near the bow of Ocelot where there was no current, and very good visibility. No, one is not supposed to ever dive alone, but given the high viz, the lack of current and dangerous fish, and the fact that I was within spitting distance of the boat and in very easy snorkeling depth, I felt very comfortable. This kind of time alone is very relaxing for me as I can sit on the sand and study the fish, or float just off the bottom, motionless, next to a bommie of busy fish. To me, this is one time the camera is a great friend. It's nice not to feel pulled along by the other divers who have an agenda, or route to follow.
---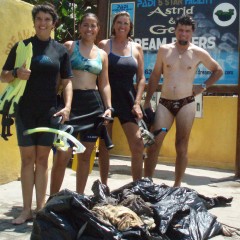 Kyle, Mandy, Sue & Jon post-dive
Type:

Drift wall and gently sloping field

Access:

Dive boat or beach entry, beach exit

Position:

8° 21.5'S, 116° 5.4'E

Depths:

0-60 (0-16m)

Date:

16 September 2006

Visibility:

80' (24m)

Dive shop:

Yes. Dream Divers, Gili Air

Snorkeling:

Yes, drift snorkel

Features:

Drift dive, then Clean-up Dive
(Amanda) We found out about this dive completely by chance. Dream Divers, the dive shop on Gili Air (off Lombok) had a poster out proclaiming "Splash for Trash - International Coastal Cleanup." It sounded like a great idea - a free dive in a new spot to clean up the ocean! We spread the news, but Mom, Dad, and I, plus Kyle from Estrela, were the only people to show up in the morning for the dive - Mom dove in the afternoon as well, along with Doug from Estrela. The people at Dream Divers were very happy and got us all set up with gear and plastic garbage bags and showed us the sort of trash we were looking for. The four of us, plus the divemaster and three other local divers and a couple snorkelers, piled into the "spider boat" (a trimaran-outrigger with two big outboards) and we started up the east coast of Gili Air.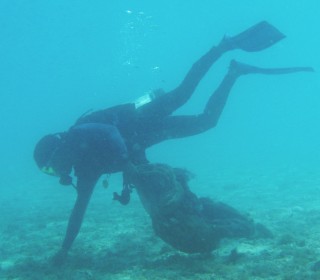 We cleaned 4 big bags of trash off the sea floor
We splashed into about 30 feet (10m) and immediately started drifting south. The current was really ripping! I had the camera, and a plastic bag in my pocket, but for the first 5 minutes or so it was all I could do to keep track of my depth, my buddy (Mom) and the wall as it went shooting by. When I finally got used to it, it was rather fun flying along. I saw 2 turtles and a stingray, and there were lots of fish and coral where a corner of the island protrudes into the current. There wasn't much trash on the wall, which is a good thing because if we'd seen any, we'd have been hard pressed to get back up-current to it.
The current abated in a sandy patch off the dive shop, and that was where we found the majority of the trash - big sheets of plastic, ropes, monofilament fishing line, cans, bottles, plastic wrappers, and big pieces of cloth. I shot pictures of the few fish swimming above the sand in between picking up cans and bits of plastic, and Manik (the divemaster) pointed out something we haven't seen before - what we believe to be a Warty Frogfish. The dive was fun, and we pulled up 3-4 large bags of junk.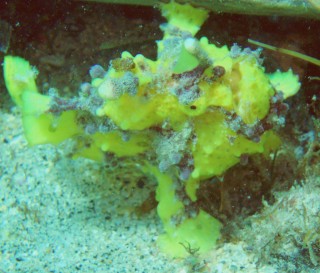 A Warty Frogfish off Gili Air. Yes, this really is
a fish! You just have to use some imagination.
(Sue) This was one of the most satisfying and in some ways challenging dives I've done. After hearing my NAUI drill sergeant (actually a university professor!) still in my head after all these years saying, "Don't touch anything. Don't stir up the sediment or sand" it was very strange to be grabbing hold of things (even if they were plastic bags or ropes) and pulling at them. Staying organized with the other clean-up divers was interesting...you'd be swimming along, looking for trash, then realize your buddy was behind you -- pulling on some monofilament line tangled around coral heads. Back you'd swim, lending a hand, gathering in the line as it was pulled free, all the while stirring up gobs of sediment so that visibility went from a nice 80' (24 m) to about 3' (1 m). I was really glad I was not using my own BC or regulator set with all that sand in the water! The camera housing needed a thorough cleaning after the dives, though!
It helped me (psychologically) to know that we were in only about 15-20' (5-7m) the whole time so decompression times weren't an issue. Holding onto a big black plastic bag was interesting too -- the bags all had their corners cut out so that the water could flow through, but that meant that the smaller bits of trash washed out as well. I ended up hugging my bag to try and keep everything enclosed until we got to the surface. Okay, so now add trying to take photos while doing all of this, and you begin to get the picture!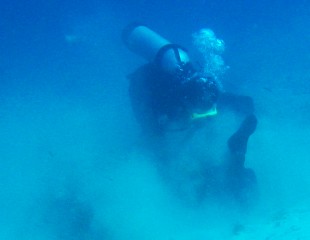 Viz dropped radically as we pulled up trash!
(Jon) Chris and I had actually done a clean-up dive years earlier in Tonga, but this was very different. In Tonga, there was no current and it had just rained buckets, so the ocean surface had a layer of sediment (muddy stream runoff) that was thick enough to obscure some light, and which slowly sank as the fresh and salt water mixed. Also, Tonga had an incredible amount of junk on the bottom of Neiafu Bay - I think the 30 or so divers pulled up about a ton of junk.
The diving was also very different from Tonga. The Gili Air water was clear and bright, but the current was amazingly strong. Unfortunately, they didn't really impress on us beforehand just how strong the current would be, so it took several minutes for me to get used to the reef whizzing by on my right as I concentrated (hard!) on my depth, orientation, the other divers, and all the ganglia that divers have hanging off them.
Thankfully, Gili Air didn't have that much to clean up. I got the impression that they participated in International Coastal Cleanup Day because all PADI dive-shops did, but they didn't really need to. We picked up a fair amount, but most of it was fishing refuse (monofilament, ropes, netting, bags, etc) that had drifted in on the current and settled where the current eddied back towards the beach.
Having a dive-master with us was fun. As he was picking up an old bag he noticed a Warty Frogfish that I certainly would never have recognized as a fish, or even any sort of animal!
Up | Diving Bonaire | Diving Tahanea | Diving Fakarava | Diving Toau | Diving Tahiti | Diving Moorea | Tonga (commercial) | Tonga (private) | Diving Fiji | Diving Indonesia | Diving Thailand | Diving Maldives
Reef Animals | UW Photo How-to | Scuba Diving | Indonesia Home | Indonesia Newsletters | Indo Cruising Info
Top Level: Home | Destinations | Cruising Info | Underwater | Boat Guests | Ocelot | Sue | Jon | Amanda | Chris | Site Map | Make a Comment
---
This site is
sponsored by:
Copyright © 2000‑2013 Jon and Sue Hacking -- HackingFamily.com, svOcelot.com. All rights reserved.