This information is also available in our Indonesian Newsletters and our Indonesian Destinations sections.
Cruising Indonesia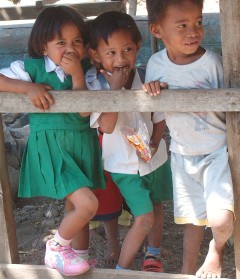 Sweet smiles of the Indonesian kids
This section is a short Cruising Guide to Indonesia. Thinking of sailing to Indonesia? This page highlights our anchorages from Kupang, Timor, Indonesia, through Bali and Kalimantan (Borneo) to Singapore. You'll find latitude and longitude information, photos and details on over 30 anchorages used by us and other cruisers over the course of 3 months in 2006.
Cruising Indonesia was a treat, but not much like any other cruising we've done. Few boats go many of the places we went to, so we usually got an enthusiastic greeting. But there are few, if any, yacht services. Even ATMs and diesel are difficult to find between Kupang, Timor and Bali. Sue's put together a document on SE Asia Provisioning which includes recommendations on what to be sure to buy before heading to Indonesia and farther north. Check it out!
We cruised Indonesia as part of the Darwin-Indonesia Rally. This cost us A$400 (US$300) in 2006, but included the A$200 (US$150) Indonesia CAIT cruising permit (which we were never actually asked to produce). We were a bit skeptical about joining the Rally as we'd never done anything like that before, but it was a wonderful experience which we highly recommend. The rally organizers arranged for excellent high-quality cultural shows and excursions, many more than we could have organized or known to attend on our own.
The Indonesian kids everywhere had big smiles, but were always asking for pens, school books, T-shirts, money, anything. We tried to give things only when we had a relationship (any sort of real communications other than "give me") or exchange. But it's hard - everyone needs so much, and they have so little. We traded old diving masks, sunglasses, T‑shirts, etc. for Komodo carvings in the park, and were happy to provide some school notebooks and pencils for the younger siblings of a high school student who paddled to our boat to converse and practice his English. The only reactions to our being Americans (in this, the most populous Muslim nation, at a time when President George W. Bush seemed to be trying to annoy all Muslims) were big eyes and exclamations of surprise that we've come so far. There was one market lady whose eyes lit up and she said, "Britney Spears!" We had to laugh. It was lovely.
For more info, see Noonsite's Indonesia pages.
Engine Repairs: We have, unfortunately, had to do some engine work in Indonesia, but this has given us some good information to share:
Hasta Bramsovia (+628‑133‑871‑9088) is actually a mechanic but he's also an excellent source for Yanmar or Volvo engine parts. He's based in the south end of Bali, with a workshop near Dempasar, but he can get parts from Jakarta and send them by courier to anywhere in Indonesia in only a few days. His prices were on a par with Singapore (cheaper than the US) and his parts supplier(s) seem to have pretty good stock, as he was able to get us several gaskets (including head‑gaskets) quickly. To pay him, you currently need to deposit money in either of 2 common Indonesian banks (BNI or Mandiri) but we're trying to convince him to get a PayPal account. We've talked to Hasta many times and he seems like a good guy - businesslike, helpful, and we never felt he was trying to take advantage of us. He speaks excellent English and he seems to know his engines. If we needed engine work done in Bali, he's the first person we'd go to.

The nominal marine Yanmar agent in Indonesia is Pioneer‑Trading (+62‑212‑312‑312) in Jakarta. We dealt with Wulan (extension 124) who speaks passable English. Although Pioneer‑Trading seems big and professional with a fancy website, they don't seem to have a good stock of parts. The parts we needed had to come from Singapore, with a delay of at least a week coming through Indo customs.
Cruisers: We are now publishing Downloadable Track Files in both MaxSea (.ptf) format and in OpenCPN (.gpx) format (not all tracks are available in all formats yet - we're still working on it and they take time). You can download the track files either by clicking on the links in the tables below, or by clicking on the track in the Google Map below the table. The MaxSea files are in native format but the OpenCPN files are zipped so they download faster, and they need unzipping after they've been downloaded (which most operating systems do natively). If 2 files are shown, the smaller one has been edited to remove redundant points from straight tracks. This improves the speed of the download as well as performance once the file is loaded. Sometimes MaxSea Track files are separated from the Mark (chart notations) files. Download instructions are provided if you need them.
These files are provided free and we are actively soliciting cruisers to send us your track files so we can post them for others to download. If you would like to to participate, please email us your track files (as attachments to our HackingFamily account, not our Winlink acct) along with your boat name and draft. If you include your website and boat details, we'll link back to you from our Cruising Links page.
Disclaimer: While we always try to provide useful information, we can take no responsibility for its accuracy or usefulness. Prudent mariners will always navigate using all means at their disposal, and will not rely solely on electronic navigation.
Indonesia Tracks
| | | | | | |
| --- | --- | --- | --- | --- | --- |
| Boat | Draft | Year | Comments | MaxSea | OpenCPN |
| Ocelot | 4.6' (1.4m) | 2006 | 3 Months with the 2006 Sail Indonesia Rally | 32 KB | 37 KB |


See Ocelot's Indonesia Sailing Tracks in a larger map.
Overview of our track through Indonesia from Darwin to Singapore and Malaysia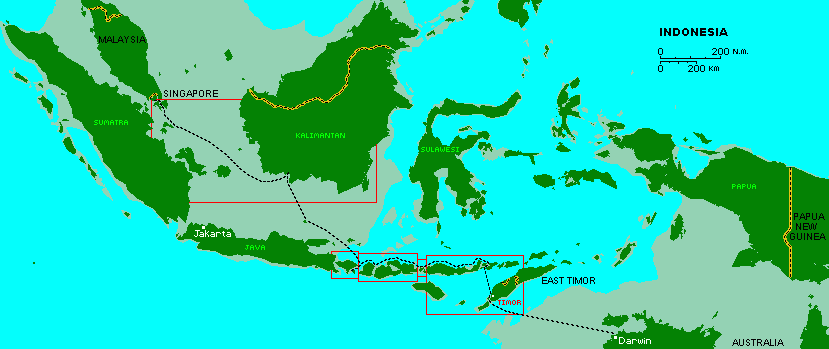 Click on a marked area of the map to see our more detailed maps below
East Nusa Tenggara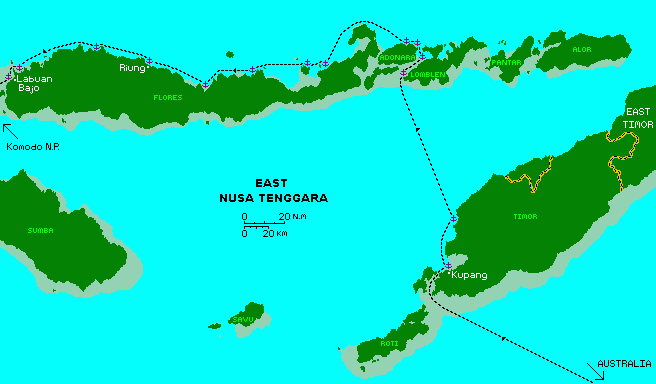 Our track through East Nusa Tenggara. Click on the the small anchors to go to our description of that anchorage.
All of the latitudes are South except for the last 3, all longitudes are East, and all depths are in feet. Below the table are more detailed descriptions of the places we went. You can also click on the map hot-spots to go to descriptions of that anchorage.
Date
2006
Island
Town or Bay
Depth
South
Latitude
East
Longitude
Comments
Photo
26 July
Timor
Kupang
30'
10°09.4
123°34.7
Off Teddy's Bar
Photo
1 Aug
Timor
isolated bay
30'
9°44.7
123°40.6
Pretty but poor holding
Photo
4 Aug
Lomblen (Kawula)
Pasar Suba
35'
8°30.5
123°13.6
Protected. Hidden village
Photo
7 Aug
Lomblen (Kawula)
Lewoleba
20'
8°22.2
123°24.6
Rally stop, village
5 Aug
Adonara
off Kroko Atoll
15'
8°14.6
123°19.5
Beautiful anchorage
Photo
10 Aug
Adonara
Segu
40'
8°14.4
123°13.5
Protected
11 Aug
Flores
Wailamung
30'
8°25.3
122°35.4
Snorkeling, farming village
13 Aug
Pulau Besar
NE bay
25'
8°26.8
122°24.5
Lots of reefs
Photo
15 Aug
Flores
Nice hidden bay
31'
8°27.6
121°56.6
Beautiful small bay
Photo
17 Aug
Flores
TK Ciendeh
25'
8°36.6
121°31.0
Good holding, sand/mud
18 Aug
Flores
Riung
30'
8°24.6
121°01.6
Rally stop - dancing, tours
Photo
21 Aug
Flores
Lingeh Bay
20'
8°17.4
120°35.7
Poor holding, lots of kids
22 Aug
Pulau Sabibi
SW side
30'
8°22.1
120°01.0
Small but nice
Photo
Komodo National Park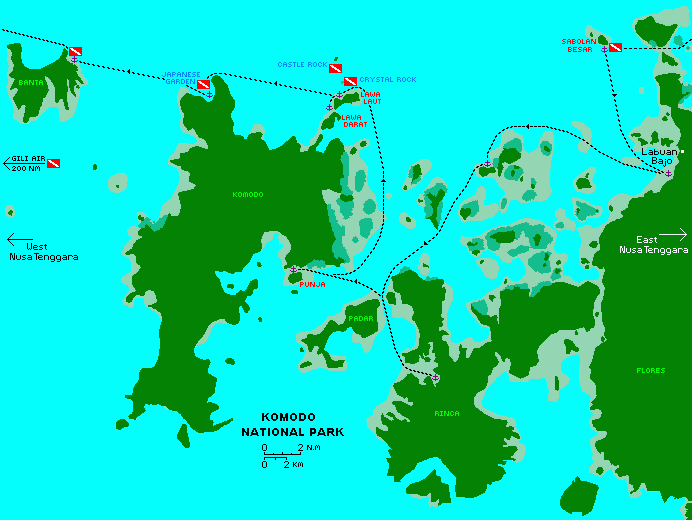 Our tracks and dive locations through Komodo National Park.
Click on the small anchors to go to our description of that anchorage.
Note that the 2005 CM93 chart database was inaccurate near Komodo National Park
(basically, the whole area shown above). Also, currents between the major islands can be very strong.
Date
2006
Island
Town or Bay
Depth
South
Latitude
East
Longitude
Comments
Photo
23 Aug
Sabolen Besar
SE corner
10'
8°24.0
119°48.8
Day stop only, nice coral
23 Aug
Flores
Labuan Bajo
20'
8°31.1
119°52.1
S of town, off Eco resort
25 Aug
Subafor Ketjil
NW bay
30'
8°30.5
119°42.1
Rolly
26 Aug
Rinca
Lehok Ginggo
30'
8°42.0
119°39.6
Delightful, wildlife, trails
Photo
28 Aug
Komodo
Pink Beach
mooring
8°36.4
119°31.4
Strong currents, snorkeling
29 Aug
Gili Lawa Laut
Northern bay
mooring
8°26.9
119°34.1
Diving, mantas, beautiful
Photo
1 Sep
Komodo
Monco Bay
30' sand
8°26.8
119°27.1
Nice snorkeling & diving
Photo
2 Sep
Pulau Banta
NE corner bay
18' sand
8°24.5
119°19.2
Nice snorkeling
West Nusa Tenggara



Our track through West Nusa Tenggara. Click on the small anchors to go to our description of that anchorage.
Date
2006
Island
Town or Bay
Depth
South
Latitude
East
Longitude
Comments
Photo
3 Sep
Sumbawa
TK Wera
17'
8°17.6
118°55.9
100' wooden boat building
Photo
4 Sep
Sumbawa
Kilo
18'
8°19.6
118°23.3
Tricky anchorage w/reef
5 Sep
Sumbawa
Kananga
15' sand
8°08.3
117°46.1
6 Sep
Pulau Medang
NW corner bay
15' sand
8°08.6
117°22.4
Protected, no village
Photo
7 Sep
Gili Lawang
SE side
18'
8°17.7
116°41.4
Tricky reef entry.
10 Sep
Lombok
Pamenang
70' sand
8°24.3
116°04.6
Fuel, inland tour
Photo
14 Sep
Gili Air
South side
mooring
8°21.9
116°04.9
Paradise!
Photo
Bali and Lembongan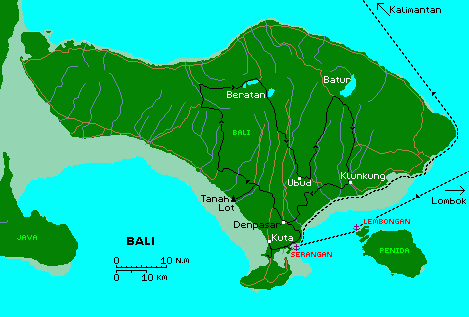 Bali, with our sailing (dotted) track and driving (black) routes shown
Date
2006
Island
Town or Bay
Depth
South
Latitude
East
Longitude
Comments
Photo
18 Sep
Lembongan
NW side
mooring
8°40.7
115°26.3
tourists during the day
Photo
19 Sep
Bali
Serangan
24' mud
8°43.2
115°14.5
Very protected
5 Oct
Bowean
North bay
14'
5°44.0
112°40.2
Pretty island
Photo
Kalimantan (Borneo) to Singapore and Malaysia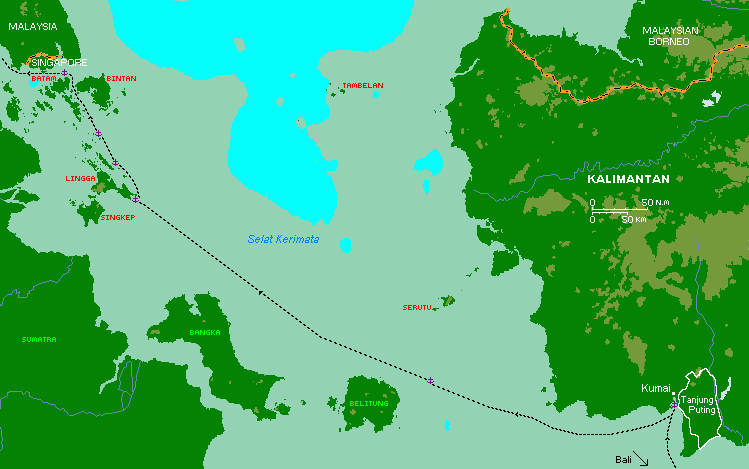 Our track through NW Indonesia. Click on the small anchors to go to our description of that anchorage.
Date
2006
Island
Town or Bay
Depth
Latitude
East
Longitude
Comments
Photo
8 Oct
Kalimantan
Kumai
40' mud
S 2°44.5
111°44.0
Boat swings with tide
Photo
13 Oct
Kalimantan
Kumai river mouth
7' mud
S 2°53.9
111°42.0
Very shallow
15 Oct
Karangraya
NW side
80'
S 2°34.9
108°43.5
Not recommended
Photo
18 Oct
Pulau Lingga
off SE tip
24'
S 0°18.5
104°59.0
Photo
19 Oct
Kentar
Northern bay
30'
N 0°03.2
104°45.6
Equator party
20 Oct
Mesanak
NW corner
45'
N 0°26.1
104°30.6
Not the usual anchorage
Photo
21 Oct
Pulau Batam
Nongsa Pt Marina
slip
N 1°11.8
104°05.8
Very nice, modern, clean
Photo
---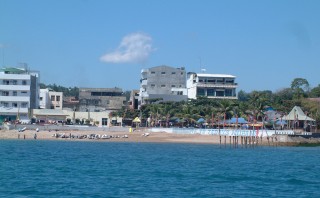 The anchorage off Teddy's Bar, Kupang, Timor
In Kupang the normal anchorage is off Teddy's Bar. It can get exposed in NE winds, but it calms in the evenings. This was the first Rally stop, and the organizers had cleaned up the beach and provided "boat boys" to haul our dinghies clear of the surf and tide. They also provided wonderful English students from the university to act as guides and interpreters. (Note: We Rally boats were so impressed with these students that we all chipped in and raised enough money to fund several students completely through 4 years of university. The scholarship is being handled by an official at the university and as of 2011 each rally had contributed every year.)
Kupang is by far the largest city we saw until Bali, so be sure to hit an ATM and get out all the cash you'll need until then as there are no more ATMs. There were about Rp10,000/US$1 in 2006. Kupang was also the last place we could get good diesel before Lombok but be sure to filter it! The government pump price for diesel throughout Indonesia was Rp4400/litre (US$0.45/L or $1.70/US gallon) but you can pay much more to get it delivered. Still, you'll probably go through a lot of fuel. The winds were very light on the whole north coast of these islands and we had small currents against us - we motored basically the whole way to Lombok. It's probably cheaper to hire a small truck for an hour and filling your own.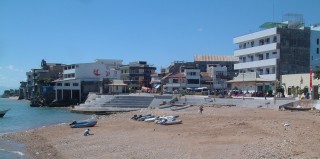 The dinghy landing beach was next to Teddy's
Kupang was very friendly to us - bemo (small bus) rides were Rp2,000 (20 cents) anywhere (10 cents for students, no ID needed). Sue went to the main Pasar Impressa market once just to see it, but could get most of the fruits and veggies at the bemo stand near Teddy's beach. She tried some minor bargaining, but the prices were so very cheap it seemed a bit strange. A few words of Bahasa Indonesia, including numbers, went a long way. If you want ikat weavings, Kupang town had better prices than its more rural neighbor Lomblen, strangely enough.
All-day bus-tours with an English-speaking guide and lunch cost ~Rp100K ($10) per person, or you can negotiate for the whole bus. Meals cost Rp10-20K ($1-2) per plate, but don't scrimp on budget places - it's not worth it. Several boats got sick eating out and one got Typhoid (though we think that may have been in northern Bali). Drink Coke or Sprite or Bintang beer, but don't drink the local water unless it's bottled.
---

See a larger map of our Isolated anchorage


The west coast of Timor in evening light

When we left Kupang we sailed north along the coast of Timor. This gave us a shorter jump across the Savu Sea to Lomblen. We eventually anchored at an isolated bay just north of Tanjung Kurus point. It was pretty and sheltered from SE or E winds, but the bottom seemed to be only bare rock, and we could never get the anchor to really stick. Since there was essentially no wind, we just slept with the anchor alarm on, but it's difficult to really recommend this anchorage. Exploring the beach was fun.
---

See larger map of our Lomblen anchorage


There are coral reefs close to shore at Pasar Suba

We skipped the Rally events at Alor and sailed across the Savu Sea to Lomblen (Kawula) Island, finding an OK anchorage at Pasar Suba (8°30.5S 123°13.6E) just north of TG Liang Meah or Ililamaingo Point off a small fishing village. Again, this anchorage was protected from the SE or E winds, but didn't really have anything else to recommend it (except that our good friends were anchored there at the time). We visited the fishing village and Sue used her limited Bahasa to talk to the people.
---

See larger map of our Kroko Island anchorage


Vagabond Heart anchoring near the pearl raft
& sand spit just off Boleng Strait & Kroko Is.

The next day we had a delightful sail, with 9 volcanoes in sight, up the Boleng Strait, which should really be called Boiling Strait for the strong currents, eddies, and whirlpools. Near the top we turned left into a narrow pass above Adonara Island. The 2005 CM93 charts are spot-on for most of the pass, and it's very visible and deep. We anchored at S8°14.6' E123°19.5' near the island of Kroko with a pearling raft and sand-spit for nice shelling (no, not pearls) and snorkeling west of the raft.
---

See larger map of our Lewoleba anchorage


The anchorage off Lewoleba town

Lewoleba town (9nm SE of the previous anchorage) on Lomblen (Kawula) was interesting as a small, bustling fishing town and they put on a nice welcome for the Rally but there's not much there. Nice fruits and veggies and fish were available at the busy open market, and bemo rides into the interior to see the rice paddies were fun but the roads were pretty bad, and worse out of town. Diesel was available from steel drums, measured by plastic buckets, but we declined. We made a couple day hops around Adonara island with a nice stop at Sequ, but never went ashore. Farther west, on Flores, we found the most friendly village to be Wailamung (not marked on charts) at S8°25.3 E122°35.4 - Warm and welcoming, church services, nice snorkeling.
---

See larger map of our Pulau Besar anchorage


Kindara anchored off Pulau Besar

Pulau Besar was a pretty, low key Muslim fishing village, but the anchorage at S8°26.8 E122°24.5 was not clear water. We took the dinghy out and snorkeled on the outer reefs but they'd been largely destroyed by bomb fishing and/or cyanide poisoning. This turned out to be pretty common all along coastal Indonesia (except, thank goodness, in Komodo National Park). In fact, the tremendous number of Indonesian fishermen meant that we didn't even bother trying to fish after a while, as all of Indonesia seems pretty fished-out. Only 1 Rally boat ever caught very much.
---

See larger map of our Hidden anchorage


Our greeting at our delightful hidden anchorage

We found a touch of tropical paradise at S8°27.6 E121°56.6 on the Flores coast. The nearest marking on the CM93 charts is the village of Dondo, about 2nm further SW along the coast. You'd never guess there was an anchorage there until you've turned the corner and headed around. (CM93 shows all reef, but it ain't so!) We had 4 boats in the small protected bay, white sand to drop the hook in (or further out in deeper water) with local fishing families there to greet us, help with anchoring, and offer friendship and fish. Nice snorkeling and the Indo-English dictionary came in very handy!
---

See larger map of our TK Ciendeh anchorage


Local fishing boat off Ciendah village

TK Ciendeh at S8°36.6 E121°31.0 is a bigger bay and friendly Muslim village with good holding but with a difficult mud landing for dinghies at low tide. We had an escort of 80(!) kids as we walked through town and along beaches. Older kids spoke some English. A school teacher joined us and we asked the kids to sing some songs for us. Good fun.
---

See larger map of our Riung anchorage


Rally boats off the cloudy N coast, at Riung

Riung, Flores was nice for Rally events (dancing and food) but not much else to recommend it unless you need eggs or produce. The entrance needs a lookout as the CM93 charts don't show the reefs, but they built a nice floating dinghy-dock for the Rally. We did an all day (and into the night) mini-bus ride to the highland town of Bajawa. (Our mistake - we told them what we wanted to see and asked how long it would take. They responded "14 hours". We said that was too long and could they do it in 8? They said Ok, but of course it still took 14 hours). The best scenery was dramatic volcanoes near Bajawa, and south when we went to a traditional animistic village. Hiked to a new volcanic caldera with other kid boats. Many boats anchored off (deep, expensive) Sea World near Wailamong to do the Kelimutu Volcano trip, but they had a very long day.
---

See larger map of our Sabibi (Gilibodo) anchorage


Anchorage off the beach at Pulau Sabibi

At reef protected Pulau Sabibi (or Pulau Gilibodo, S8°22.1 E120°01.0) we found beautiful white sand beaches and monkeys on shore. As we sailed there we saw a perfect Chambered Nautilus shell floating past beside us. This caused quite a bit of pandemonium on Ocelot, as we were sailing under the full main and the spinnaker at the time. We couldn't just turn around to pick up that gorgeous shell with the spinnaker up and we were afraid we'd lose it if we waited until we took all the sails down. Instead, we launched the dingy - while underway! As Jon took the sails down (by himself) Sue and Amanda went looking for the Nautilus shell, but they couldn't find it. When Jon returned with Ocelot to pick them up, we followed our GPS track back to the exact point where we'd seen the shell, calculated how far it had drifted in the (fairly strong) current, and there it was! It now graces Ocelot's salon.
---
The next day we stopped at the island of Sabolan Besar for lunch and a delightful dive with our friends on Ventana. There's an anchorage at the SE corner of the island on the only sandy patch, but it's too small and exposed for a night stop. From there we went to Labuan Bajo which has a reputation for petty theft. We anchored off the big roofed Bajo Eco Lodge owned by the parents of a boat in the Rally, 2nm south of town. They were welcoming and for Rp25K ($2.50) per person we could use the pool and have a changing room and shower. We accessed town via dinghy. The Harbor Master tried to ask for paperwork and Rp50k (not a lot of money, but it felt like a hassle and a scam) and this caused most boats to up-anchor and leave, which was too bad as an impromptu dance performance was organized for the visiting boats but none of them came because of the Harbor Master. There are nice little shops and a market here, as well as some nice restaurants. Get free sketch maps of Komodo National Park here, near the main dock. (It's not necessary to go to this office before going to the park, but the info was good.)
Important Notes: Starting somewhere off western Flores (about E120°40') the 2009 CM93 charts (typically used by programs like MaxSea, C‑Map, and OpenCPN) were no longer as accurate, and all the islands are really about 1/4 nautical mile SW of their charted positions. This inaccuracy continued all the way through Komodo National Park until Sumbawa Island. Also, currents run very strongly all throughout Komodo National Park, as they do through all of the passes between the larger Indonesian islands in this chain. Remember that currents here ebb north and flood south.
---

See larger map of our Rinca anchorage


Late afternoon overlooking Lehok Gingga, Rinca

In 2006, Komodo National Park charged US$20 plus $4/person for a 3 day pass, which was expensive for Indonesia - the concession owners were reportedly living in mansions. If you anchor off their headquarters on Rinca (pronounced Rincha) you can still see dragons and wildlife even if walking the trails by yourself. We avoided that anchorage due to too many boats and went to Lehok Gingga on the western side, finding trails and isolation. We took walks through the hills and along the beaches, seeing some small dragons and other wildlife such as wild boars, Sumba deer and even a wild horse. Raptors and frigate birds soared overhead. Other boats reported that the best anchorage for snorkeling and wildlife was southern Rinca, Lehok Uwada Desami, behind the small island, on one of the provided moorings.

Note: Do NOT follow our track to Lehok Gingga. Make sure you go west of little Sarai Island!
---

See larger map of our Pink Beach anchorage


The anchorage at Pink (aka Red) Beach, Komodo

There is excellent snorkeling off of Pink Beach on Komodo, but visibility changed a lot with the tidal change and the current ran quite strongly parallel to the beach. There are 2 yacht moorings at S8°36.4 E119°31.4 and local boat moorings across the channel off the Red Beach itself. Tourist boats from Flores come by each day but usually only between 10 and 2, at which time the snorkeling is not fun with dozens of inexperienced snorkelers kicking sand and standing on the reef. A more protected anchorage exists around the corner to the NW, but there are no moorings. The one village in the National Park is near here and at night hundreds of fishing boats head offshore, their lights glowing all night. Locals sell fish, lobster, prawns and carvings of Komodo dragons and Indonesian masks. Bartering works well with T-shirts, hats, sunglasses, galley stuff or even a combination of rupiahs and trade goods.
---

See larger map of our Lawa Laut anchorage


North Bay of Lawa Laut has great snorkeling with mantas

There's excellent snorkeling (we swam with manta rays!) on Gili Lawa Laut at S8°26.9 E119°34.1. There's a small sand patch (only big enough for one boat) and two moorings are provided but they're often taken by dive-boats (a third mooring drifted away one night with cruising boat attached, luckily no damage done!). There are 2 great dive sites just a short dinghy ride north of the bay: Castle Rock and Crystal Rock. The National Park has done a pretty good job protecting the fish and corals, and it was the best underwater environment we ever saw in Indonesia. Many boats took refuge from the eastern swell around the corner to the western side of Lawa Laut, but we found the anchoring to be very deep and, even at 60' (20m) still on coral. Shallower anchoring put us definitely on beautiful coral beds, so we left.
---

See larger map of our Pulau Banta anchorage


Ocelot in sunset light at Monco Bay, Komodo

We found nice isolated anchorages on the NW corner of Komodo in Monco (Montjo) Bay and again at Pulau Banta (a small island to the northwest of Komodo). Neither could hold more than 2 or 3 boats, but we found nice sand patches for anchoring and lovely coral gardens for excellent snorkeling. We did nice but relatively easy dives at each of these anchorages, which we called Japanese Garden (because everything was laid out so neatly) and Pulau Banta. There are no villages here, but occasionally local fishing boats would pull in for a few hours of rest. You have to barter hard for fish, as they usually sell the bigger, better fish to high-paying tourist markets in Bali and Java.
---

See larger map of our Wera anchorage
Note several long ships being built ashore


Huge wooden ships were being built at Wera

On Sumbawa our electronic charts again got more accurate. We stopped at the boat-building village of Wera (S8°17.6 E118°55.9 nice holding, black sand, clear water) but had petty theft problems while we went ashore. Some kids on dugouts reached inside our portholes to snag soap and toothpaste. Ashore, the villagers were happy to let us climb around ladders and under awnings to see the 6 100' (30m) long(!) boats they're building - using only dry pegs and few if any metal fastenings.

At Kilo (36nm west at S8°19.6 E118°23.3 in 18'/5.5m) we met Mul, a high school senior with excellent English who arranged fresh fruit for us. Enterprising young people who speak English and understand the needs of yachties seemed to appear at many anchorages. Mul paddled out to us in a leaky wooden dugout and was genuinely interested in practicing his English and helping procure fruits and veggies for us.
---

See larger map of our Pulau Medang anchorage


Lovely Pulau Medang, off Sumbawa

Our anchorage Kananga was pretty ordinary, but at the small island of Pulau Medang we found a lovely protected bay with white sand beaches and mangroves. There was no village visible, but a local man visited with us on the beach. Four boats anchored here and enjoyed a kid birthday party ashore.
---

See larger map of our Gili Lawang anchorage


Great volcano view from Gili Lawang anchorage

The NW anchorage at Gili Lawang is at S8°17.7 E116°41.4 in 18' (5.5m) of good holding mud. It's up a channel in the coral reef which then opens up into 2 bays - the inner bay can hold 2-3 boats and the outer bay 3-4 more, but entering the channel should not be attempted without good light. It's protected from virtually all directions and very isolated. The CM93 charts don't show the channel or bays, but they seemed accurate enough as we came over the top of the island. Other boats found anchorages SE of us, so evidently there are other holes in the coral providing good anchorages. The view of the Lombok volcanoes is great.
---

See larger map of our Pamenang anchorage


Pamenang anchorage - Ocelot's near the middle

We went to Pamenang on Lombok before Gili Air, but most boats do it the other way round. The anchorage (S8°24.3 E116°04.6, 70' or 21m, sand, we used 2 anchors) is deep but there are sometimes moorings available. We were met by (English-speaking) Mohammed who organized fuel for us as well as a delightful tour through the interior of Lombok. The tour took us first through the little local village (where we later bought fruits and veggies) and then up the hill to see the Macaques. We stopped in the big city (Mataram) to hit an ATM and then visited a small pottery factory and a cooperative weaving village. We decided not to visit the batik factory as it was so far south and instead headed up into the hill country and had a delightful lunch (our best meal so far in Indonesia) at a country inn. On the way back we visited the palace grounds of the last Balinese king to rule Lombok. The island is beautiful with friendly people, and very few tourists.
---

See larger map of our Gili Air anchorage


Gili Air anchorage - note reef in foreground and
background. Ocelot is the right-most catamaran

Gili Air was a delightful respite from the poverty-stricken villages we'd been anchored off. We picked up a mooring at S8°21.9 E116°04.9 as the anchorage is deep and several boats had dragged. There's good coral to snorkel or dive on, and the dive-shop was friendly (we did a clean-up dive with them). Ashore around the east side of the island are a string of delightful open-air restaurants serving some of the best food we've eaten in Indonesia - wonderfully mild coconut curries and fresh grilled seafood. Jon had 2 huge grilled prawns, served butterflied with garlic butter, for only $2 each. Sue and Amanda took a valuable cooking class at Gili Air Simple (our favorite restaurant). The $5 fee included the class and 2 meals! Massages on covered platforms over the beach, with the warm tropical air wafting gently over you, were $5/hour. Even the mixed drinks (with delicious local rum) were reasonable, and the whole island exudes a relaxed atmosphere. Some provisions are available at small shops in the village, but don't count on much. There are no vehicles, just foot paths and pony paths for the "cidomos" (pony carts).
---

See larger map of our Lembongan anchorage


Our friends Vagabond Heart in Lembongan

Lembongan is a tourist island that gets many day-trippers from Bali who come over on high-speed catamarans. We picked up a free mooring at S8°40.7 E115°26.3 but only stayed the night. Nights are peaceful enough, but during the day there is a lot of frenetic tourist activity (banana-boat rides, etc.) that creates noise and choppy conditions. The snorkeling is OK, and surfing friends say there are good surf breaks nearby, but that also contributes to the swell in the anchorage.
---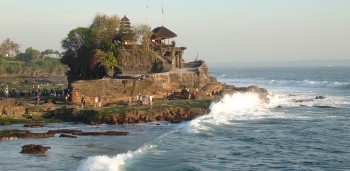 Sacred Tanah Lot temple on the SW coast of Bali
Bali is, of course, a must-stop destination. The predominantly Hindu culture, landscape, and vibrant economy are so different from the rest of Indonesia. We anchored in the slough off Serangan at S8°43.2 E115°14.5 in 24' (7.5m) of mud. As the Track files show, the 2005 CM93 charts are slightly inaccurate but if you go between the red and green buoys and then turn right, the anchorage is right in front of you. If you turn left at the buoys, you end up in the marina, but we didn't go there. Serangan seems to be the only alternative to a marina, and is well protected, if not a bit isolated.
Bali was, of course, a major stop for the Rally. The organizers arranged a small dinghy dock, visa extensions for those boats who wanted them, and several fascinating bus trips into the interior. Sue missed the bus trips because she had to fly home quickly for her mom, so when she returned we rented a car and visited many of the same places on our own, but without the dancing or sumptuous meals. Nuri's car rental (081 239 86612) charged us $20/day and both brought us to his shop and collected the car when we finished with it.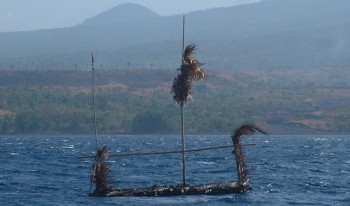 Fishing platform off the NE coast of Bali
Unfortunately, the dinghy dock is on an island that charges a trivial entry fee, but common taxis don't go there, and the resident taxis charge way more than normal. Some folks walked out to the main road for a taxi (about 2 km or 1.5 miles) and some got to know taxi drivers and called them by phone. Just across from where the causeway meets the main road is the big Makro store with food, clothes, electronics, and ATMs. There are several good fuel stations close by. The LPG station is also just a short taxi ride away.


The Balinese Spider fishing-boats were fascinating
Leaving Bali to the north involves bucking what can be a very strong current (it seems that the currents were always against us in Indonesia). To minimize the current, it's best to hug the SE coast as closely as possible, which also gives a great view of all the interesting fishing boats and villages. We caught about 35 knots of wind off the eastern point of Bali, but it didn't last long. More importantly, there's an amazing number of fishing platforms (usually just a few bamboo poles lashed together) anchored off the NE side of Bali, so you need to be in deep water if you're sailing through there, especially at night. The trip up the west side of Bali is not recommended unless you pay particular attention to the tides, as large standing waves can be generated in the narrows between Bali and Java.
---

See larger map of our Bowean Island anchorage


Bowean Island's protected bay on the N shore

The north bay of Bowean Island, 5°44.0 112°40.2 in 14' (4m), is a delightful place to break up the passage from Bali to Kalimantan. The bay is big and easy to enter but protected from anything but NW winds. There were some very colorful fishing boats anchored there as well, with ornate and brightly painted bows. Although we'd heard nice things about Bowean, we were pretty tired from our passage and never actually got ashore. Other cruisers rented motor-scooters and toured the island on its one main road.
---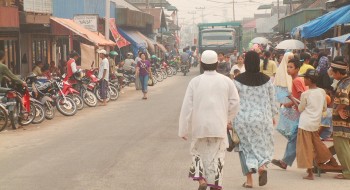 Bustling but fairly primitive Kumai Town
Kumai, on Kalimantan, can be difficult to get to as the CM93 charts are out and river is very shallow in places. We started out by following a big tug/barge up the river, thinking that they'd know the best way, but then they got stuck, right in front of us!
It's easiest to download one of our Track Files above and follow the track (although river sandbanks come and go), but alternately you can follow these directions: Keep the green buoy at the entrance to starboard, then stay 200m off the beach. Once you pass the end of the tree-covered sand-spit (S2°54.23 E111°42.53), turn sharply to the left and head to S2°53.48 111°42.09 to cross the end of the sand-spit. Then turn hard right and head to S2°51.39 E111°43.27. The CM93 charts will show you aiming just off the far right bank but the land is actually further off than the charts show, as everything is displaced somewhat. From there the river gets deeper and we stayed generally near the right-hand bank all the way to our anchorage at S2°44.5 E111°44.0 in 40' (12m) of mud.
This area is still tidal and the boats will swing around every change of tide, so make sure you have adequate swinging room. We found that multihulls and monohulls behaved differently, the multihulls hanging more to the wind while the monohulls (half-boats

) tend to hang more to the current. If you're planning to be off your boat overnight, it's best to have a "boat-boy" on board to look after things.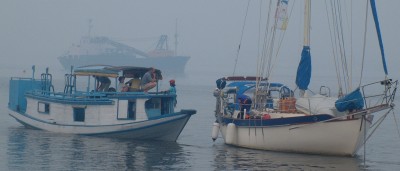 Klotok picking up Estrela on the smoky Kumai River
In Kumai, we met Herry Roustaman (+62[0] 532 61319), who we'd emailed earlier. Herry runs the local yacht-service and organized a great 3 day tour of the Orangutans for us on local klotok boats, with someone to stay on our boat and watch over it. He also organized diesel but we had to take a bus to the next town to get to an ATM.
We ended up leaving Kumai in the late afternoon, so we went down the river and anchored by the mouth at S2°53.9 E111°42.0 in 7' (2m) mud (see photo above). The anchorage was unremarkable but it was quite shallow. Monohulls anchored a bit further out, but were still able to find protection. This allowed us to get a good jump on our passage the next day.
Most boats take a north-easterly track when leaving Kalimantan so they can spend a night at the island of Serutu, but boats ahead of us were reporting almost zero visibility from the smoke and some scary shipping activity resulting in close encounters of the "get‑me‑outta‑here" kind. So we chose a more westerly track, sailing due west from the Kumai River mouth until we were out of the smoke-bank before heading northwest towards Singapore. By now the fleet that had left Darwin together had spread out and only 4‑5 other boats chose our course, but several boats came together again as we crossed the equator at the island of Kentar, and many an equator-party ensued.
---

See larger map of our Karangraya anchorage


Abandoned village across from Karangraya

The charts show some shallows around Pulau Karangraya but we couldn't find them, even around the abandoned village. But it was late and we didn't want to sail all night again, so we dropped the hook at S2°34.9 E108°43.5 in 80' (24m) of sand/coral. This was our deepest anchorage to date. In the morning when we tried to leave, we couldn't recover the anchor! After 45 minutes of trying, Jon had to don scuba gear and dive down to free the anchor, a first for us in 12 years of cruising. He found that the anchor had snuggled up into a narrow crack in an isolated, flat lump of dead coral. Nothing we could have done from the surface would have freed it, but with scuba gear it came out easily enough and we left soon afterwards. Needless to say, we do not recommend this anchorage. In fact, friends had bad anchoring experiences NW of Pulau Telegapanat, about 10nm to the west, so perhaps many of the islands northeast of Pulau Belitung are difficult to anchor behind.
---

See larger map of our Ligga Island anchorage


Southern Ligga Island anchorage, just north of Sunsa Is.

A reasonable anchorage can be found off the southern tip of Lingga Island at S0°18.5 E104°59.0 in 24' (7m). There's nothing remarkable about this anchorage, but if you've just spent several days on passage coming up from Kalimantan, it makes a nice overnight stop. From Lingga northwest, the trip can be done in a series of day-sails all the way up the Malacca Straits to Thailand.
---
| | |
| --- | --- |
| See larger map of our Kentar anchorage | The obvious anchorage in Kentar is in the big northern bay at about N0°03.2 E104°45.6 in 30' (9m). The bay is big but protected from the normal SE trades. The CM93 charts have Kentar displaced about 400m NW of its actual position, but everything's easy to see. Kentar was a fun anchorage for us because we arrived with several other cruisers who had all, like us, just crossed the equator, so an equator party soon developed. The next day, one of the boats decided to do a leukemia fund-raising event, the woman shaving off all her hair. In the end, 1 man and 2 women shaved their heads and some A$2,000 was raised for leukemia research! |
---

See larger map of our Mesanak anchorage


There's a conspicuous wreck at N Mesanak

The normal anchorage for Mesanak is in the big bay to the NE, but that was exposed and choppy when we got there so we went around the top and anchored off the NW corner. The anchorage was fairly deep (N0°26.1 E104°30.6, 45-50' or 15m) and we had to get closer to the reef than I liked, but the holding was good and reefs down the western side of Mesanak broke up most of the swell. This anchorage was only OK - I would recommend the NE bay anchorage if the winds allow it.
---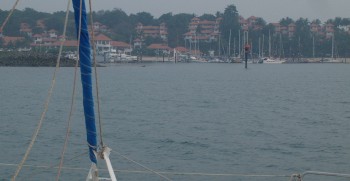 Approaching Nongsa Point Marina
Nongsa Point Marina at N1°11.8 E104°05.8 is a little dodgy to get into. There are a series of 8 poles that are quite visible, arranged in 2 lines of 4, oriented east/west. The 4 poles to the east mark each side of the channel to the marina, while the 4 to the west mark the entrance to the river that the high-speed Singapore ferries use. Some CM93 charts show these poles although it has them shifted about 100m to the east. There are also some rocks just outside the channel that are usually marked by floats. Call the marina on VHF before you come in for directions. Make sure you run down the center of the channel (which will show you as running over the 2 western poles on the CM93 charts) as some boats have damaged keels on rocks.

Playing in the delightful marina pool
The marina itself was a pleasant surprise as we don't go to marinas very often. Although prices are all quoted in Singapore dollars, slips were actually fairly reasonable, and included the huge pool (towels provided by the hotel) and slow wireless internet. Even the resort restaurant, expensive by Indonesian standards, was quite reasonable by world standards. The only flies in the ointment are that town is a long taxi ride away, and the marina officials charge a hefty fee for organizing clearance out of Indonesia. Make sure you're ready to leave when the officials return with your passports, because you don't get any slack-time. As soon as they hand you your clearance documents, they undo your dock-lines and hand those to you as well - you're expected to leave immediately. Luckily, they usually come in the morning, so you have ample time to cross the busy shipping lanes to get to Singapore.
Indian Cruising Info: Up | Cruising Indonesia | Cruising Malaysia | Cruising Thailand | Thai Services | Cruising Andamans | Cruising Sri Lanka | Cruising the Maldives | Cruising Chagos | Cruising Seychelles | Cruising Madagascar | Cruising Mayotte
Related Pages: Indonesia Home | Indonesia Newsletters | Indonesia Diving
Cruising Info: General Cruising Info | Equipment | Pacific Ocean Cruising | Indian Ocean Cruising | Provisioning Food & Fuel | Cruising Recipes
Top Level: Home | Destinations | Cruising Info | Underwater | Boat Guests | Ocelot | Sue | Jon | Amanda | Chris | Site Map | Make a Comment
---
If our information is useful,
you can help by making a donation
Copyright © 2000‑2016 Contact: Jon and Sue Hacking -- HackingFamily.com, svOcelot.com. All rights reserved.