Cruising S&W Indonesia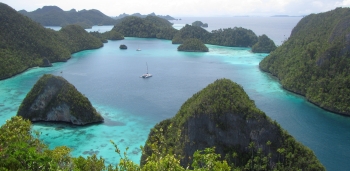 Magnificent Wayag archipelago in Raja Ampat
These pages comprise a short Cruising Guide to Indonesia, split into pages on Cruising North and East Indonesia (109 anchorages) and Cruising South and West Indonesia (58 anchorages). Thinking of sailing through Indonesia? You'll find information on clearance requirements, money, fuel, and detailed information (lat/lon, satellite images, photos, entry/exit routes, details, and descriptions) on over 150 anchorages that we have used over several cruises through Indonesia:
2006 (Aug‑Oct) Sail Indonesia rally through southwestern Indonesia
2014 (Sep‑Dec) Raja Ampat rally
2015 (Jan‑May) Our cruise to Triton Bay and out to Dili, East Timor
2015 (Aug‑Oct) Sail Indonesia rally through southwestern Indonesia
2016 (Sep‑Dec) Raja Ampat rally
2017 (Mar‑June) Triton Bay, SE Indonesia, Dili (East Timor)
2017 (Aug‑Oct) Sail Indonesia rally through SW Indonesia
2018 (Aug‑Dec) Return to Down Under/Raja Ampat rally
Cruising Indonesia was a treat, but not much like any other cruising we've done. Few boats have gone to some of the places we went, so we often got an enthusiastic greeting. There are few, if any, yacht services. Even ATMs and diesel can be difficult to find. Sue's put together a document on SE Asia Provisioning which includes recommendations on what to be sure to buy before heading into Indonesia. For instance, beer is $1.50‑$2/can in the store, when you can find it at all. Remember, Indonesia is a Muslim state, and the Koran forbids the consumption of alcohol, so not much is available. Good cheese and meats are very difficult to find. Check it out!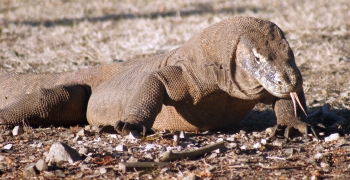 8-foot Komodo Dragon advances, sniffing the air
Visas: At the beginning of 2016, Indonesia finally got rid of their requirement that cruising boats carry their expensive Cruising Permit (CAIT) and Temporary Import Permit (TIP). This made cruising Indonesia much easier and more affordable. The only fees (as of 2017) are for a visa, and visa extensions. The free visa‑on‑arrival (available to folks from almost all countries) is only good for 30 days, and cannot be extended. You can buy a 1‑month visa‑on‑arrival for about $35 that's extendable for another month only. If you can get to an Indonesian Consulate before you arrive, you can apply for a single entry visa (good for up to 60 days) or a "Social Visa" (called a 211/60 at the embassy and costs about $50) which is good for 2‑months initially, and then it can be extended every month (for about $30) up to a maximum of 6‑months. Basically, visas cost about US$1/day. Social Visas, which is what we've always used, have required a sponsor letter from an Indonesian national in the past, but now it's possible to get one by simply showing sufficient finances (bank statement). There are several agents around who will provide sponsor letters, like Raymond Lesmana (+6281‑112‑4574, $75/boat for your entire stay). As of 2018, Raymond runs most of the rallies through Indonesia, so if you join any of them he will email you all necessary paperwork. Raymond can also email you the extension letters when you ask. All you have to do is print them off and present them to the officials with your passport.
Clearance Ports: There are currently about 20 places boats can clear into or out of Indonesia (CIQP ports). From east to west (2017): Jayapura (NE Indo), Biak, Tual (Kai Group), Saumlaki (Tanimbars), Sorong, Ambon, Ternate (W Halmahera), Tahuna (Sangihe), Manado or Bitung (both NE Sulawesi), Kupang (SW Timor), Bali (Dempasar or Singaraja), Nunukan or Tarakan (both NE Kalimantan), Kumai (S Kalimantan), Jakarta, Belitung, Bangka, Nongsa Point (Batam), and Sabang (NW Sumatra). Note that this list changes now and then. There are more places where visas can be extended. The full list can be found on the Indonesian Immigration website. The first extension involves photos and fingerprints, so it generally costs $4 more (Rp355,000 vs. Rp300,000, or $27 vs. $23) and takes a bit longer. We tend to clear in and out with various rallies, which is MUCH easier than doing it on your own.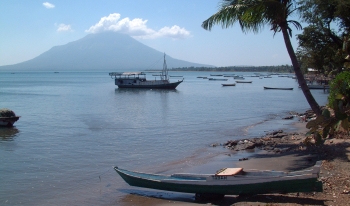 Typical village waterfront with volcano
Corruption: Some of the immigration offices are better than others. The immigration officials at Ambon and Tual in the Kai Group were wonderful, and could usually process an extension that same day, but in Maumere they have been known to stick in unnecessary delays in the hopes that folks will pay more for them to expedite the process. Sorong used to be terrible, but in 2017 they suddenly turned helpful. To assist efforts to eliminate illegal kickbacks, immigration officials are now asking the public to deal directly with immigration offices and not to engage the services of middlemen or agents. In 2016 the Bali Chief of Police, Ronny Sompie, became the Director General of Immigration for Indonesia. He ordered a crackdown on corruption which includes the posting of banners in Immigration offices. They translate to say:
The Minister of Justice and Human Rights has declared war on kickbacks. Are you encountering difficulties? Are there illegal levies? Report this to the Director General of Immigration by SMS or WhatsApp to number 081‑1804‑7000 or by Twitter to @RONNFSOMPIE.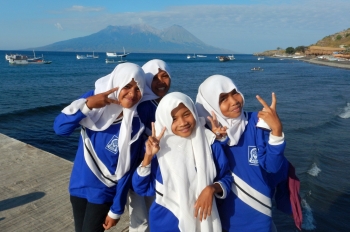 The Indonesian kids are so much fun
We've also found that taking a picture of an official, with their name tag if possible, tends to make them back down on unreasonable demands, especially if you show them that you have the above name and number in your phonebook.
Other Documentation Needed: There is documentation necessary for your boat to enter Indonesia, which, if you are not with a rally, can be found on Noonsite's Indonesia pages and at https://yachters-indonesia.id/ and http://yacht.beacukai.go.id/yachtbc/index.html. Unfortunately, these sites have been down a lot recently, so don't leave it to the last minute. The forms (a Vessel Declaration and a Temporary Import form) are free and can be downloaded and filled out before entering the country. You have to chose one of the officially approved CIQP entry ports as your port of entry into Indonesia. Your newly filled out paper work will be checked, copied and stamped by the Customs and Port Authorities on arrival. Note that your boat can stay a total of 3 years in Indonesian waters, but you must report to customs every 6 months to show that the boat is still in the country. As of 2018, only 6 month visas are available for cruisers, but you can sail into Timor Leste, or fly out to Singapore or Kuala Lumpur, get a new visa, and return immediately, thereby beginning a new 6 months (we've had to do both of these). Note that the Bangkok consulate currently doesn't allow a new visa immediately after leaving Indonesia.
Raymond Lesmana is trying to get longer and better visas for cruising boats, but he needs our help, in the form of emails. If you want to help, you can use the following sample:
Dear Pak Raymond, [DATE], [LOCATION]

The current 211/60 "Social Visa" is limiting cruisers who would like to spend more time (and money) in Indonesia. Visiting Indonesia by boat is the ideal way to experience this fantastic island nation, but our boats are slow, and having to extend our visas every month is often difficult. It would be very nice if Indonesia could offer cruising boats 1 to 2-year visas that don't require extensions, or at least the ability to pay for (and obtain) all extensions necessary at one time. Now that technology allows officials to track our boat's locations at all times (via AIS) we should not need to check in with officials in person.

Thank you -- [YOUR NAME], s/v [BOAT NAME]
Entry Formalities: We have only ever cleared into Indonesia at Kupang (SW tip of Timor, just north of Australia) and at Tarakan and Nunukan (NE tip of Kalimantan). All of these clearances were organized by various rallies, which meant that the officials all came to us rather than us having to track them down (which is an all‑day affair in Kupang). They will generally come to the boat to fill out initial paperwork and to do an inspection, but then more paperwork will need to be done ashore. If you admit to having a copier on board, they will ask for multiple copies of all documents, but otherwise they'll simply take a picture of the documents with their phones.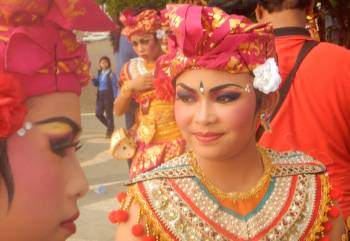 Dancers in costume perform at many rally stops
Cruising Guides: For several years after 2006, these web pages, constructed by our daughter Amanda, were pretty much all that was available for cruising Indonesia. Our friends on Calypso JJ released a book called 101 Anchorages in Indonesia, but they didn't actually go to those anchorages (we have personally been to every anchorage we list here). They asked other folks on the 2006 Rally to send in mud‑maps of their favorite anchorages, and some of our anchorages are in there, but there are also some glaring errors. Since 2014, Andy Scott's Cruising Guide to Indonesia has been the best Indonesian cruising guide (by far). The first edition has 270 pages and describes over 320 anchorages, with good mud‑maps and stunning photographs. The second edition, released in 2017, has 300 pages and describes over 400 anchorages, including 25 that we contributed. Andy's cruising guide has it's own website where electronic copies and waypoints can be downloaded (once you agree to the terms and conditions) as well as a Facebook page.
Money: As of 2018, there were about Rp15,000/US$. ATMs are pretty ubiquitous, but they're not all equal. We have found that only BNI and Mandiri ATMs will take our US cards. Most ATMs will only dispense 20‑25 bills, so ATMs that dispense Rp100,000 notes will let you take out more money for each transaction than ATMs that only dispense Rp50,000 notes. This is useful if your bank charges a transaction fee. Most ATMs are marked with which bills they dispense, but you have to know to look.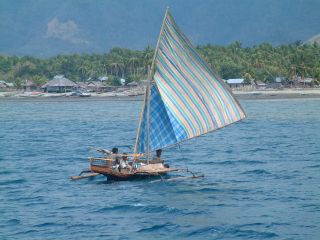 The pretty local fishing boats are very active
Fuel: There's often not much wind in most of coastal Indonesia, so you'll probably burn a lot of diesel. Indonesia has a 2‑tier pricing scheme for diesel (called "solar"). In 2018, diesel was only about Rp5,200/liter (US$0.35/L or $1.30/US gallon) at the pump for the locals, but it was hard for us to get that price unless accompanied by military officials. Rp7,000/liter ($0.50/L or $2/gal) was supposedly the foreigner ("unsubsidized") price, but retailers often charge over Rp10,000/L.
There are also several waterfront resellers who will hand dip diesel from their big drums, but there are problems with this. The fuel is of unknown purity or parentage, it's usually much darker than what comes from the station, and they dip it out with their own measurement cans, which are ALWAYS 10‑20% short of real liters. We call these "Indo‑liters." We've been unable to fight this - we just buy 15% more than we usually do, or mark our jugs with a known volume and tell them to fill it to the mark. But we've had to throw out one whole tank (130 liters) that went milky on us. If you can bring some good Diesel Biocide with you (it's not available in Indonesia) and treat your tanks at every fill, that will probably help. We actually pour biocide into our jugs as soon as we empty them, so it's always in there.
The diesel sold in Indonesia is of poor quality, and has a high sulfur content. There are actually 3 grades of diesel sold by Pertamina (the government fuel company) but none of them are as good a quality as what you can get in neighboring countries:
Solar is the cheap stuff, but what's most easily available. It's quite dark, and has a very high sulfur content, leading to sulfuric acid forming in your oil, necessitating more frequent oil changes.

DexLite is the mid‑grade. Lower sulfur content, and more expensive. It claims to be lighter in color, but we haven't really noticed this. DexLite is apparently unsubsidized, so we should be able to buy it, but it's not available everywhere. In 2018, DexLite was Rp10,700/L in Raja Ampat (Sorong and Waisai) and Rp9,200/L elsewhere, so almost twice the price of solar.

Pertamina Dex is apparently the highest quality diesel available in Indonesia. It has even less sulfur, and of course, it's the most expensive. It's apparently somewhat clearer, but it's not as clear as good diesel sold elsewhere. Dex is apparently what Pertamina expects folks to put in cars. We've only recently found out about it, so haven't tried it yet. But given the problems we've had with Indonesian diesel in the past (necessitating the installation of a full fuel‑polishing system) we'll be trying it the next time we're in Indonesia.
As of 2018, all grades of diesel sold in Indonesia are blended with dreaded palm‑oil. We try to boycott palm‑oil whenever we can, but there's no avoiding it in diesel when that's all you can buy.
It's probably best to hire a car or a small flatbed truck, and take your jugs to a real Pertamina station where they can be filled with reasonable fuel in correct amounts. Some stations will let you get away with this, and some won't (or they may ask for a surcharge). Some cities have special stations that sell "unsubsidized" fuel, which is what we're supposed to buy. In northern Bali, we'd hired a car for the day but there was still an hour of daylight after we got back, so we threw the jugs into the back of the car and filled them at the local station without any problems at all, and we even paid the local rate. This certainly increases the value of a rented car - the savings on those 200 liters of fuel almost paid for the car all by itself!
Gasoline (called "benzine") is easily available at Pertamina stations for about Rp6,500 (US$0.43 in 2018) per liter and was usually available at the waterfront resellers as well (with the above caveats).
| | |
| --- | --- |
| Is this useful? Buy us a beer! | |
Cooking gas is more of a problem. It's essentially impossible to fill tanks with US or Aussi/NZ (reverse thread) fittings, despite the fact that the larger (50kg) Indonesian tanks use this fitting. Cruisers who need their tanks filled should get a decanting setup, with their own fitting on one end and a local fitting (without the regulator) on the other, but these fittings are very difficult to find. In Indonesia, the regulators are always integral with the tank fitting, so one option is to buy a regulator that has a pressure gauge, then remove the pressure gauge and connect your decanting hose to that hole (which will pass liquid LPG, which can't go through the regulator, but the hole is often very small). The normal regulated output will, of course, have to be blocked off. Victor, in Sorong, sometimes has decanting setups to sell, but it's probably easier to put one together in Malaysia, where the parts are often available, as Malaysia uses the same fitting.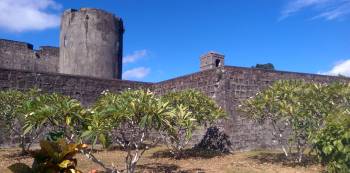 The old Dutch forts are fun to explore
To decant from a full LPG bottle to an empty, it's handy to have a short length of rope, a long, flat screwdriver, a wrench for your gas fitting, a scale, a bit of ice and perhaps a rag in addition to your decanting setup. Having someone who's done it before is comforting, but not strictly necessary. Turn the full bottle upside down and hoist it up as high as your decanting hose allows (in the sun if possible) with the rope and secure it. Connect your decanting hose to the empty tank. It's important to weigh the empty tank, so you know how much you've put into it. Extinguish all cigarettes and work in a well ventilated area away from any sparks or motors. Open the valve on the empty tank first, then connect the Indonesian fitting to the (upside‑down) full bottle, which should start the liquid propane flowing. The expanding and compressing gas of the decanting process will tend to make the full bottle cooler (decreasing its pressure) and the empty bottle warmer (increasing its pressure) which is the opposite of what you want. Hanging the full bottle in the sun will help keep it warm, and putting a wet rag and some ice around the top of the tank being filled will reduce its pressure and help the process go faster, but neither are necessary. Also, some of the liquid will turn to gas in the tank being filled, and venting this gas at intervals will also help things go faster (there's a vent‑screw on the side of the fill‑valve). Weigh the tank being filled every few minutes to track progress. We've found a 20 lb (9kg) tank usually takes about 20 minutes to fill this way (about 1 lb/min). When the tank is full, quickly disconnect the upper regulator and close the valve on the tank being filled. Be careful removing the fill‑hose, as it may still have some liquid propane in it. Voila!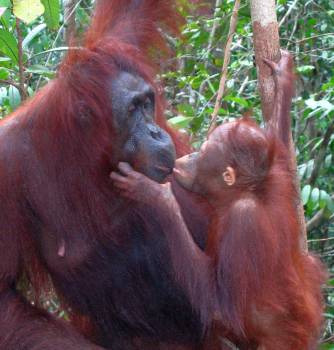 Mother & baby orangutan share a tender moment
Charts: Virtually all charts of Indonesia are displaced and/or too low resolution for reliable navigation, especially if you get off the beaten track a bit. We've seen errors of over 1 nautical mile. In our opinion, all charts for Indonesia should be augmented with some form of satellite‑derived charting like Google Earth (via Ovital or KAP Files, as even iSailor has bad inaccuracies). We have made (and freely distribute if you bring us a hard drive) over 140,000 Google Earth derived navigational KAP files that cover most of the Indonesian coastline in extremely high resolution. Unfortunately, these consume over 130GB, so hosting them on the web costs us money, but we've had so many requests for them that we've now posted them on our new KAP Downloads page. If you download our KAPs, please help us by making a donation via PayPal. If you want to make your own GE derived KAPs, check out our GE‑to‑KAP How‑To page. All the tools are free on the web, but it takes LOTS of time (and internet bandwidth).
Google Earth used to be our go‑to source for satellite imagery, but now a Russian program, SAS Planet, provides not only GE imagery, but ArcGIS & Bing (Microsoft) satellite imagery as well, both of which are often better quality than GE. SAS also has access to Navionics and C‑Map charts, and SAS can produce mbTiles, which are higher quality than KAPs (more colors) and they're easier for OpenCPN to deal with.
Making mbTiles is very similar to making KAPs:
Download and install SAS Planet and Sat2Chart (the new GE2KAP) off the web (both are free)
Create routes along the coasts you plan to cruise, in either OpenCPN, SAS, or GE
Export those routes and feed them to Sat2Chart, which will use them to drive SAS (or GE) to download the imagery and make the charts
There are more details, of course, but that's the gist of it. Sat2Chart has pointers to tutorial videos for making it all work.
Chart Terms: Here's a quick lesson in Bahasa Indonesia for the various terms used on nautical charts:
| | |
| --- | --- |
| Indonesian | English |
| Tg (Tanjung): | Point or Cape |
| Tk (Teluk): | Bay |
| Sg (Sungai): | River |
| P (Pulau): | Island |
| Gili: | Small island |
| Selat: | Pass (between islands) |
| Pantai: | Beach |
| Laut: | Sea |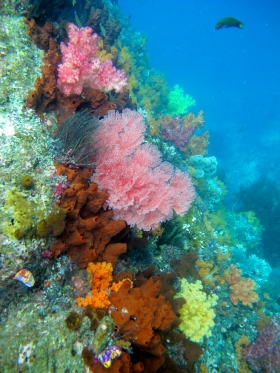 Underwater biodiversity is fantastic
Fishing: Much of Indonesia has a pretty severe overfishing problem. Some of the rural villages don't really know how to do anything else, and they have to feed their families somehow. Many fishing villages we visited didn't even have a "kitchen garden" of fruits or vegetables to supplement their diets. As their populations grow, the pressure on the fish gets intense. Some fishermen have adopted techniques like bombing the reefs with dynamite and collecting the fish when they surface. We've even heard of some using cyanide to poison the reefs. They don't seem to know that this kills all the juveniles which would normally form the next generation, so they're killing their stocks. There doesn't seem to be a fisheries management group to make sure fish are taken in a sustainable way, so fish populations are extremely depleted, and it's getting worse. If we're sailing past populated areas, we don't even bother throwing a line in the water.
There are some bright spots. Komodo is a national park, and fishing is supposedly only allowed in one bay. The local rangers don't really have the resources (or inclination?) to police this much, but the commercial dive operators depend on the fish to bring customers, so they do some policing which seems to be working, as the fish in Komodo are plentiful. The whole Triton Bay area has such a low population density that there are still plenty of fish around. The environmentalists at the Misool Eco‑Resort are working out deals with local villages to limit fishing to sustainable levels. Raja Ampat also has a low population density, but they've gone one better. Environmentalists have gotten several villages there to build overwater bungalows over their reefs. These are fairly basic affairs, but they're clean, with a big bed and usually a sitting area out front, and bathrooms and a cooking area ashore. The Tourism department has put up a website to book people into these "home‑stays" so all the villagers have to do is feed and entertain their guests. This is teaching the villagers that their reefs have commercial value other than fishing, and it's giving them another way to support themselves. We hope this effort succeeds and continues.
Engine Repairs: We have, unfortunately, had to do some engine work in Indonesia, but this has given us some good information to share:
Hasta Bramsovia (+628‑133‑871‑9088) is actually a mechanic but he's also an excellent source for Yanmar or Volvo engine parts. He's based in the south end of Bali, with a workshop near Dempasar, but he can get parts from Jakarta and send them by courier to anywhere in Indonesia in only a few days. His prices were on a par with Singapore (cheaper than the US) and his parts supplier(s) seem to have pretty good stock, as he was able to get us several gaskets (including head‑gaskets) quickly. To pay him, you currently need to deposit money in either of 2 common Indonesian banks (BNI or Mandiri) but we're trying to convince him to get a PayPal account. We've talked to Hasta many times on the phone and he seems like a good guy - businesslike, helpful, and we never felt he was trying to take advantage of us. He speaks excellent English and he seems to know his engines. If we needed engine work done in Bali, he's the first person we'd go to. But he usually can't get sail‑drive parts, as they're not used much in Indonesia.

The nominal Yanmar agent in Indonesia is Pioneer‑Trading (+62‑212‑312‑312) in Jakarta. We dealt with Wulan (extension 124) who speaks passable English. Although Pioneer‑Trading seems big and professional with a fancy website, they don't seem to have a good stock of parts. The parts we needed had to come from Singapore, with a delay of at least a week coming through Indo customs.
Rallies: We're not normally rally people, but Indonesian rallies can be good fun! They usually put on many more cultural shows (dances, meals, bus tours, etc) than we could possibly organize ourselves. Even better, the local tourism departments usually pay for everything(!) so the rallies are very reasonably priced. Every year there are usually several rallies going through Indonesia. This is complicated a bit because some of the rallies are run in parallel by competing companies. The Sail Indonesia rally that leaves Darwin in late July and runs for 3 months through southern Indonesia to Singapore/Malaysia has run since 2001. We did this rally in 2006 and again in 2015 and 2017, and we quite enjoy it. In 2013 it was taken over by Dr. Aji Sularso of ASWINDO, but now it's being run by Raymond Lesmana.
Raymond Lesmana (+6281‑112‑4574) apparently originated the Darwin rally and he now runs the Sail 2 Indonesia rally as well from Cairns, Australia to Singapore. It usually goes up through the Kai Group and Ambon before curling south through Wakatobi (SE Sulawesi) and the southern chain of islands. He also sometimes runs a rally through the Anambas to Natuna and a West Borneo rally -- Please contact him directly for more info on those. Ray's a good guy who tries hard to help everyone and keep them happy.
Ray also usually runs a rally from Borneo (Kalimantan) to Raja Ampat in August. Some boats use this rally to get back to Australia. This rally is designed as a continuation rally from the Malaysian Passage to the East that goes over the top of Borneo, and is a good way to get past the Philippine Abu Sayyaf terrorists in Mindanao. We've done this rally 3x now. There have also been rallies down from Davao (Philippines) to Raja Ampat, but the timing of these is still evolving.
Cruisers: We are now publishing Downloadable Track Files in OpenCPN (.gpx) format and in MaxSea (.ptf) format (not all tracks are available in all formats yet - we're still working on it and they take time). You can download the track files either by clicking on the links in the tables below, or by clicking on the track in the Google Map below the table. The MaxSea files are in native format but the OpenCPN files are zipped so they download faster, and they need unzipping after they've been downloaded (which most operating systems do natively). If 2 files are shown, the smaller one has been edited to remove redundant points from straight tracks. This improves the speed of the download as well as performance once the file is loaded. Sometimes MaxSea Track files are separated from the Mark (chart notations) files. Download instructions are provided if you need them.
These files are provided free and we are actively soliciting cruisers to send us your track files so we can post them for others to download. If you would like to to participate, please email us your track files (as attachments to our HackingFamily account, not our Winlink acct) along with your boat name and draft. If you include your website and boat details, we'll link back to you from our Cruising Links page.
Disclaimer: While we always try to provide useful information, we can take no responsibility for its accuracy or usefulness. Prudent mariners will always navigate using all means at their disposal, and will not rely solely on electronic navigation.
Indonesia Tracks
Boat
Draft
Year
Comments
MaxSea
OpenCPN
Ocelot
4.6' (1.4m)
2019
Biak to Philippines
88 KB
Ocelot
4.6' (1.4m)
2018
Indonesia North & East
415 KB
Ocelot
4.6' (1.4m)
2017
Indonesia North & East
104 KB
Ocelot
4.6' (1.4m)
2014
Indonesia North & East
158 KB
Ocelot
4.6' (1.4m)
2015
Sail Indonesia Rally, South islands
57 KB
Ocelot
4.6' (1.4m)
2006
Sail Indonesia Rally, South islands
32 KB
37 KB


See Ocelot's Indonesia Sailing Tracks in a larger map.


Note that these track files show many "Possible Anchorages." These are places that look like they should be good anchorages, but we didn't actually visit them, so we don't write them up below. Most of them were found by scrutinizing Google Earth. Other anchorages are marked by the boat that told us about them, like "BH Anchorage" for Brick House. These anchorages were actually used by the boats indicated, but not by us, so we don't write them up below.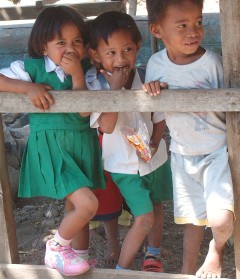 Sweet smiles of the Indonesian kids
Cruising South and West Indonesia
This page highlights 58 of our anchorages from Kupang, Timor, Indonesia, through Bali and Kalimantan (Borneo) to Singapore, listed from SE to NW. We have cruised SE Indonesia twice (2006 and 2015) as part of the Darwin‑Indonesia Rally. Originally, we were a bit skeptical about joining the Rally as we'd never done anything like that before, but it was a wonderful experience which we highly recommend. The tourism departments at the rally stops arranged for excellent high‑quality cultural shows and excursions, many more than we could have organized or known to attend on our own. Now that Indonesia has gotten rid of the CAIT (cruising permit) and TIP (temporary import permit) the only official costs are the visa (about $50 for a "social visa" good for 6 months) and visa extensions (about $30/month). But most of the cultural shows, dinners, and excursions are paid for by Indonesian Tourism.
The Indonesian kids everywhere had big smiles, but were always asking for pens, school books, T‑shirts, money, anything. We tried to give things only when we had a relationship (any sort of real communications other than "give me") or exchange. But it's hard - everyone needs so much, and they have so little. We traded old diving masks, sunglasses, T‑shirts, etc. for Komodo carvings in the park, and were happy to provide some school notebooks and pencils for the younger siblings of a high school student who paddled to our boat to converse and practice his English. The only reactions to our being Americans (in this, the most populous Muslim nation, at a time when President George W. Bush seemed to be trying to annoy all Muslims) were big eyes and exclamations of surprise that we've come so far. There was one market lady whose eyes lit up and she said, "Britney Spears!" We had to laugh. It was lovely.
In the tables below, please note that all of the latitudes are South except for the last ones up by Singapore, all longitudes are East, and all depths are in feet. Below the table are more detailed descriptions of the places we went. You can also click on the map hot‑spots to go to descriptions of that anchorage. The track shown below is from 2006, but our 2015 track wasn't very different, and we've included our anchorages from both trips.
Overview of our tracks through Southern Indonesia from Darwin to Singapore and Malaysia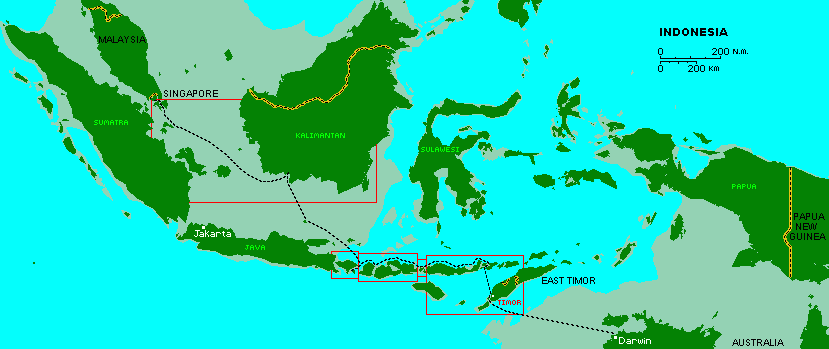 Click on a marked area of the map to go to our more detailed maps below
---
Properly speaking, East Nusa Tenggara comprises the islands from Flores through Alor, but we've included our stops along Indonesian Timor as well.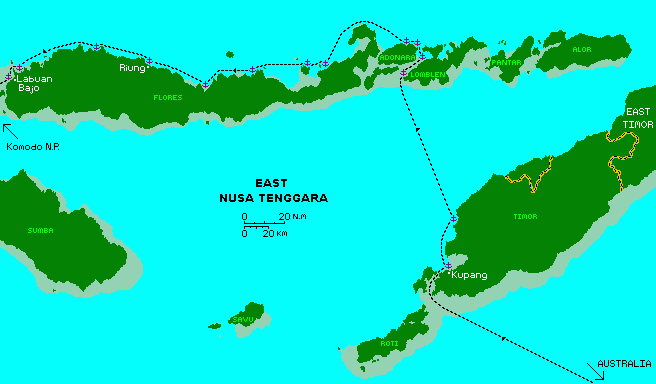 Our track through East Nusa Tenggara. Click on the the small anchors to go to our description of that anchorage.
| | | | | | | |
| --- | --- | --- | --- | --- | --- | --- |
| Date | Island | Town or Bay | Depth | S Latitude | E Longitude | Comments |
| July 06 | Timor | Kupang | 30' | 10°09.4 | 123°34.7 | Off Teddy's Bar |
| Aug 06 | Timor | Isolated bay | 30' | 9°44.7 | 123°40.6 | Pretty but poor holding |
| Aug 15 | Timor | Tanjung Gumuk | 20' mud | 9°29.61 | 123°49.67 | Good jump off point |
| Aug 06 | Lomblen (Kawula) | Pasar Suba | 35' | 8°30.5 | 123°13.6 | Protected. Hidden village |
| Aug 15 | Adonara | Lamahala | 48' mud | 8°23.47 | 123°10.91 | Protected from north |
| Aug 06 | Lomblen (Kawula) | Lewoleba | 20' | 8°22.2 | 123°24.6 | Rally stop, village |
| Aug 06 | Adonara | Kroko Atoll | 15' | 8°14.6 | 123°19.5 | Beautiful anchorage |
| Aug 06 | Adonara | Sagu | 40' | 8°14.4 | 123°13.5 | Protected |
| Aug 15 | Flores | Tanjung Gedong | 35' | 8°04.76 | 122°50.67 | Nice |
| Aug 06 | Flores | Wailamo | 30' | 8°25.3 | 122°35.4 | Snorkeling, farming village |
| Aug 15 | Flores | Wodong | 26' sand | 8°36.19 | 122°28.68 | nice small resort |
| Aug 06 | Pulau Besar | NE bay | 25' | 8°26.8 | 122°24.5 | Lots of reefs |
| Aug 06 | Flores | Tanjung Sada | 31' sand | 8°27.6 | 121°56.6 | Beautiful small bay |
| Aug 15 | Flores | Mautenda | 22' sand | 8°30.19 | 121°42.31 | Nearby power station |
| Aug 06 | Flores | Kaburia | 25' | 8°36.6 | 121°31.0 | Good holding, sand/mud |
| Aug 06 | Flores | Riung | 30' mud | 8°24.62 | 121°01.69 | Rally stop, dancing, tours |
| Aug 06 | Flores | Linggeh Bay | 20' mud | 8°17.4 | 120°35.7 | Poor holding, lots of kids |
| Aug 15 | Flores | Incah Bay | 18' mud | 8°16.68 | 120°24.37 | Behind protecting reef |
| Aug 06 | Pulau Sabibi | P Gilibodo | 30' | 8°22.1 | 120°01.0 | Small but nice |
---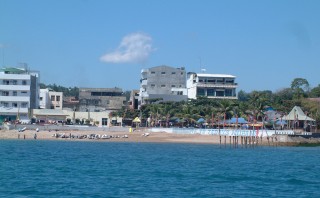 The anchorage off Teddy's Bar, Kupang, Timor
Kupang, 10°09.60'S 123°34.50'E, 17', sand OR 10°09.4'S 123°34.7'E, 30'
The normal anchorage is off Teddy's Bar but it can get crowded when the rally is in. It can get exposed in NE winds, but it calms in the evenings. This is the first stop of the Sail Indonesia rally. In 2006 the organizers had cleaned up the beach and provided "boat boys" to haul our dinghies clear of the surf and tide. They also provided wonderful English students from the university to act as guides and interpreters. (Note: We 2006 Rally boats were so impressed with these students that we all chipped in and raised enough money to fund 2 students completely through 4 years of university. The scholarship is being handled by an official at the university and as of 2017 each rally had contributed every year, and had put 42 students through university!) Unfortunately, in 2015 there were no guides, and the boat boys were replaced with a crowd of hooligans who charged $5/day to help with your dinghy (which the inexperienced Aussies seemed glad to pay, to our annoyance).
Kupang is by far the largest city we saw until Bali, so be sure to hit an ATM and get out all the cash you'll need until then as there are few ATMs. There were about Rp13,000/US$1 in 2016. Kupang was also the last place we could get good diesel before Lombok but be sure to filter it! The government pump price for diesel throughout Indonesia was Rp5150/litre (US$0.40/L or $1.50/US gallon) but you can pay much more to get it delivered. Still, you'll probably go through a lot of fuel. The winds were very light on the whole north coast of these islands and we had small currents against us - we motored basically the whole way to Lombok. It's probably cheaper to hire a small truck for an hour and filling your own jugs at a real Pertamina station.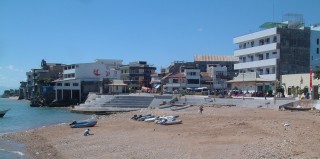 The dinghy landing beach was next to Teddy's
Kupang was very friendly to us - bemo (small bus) rides were 40 cents anywhere (20 cents for students, no ID needed). Sue went to the main Pasar Impressa market once just to see it, but could get most of the fruits and veggies at the bemo stand near Teddy's beach. She tried some minor bargaining, but the prices were so very cheap it seemed a bit strange. A few words of Bahasa Indonesia, including numbers, went a long way. If you want ikat weavings, Kupang town had better prices than its more rural neighbor Lomblen, strangely enough.
All‑day bus tours with an English‑speaking guide and lunch cost $10 per person, or you can negotiate for the whole bus. Meals cost $1‑2 per plate, but don't scrimp on budget places - it's not worth it. Several boats got sick eating out and one got Typhoid (though we think that may have been in northern Bali). Drink Coke or Sprite or Bintang beer, but don't drink the local water unless it's bottled.
---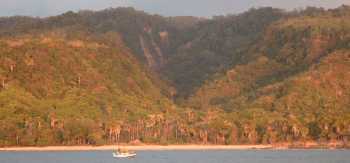 The west coast of Timor in evening light
Isolated bay, 9°44.7'S, 123°40.6'E, 30', rock? (poor holding)
When we left Kupang in 2006 we sailed north along the coast of Timor. This gave us a shorter jump across the Savu Sea to Lomblen. We eventually anchored at an isolated bay just north of Tanjung Kurus point. It was pretty and sheltered from SE or E winds, but the bottom seemed to be only bare rock, and we could never get the anchor to really stick. Since there was essentially no wind, we just slept with the anchor alarm on, but it's difficult to really recommend this anchorage. If you can make 47nm in a day, it's probably better to push all the way up to Tanjung Gumuk, which has much better holding. Exploring the beach was fun.
---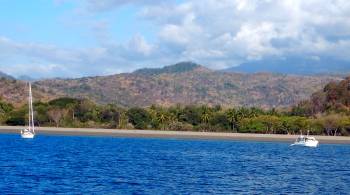 Viannica and Pacific Lily behind Tanjung Gumuk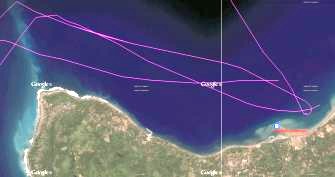 Tanjung Gumuk anchorage and approaches
Tanjung Gumuk, 9°29.61'S 123°49.67'E, 20', mud
When going from Kupang towards East Nusa Tenggara, it helps to get as far north on Timor as possible before jumping across the Sawa Sea. The headland of Tanjung Gumuk, and the bay just east of it, is 47nm from Kupang, which makes a long but doable day sail. Keep at least .35nm off Tanjung Gumuk point itself, as shallows extend out quite a long way (click on the photo at left). Once you round the point, there are no obstacles when entering the bay. The SE coast of the bay seems to be mud and it shoals gradually, so proceed east and anchor in your preferred depth. There's a jetty on the SW side of the bay, and a sprinkling of houses along the whole waterfront, but no villages per se. From here, SW Lomblen is 70nm, and southern Adonara is just less than 80nm. Since the winds are often good in the Sawa Sea, both destinations are reachable with an early start.
---
Pasar Suba, 8°30.5'S 123°13.6'E, 35'


There are coral reefs close to shore at Pasar Suba
In 2006 we skipped the Rally events at Alor and sailed across the Savu Sea to Lomblen (Kawula) Island, finding an OK anchorage at Pasar Suba just north of the SW tip (TG Liang Meah or Ililamaingo Point) off a small fishing village. However, in 2015 we had strong north winds, making this anchorage untenable, so we continued north to Lamahala. Pasar Suba was protected from SE or E winds, but didn't really have anything else to recommend it (except that our good friends were anchored there at the time). We visited the fishing village ashore and Sue used her limited (but growing!) Bahasa to talk to the people.
---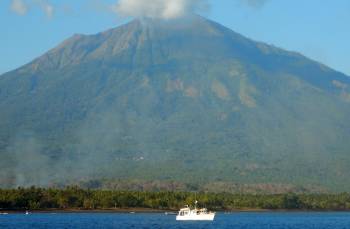 Pacific Lily anchored off Lamahala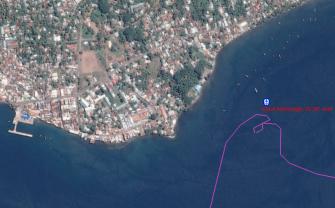 Lamahala anchorage and approaches
Lamahala, 8°23.47'S 123°10.91'E, 48', mud
In 2015, we came around the SW corner of Lomblen Island to find the wind howling down from the north and our Pasar Suba anchorage completely untenable. So we continued NNW to the town of Lamahala (or Trong) on the south side of Adonara. Approach from anywhere to the south. The town is about 3nm long, spread out along the coast, with a concrete pier at either end. We anchored next to a fishing fleet, somewhat east of the eastern pier, in 48' of good holding mud. It was completely protected from the north winds and provided us with a delightful night's sleep - which we needed, as we'd left Tanjung Gumuk at 2am so we'd have adequate time for the 80nm passage across the Sawa Sea. The town looked interesting and we would have liked to explore it, but we were too tired to go ashore. Poor Pacific Lily, photographed at right, went aground and was lost the next day because her charts were bad. Very sad...
---
Kroko Island, 8°14.61'S 123°19.52'E, 58', sand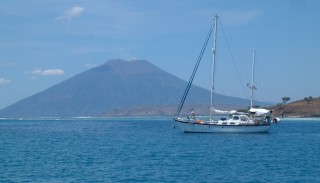 Vagabond Heart anchoring near the pearl raft
& sand spit just off Boleng Strait & Kroko Is.
After crossing the Sawa Sea, we had a delightful sail, with 9 volcanoes in sight, up the Boleng Strait, which should really be called Boiling Strait for the strong currents, eddies, and whirlpools. Near the top we turned left into a narrow pass above Adonara Island. The CM93 charts are pretty good for most of the pass. It's very visible, deep, and 100m wide, but it should still be done in good light and keeping a sharp lookout. We anchored near the little sand island of Kroko with a pearling raft and sand‑spit for nice shelling (no, not pearls) and snorkeling.
Note that friends came up this channel in 2015 while watching their Navionics chart plotter and went hard aground. They'd missed the channel by only 50m. Their Navionics charts had always been correct in Australia, and even in Kupang, but now they were off the beaten track and their charts were less accurate. And although they were only in a few feet of water and the tide should have lifted them free in a few hours, their wooden boat developed some leaks from the grounding and filled up with water. Several boats tried, but we were never able to get them off. The boat (and their dreams) are still on the south side of the channel. Keep a good lookout (always) especially when navigating through reefs, and use good satellite imagery to augment navigation.
---
Lewoleba, 8°22.2'S 123°24.6'E, 20'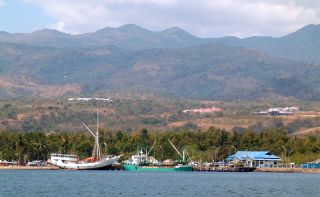 The anchorage off Lewoleba town
Lewoleba town (9nm SE of Kroko Island) on Lomblen (Kawula) was interesting as a small, bustling fishing town. When approaching the town from the north, watch out for the strong currents in the channel (up to 4 knots) and the reef just offshore of the town. Nose in west of the reef and anchor as convenient.
Lewoleba put on a nice welcome for the Rally but there's not much there. Nice fruits, veggies and fish were available at the busy open market, and bemo rides into the interior to see the rice paddies were fun, but the roads were pretty bad, and worse out of town. Diesel was available from steel drums, measured by plastic buckets, but we declined. Perhaps the biggest tourist attraction is climbing the local volcano. Some of our friends did that and said that, while it was a hard slog up, the views were magnificent.
---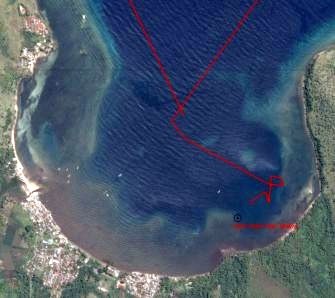 Sagu anchorage and approaches
Sagu, 8°14.4'S 123°13.5'E, 40'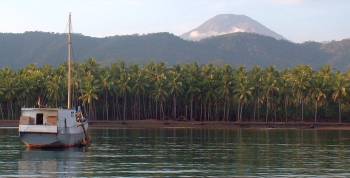 Sagu Bay with its volcano above it
Sagu Bay is well protected from almost all winds except from the north (which are most uncommon). Entering the bay, there's a small reef right in the middle of the mouth of the bay at 8°13.41'S 123°13.43'E, but it can be avoided easily if you know it's there. There are reefs on both sides of the bay, so once you're past the outer reef, stick to the middle of the bay, perhaps edging slightly to the west as you get into the bay (click on the photo at right for a larger version). Once you're past the inner reefs, you can turn east to anchor off the beach, or continue SSW to anchor off the village. The village kids will probably grab anything that floats to come out and see the spaceships that have landed in their bay. Many don't understand that our boats are our homes, so they may try to climb on board.
Sagu was friendly, perhaps a bit overly so, but there was little to see or do ashore that we found.
---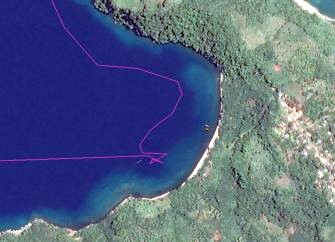 Tanjung Gedong anchorage and approaches
Tanjung Gedong, 8°04.76'S 122°50.67'E, 35'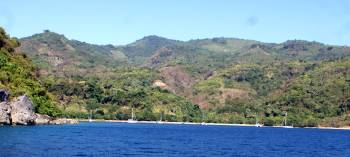 Several boats anchored in the bay at Gedong
Tanjung Gedong was just an overnight stop for us, but it was nice and protected. The anchorage is on the south side of the peninsula, at the extreme northern tip of Flores Island. We have heard of folks anchoring on the north side of the peninsula as well, but we didn't go there ourselves. The village is between the 2 bays, so equally accessible from either anchorage. Entering the southern bay presents no obstacles. Proceed towards the beach and anchor as convenient. We tended to favor the southern end of the beach.
The anchorage was certainly peaceful, but we didn't go ashore.
---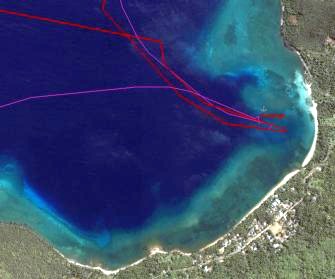 Wailamo anchorage and approaches
Wailamo, 8°25.3'S 122°35.4'E, 30'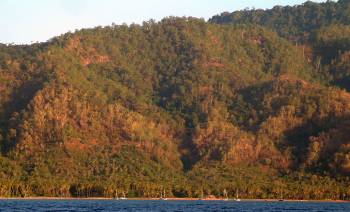 Several boats at anchor in Wailamo
Wailamo is a cute little anchorage, and very protected from all but NW winds. When approaching from the NE, you need to keep well off the land, as the reefs stick out as much as 0.7nm from shore. There's a lot of reef off the town itself, so we preferred to anchor a bit north of town, off the beach at the extreme east end of the bay. Approach the beach from the west until you find your anchoring depth. The bottom there shoals predictably. There's room for several boats, but the actual anchoring area between the reefs, is only 170m wide.
We found Wailamo village to be warm and welcoming. They invited us to their church services, and there was nice snorkeling on the reefs to the north of the anchorage.
---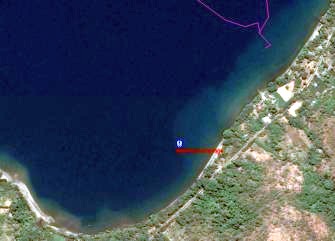 Wodong anchorage and approaches
Wodong, 8°36.19'S 122°28.68'E, 26', sand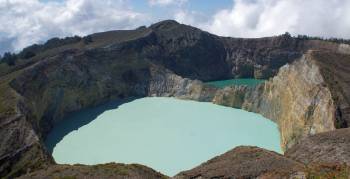 The famous Kelimutu Painted Lakes
The village of Wodong seems very spread out, or perhaps it also goes by the name Hitokalak, which is shown a bit to the east. We elected to anchor somewhat east of the bay, off a small dive resort (note that the anchorage marked in the photo is incorrect - we anchored at the end of our purple track). When approaching from the north, the channel between Flores and Pulau Besar (actually Pulau Pangabatang) is 0.5nm wide, so easy to traverse, but the reefs stick out quite far on both sides. Otherwise there are no hazards on the approach or anchoring. The bottom is good holding black sand. The dive resort has a dock that can be used for tying up dinghies as long as you keep out of the way of their dive boats. The restaurant at the resort seems very disorganized, as they completely forgot about our order. Food can take a long time to arrive.
One of the fun things to do from Wodong is to hire a car ($70 including driver) to take you up to the famous Kelimutu Painted Lakes. They're a series of 3 volcanic caldera, and the waters in them change colors over the years. The drive is quite long (we left in the early morning and were gone 10 hours) but interesting. You can no longer drive too close to the lakes, but the walk up to and around the lakes is fun. The entrance fee was Rp150K/person ($11). We had lunch overlooking the south coast of Flores.
---
Pulau Besar, NE bay, 8°26.8'S 122°24.5'E, 25'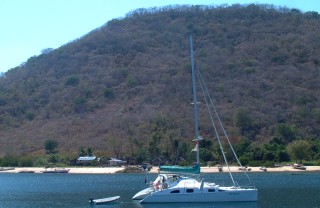 Kindara anchored off Pulau Besar
Pulau Besar needs good light to get into, as you have to come through a 160m wide gap in the outer reef. A good waypoint for the gap through the reef is: 8°26.07'S 122°24.64'E. Once through the outer reef, you have to jog to the west and then proceed south to the anchor off the beach. The interior of the bay has several reefs, so navigation should only be attempted with good light and/or satellite derived charts. There is a jetty to the west of the beach which can be used as a dinghy dock, with a small village .12nm inland.
Pulau Besar was a pretty, low key Muslim fishing village, but the anchorage was not clear water. We took the dinghy out and snorkeled on the outer reefs but they'd been largely destroyed by bomb fishing and/or cyanide poisoning.
---
Tanjung Sada, 8°27.6'S 121°56.6'E, 31', sand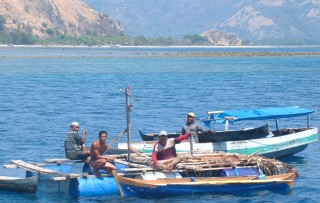 Our greeting at the delightful hidden anchorage
Just south of Tanjung Sada is a delightful little hidden bay. There's no village nearby, or even roads out this desolate arm of Flores. There appear to be anchorages on the east side of the (Tanjung Batuboga?) peninsula but they're exposed to the NE. Nanganiki or Dondo are about the closest villages shown on the charts, but they're over a mile to the SSW. There are no hazards on the approach or anchoring, and the fishermen in the local camp may come out to help tell you where the best places are. The bay isn't big, but we got 4 boats anchored inside on beautiful white sand.
The fishermen and their families in the local camp were very friendly, offering us anchoring advice and fish. There's nice snorkeling on the nearby reefs, and the Indo‑English dictionary came in very handy!
---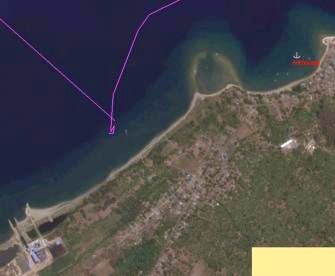 Mautenda anchorage and approaches
Mautenda, 8°30.19'S 121°42.31'E, 22', sand


Approaching the power station at Mautenda
Mautenda was just an overnight stop for us. The anchorage is completely open to the north, but seemed reasonably protected in our light easterly winds. The approach is straightforward after clearing the reefs that can extend a mile offshore to the east. There's a reef 0.3nm east of this anchorage, with another bay just to the east that might offer more protection, but we didn't check it out.
The main issue with this anchorage is that there's a huge power station 0.4nm to the SW. The station wasn't very loud, but if the winds blow from the SW, then soot from the station may cover the anchorage. The village extends along the waterfront for almost 2nm, but we didn't explore ashore.
---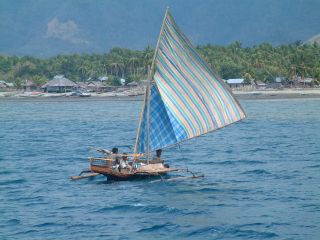 Local fishing boat off Kaburia village
Kaburia, S8°36.6'S 121°31.0'E, 25'
Kaburia is at the bottom of a big bay, Teluk Ciendeh. It's completely protected from all but north winds. The approach is a bit dodgy, as there are several reefs that extend as much as 5.5nm(!) north of the anchorage. Keeping a good lookout is a must, and good satellite‑derived charts are a huge help. Once past the reefs, come straight into the bay and anchor anywhere off the town in good holding mud.
Ashore is a friendly Muslim village but getting there (or back) at low tide can be difficult for dinghies. We had an escort of 80(!) kids as we walked through town and along beaches. Older kids spoke some English. A school teacher joined us and we asked the kids to sing some songs for us. Good fun.
---
Riung, 8°24.62'S 121°01.69'E, 30', mud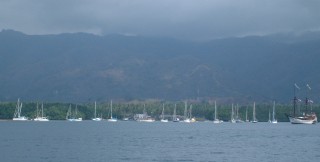 Rally boats off the cloudy N coast, at Riung
Riung offers protection from all winds, since it has so many reefs offshore. But getting through those reefs presents a bit of a navigational challenge, as the reefs extend up to 3nm out from the anchorage, and some of them are far enough offshore that they're in the purple Google Fog. Once you get past the outer reefs, you have to make a bit of a dog‑leg between 2 reefs that are about 300m apart before you can make your final approach. There's a reef about 250m NW of the end of the jetty, right about where you'd want to anchor, but there's plenty of room around this reef for anchoring. The jetty makes a good dinghy dock.
Riung was nice for Rally events (dancing and food) in 2006, but not much else to recommend it unless you need eggs or produce or a nice meal ashore. We did an all day (and into the night) mini‑bus ride to the highland town of Bajawa. The best scenery was dramatic volcanoes near Bajawa, and south when we went to a traditional animistic village. This was not a Rally stop in 2015, but we enjoyed the small town and nice restaurants one near the jetty and one near the market.
---

Linggeh Bay anchorage and approaches
Linggeh Bay, 8°17.4'S 120°35.7'E, 20', soft mud
Linggeh Bay doesn't really have that much to recommend itself, except that it's protected and it's an easy 35nm from Riung. We found the soft mud of the bay to be difficult to set an anchor into quickly - we had to wait until the anchor settled into the mud a bit before we could pull back on it. Also, the kids here were a bit more ... assertive than in other places. I guess we can't blame them for being curious about these spaceships that have landed in their bay, but several of them had learned the English word "gimmie" and they wanted us to give them anything they could think of.
The approach presents no real problems once you round Tanjung Kurubaja, except that some reefs stick out a full nautical mile from the east side of the bay. Once you round the reefs, turn SE and anchor as convenient. We now suggest anchoring a bit further out to avoid some of the kids. The north side of the bay will provide more protection (not that this is usually a problem) and if you can get in behind the reef there's a completely protected anchorage in the NE corner of the bay.
---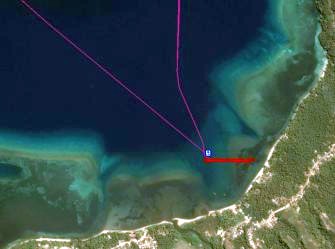 Incah Bay anchorage and approaches
Incah Bay, 8°16.68'S 120°24.37'E, 18', mud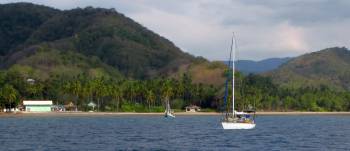 Incah Bay anchorage
Incah Bay is about 45nm from Riung, so just 10nm further than Linggeh Bay. Incah Bay is open to the NW, so not quite as protected as Linggeh Bay, but that's not usually a problem in the prevailing light winds. The approach, coming around the point, presents no problems as long as you keep clear of the reefs that can extend about 0.3nm offshore. Approach from the NW and anchor as convenient. The anchorage is almost 0.25nm wide, so it will hold many boats, and the bottom is good holding mud.
There are usually some fishing boats anchored up near the beach. There's a tiny village about 0.3nm east of the anchorage (longer by road, which has to go around a stream) but this was just an overnight stop for us, and we didn't go ashore to explore.
---
Pulau Gilibodo or Pulau Sabibi, 8°22.1'S 120°01.0'E, 30', sand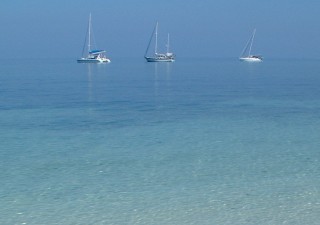 Anchorage off the beach at Pulau Sabibi
At this reef protected anchorage we found beautiful white sand beaches and monkeys on shore. The area is full of reefs, so care must be taken and satellite‑derived charts are a big help. The anchorage is behind a protecting reef, so entrance should only be made in good light. There's room for several boats, but some places get fairly deep.
As we approached in 2006 we saw a perfect Chambered Nautilus shell floating past beside us. This caused quite a bit of pandemonium on Ocelot, as we were sailing under the full main and the spinnaker at the time. We couldn't just turn around with the spinnaker up and pick up that gorgeous shell but we didn't want to lose it. So we launched the dingy - while underway! As Jon took the sails down (by himself) Sue and Amanda went looking for the Nautilus shell, but they couldn't find it. When Jon returned with Ocelot to pick them up, we followed our GPS track back to the exact point where we'd seen the shell, calculated how far it had drifted in the (fairly strong) current, and there it was! It now graces Ocelot's salon.
---
Komodo National Park comprises the area (and several islands) between Flores and Sumbawa. Komodo and Rinca (pronounced Rincha) islands are home to the famous Komodo Dragons. A trip to the National Park headquarters and a guided tour of the dragons is well worthwhile. Dragons can be quite fast, and their bite is poisonous from the bacteria in their mouths, so walking on the islands without a guide is not recommended.
The currents through this area can run quite strongly (as they do through all of the passes between the larger Indonesian islands in this chain). They generally ebb north and flood south, although there's a general southerly flow, so the southerly currents are stronger and last longer than the northerly currents. This adds an additional component to navigation, but it also brings wonderfully clear water and lots of fish to the park. Fishing is illegal within the park, of course, and this makes diving and snorkeling within the park superb, but it's best done when the currents are slack. Manta Rays swam around Ocelot off Gili Lawa Laut in 2006. Many areas are a bit deep for anchoring, and many of the shallow areas are covered in coral and/or are marked as "no anchor" areas, so the National Park has put in moorings throughout the area. Unfortunately, they don't maintain these moorings well, so some of them have drifted off. Note that the CM93 chart database was inaccurate throughout Komodo National Park, with everything displaced by a good quarter mile. There are enough reefs in the area to make satellite‑derived charts extremely useful. Our track through Komodo National Park in 2006 is show below. Our trips in 2015 and 2017 were slightly different, but we've included those new anchorages in our descriptions below.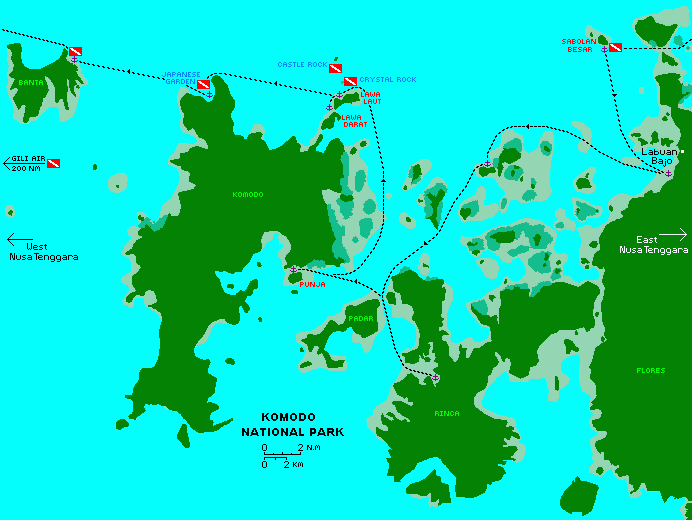 Our 2006 tracks and dive locations through Komodo National Park.
Click on the small anchors to go to our description of that anchorage.
| | | | | | | |
| --- | --- | --- | --- | --- | --- | --- |
| Date | Island | Town or Bay | Depth | S Latitude | E Longitude | Comments |
| Aug 06 | Sabolen Besar | Sabolen Besar SE | 10' sand | 8°24.0 | 119°48.8 | Day stop only, nice coral |
| Aug 06 | Flores | Labuan Badjo | 20' mud | 8°31.1 | 119°52.1 | S of town, off Eco resort |
| Sep 15 | Rinca | National Park HQ | 9' mud | 8°39.24 | 119°42.85 | Komodo Dragon walks! |
| Aug 06 | Subafor Ketjil | Subafor Ketjil NW | 30' | 8°30.5 | 119°42.1 | Rolly |
| Aug 06 | Rinca | Lehok Ginggo | 30' | 8°42.0 | 119°39.6 | Delightful, wildlife, trails |
| Aug 06 | Komodo | Pink Beach | mooring | 8°36.4 | 119°31.4 | Strong currents, snorkeling |
| Aug 06 | Gili Lawa Laut | Gili Lawa Laut N | mooring | 8°26.9 | 119°34.1 | Diving, mantas, beautiful |
| Sep 15 | Komodo | Loh Gebah E | mooring | 8°29.60 | 119°33.07 | Diving, snorkeling, hiking |
| Sep 06 | Komodo | Monco Bay | 30' sand | 8°26.8 | 119°27.1 | Nice snorkeling & diving |
| Sep 06 | Pulau Banta | Pulau Banta NE | 18' sand | 8°24.5 | 119°19.2 | Nice snorkeling |
| | |
| --- | --- |
| Is this useful? Buy us a beer! | |
---
Sabolen Besar SE, 8°24.0'S 119°48.8'E, 10', sand
As we approached Labuan Bajo, we stopped at tiny Sabolen Besar for lunch and ended up doing a delightful dive with our friends on Ventana. After circling the entire island, we found that the only tenable place to drop an anchor was in the tiny sand patch in the SE corner. There was room for both boats there, but only for lunch. This anchorage is too small and too exposed to use as an overnight stop.
---
Labuan Badjo, 8°31.1'S 119°52.1'E, 20', mud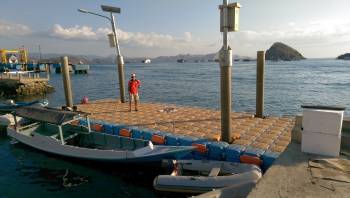 Jon on the dinghy dock at Labuan Bajo
Labuan Badjo is an interesting small city that's growing quite quickly from all the tourist trade associated with the Komodo National Park. You can approach from the west, around Tebolan Island, or come down the channel between the city and Bajo island. The latter is fairly crowded, as that's where many of the tour boats anchor, so they can get passengers and supplies easily from town.
We'd heard there's a petty theft problem off the town, so we anchored 2nm south of town, off the big roofed Bajo Eco Lodge. They were welcoming and for $2.50/person we could use their pool and have a changing room and shower. We accessed town via dinghy. There are nice shops and a market, as well as some excellent restaurants catering to western tastes. But in 2017 we anchored closer to town with several other boats, and nobody had any problems.
In 2006, the harbormaster tried to ask for paperwork and Rp50k from each boat. It's not a lot of money but it felt like a scam, and this caused most boats to up‑anchor and leave, which was too bad as an impromptu dance performance was organized for the visiting boats but none of them came because of the corrupt harbormaster.
---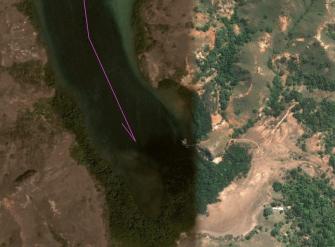 Komodo Park HQ anchorage and approaches
Komodo National Park HQ, 8°39.24'S 119°42.85'E, 9', mud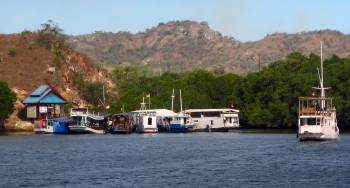 National Park HQ dock gets busy with tour boats
Getting into the National Park HQ anchorage was relatively straightforward, but there are reefs just off the entrance to the final channel. There's room for several boats in the HQ anchorage, but it gets shallow if you go in too far south, especially on the right side.
The charge for visiting Komodo National Park headquarters in 2015 was Rp200K/person ($14) and Rp100K/boat ($7) but we're not sure what this really covered. Therefore we purposely arrived late in the afternoon and left shortly after our tour the next day, but we're not sure if that was necessary. There's a nice big dock for tying dinghies to, then a fairly long walk around the hill and across some flats to get to headquarters. There you can register, and organize whatever sort of trip you want (they have several options). There are usually several dragons hanging around the HQ buildings, as well as exhibits and souvenirs. We opted for the long (3 hours) tour and loved it.
---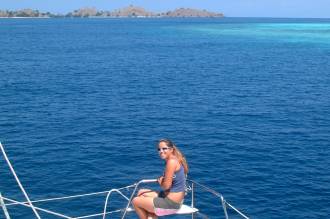 Amanda on the bow, approaching Subafor Ketjil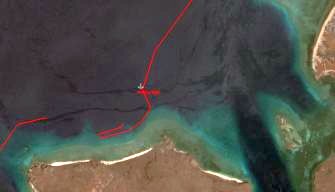 Subafor Ketjil anchorage and approaches
Subafor Ketjil NW, 8°30.5'S 119°42.1'E, 30'
Subafor Ketjil should have been a better anchorage, but something about how the currents and tides ran through when we were there made it a bit rolly at times. Approach from the north and skirt along the reef until you find good sand to anchor in.
There's a network of islands and channels to explore to the east. There's not much coral on the north side of the island, but lots to explore around on the south side. As with all swimming in Komodo National Park, be very careful of currents, as they can run quite strongly.
---
Lehok Ginggo, Rinca, 8°42.0'S 119°39.6'E, 30'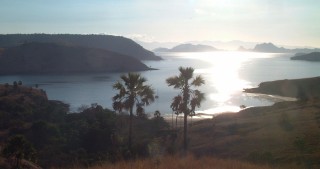 Late afternoon overlooking Lehok Gingga, Rinca
In 2006, the rally fleet all congregated in in the National Park HQ anchorage, making it too crowded, so we went to the big bay on the west side of Rinca instead. As we rounded the NW arm of Rinca, we go a bit confused about where we were. We only had the CM93 charts at the time, and they were all displaced by 400m. So we ended up between Sarai and Rinca Islands, which you really don't want to do, as it gets very shallow. The approach to the anchorage is quite easy if you use satellite‑derived charts. We had to nose around a bit before we found suitable anchoring, as it's all a bit deep. It's probably shallower at the northern extremes of the bay, but the wind was blowing from the south, so we wanted the protection of a southern anchorage.
Ashore we found some nice trails and took walks through the hills and along the beaches, seeing some small dragons and other wildlife such as wild boars, Sumba deer and even a wild horse (remember to carry a stout stick when walking). Raptors and frigate birds soared overhead. Other boats reported that a good anchorage for snorkeling and wildlife was southern Rinca, Lehok Uwada Desami, behind the small island, on one of the provided moorings.
---
Pink Beach, 8°36.4'S 119°31.4'E, mooring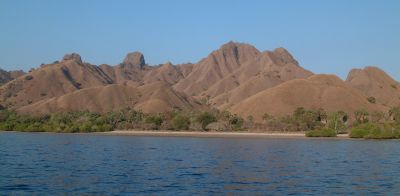 The anchorage at Pink (aka Red) Beach, Komodo
There is excellent snorkeling off Pink Beach on Komodo, but visibility changed a lot with the tidal change and the current ran quite strongly parallel to the beach. The approach is straightforward. In 2006 there were 2 yacht moorings, and local boat moorings across the channel off the Red Beach itself. Tourist boats from Flores came by each day but usually only between 10‑2, at which time the snorkeling was not fun with dozens of inexperienced snorkelers kicking sand and standing on the reef. A more protected anchorage exists around the corner to the NW, but there were no moorings.
The one village in the National Park is just to the NW and at night hundreds of fishing boats head offshore, their lights glowing all night. Locals sell fish, lobster, prawns and carvings of Komodo dragons and Indonesian masks. Bartering works well with T‑shirts, hats, sunglasses, galley stuff or even a combination of rupiahs and trade goods.
---
Gili Lawa Laut N, 8°26.9'S 119°34.1'E, mooring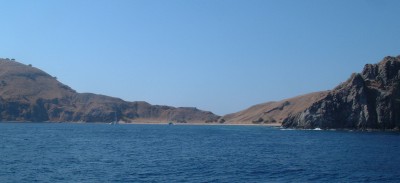 North Bay of Lawa Laut has great snorkeling with mantas
Gili Lawa Laut was a favorite of ours, but you're no longer allowed to anchor there, even on the one sand‑patch, so you need to pickup a free mooring. Problem is, the dive boats like it here as well, so the moorings are often taken.
There's excellent snorkeling here (we swam with manta rays!). There are 2 great dive sites just a short dinghy ride NNW of the bay: Castle Rock and Crystal Rock. The National Park has done a pretty good job protecting the fish and corals, and it was one of the best underwater environments we ever saw in Indonesia.
---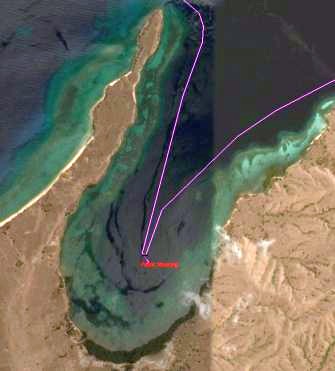 Loh Gebah anchorage and approaches
Loh Gebah East, 8°29.60'S 119°33.07'E, mooring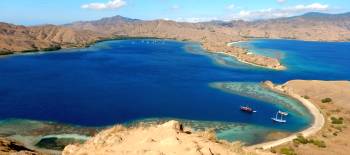 Stunning view of the anchorage from above
There are several moorings at Loh Gebah East, but even the anchoring isn't that difficult. But when faced with anchoring in 65' or picking up a good looking free mooring, we'll usually opt for the mooring. The approach poses no problems as long as you avoid the coral outcroppings on the sides of the bay. The anchorage is protected from pretty much all winds. The bay is quite large, about 0.3nm between the coral walls, so lots of boats can anchor comfortably. There's even a cell tower at the top of the big mountain on Komodo Island, and if you anchor in sight of it, you'll get a weak but usable internet connection (only EDGE in 2015).
Loh Gebah East makes a good central base for diving and snorkeling the coral walls at the edge of the bay, or the cut between Komodo and Gili Lawa Darat islands. There is a walk up to the top of Gili Lawa Darat that's good fun , dragon-free, and gives a nice view of the surrounding area. Loh Gebah East is almost a mile deep, but with a good dinghy, you can also explore neighboring bays.
---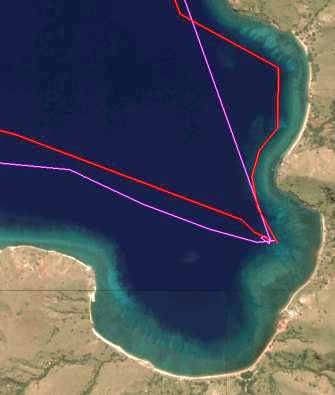 Monco Bay anchorage and approaches
Monco Bay, 8°26.8, 119°27.1'E, 30', sand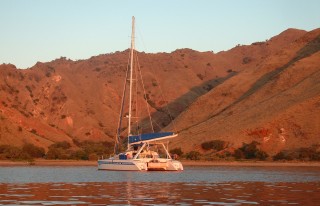 Ocelot in sunset light at Monco Bay, Komodo
Monco Bay, at the NW corner of Komodo Island, is a lovely bay, but it can be tricky finding good, coral free anchoring. The anchorage we give above is on a spit of sand, but it's pretty small. Other sand patches exist, but they're not very big. The approach presents no problems once you round the northern tip of Komodo Island, and the anchorage itself only needs to avoid the coral. The bay is open to the NW, but winds rarely come from that quarter.
Monco Bay is relaxing, with its arid landscape, but there's not much to do. We did a lovely, relaxing dive here, which we named Japanese Garden, as everything was laid out so neatly. The edge of the bay is lined with coral reefs, so you can pretty much put in wherever you want.
---
Pulau Banta NE, 8°24.5'S 119°19.2'E, 18', sand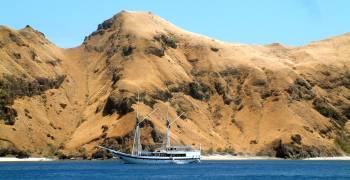 Local live-aboard dive-boat anchored at Banta
Pulau Banta is the island just NW of Komodo. The unnamed bay in the NE corner of Banta Island (just south of Tanjung Torooiungke) offers a good overnight stop on your way west out of the Komodo National Park. Just off the middle of the big beach is a nice sand patch for anchoring that's big enough for a few boats. Entry and exit present no problems, as the fringing reefs don't stick out very far. The bay is open to the NE, but when we were there the winds were predominantly out of the south. Some of the southern bays also have reasonable anchorages, but they're all south facing, and some strong winds can come out of the south.
Like Monco Bay, Pulau Banta is pretty arid, and there's not much to do, but we did another relaxed and fun dive on the local corals. There are no villages here, but occasionally local fishing boats would pull in for a few hours of rest. You have to barter hard for fish, as they usually sell the bigger, better fish to high‑paying tourist markets in Bali and Java. Unfortunately, we found that most of the reefs near the anchorage were destroyed (presumably from anchors and chains) when we visited again i 2015.
---
West Nusa Tenggara mostly comprises the islands of Sumbawa and Lombok, with many smaller islands around those 2. We haven't really explored Sumbawa much, but Lombok can be interesting. It's also changing quite rapidly, so information goes out of date pretty quickly. We were disappointed with Medana Bay Marina, as they were much more interested in making money than helping the yachts. They charge US$10/day just to anchor, even in 70', and their prices for "helping to extend visas" were exorbitant. The Gili islands can be fun, but they're getting pretty touristy now. There's a new marina in SW Lombok that we haven't visited yet. There's apparently a small chandlery there, but don't get on the wrong side of the owner.


Our track through West Nusa Tenggara. Click on the small anchors to go to our description of that anchorage.
| | | | | | | |
| --- | --- | --- | --- | --- | --- | --- |
| Date | Island | Town or Bay | Depth | S Latitude | E Longitude | Comments |
| Sep 06 | Sumbawa | Wera | 17' sand | 8°17.6 | 118°55.9 | 100' wooden boat building |
| Sep 06 | Sumbawa | Kilo | 18' | 8°19.6 | 118°23.3 | Tricky anchorage w/reef |
| Sep 06 | Sumbawa | Kananga | 15' sand | 8°08.3 | 117°46.1 | |
| Sep 15 | Moyo | Moyo West | 50' mud | 8°16.29 | 117°30.39 | Snorkeling, expensive resort |
| Sep 06 | Medang | P Medang NW | 15' sand | 8°08.6 | 117°22.4 | Protected, no village |
| Sep 06 | Gili Lawang | Gili Lawang SE | 18' | 8°17.7 | 116°41.4 | Tricky reef entry. |
| Sep 15 | Lombok | Medana Bay | 67' mud | 8°21.69 | 116°07.78 | Good food, WiFi |
| Sep 06 | Gili Air | Gili Air | mooring | 8°21.9 | 116°04.9 | Paradise! |
| Sep 06 | Lombok | Pamenang | 70' sand | 8°24.3 | 116°04.6 | Fuel, inland tour |
---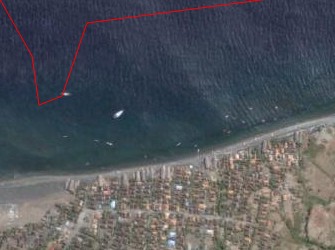 See larger map of our Wera anchorage
Note several long ships being built ashore
Wera, 8°17.6'S 118°55.9'E, 17', sand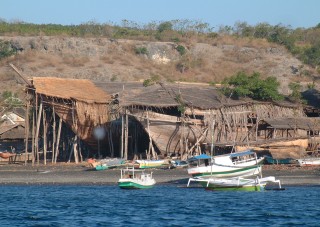 Huge wooden ships were being built at Wera
Wera is a fascinating village -- they build HUGE boats right on the beach, mostly without metal fastenings! Some of the boats can be up to 100' (30m) long, with bows 20' (7m) high. The boats are mostly held together with dry‑fit pegs that are pounded in, then left to dry, then pounded in some more. The hulls often have thousands of these pegs sticking out. The planks are also pegged to their upper and lower neighbors, which requires that they be put in blind.
The anchorage is nothing special, just an open roadstead, but it usually provides protection from the winds coming up from the south. Just approach the coast until you find adequate anchoring depth. The bottom appears to be black sand.
In 2006 we had petty theft problems while we went ashore. Some kids in dugouts reached inside our portholes to snag soap and toothpaste, and another boat lost a block and tackle. We had no problems in 2015. In fact the kids pretty much ignored us, and were busy playing with small wooden model boats in the gentle surf.
---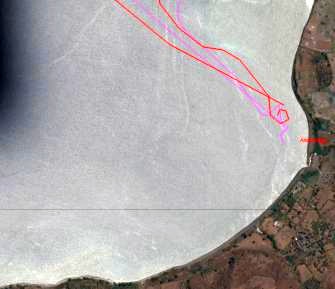 Kilo anchorage and approaches
Kilo, 8°19.6'S 118°23.3'E, 18'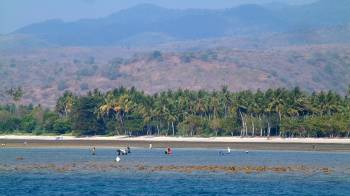 Local villagers harvesting the reef at Kilo
Kilo was just an overnight stop for us, a friendly but otherwise unremarkable farming and fishing community. There's a reef system to the north that needs to be avoided on the way in, but that's the only real hazard. Proceed into the bay along the edge of the reef and anchor as convenient.
It was in Kilo that we met Mul, a high school senior with excellent English who arranged fresh fruit for us. Enterprising young people who speak English and understand the needs of yachties seemed to appear at many anchorages. Mul paddled out to us in a leaky wooden dugout and was genuinely interested in practicing his English and helping procure fruits and veggies for us.
---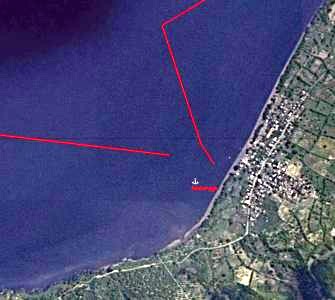 Kananga anchorage and approaches
Kananga, 8°08.3'S 117°46.1'E, 15', sand
In 2006, Kananga was just a place for us to put the anchor down. The anchorage is relatively open to the north and west, but it's quite protected from the easterly winds common in August and September. The approach presents no problems. We anchored 100m offshore in 15' with a sand bottom.
Kananga is only 2nm SE of Pulau Satonda, an interesting volcanic island with a large lake forming the caldera. In 2017 we took our dinghy across to Satonda to see the caldera. There's a convenient dock on the SW side of Satonda, at the narrowest bit of land. Boats come over from Sumbawa all the time, so there's a bit of a local tourist scene going on, which includes fees for coming ashore. Snacks are usually available, and there are an extensive network of trails around the caldera, as well as swimming in the caldera.
---

Approaching Moyo, with several boats anchored

Moyo West, 8°16.29'S 117°30.39'E, 50', mud

The crook in western Moyo Island presents a relatively deep anchorage protected from the normal easterly winds. Be careful to avoid the reefs off Tanjung Sarahetor before turning into the bay. We nosed around a bit, looking for anchoring depth. It appears to be slightly shallower towards the crook of the bay, but shallow mud reefs stick out and need to be avoided. There's room for several boats, spread in a line down the coast.

The snorkeling and diving is quite nice in the shallows off Tanjung Serahetor. Somewhat NW of the anchorage is a very upscale resort that offered dinner for US$100/person, but they need advance notice, especially if there are no guests at the resort.
---
Pulau Medang NW, 8°08.6'S 117°22.4'E, 15', sand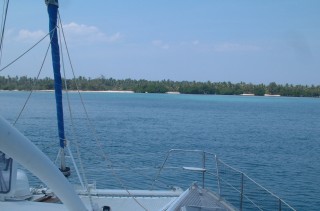 Lovely Pulau Medang, off Sumbawa
On the NW side of Pulau Medang is a nice sand‑patch for anchoring. Approach from the north or NW, looking for the blue of the sand‑patch. The bay is lovely and protected with white sand beaches and mangroves. There was no village visible, but a local man visited with us on the beach. Four boats anchored here and enjoyed a kid birthday party ashore.
---
Gili Lawang SE, 8°17.7'S 116°41.4'E, 18', mud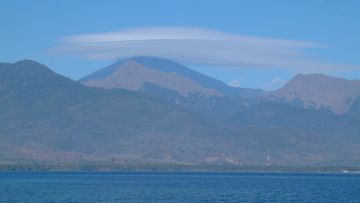 Great volcano view from Gili Lawang anchorage
Gili Lawang presents a delightfully protected anchorage off the NE corner of Lombok. The entrance is a bit tricky as you need to find the gap in the reef, but it shows up well enough on Google Earth and both times we've been in there it's been easy to find. After proceeding about 0.15nm ENE up the channel, the anchorage opens up into a small, shallow bay. Find a comfortable spot and anchor as convenient. The views of the Lombok volcanoes from the anchorage are excellent.
Other boats have found anchorages SE of here, so evidently there are other holes in the coral providing good anchorages. There is a much less protected anchorage across the channel, up against Lombok itself, but it can get quite rolly, while Gili Lawang is completely protected so always nice and flat.
---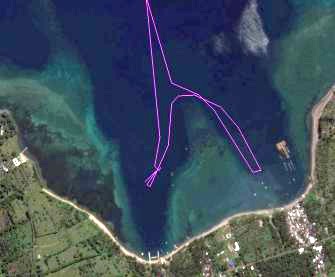 Medana Bay anchorage and approaches
Medana Bay, 8°21.69'S 116°07.78'E, 67', mud

Medana Bay gets crowded when the rally arrives
Care must be taken when approaching Medana Bay, as the reefs extend for more than a mile offshore. The gap between the offshore reefs is about 0.25nm, so easy to go between once you know about them. Proceed south into the anchorage and either anchor or tie up at the rudimentary marina facilities. The offshore reefs protect both the marina and the anchorage from the prevailing winds.
Medana Bay is a marina of sorts, one of the very few marinas in Indonesia, but the facilities are pretty basic, with only a few slips and aging facilities. We found the marina to be much more interested in making money than being helpful. For instance, they charge about $10/day just for anchoring in the bay. Many boats extend their visas in Lombok, and the marina has the forms available, but their "help" will double the cost of the visa extension. It's pretty easy to take a bemo into town to do the extension yourself, instead of hiring the marina's expensive transport.
The marina has hotel facilities, and these come with WiFi, which is available at a nice patio at the far end of the hotel block (the restaurant WiFi wasn't working in 2015). We found the restaurant food to be delicious, if somewhat more expensive than local restaurants.
Note that there is a new marina in SW Lombok, but we have little info on it.
---
Gili Air, 8°21.9'S 116°04.9'E, mooring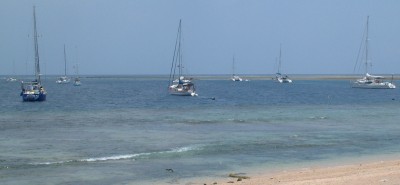 Gili Air anchorage - note reef in foreground and
background. Ocelot is the right-most catamaran
There's a big reef to avoid when coming into the anchorage. Most of the anchoring area is pretty deep, and much of it is coral, but there are some sandy spots if you nose around. Sometimes you can find a mooring to pick up, which we were invited to do in 2006.
Gili Air has changed a lot since we first visited in 2006. Gone are the $5 beach massages on covered platforms, the $4 prawn dinners, and the horse‑drawn buggies. Still, Gili Air is a delightful respite from the poverty‑stricken villages we'd been anchored off. There's good coral to snorkel or dive on, and the dive‑shop was friendly (we did a clean‑up dive with them). There are delightful open‑air restaurants serving some of the best food we've eaten in Indonesia - wonderfully mild coconut curries and fresh grilled seafood. The whole island used to exude a relaxed atmosphere, but increased tourism has brought more hustle and more money. Some provisions are available at small shops in the village, but don't count on much. There are no vehicles, just foot paths, but walking around the island is fun and different.
---
Pamenang, 8°24.3'S 116°04.6'E, 70', sand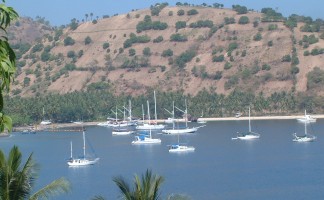 Pamenang anchorage - Ocelot's near the middle
Pamenang anchorage and dock facilities appear to have changed considerably since we last visited in 2006. The anchorage is deep but there are sometimes moorings available. We were met by (English‑speaking) Mohammed who organized fuel for us as well as a delightful tour through the interior of Lombok. The tour took us first through the little local village (where we later bought fruits and veggies) and then up the hill to see the Macaques. We stopped in the big city (Mataram) to hit an ATM and then visited a small pottery factory and a cooperative weaving village. We decided not to visit the batik factory as it was so far south and instead headed up into the hill country and had a delightful lunch (our best meal so far in Indonesia) at a country inn. On the way back we visited the palace grounds of the last Balinese king to rule Lombok. The island is beautiful with friendly people, and very few tourists.
---
Bali and Lembongan to Karimun Jawa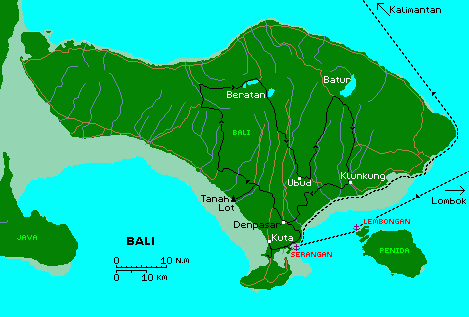 Bali, with our sailing (dotted) track and driving (black) routes shown
| | | | | | | |
| --- | --- | --- | --- | --- | --- | --- |
| Date | Island | Town or Bay | Depth | S Latitude | E Longitude | Comments |
| Sep 06 | Lembongan | Lembongan NW | mooring | 8°40.7 | 115°26.3 | tourists during the day |
| Sep 06 | Bali | Serangan | 24' mud | 8°43.2 | 115°14.5 | Very protected |
| Sep 15 | Bali | Lovina Beach | 15' sand | 8°09.64 | 115°01.34 | Very nice |
| Sep 15 | Raas | Katopat | 60' mud | 7°07.14 | 114°30.28 | Difficult anchoring |
| Oct 06 | Bowean | Bowean North | 14' | 5°44.0 | 112°40.2 | Pretty island |
| Sep 15 | Karimun Jawa | Karimun Jawa S | 64' sand | 5°52.53 | 110°25.61 | Fun islands |
| | |
| --- | --- |
| Is this useful? Buy us a beer! | |
---
Lembongan NW, 8°40.7'S 115°26.3'E, mooring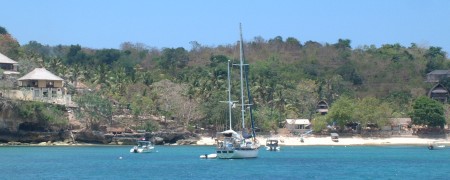 Our friends Vagabond Heart in Lembongan
Lembongan is a tourist island that gets many day‑trippers from Bali who come over on high‑speed catamarans. We picked up a free mooring but only stayed the night. Nights are peaceful enough, but during the day there is a lot of frenetic tourist activity (banana‑boat rides, etc.) that creates noise and choppy conditions. The snorkeling is OK, and surfing friends say there are good surf breaks nearby, but that also contributes to the swell in the anchorage.
---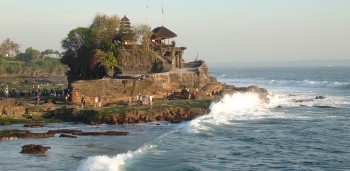 Sacred Tanah Lot temple on the SW coast of Bali
Serangan, 8°43.2'S 115°14.5'E, 24', mud
Bali is, of course, a must‑stop destination. The predominantly Hindu culture, landscape, and vibrant economy are so different from the rest of Indonesia. In 2006 we anchored in the slough off Serangan. The approach goes between coral headlands, but they're the only hazard to avoid. The anchorage is well protected, if somewhat more populated than when we were last there in 2006.
Bali was, of course, a major stop for the Rally. The organizers arranged a small dinghy dock, visa extensions for those boats who wanted them, and several fascinating bus trips into the interior. Sue missed the bus trips because she had to fly home quickly for her mom, so when she returned we rented a car and visited many of the same places on our own, but without the dancing or sumptuous meals. Nuri's car rental (081 239 86612) charged us $20/day and both brought us to his shop and collected the car when we finished with it.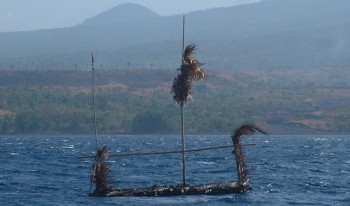 Fishing platform off the NE coast of Bali
Unfortunately, the dinghy dock is on an island that charges a trivial entry fee, but common taxis don't go there, and the resident taxis charge way more than normal. Some folks walked out to the main road for a taxi (about 2 km or 1.5 miles) and some got to know taxi drivers and called them by phone. Just across from where the causeway meets the main road is the big Makro store with food, clothes, electronics, and ATMs. There are several good fuel stations close by. The LPG station is also just a short taxi ride away.


The Balinese Spider fishing-boats were fascinating
Leaving Bali to the north involves bucking what can be a very strong current (it seems that the currents were always against us in Indonesia). To minimize the current, it's best to hug the SE coast as closely as possible, which also gives a great view of all the interesting fishing boats and villages. We caught about 35 knots of wind off the eastern point of Bali, but it didn't last long. More importantly, there's an amazing number of fishing platforms (usually just a few bamboo poles lashed together) anchored off the NE side of Bali, so you need to be in deep water if you're sailing through there, especially at night. The trip up the west side of Bali is not recommended unless you pay particular attention to the tides, as large standing waves can be generated in the narrows between Bali and Java.
---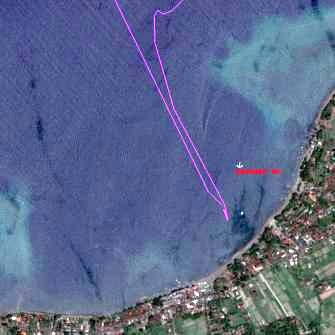 Lovina Beach anchorage and approaches
Lovina Beach, 8°09.64'S 115°01.34'E, 15', sand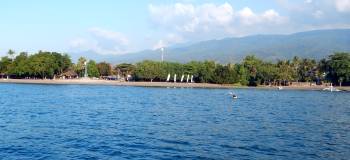 Lovina Beach waterfront from the anchorage
In 2015 and 2017 the rally stopped in Lovina Beach instead of Serangan. Of the 2, we much preferred Lovina Beach. The night‑life of Serangan doesn't interest us, and we found Lovina Beach to be fun, if a bit over‑friendly. There are reefs north of the anchorage so approach from the NW, after clearing the reefs. Then simply proceed into the bay and anchor as convenient. There's room for dozens of boats. There are no docks, so dinghies have to be dragged up the beach. Sometimes one of the beach resorts will keep an eye on it for you.
Visas can often be extended in Singaraja, a short bus‑trip to the east. There are also some interesting shops up that way, including a cold‑store selling frozen Australian meats. But one problem with the rally is that they now time it to coincide with the Lovina Festival. This can be colorful and fun, but they often have 3 stages set up on the beach for performances. While these can be beautiful, the music often goes on until midnight, and out in the anchorage you hear all 3 stages, so it just sounds like a cacophony of sound. Some boats used the opportunity to take a bus to Java to tour Borobudur and Prambanan and other ancient temples.
There are lots of dive operators nearby, and many small bars and restaurants to check out. We did a fun dive at the national park off the NW corner of Bali. We also rented a car from one of the beachside vendors and had fun touring the Bali highlands. When we returned, there was still a bit of daylight, so we chucked our diesel jugs into the car and filled them at the local Pertamina station, paying the local price without any difficulties at all. There are small grocery stores nearby, but the big grocery stores are mostly in Serangan, which takes several hours to drive to.
---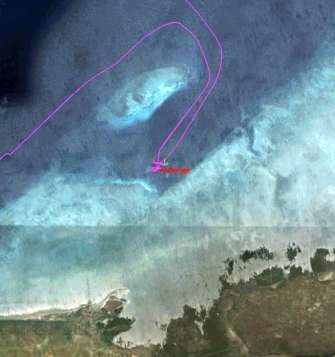 Katopat anchorage and approaches
Katopat, Raas, 7°07.14'S 114°30.28'E, 60' mud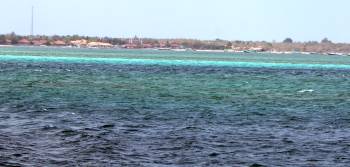 Raas anchorage - note foreground reefs
It's 70nm from Lovina Beach to the NW side of Raas Island, so we left before daybreak so we'd be sure to arrive with some daylight. It's possible to approach the anchorage from the west, and we cut that corner in 2017 without issues. There are some coral heads at the south end of the anchorage, so make sure you don't anchor too close to them. The anchorage is reasonably protected from all but NE winds.
The reef system north of Raas Island is extensive, and if we'd had more time, it would have been fun to explore the reefs more. As it was, we were on a bit of a mission to get to Karimun Jawa, so we only spent one night. A local fisherman waited patiently while we anchored, and then approached us to sell some lobsters, but he's obviously used to selling them to resorts, as his prices were pretty high.
---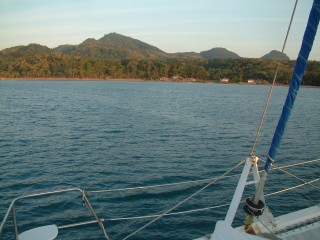 Bowean Island's protected bay on the N shore
Bowean North, 5°44.0'S 112°40.2'E, 14'
The north bay of Bowean Island is a delightful place to break up the passage from Bali to Kalimantan or Karimun Jawa. The bay is big and easy to enter, and protected from all but NW winds. There were some very colorful fishing boats anchored there as well, with ornate and brightly painted bows.
We haven't explored Bawean very much, but we've heard nice things about it. Other cruisers rented motor‑scooters and toured the island on its one main road. There are apparently nice views and small restaurants for lunch. While there are small warongs ashore, we saw no grocery stores. A stroll along the waterfront road with the bordering rice fields is a nice diversion from the sea!
---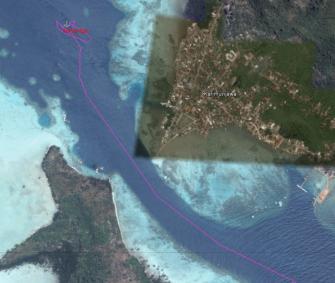 Karimun Jawa anchorage and approaches
Karimun Jawa S, 5°52.53'S 110°25.61'E, 64', sand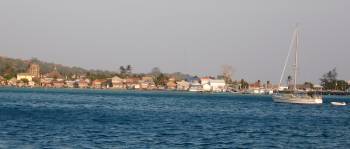 The Karimun Jawa Anchorage, deep but sandy
The Karimun Jawa anchorage is just west of town, in a bay SW of the main island. If you've got good satellite‑derived navigational imagery, you can approach up the channel that extends SE of the anchorage. It's about 5nm shorter to go up the channel than to go around all the islands SW of the main island. If you do attempt to approach from the west, make sure you clear the many reefs south and west of the anchorage, and approach the anchorage from the NW. There were a few moorings available when we were there, which sounds handy as the anchorage is fairly deep, but we don't know what's under them, and some boats dragged their moorings fairly easily. There's a concrete dock that extends out to the anchorage, which made a reasonable place to tie dinghies.
The main town is cute. There's an open communal space near the dock, with roads extending north and east of town. Street vendors like to congregate near the commons, especially in the evenings. Walking SE along the waterfront brings one to a nice restaurant on nice grassy grounds. Further along that road brings one to the ferry dock, which is a bustling hive of activity whenever the ferry is in. Taking a few days to ferry to Java and tour around, perhaps to Borobudur and/or Prambanan, is well worthwhile.
Scooters are easy to rent on Karimun Jawa and a scooter tour of the island is worthwhile. Just past the small bridge joining the 2 main islands, there's an elevated nature walk leading out to a tower overlooking the coast. A national park offers a mangrove walk on boardwalks. We found some fancy resorts offering excellent meals.
---
Kalimantan (Borneo) to Singapore and Malaysia
The map below depicts our 2006 track. Our 2015 and 2017 tracks were somewhat west of that, but we've included our anchorages from both cruises, below. Kumai was too smoky in 2015, so instead we visited Karimun Jawa, Belitung, and Banka. And since Nongsa Point Marina started charging some excessive clearance fees, we again veered slightly west, bypassing Nongsa Point and Singapore entirely as we headed for the Malacca Straits. Once you get to Lingga (which usually involves an overnight or 2) then it's pretty easy day sailing up to Singapore and Malaysia. However, satellite derived charts are highly recommended, as there are lots of reefs, and many are not charted correctly. We had to rescue a friend who's boat went solidly aground on an uncharted reef. Luckily, it floated free about midnight with minimal damage, but others have not been so lucky.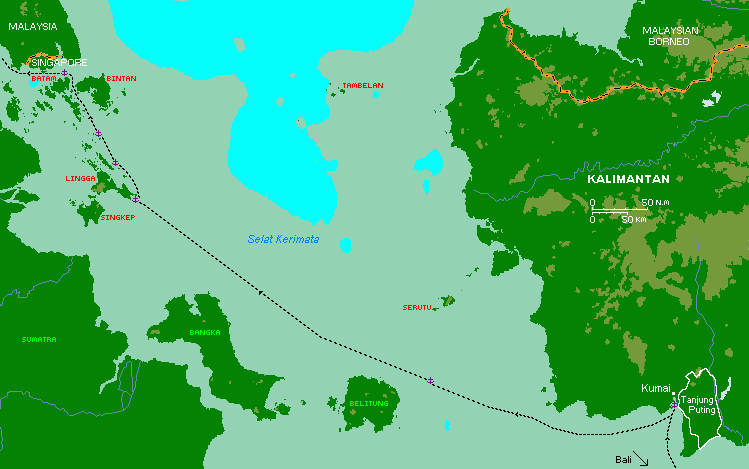 Our track through NW Indonesia. Click on the small anchors to go to our description of that anchorage.
| | | | | | | |
| --- | --- | --- | --- | --- | --- | --- |
| Date | Island | Town or Bay | Depth | N/S Latitude | E Longitude | Comments |
| Oct 06 | Kalimantan | Kumai | 40' mud | S 2°44.5 | 111°44.0 | Boat swings with tide |
| Oct 06 | Kalimantan | Kumai river mouth | 7' mud | S 2°53.9 | 111°42.0 | Very shallow |
| Oct 06 | Karangraya | Karangraya NW | 80' | S 2°34.9 | 108°43.5 | Not recommended |
| Sep 15 | Belitung | Manggar | 10' mud | S 2°50.94 | 108°17.47 | Very tricky entrance |
| Sep 15 | Belitung | Tanjung Siantu | 18' sand | S 2°31.88 | 107°48.60 | Protected |
| Sep 15 | Belitung | Tanjung Kelayang | 20' sand | S 2°33.19 | 107°39.83 | Crowded rally stop |
| Sep 15 | Pulau Gelasa | Gelasa North | 57' sand | S 2°24.36 | 107°04.32 | Settled weather only |
| Sep 15 | Banka | Ketawi | 32' mud | S 2°15.93 | 106°19.33 | Lovely rally stop |
| Oct 06 | Pulau Lingga | Lingga SE | 24' | S 0°18.5 | 104°59.0 | |
| Oct 06 | Kentar | Kentar North | 30' | N 0°03.2 | 104°45.6 | Equator party |
| Oct 06 | Mesanak | Mesanak NW | 45' | N 0°26.1 | 104°30.6 | Not the usual anchorage |
| Sep 15 | Petong | Petong | 48' | N 0°36.51 | 104°05.94 | |
| Sep 15 | Kepalajerih | Kepalajerih NW | 18' mud | N 1°02.32 | 103°45.81 | Yacht rescue! |
| Oct 06 | Pulau Batam | Nongsa Pt Marina | slip | N 1°11.8 | 104°05.8 | Very nice, modern, clean |
---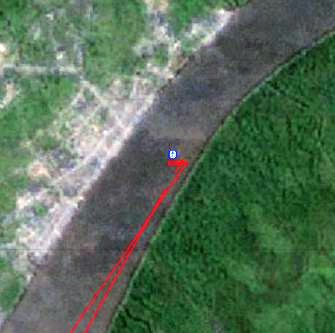 Our Kumai River anchorage, across from town
Kumai, Kalimantan, S 2°44.5'S 111°44.0'E, 40' mud
Kumai, (your jumping off point to see the wild orangutans!), up the Kumai River on Kalimantan, can be difficult to get to as most charts are out and the river is very shallow in places. We started out by following a big tug/barge up the river, thinking that they'd know the best way, but then they got stuck, right in front of us!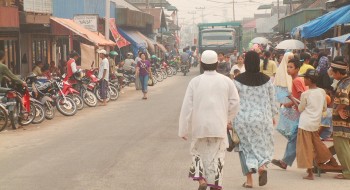 Bustling but fairly primitive Kumai Town
It's easiest to download one of our Track Files and follow the track, but alternately you can follow these directions: Keep the green buoy at the entrance to starboard, then stay 200m off the beach. Once you pass the end of the tree‑covered sand‑spit (S2°54.23 E111°42.53), turn sharply to the left and head to S2°53.48 111°42.09 to cross the end of the sand‑spit. Then turn hard right and head to S2°51.39 E111°43.27. The CM93 charts will show you aiming just off the far right bank but the land is actually further off than the charts show, as everything is displaced somewhat. From there the river gets deeper and we stayed generally near the right‑hand bank all the way to our anchorage at S2°44.5 E111°44.0 in 40' (12m) of mud.
This area is still tidal and the boats will swing around every change of tide, so make sure you have adequate swinging room. We found that multihulls and monohulls behaved differently, the multihulls hanging more to the wind while the monohulls (half‑boats

) tend to hang more to the current. If you're planning to be off your boat overnight, it's best to have a "boat‑boy" on board to look after things.
In 2006, we met Herry Roustaman (+62[0] 532 61319), who we'd emailed earlier. Herry runs the local yacht‑service and organized a great 3‑day tour of the Orangutans for us on local klotok boats, with someone to stay on our boat and watch over it. He also organized diesel but we had to take a bus to the next town to get to an ATM. In 2015 it was too smoky from illegal fires to plant more palm‑oil, but when we came to Kumai in 2017 we found that there were several other companies that offered similar services for cheaper, so we went with one of them. They will usually come out to meet the boats at anchor.
---
Kumai River Mouth, S 2°53.9'S 111°42.0'E, 7' mud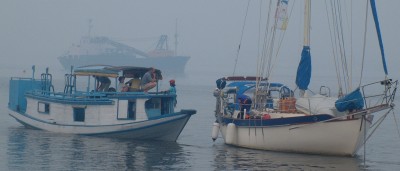 Klotok picking up Estrela on the smoky Kumai River
We ended up leaving Kumai in the late afternoon, so we went down the river and anchored by the mouth, just 0.5nm NW of the end of the sand‑spit in 7' (2m) mud. The anchorage was unremarkable but it was quite shallow. Monohulls anchored a bit further out, but were still able to find protection. This allowed us to get a good jump on our passage the next day.
Most boats take a north‑easterly track when leaving the Kumai River so they can spend a night at the island of Serutu, but boats ahead of us were reporting almost zero visibility from the smoke and some scary shipping activity resulting in close encounters of the "get‑me‑outa‑here" kind. It would help if more Indonesian shipping carried AIS, but many still don't. So we chose a more westerly track, sailing due west from the Kumai River mouth until we were out of the smoke‑bank before heading northwest towards Singapore. By now the fleet that had left Darwin together had spread out and only 4‑5 other boats chose our course, but several boats came together again as we crossed the equator at the island of Kentar, and many an equator‑party ensued.
---
Karangraya NW, S 2°34.9'S 108°43.5'E, 80'


Abandoned village across from Karangraya
Not sure we should include this, as we do not recommend this anchorage. The charts show some shallows around Pulau Karangraya but we couldn't find them, even around the abandoned village. But it was late and we didn't want to sail all night again, so we dropped the hook at S2°34.9 E108°43.5 in 80' (24m) of sand/coral. This was our deepest anchorage to date. In the morning when we tried to leave, we couldn't recover the anchor! After 45 minutes of trying, Jon had to don scuba gear and dive down to free the anchor, a first for us in 12 years of cruising. He found that the anchor had snuggled up into a narrow crack in an isolated, flat lump of dead coral. Nothing we could have done from the surface would have freed it, but with scuba gear it came out easily enough and we left soon afterwards. Needless to say, we don't recommend this anchorage. In fact, friends had bad anchoring experiences NW of Pulau Telegapanat, about 10nm to the west, so perhaps many of the islands northeast of Pulau Belitung are difficult to anchor behind. It's probably best to head for north Belitung.
---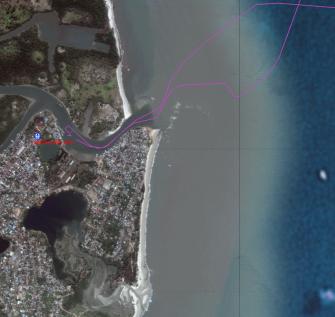 Manggar anchorage and approaches
Manggar (Belitung E), 2°50.94'S 108°17.47'E, 10', mud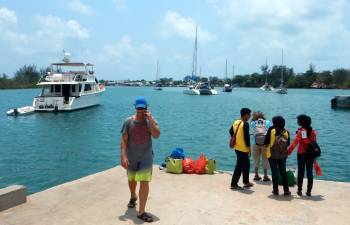 Manggar River anchorage from main dock
It's recommended that boats get a local guide to bring them into the river off Belitung, as the bar gets quite shallow (although the edges of the bar are quite visible). The rally made sure this service was available, but if you arrive outside of a rally it might be best to simply follow our track. You should plan your arrival to coincide with high tide, or wait until high tide before attempting to cross the bar. We came in from the west, but still had to go over an 18' section 3.2nm from the coast. It's nominally possible to bring 2m over the bar, but boats that anchored out for the duration of the rally stop had an uncomfortable time, as the winds were still strong.
Once over the bar, the river deepens up. Proceed about 0.5nm up the river and anchor near the concrete dock. There are usually some boats tied semi‑permanently to the dock where one can tie up a dinghy.
Manggar is reportedly trying to put in a marina in the pond just to the south of the river. We talked to some folks who are involved in this, but they're waiting for government dredges to open up the river first. We found the people extremely friendly, especially the English‑speaking guides assigned to us from the local high school English classes.
---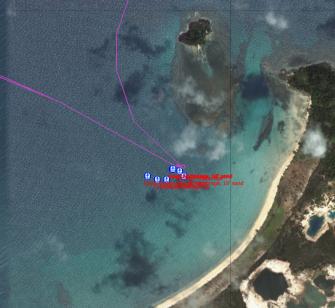 Tanjung Siantu anchorage and approaches
Tanjung Siantu (Belitung N), 2°31.88'S 107°48.60'E, 18', sand


Sea Monkey at the protected Tg Siantu anchorage
It's too far to go all the way from Manggar to NW Belitung, so we stopped at this intermediate stop on the way. The bay is well protected and offered a very comfortable night. There are several reefs off the north coast of Belitung, so satellite‑derived charts will help a lot. Approach the beach from the NW after rounding the island off the tip of Tanjung Siantu, then proceed to your preferred anchoring depth. The bottom is all sand, and there's room for several boats. The anchorage is protected from all but NW winds.
We didn't go ashore here, but there's not much to see except for a long sandy beach. There's some coral off the island to the north of the anchorage that looks like it would be fun to explore.
---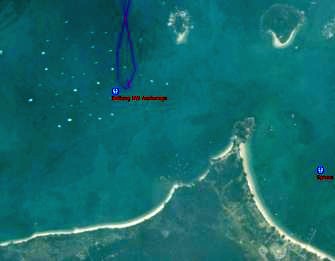 Tanjung Kelayang anchorage and approaches
Tanjung Kelayang (Belitung NW), 2°33.19'S 107°39.83'E, 20', sand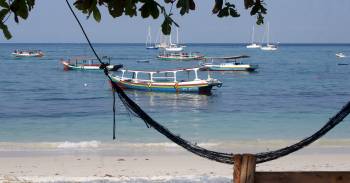 Anchorage at NW Belitung
This is the main anchorage off NW Belitung. The bay to the east is closer to town, but boats that tried to anchor there said it was very bouncy. Anchoring just west of the peninsula and behind the islands offered better protection. The spots on the chartlet to the left are other boats at anchor.
Again, there are several reefs offshore, so care must be exercised on the approach. It's probably best to approach from due north, but an approach from the NE is also possible. The anchorage is quite big and can hold several boats.
Some people took their dinghies around the peninsula to be closer to town. There's a concrete dock there, but most folks just pulled their dinghies up on the beach.
---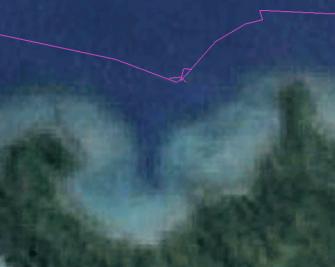 Gelasa North anchorage and approaches
Gelasa North, 2°24.36'S 107°04.32'E, 57', sand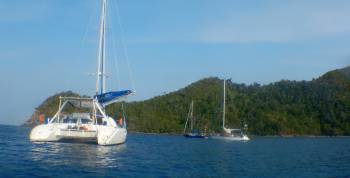 A snorkelers view of Ocelot in Gelasa Bay
Gelasa is a tiny island that's about half way between Belitung and our next destination of Ketawi, off Bangka. The leg from Belitung NW to Gelasa is about 39nm and the leg from Gelasa to Katawi is about 45nm, so Gelasa is ideally placed to break this passage into a pair of day sails. Google makes it look like you should be able to nestle deep in the bay, but it's apparently too deep and too narrow and too much coral. The outer bay, where we anchored, is not as protected, but there wasn't much wind when we were there in September of 2015 and 2017. There are no obstacles on the approach, but make sure you're far enough off the reef that you'll have a full swinging circle if the wind comes up from the wrong direction.
Gelasa was simply a rest stop for us on our way to Ketawi, and we didn't go ashore. But the snorkeling was nice on the reefs closer in. The anchorage area is fairly small. To be considerate to others, rally boats should not stay here longer than 1 night, as there will probably be several more boats wanting to use the anchorage the next day.
---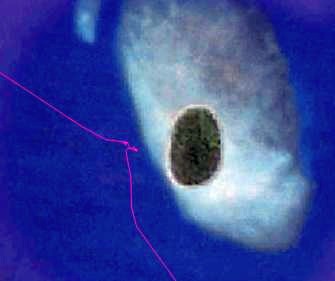 Ketawi anchorage and approaches
Ketawi, Banka, 2°15.93'S 106°19.33'E, 32', mud


Approaching the anchorage behind Ketawi Island
Ketawi is a tiny island just off the east coast of much bigger Bangka Island. It's part of a small archipelago of reefs and islands, all of which help to break up any easterly swell, so anchoring on the west or NW side of Ketawi is actually fairly protected from the prevailing ESE winds. When approaching from the east, you need to keep south of this small archipelago before turning NW to anchor behind Ketawi. Approaching from the north is much more difficult, as there are several reefs and islands with narrow gaps between them that must be negotiated, so satellite‑derived charts are highly recommended for navigation through this area.
Ketawi island itself is a bit of an enigma. There's a lovely dock with a floating pontoon, but there's not much ashore besides some camping sites. It looks like an ideal site for a small resort, but there are very few buildings besides some non‑functional toilets. But as a rally stop, it was superb. The local tourism folks went all out, and set up impromptu kitchens, snack and beer vendors, dining areas, and stages for performances. They fed us continuously for 3 days. Boats shuttled us the 6+nm to busses on shore for excursions, and they even arranged for CIQP officials to come to Ketawi to clear us out of Indonesia, a huge savings in time and hassle for all of us. Ketawi is 260nm south of Singapore, but Indonesian rules apparently allow for boats to day‑sail out of the country, even after being cleared out, as one boat was boarded by a patrol boat when they were anchored near Singapore but still in Indonesian waters, and the officials had no problem with them having cleared out of Indonesia several days earlier.
---
Lingga SE, 0°18.5'S 104°59.0'E, 24' mud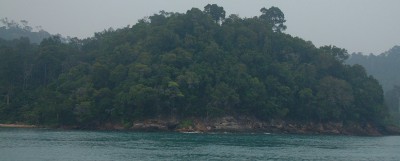 Southern Ligga Island anchorage, just north of Sunsa Is.
A reasonable anchorage can be found off the southern tip of Lingga Island. There's nothing remarkable about this anchorage, but it's reasonably protected, and if you've just spent several days on passage coming up from Kalimantan or Bangka, it makes a nice overnight stop. There are no hazards when approaching except for the normal shallows near the islands. We've always come in from the east and left the same way, anchoring between the big island of Lingga to the north and tiny Pulau Sunsa to the south.
From Lingga northwest, the trip can be done in a series of day‑sails all the way up the Malacca Straits to Thailand.
---
Kentar North, 0°03.2'N 104°45.6'E, 30' mud

The north Kentar anchorage, far from the island
The obvious anchorage in Kentar is in the big northern bay, between Kentar and Pulau Bakau. The bay is big but protected from the normal SE trades. There are no hazards to avoid on the approach, but Kentar's fringing reef extends out quite a way, so don't go too far into the bay. The charts often have Kentar displaced about 400m NW of its actual position, but everything's easy to see.
Kentar was a fun anchorage for us in 2006 because we arrived with several other cruisers who had all, like us, just crossed the equator for the first time, so an equator party soon developed. The next day, one of the boats decided to do a leukemia fund‑raising event, the woman shaving off all her hair. In the end, 1 man and 2 women shaved their heads and some A$2,000 was raised for leukemia research!
---
Mesanak NW, 0°26.1'N 104°30.6'E, 45', mud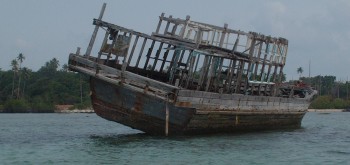 There's a conspicuous wreck at N Mesanak
The normal anchorage for Mesanak is in the big bay to the NE, but that was exposed and choppy when we got there so we went around the top and anchored off the NW corner. There are no hazards to avoid on the approach, but like Kentar, the reef on the north side extends out for quite a way, so one mustn't go in too close to the island. The anchorage was fairly deep and we had to get closer to the reef than we liked, but the holding was good and reefs down the western side of Mesanak broke up most of the swell. This anchorage was only OK - we would recommend the NE bay anchorage if the winds allow it.
---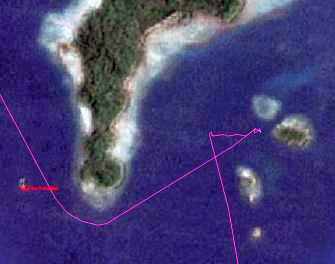 Petong anchorage and approaches
Petong, 0°36.51'N 104°05.94'E, 48', mud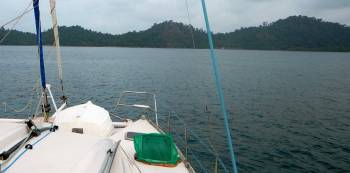 Approaching our S Petong Island anchorage
Petong was another anchorage of convenience on our trek up to the Malacca Straits. It's at the NW end of a small chain of islands, so reasonably protected from the prevailing SE winds. We saw no hazards on the approach, but there's a fair sized reef east of the anchorage. We anchored just west of the gap between those shallows and a small island, but this meant that we had a bit of current that turned with the tide.
---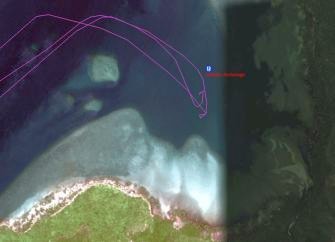 Kepalajerih NW anchorage and approaches
Kepalajerih NW, 1°02.32'N 103°45.81'E, 18', mud
Several friends anchored here, and we anchored here ourselves (of course) but then our cruising buddies called to say they were stuck on an uncharted reef. So we scooted down to help them and never ended up spending the night here. Still, it was a nice, protected anchorage and merits mention in these pages.
There are several shoals in the area (as our friends found out) so care (and satellite derived charts) should be used when navigating. Approach the bay from the NW and don't get close to either shore, as the reefs stick out half a mile in places. Once in the bay, anchor as convenient. It's not a big bay, but there's room for a few boats. The chart says the bottom is rock, but we found it to be mud. The bay makes a good jumping off point for Singapore or the Malacca Straits. There's lots of coral around the edges of the bay, but we didn't get a chance to snorkel it.
To finish our story: Our friends' boat laid right over as the tide went out, so we put out some anchors to help pull them off when the tide came back. We sealed the side windows but the water never got close to them. We had our crash pump and several ropes ready just in case. As the tide came in, the boat lifted up and became more upright, until it floated free about midnight. We couldn't even find scratches on the hull. Ya gotta love steel monohulls.
---
Nongsa Point Marina, 1°11.8'N 104°05.8'E, slip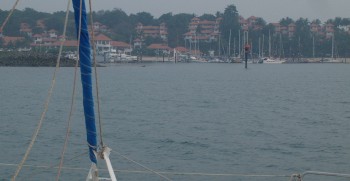 Approaching Nongsa Point Marina
Nongsa Point Marina was a little dodgy to get into in 2006. There were a series of 8 poles that were quite visible, arranged in 2 lines of 4, oriented east/west. The 4 poles to the east marked each side of the channel to the marina, while the 4 to the west marked the entrance to the river that the high‑speed Singapore ferries used. Some charts showed these poles, although they're usually shifted about 100m to the east. There are also some rocks just outside the channel that are usually marked by floats. Call the marina on VHF for directions before you come in. Make sure you run down the center of the channel as some boats have damaged keels on rocks.
The marina itself was a pleasant surprise as we don't go to marinas very often. Although prices are all quoted in Singapore dollars, slips were actually fairly reasonable in 2006, and included the huge pool (towels provided by the hotel) and slow wireless internet. Even the resort restaurant, expensive by Indonesian standards, was quite reasonable by world standards. The only flies in the ointment are that town is a long taxi ride away, and the marina officials charge a hefty fee for organizing clearance out of Indonesia. Make sure you're ready to leave when the officials return with your passports, because you don't get any slack‑time. As soon as they hand you your clearance documents, they undo your dock‑lines and hand those to you as well - you're expected to leave immediately. Luckily, they usually come in the morning, so you have ample time to cross the busy shipping lanes to get to Singapore.
---
Indian Cruising Info: Cruising N&E Indonesia | Cruising S&W Indonesia | Cruising Malaysia | Cruising Thailand | Thai Services | Cruising Andamans | Cruising Sri Lanka | Cruising the Maldives | Cruising Chagos | Cruising Seychelles | Cruising Madagascar | W Indian Weather | Cruising Mayotte
Related Pages: Indonesia Home | Diving Indonesia | Cruising N&E Indo | Cruising S&W Indo | Indonesia Letters | SE Asia Flora/Fauna
Cruising Info: General Cruising Info | Equipment | Pacific Ocean Cruising | Indian Ocean Cruising | Provisioning Food & Fuel | Cruising Recipes
Top Level: Home | Destinations | Cruising Info | Underwater | Boat Guests | Ocelot | Sue | Jon | Amanda | Chris | Site Map | Make a Comment
---
Lifetime
Commodores
of the
Seven Seas
Cruising
Association

If our information is useful,
you can help by making a donation
Copyright © 2000‑ Contact: Jon and Sue Hacking -- HackingFamily.com, svOcelot.com. All rights reserved.