Dear Cruisers,

The beautiful lagoon inside Addu Atoll, Maldives
This page is for those cruisers who want to visit the Maldives chain of islands, south and west of India. We have visited the Maldives twice now, once in 2007 on our way south and west across the Indian Ocean, and again on our eastabout journey from Africa towards Asia in 2009. The Maldives were a fun and interesting stop for us, but the bureaucracy is a bit frustrating, and seems to be changing -- not always for the good. Some of what follows has been gleaned from other cruisers, as we only went to Addu, the southernmost atoll of the Maldives. For our track and anchoring location in Addu, MaxSea users can download an Indian Ocean Layer file. This file also shows several anchorages throughout the Maldives that we obtained from various published materials but did not verify.
Yachts are allowed to clear in or out at 3 points: the northernmost atoll (Uligan), the southernmost atoll (Addu), and the capital of Male, about in the middle of the archipelago. Unlike the northern and southern clearance ports, the capital of Male charges US$400+ for a cruising permit and has other fees bringing it to over US$500, including the obligatory use of an agent. This is way out of line with other countries - by far the most expensive clearance we've ever heard about. But the officials in Addu Atoll in the south don't charge anything to clear in, and only very nominal fees to clear out. Although we didn't visit it, Uligan is reputed to be even more friendly, with the officials joining yachts for fishing expeditions and pot-luck dinners on the beach.
In 2007 we bypassed Male and sailed directly from Galle, Sri Lanka, to Addu Atoll. The Addu officials were very pleasant and charged no fees for clearance in 2007, but in 2009 things had changed. As before, we waited in the small yacht anchorage by the Gan causeway for the Gan Coast Guard boat to arrive. Five health-masked officials (concerned about the swine flu) climbed aboard. They were efficient and polite, even allowing a photograph. But they did ask who our agent was. We told them we didn't have one as we were quite happy to fill out all the paperwork ourselves, and also that we didn't need one, as we're just a small boat, not a ship. They accepted this. Knowing we were only staying a couple days we requested permission to clear in and out at the same time. Not possible. We were told we had to go to the commercial dock offices in the town of Hithadoo, 5 miles to the north when we wanted to clear out. Paperwork for clearing in was fast and straightforward. It really helped to have an Ocelot "boat stamp" which they liked to have us stamp over every one of Jon's signatures! A thirty-day visa is granted on arrival.
Gan agent: Mas-ood Saeed: +960 689 3433
email mns@dhinet.net.mn
or Ahmed Rasheed +960 689 2846
Operations Port Authority: ph 794 1895
"Asif": Immigration Officer: 775 1085
According to the Addu customs officials, both Addu and Uligan can grant an "Inter Atoll Permit" free of charge which gives permission for yachts to go all the way to the other end of the archipelago, no stops allowed. We haven't tried this, but one cruising yacht who requested this in early 2009 from Uligan was told they had to clear out, go to Sri Lanka, clear in and out (for US$200), then sail down to Addu to clear in again. No thanks! If a yacht stops in Male they are subject to the high fees for permits and agents.
For more info, see Noonsite's Maldives pages.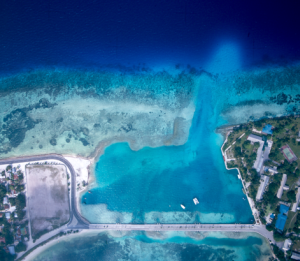 Our Addu anchorage, with Gan to the right
Prior to 2007 cruising boats were given permission to "cruise" the country from north to south, or vice versa, supposedly with a stop in Male, for the "real" cruising permit. We have heard of some cruisers who sailed through the islands without permission. They may have had fun, but left a "dirty wake" for others, resulting in tighter cruising controls and increased coast guard oversight. The Maldives Coast Guard is very active and will intercept illegal boats. While most boats we talked to had no problems, one was told to leave their anchorage - at 5pm. With all the reefs and bommies that you can't see unless the sun is high, Maldives is not a place to navigate when the light's not perfect.
Another "dirty wake" issue that now affects cruisers is that some boats have been clearing into Addu and not clearing out. The Customs' response to this: any boat staying more than 72 hours in Addu must have an agent. From their way of thinking, they then have a Maldivian person responsible for the actions of the yachts. When we cleared out in 2009, having only been in Addu for 36 hours, we were told the whole story: if we had stayed more than 72 hours we would have been required to hire an agent for the clearing out. The $50 agent's fee isn't all that much if you amortize it over time, but the irony is, there you stand in the customs' office, paperwork in hand, ready to clear, and they tell you you can't. You have to leave and get an agent. HUH? That's exactly the sort of thing that might just push some normally law-abiding yachts to say the heck with this, and sail away. Heavy fines (not a published amount) are levied on any yacht that returns to the Maldives after once having left without clearing out.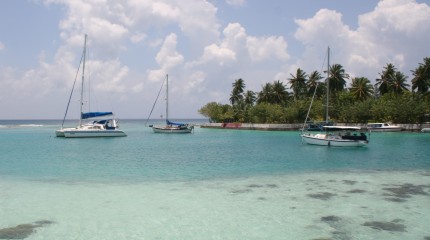 Our anchorage, shot from the Gan/Feydoo causeway looking SE.
The Maldives has an interesting policy of encouraging tourism but not wanting tourists to mingle with the locals, presumably to keep our disruptive ideas away. The Maldives has been run essentially as a dictatorship for 30 years and former-President Gayoom's popularity was very low (at least, in Addu) in 2007. National elections in 2009 ousted Gayoom in favor of a democratic party president, but Gayoom's party retains control of parliament. Changes, if any, to the policies on tourism will be slow.
The British, when they built the airport on Gan, also built schools and educated the local kids. When the British left, the people of Addu were noticeably better educated than the rest of the Maldives. Now, the new Addu based Maldives Democratic Party is gaining strength so there can be some some political unrest, usually quickly hidden from prying foreign eyes. The British also built all the causeways that link the western islands of Addu Atoll, the only Maldivian atoll with such easy transportation. This means that the foreigners at the resort on Gan can freely associate with locals on the rest of the atoll, the only place this can happen in the Maldives. It's surprising that the Maldives doesn't build more causeways on other atolls, but apparently their fear of foreign ideas is stronger than their desire for easier transportation.
The anchorage that most boats use in Addu is the bay next to the causeway between the islands of Gan and Feydhoo. Enter the cut on a heading of about 230°M to S 0°41.106' E73°08.684', keeping the pole with the bucket on top (if it's still standing) to starboard. There's a float marking the left side of the channel. Then there's another pole on starboard. Once inside the cut, stay towards the police wall (on port side), and leave another float to starboard which marks an isolated bommie. The deepest part of the bay is to port, near the wall. Anchor anywhere on the sand but avoid the area where the waters from the lagoon on the SW side of the causeway come streaming under the causeway and into the anchorage - not only is it uncomfortable, but the current has scoured away all of the sand so there's no holding. If the protected anchorage is full (we had 7 boats in there for a few days, and it felt rather crowded), boats often anchor off the Equator Village Resort east of the small bay in about 65' (20m) but it's hard to hit the sand and not the coral. Note that squalls can blow quite hard (we saw 35 knots) and from any direction. We've been told that the sand-patch at the NW end of Feydhoo also provides a good anchorage, but we didn't check it out. Larger vessels can anchor 5 miles northwest, off the commercial docks but getting ashore could be a challenge (yachts are allowed to anchor there, but it's not as convenient as Gan).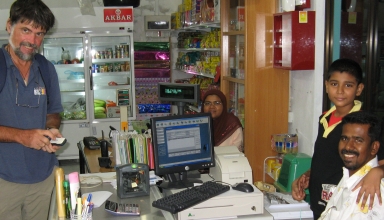 Jon, Arifa, Rafu & Mulla inside Two Plus One, 2009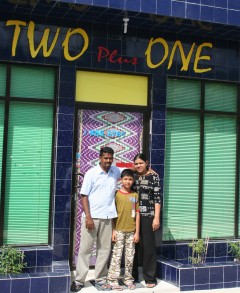 Mulla & his family & store, 2007
On Feydhoo (but unfortunately off the main road) is a well stocked little grocery store called Two Plus One, run by a nice young man named Mulla who was extremely helpful in getting us things and taking us places. Mulla's mobile phone number is (96[0]) 998 1967. If you arrive without a SIM, he usually has a used one you can borrow. Prices in his store are competitive, and he'll try hard to get you fresh veggies if you want. He has a nice new car and will deliver right to the concrete wall where people tie off their dinghies (lower right in the aerial photo). Diesel and water can also be delivered to the same place, but the meter on the diesel truck over-reads by about 10%. In 2009 we rented a truck for about $7 (Rf100) and used jerry jugs to get diesle from the station instead. Water and fuel jugs, in the form of cleaned out 20-25 liter plastic containers, are almost free to buy. Mulla sold us rain water (pure and delicious) right from his own catchment, delivered to the anchorage in jerry jugs (ours and his). Mulla and his wife are generous with their time and information about life in the Maldives, and Mulla especially is happy to discuss the country's complex politics with anyone who is interested.
Being linked to the outside world by satellite, not cable, means that no Internet connection on Gan is fast, but at least there is internet! The most convenient place if you're anchored by the Gan causeway is at the Youth Services Center, just immediately east of the anchorage, on the right side of the road (across from the Police Station). The office of Youth Services is open from early morning until 10pm most days, with breaks for lunch and dinner, and late opening on Fridays. It's roomy and air conditioned, the staff are very friendly, and you can use your own laptop for about $2/hour. Note that in 2007 the machines there had keystroke-loggers on them so they could harvest any passwords you used when on their machines - much better to bring your own computer.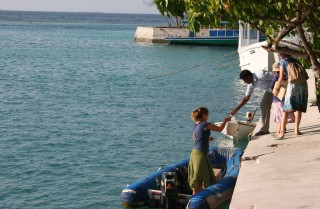 Mulla delivers provisions to the anchorage wall.
As for fun: the snorkeling and diving right at the entrance to the anchorage is amazing, with a huge fish population and large groupers, wrasses and rays. We dove with Diverland at the Equator Village ($50/dive) and found them fun and professional. They also filled our tanks for the usual $5-6 after we did our own dives. Walking is always an option for exercise, either east past the resort, or west over the causeways to the other islands. Mulla can arrange for the rental of a motor scooter if you want to go farther. We took him up on the option of a tour in a car as there were several of us wanting to go touring at the same time. It was fun to see the sandy streets and small village atmosphere of Hithadoo (the capital of the atoll), and some wonderful wooden boat building under a huge shed. If you have bikes it's an ideal place to ride, being totally flat. There are several small restaurants, one on Gan just past the resort, and more in Feydoo and just beyond, with hot curries, roti and rice for about $3. Mulla helped arrange a feast for 11 of us for Jon's birthday at a small cafe in Feydoo. In 2009 we rented a motorbike (about $1-$2 per hour) from Mulla and used that to explore the islands and get to Hithadoo for clearing out. Great fun!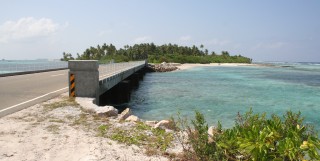 Addu Atoll, with lagoon (left), & ocean (right)
Clearing out in Addu is a bit of a procedure, if you don't have an agent, as you need to go to the island of Hithadoo, 10 miles (15 km) by road northwest of the anchorage at Gan, to the new commercial dock being built on coral rubble being dredged from the lagoon. It's best to get a message to the clearance official (see block of info above) as there's not much for him to do so he's often not in his office. According to the Immigration Officials, the best time to be sure to get someone is about 7:30-10 AM. Best to phone ahead.) In 2007 we had to wait about 30 minutes (at 10am) before he came in. There is a 50 (about $4) harbor fee for any size vessel. In addition, the first 15 days of your stay are free, but after that they charge about $5/day, up to the maximum stay of 30 days which is payable upon departure. Mulla was great in that he combined a 2-3 hour tour of the atoll with taking us to the Port Authorities, Immigration and Customs people in Hithadoo. You no longer need to finalize the clearance back on Gan, as was the procedure in 2007.
For more information about the Maldives and our time there, see our Maldives Newsletters, Diving Maldives and our Destinations page on the Maldives.
Indian Cruising Info: Up | Cruising Indonesia | Cruising Malaysia | Cruising Thailand | Thai Services | Cruising Andamans | Cruising Sri Lanka | Cruising the Maldives | Cruising Chagos | Cruising Seychelles | Cruising Madagascar | Cruising Mayotte
Related Pages: Maldives Home | Maldives Newsletters | Maldives Diving
Cruising Info: General Cruising Info | Equipment | Pacific Ocean Cruising | Indian Ocean Cruising | Provisioning Food & Fuel | Cruising Recipes
Top Level: Home | Destinations | Cruising Info | Underwater | Boat Guests | Ocelot | Sue | Jon | Amanda | Chris | Site Map | Make a Comment
---
If our information is useful,
you can help by making a donation
Copyright © 2000‑2015 Contact: Jon and Sue Hacking -- HackingFamily.com, svOcelot.com. All rights reserved.