Diving Moorea
Moorea, Society Islands, French Polynesia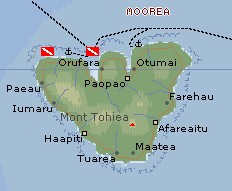 Click on the map to go to the general Society Islands page
Moorea was one of our favorite dive locations. The combination of the majestic grandeur of the hills towering above us, the clear water around us, and the isolation made for idyllic conditions. Our usual anchorage was just to the left (west) of the Ray Corridor label at about 17° 29.2'S, 149° 52.7'W (see the map below, which shows the north coast of Moorea and the entrance to Opunohu Bay). Since we spent time there with both Karen & Jon, and Vince (all divers) we did several dives, some of them more than once. In all, we dove at 5 different locations (and snorkeled many more), all along the north coast: the Canyons by Opunohu Pass, the Small Rose Garden & Coral Wall, and Taotoi (all outside the reef) and Stingray World and Ray Corridor inside the reef.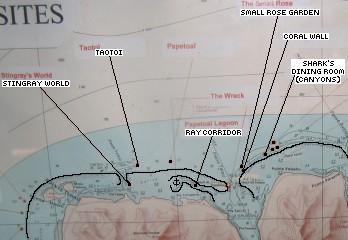 NW corner of Moorea, with our dive sites and anchorage marked. Beachcomber resort is just opposite the Stingray World dive.
Air Fills: Most dive shops in French Polynesia charge 1000 CFP (about US$11) per bottle to fill, but the new management at the Beachcomber Hotel Dive Center (opposite the Taotoi entrance) filled our tanks for half that. Whether it was a goodwill gesture, or will be an ongoing practice, we don't know, but we were sure grateful.
Positions: We've now added latitude and longitude positions to our dive tables. We did not take a GPS with us - these positions were determined afterwards from our navigation charts. They're as accurate as we can make them, but they should not be depended on too much.
Fresh Water: We found free fresh water on the small dock in front of the orange-roofed church on the western side of Opunohu Bay. Also, because we filled our tanks at the Beachcomber, they were happy to have us use their showers and dunk tank, which were accessible by dinghy.
---
Type:

Outer reef canyons dive

Access:

Dinghy / dive boat moorings

Position:

17° 29.1'S, 149° 51.1'W

Depths:

35-65' (11-20m), no bottom

Date:

February, 2004

Visibility:

80' (25m)

Dive shop:

Yes.

Snorkeling:

No, too much surge and too deep.

Features:

Sharks. Occasional strong current.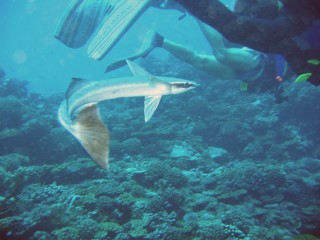 Persistent sharksuckers try to latch onto divers
(Jon) The mooring we used for this dive is one of those on the map above labeled as Sharks' Dining Room. I actually did this dive twice, once with Vince and Chris, and once with Karen & Jon and Sue. Neither dive was free of troubles. With Vince and Chris, our dive plan was to go up-current first, then turn around at 1,500 psi (100 atm) and drift back to the dinghy. This is a prudent and normal plan for us, but when we got to the bottom there was little current and several other divers in that direction, so we headed NE first. When we turned around we also (as we usually do) came up a few dozen feet. This put us closer to the reef, where we discovered that there was a bit of current (now against us) as well as some significant surge. I didn't realize that Chris was having problems keeping up and that he was burning through his air too quickly, which I should have.
With Karen and Jon and Sue, I realized that it was pretty easy to lose track of where the dinghy was, so I was counting the canyons as we went over them. We turned around after about 8 canyons and I counted down as we came back. But it's difficult to keep track when there's so much interesting stuff to see. After 8 canyons there was still no dinghy. I thought I'd just mis-counted, so we continued on. After several more canyons and still no dinghy, I was down to only 500 psi (33 atm) and decided to surface. After several minutes looking, I finally spotted the dinghy several hundred yards back behind us, up current. This is where I learned that it's often easier swimming 10' below the surface than swimming on the surface encumbered with scuba paraphernalia.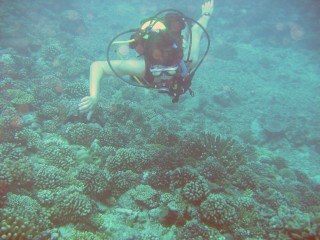 Vince swimming over a garden of coral.
That said, the dives were still interesting. The bottom is a series of valleys, perhaps 20-30' deep, with different fish and corals on the "ridges" and in the valleys. It was good fun "flying" over these ridges and valleys. Sometimes these valleys would have different currents in the bottom of them. As with all outer-reef dives in Moorea, there were lots of sharks, usually 4-6 visible at any one time. Most of these were the common 4-6 foot Black-tipped Reef Sharks, but I also saw a 6-8' Grey Shark with a remora under its jaw, as well as another shark I couldn't identify, possibly a Lemon Shark. Very cool (but it does get the old ticker pumping...).
(Chris) This dive certainly started out well. We (Vince, my dad, and I) dinghied to a mooring out past Opunohu Pass. Once we were down there was some discussion (tricky underwater, since you have to use hand signals) about which way the current was going (I'm not sure we got it quite right). Anyhow, we started off essentially upstream, going up and down as we passed over ridges, and watching the small (4-5 foot) reef sharks that swam randomly around us.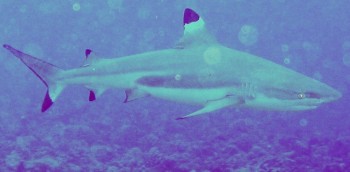 One of several black-tipped reef sharks.
We tried to ignore them, as the reef fish did.
When we reached the halfway point on our air supply, we decided to turn around and head back. Before we did, I got a shot of a really nice grey shark that watched us from 30-40 feet away (a comfortable distance for a 7-foot shark). Unfortunately, the flash didn't work that far away, and the picture didn't come out well. Still, it was exciting to see a shark bigger than a blacktip. Unfortunately, on the trip back the current was definitely against us, and there was some surge (back-and-forward motion) as well. I was having fin problems (getting my feet rubbed raw because I haven't yet found any fins that fit perfectly) and fell behind the group. Vince eventually spotted me (maybe heard my tank banger) and dropped back, but my dad kept going. At this point I was starting to over-breathe my regulator (you can only draw air so fast through a reg) so I slowed down and started to surface. Vince and then my dad surfaced also, and a passing dive boat picked us up and took us back to our dinghy.
(Sue) We were happy to find that although the dive operators in Moorea feed the sharks, we were not mobbed by hungry sharks when we dove without food for them! They did swim lazily with us and near us, though, which was wonderful. The most unnerving fish were the sharksuckers who wanted to hitch free rides on us, the divers. We were constantly shoeing them off. Karen, in full wetsuit, never felt them. But those of us with exposed legs sometimes felt the creepy brush and suck of a 2- or 3-foot sharksucker. (See above)
---
Type:

Outer-reef / wall dive

Access:

Dinghy / dive boat moorings

Position:

17° 28.2'S, 149° 51.1'W

Depth:

45-70' (13-21m), no bottom

Date:

February, 2004

Visibility:

80' (25m)

Dive shop:

Yes.

Snorkeling:

No, too much surge and too deep

Features:

Sharks & remoras (shark-suckers)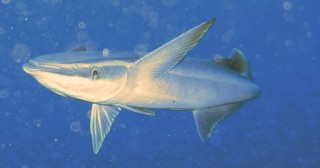 The strange shape of a sharksucker becomes a familiar sight off Moorea.
(Jon) This was a nice dive that I did with Karen & Jon. We tied the dinghy to the 2nd mooring from the mouth of Opunohu Bay, set ourselves up and drifted to the bottom in 45' (13m). There were lots of 4-6' black-tipped reef sharks, and even more sharksuckers (like remora's). We always had at least 7 sharks in view at any time, slowly cruising in circles. Although there were lots of fish all around us, they paid very little attention to the sharks. We tried to do the same.
In the end we called this dive the "Remora Dive" because 3 of them followed us everywhere we went, trying to attach to our legs or our tanks. Strangely, I had difficulty photographing these sharksuckers, mostly because their skin is unusually shiny and they were so close!
---
Type:

Outer-reef wall/canyon dive

Access:

Dinghy/dive boat moorings (2)

Position:

17° 28.9'S, 149° 53.4'W

Depths:

35-60' (11-18m), no bottom

Date:

February, 2004

Visibility:

100 feet (30m)

Dive shop:

Yes.

Snorkeling:

No, too deep, and too much surge.

Features:

Strong surge, some current. Sharks.
Jojo the Napoleon wrasse and a big moray eel.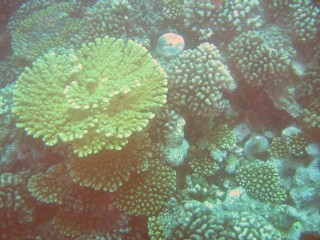 Beautiful coral formations were everywhere
(Jon) This was one of our favorite dives. I actually did this dive twice, both times with Karen & Jon, and once each with Sue and Chris. Getting to this site (just outside and east of the narrow Taotoi Pass) is an interesting proposition, as the pass is fairly shallow, leading to a considerable rip-tide, big swells and occasional breakers. The dinghy (named, incidentally, Tomcat) and the crew got quite a workout.
We splashed into 35' (11m) with me going down slowly because my right ear was having problems adjusting to the pressure changes. We found a considerable current, so we started going up current, over the now familiar hills and valleys of Moorea's outer reef. The first wall, just next to the mooring, had a nice overhang, filled with big-eyed squirrelfish. We started out with a constant swarm of blue-striped snapper swimming with us, possibly looking for a handout. We also always had 6-7 black-tipped reef sharks in view at any time, but we were getting used to that by now. We also saw several big triggerfish, but none attacked us as they did in Tahiti.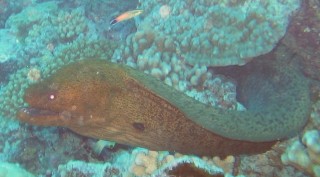 A 6-foot giant moray eel lives near the mooring and often comes out to greet the divers
We swam our standard pattern of going up-current until we were down to about 1,500 psi (100 atm) and then turning around and coming up a bit so we got some new scenery. The strong current brought us back to Tomcat quickly, so we looked around the overhang a bit more. We'd heard there was a big moray eel in the area and he eventually graced us with his presence. We tried to feed him some bread we'd bought in a zip-lock bag, but the snappers snapped it up long before the shy moray could get any. We also saw Jojo, the big napoleon wrasse at the very end, as I was doing my safety stop on the mooring line. Very cool!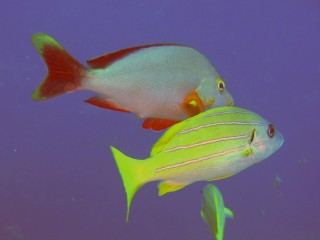 Bright, colorful fish swam close by!
(Sue) Got the bottles filled at Bathy's and headed out in the morning. The pass was very rough, with winds from the northeast causing the seas to curl and almost break...not fun in the dinghy. But once we were on the mooring, suited up, and splashed into the calm, quiet blue, all was well. There were 6 or 7 blacktipped reef sharks about, but they ignored us. A moderate current was running to the west, so we swam east till we were all about down to 1200 psi. We crossed numerous coral shelves and valleys, always accompanied by blue lined snappers. There was a fairly defined drop-off to the north, so it was easy to navigate and return to the mooring. One valley west of the mooring is where the resident 6-foot moray hangs out. He did appear from his reef to check us out. While doing safety stops on the mooring line we also got a visit from Jojo the hump-head (Napoleon) wrasse.
(Chris) Talk about beautiful dives! We saw so many fish and corals that I didn't even realize we never saw the eel or wrasse until we were back in the dinghy. Even as we descended, there was a blacktip shark watching us and several fish swimming around the mooring. We swam over gentle ridges and valleys against a very light current, then turned around and saw new stuff coming back. I do wish we'd seen Jojo or the giant moray, but even without them it was a good dive.
---
Type:

Lagoon dive

Access:

Dinghy / dive boat mooring

Position:

17° 29.3'S, 149° 53.6'W

Depths:

20-60' (6-18m)

Date:

February, 2004

Visibility:

40' (12m)

Dive shop:

Yes.

Snorkeling:

Yes, but visibility was poor.

Features:

Tahitian stingrays and spotted eagle rays.
Occasional strong outward current.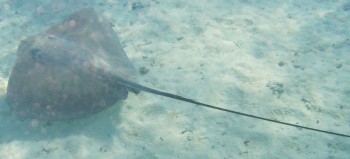 A Tahitian stingray scavenges for food.
Click the image to see his stinger.
(Jon) This is inside the Moorea reef, in a sand-bottomed area just inside the Taotoi Pass, near the Beachcomber Hotel. It doesn't look like much because it's wading depth just next to the mooring. My main purpose in this dive was to get Amanda back into scuba diving after her somewhat scary high-current dive off the St. Etienne Drop-Off in Tahiti.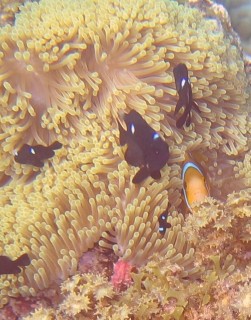 Three-spot Dascyllus and
Anemone Fish live within the
tentacles of the sea anemone.
We splashed into 20' (6m) with a sand bottom, but it soon got deeper. The visibility was not very good (by Society Island standards) but it was good enough. I wanted to avoid the strong currents that suck the lagoon water out the Taotoi Pass so we traversed across the face until we ran into some fairly strong currents and then we turned back at a different depth so we could see different things. We got back to the mooring with plenty of air but there's nowhere else to go so we did it again, taking more time to explore the rock cliffs.
We did see a flight of 7 Spotted Eagle Rays, but they weren't very close. We saw several other fish and I actually got some nice photos, despite the sediment in the water. Back on Ocelot, we engaged in our normal (and delightful) pastime of sorting through the pictures, trying to identify the many fish we'd seen.
(Amanda) I was a bit dubious about this dive, as the last one I had done (St. Etienne, in Tahiti) my BCD wouldn't release air and I didn't have enough weights, so it was hard to stay down above about 30 feet. But my mom had had the same problem, and she said it was better with the spill-pull (which I hadn't known where it was) and an extra kilo. With so many people cajoling me and asking me to dive, I slipped another weight into a pocket and *splash*
The dive was okay, but because of the current we could only go so far along the wall, so we went back and forth twice. It was rather murky, definitely not the sort of visibility we've had other places. A lot of the coral was silt-covered, but we did see a few anemones and their anemone fish, schools of Yellow-fin Snappers that we could literally reach out and touch, and of course several spotted eagle rays and Tahitian stingrays paid a visit. Close-looking revealed about five leopard flounders, as well.
---
Type:

Lagoon dive in channel

Access:

Dinghy moorings located between navigation buoys.

Position:

17° 29.3'S, 149° 52.5'W

Depth:

10-65' (3-20m)

Date:

February, 2004

Visibility:

40 feet (12m)

Dive shop:

Yes.

Snorkeling:

Yes, all along sides of channel, but best at slack water.

Features:

Spotted eagle rays. Some current in channel.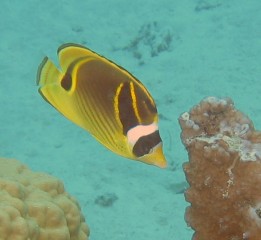 Raccoon Butterflyfish are distinctive with their black masks.
(Jon) Ray Corridor has some fairly high currents (as do most dives inside the barrier reef) and the visibility is not as good as the outside dives (ditto) but it's an easy and fun dive. The start is just east of where Ocelot anchored, making it very easy to get to. This was our second dive of the day, and the dive-shop was slow filling our tanks, so we only started about 4pm, a bit later than we like as the low light makes photography difficult. The dive starts in only 10' (3m) but soon gets deeper. We dove our now standard pattern of swimming up current initially until we had used about half of our air, and then turning around and letting the current push us along back to the mooring.
The part I liked most about this dive is that much of it was along the wall at the edge of the boat channel. Wall diving is fun because you can choose your depth and then change it coming back, seeing completely new fish and coral. I went deeper than most folks, trying to get different photos by shooting up at the fish, a trick I'd just learned from professional photographer Rod Klein, whom we'd just met at the dive shop. I was also looking for holes and ledges that the fish might be hiding under. We did actually see a flight of 7 Spotted Eagle Rays, and later a lone ray heading the other direction, most of our photos were of other, smaller fish.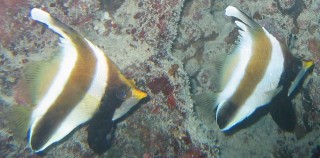 Pennant Bannerfish swimming in tandem.
(Sue) Because this site is near the Opunohu Pass we had to deal with strong current pulling us towards the pass. Luckily we found eddies of calmer water behind the curves of the coral wall. One dive challenge I had not anticipated was the trick of being partner to a photographer. Jon, of course, was off following fish, or poking his camera into little nooks and crannies while I tried to hover nearby, but not so close that I disturbed the fish. Sometimes other divers we were with had other agendas, so we ended up farther apart than I liked. In retrospect, a photography pair should probably be independent of other divers if safety conditions allow. Although visibility was not great (just what the rays like!) we did see many small fish species.
Up | Diving Bonaire | Diving Tahanea | Diving Fakarava | Diving Toau | Diving Tahiti | Diving Moorea | Tonga (commercial) | Tonga (private) | Diving Fiji | Diving Indonesia | Diving Thailand | Diving Maldives
Reef Animals | UW Photo How-to | Scuba Diving | Moorea Home
Top Level: Home | Destinations | Cruising Info | Underwater | Boat Guests | Ocelot | Sue | Jon | Amanda | Chris | Site Map | Make a Comment
---
Lifetime
Commodores
of the
Seven Seas
Cruising
Association

If our information is useful,
you can help by making a donation
Copyright © 2000‑ Contact: Jon and Sue Hacking -- HackingFamily.com, svOcelot.com. All rights reserved.