Curacao
| | |
| --- | --- |
| Language: | Papiamentu, Dutch, and English |
| Population: | About 120,000, of African, Dutch, and Venezuelan descent. |
| Money: | Netherlands Antilles Guilder (also called the Florin), at about FL1.75/US$ in 2011 |
| Landscape: | Arid, a few hills but mainly flat, limestone with cacti and thorn trees. Rocky coast. |
| Visited: | January 23 to February 10, 2003 |
| Cruising Tracks: | Available at the bottom of this page (mostly Spanish Waters) |
History: Curacao was first visited by the Spanish, in 1499. They set up a colony on the island, and brought in orange trees. Unfortunately, the dry and infertile conditions on the island were not conducive to agriculture, and the orange trees did not produce edible fruit. However, they were later used in the production of Curacao Liqueur, which is still made and sold today.
The Spanish held Curacao for 135 years, until the Dutch captured it. It changed hands between the Dutch and the British several times, until, in 1815, it was made part of the Netherlands. During World War II, the US assumed responsibility for its defense, and that of the other Netherlands islands, for the duration of the war. After the war, Curacao had problems with racial strife and general unrest in the late 1960's.


Venezuelan boats at the "Floating Market"
Most of the current population of Curacao (about 85%) are of African descent, brought over as slaves to work the salt mines. The other parts of the genetic makeup of the island's people are Spanish, Dutch, British, and Venezuelan.
(Amanda age 13) Curacao seemed like it was a teen place. Or maybe it was just that we were traveling with so many boats with people our ages. While we were there, there were five other boats with kids that we knew of, though two of those didn't have kids our ages, and a family with teens living ashore. They weren't all there at once, but still... wow. There were afternoons spent outside Spanish Waters, swimming on the beach there, or ashore wandering around or watching movies at the theater. I was so happy, because of the strike in Venezuela we couldn't go to the movies and that was the time The Two Towers came out, and we got to see it in Curacao on the last day they were playing it.


Curacao's colorful waterfront 'floating' market
Willemstad was a big town, and the navigating was made harder by a large canal going through the middle in some places. On one of our first days there, we went to the slave museum, which I dragged my feet to but actually enjoyed - but only for the first half hour or so. All the kids there had to leave the adults, as they wanted to stay longer(!) There was also the "floating market" which wasn't actually floating, but the fruits and veggies being sold had been "floated" to Curacao from Venezuela. It was interesting to practice my Spanish (virtually non-existent as it is) again, though occasionally I caught myself saying "bon dia" which is good day or morning in Papiamentu. The Venezuelans probably got a lot of that, but as it was clear that I wasn't a local, I'm sure I got some weird looks.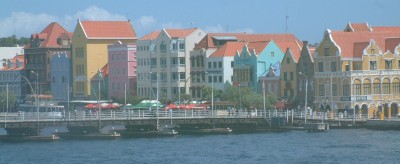 The floating bridge & colorful downtown shopping area
(Chris age 16) I rather enjoyed Curacao. It is brightly colored bustling in the city, and has nice beaches for swimming. The city also has an Internet cafe where we put out the previous version of this web site.
Two other things I liked about Curacao were the movie theater and the African- American museum. The museum was large, and explained in several languages besides English (which is not the primary language here). It covered times as far back as the evolution of modern humans through the development of African civilizations, their discovery and exploitation as slaves, and eventual freedom. It was quite though, very informative, and really interesting. I also liked the theater, which was very much like one in the US, and was where I got to see The Two Towers (finally!)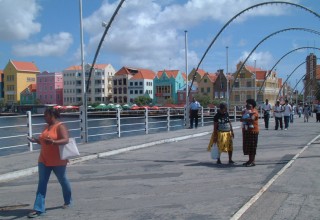 The 115-year-old floating bridge opens for ships
Beyond that, the only thing I really liked about Curacao was that there were lots of other boats with kids. Amanda and I always enjoy being around people our ages, though unfortunately most of the boys left after a while. Still, I enjoyed Curacao.
(Jon) We visited Curacao in 1987, but it didn't make much of an impression on me then. This time we had friends ashore, we explored the island with Bill & Mary, and we had a mission to sort Sue's back out.
My main impression of Willemstad was that it was quite multi-dimensional. The old parts of town were quite quaint, the touristy parts of town quite, well, touristy, and the new part stretched out forever and ever, with US fast food joints everywhere.
Having old friends here was wonderful. John & Casey still have their trimaran (a Norm Cross design, but otherwise similar to our old Oriental Lady) anchored in front of their house. We spent many pleasant hours together, and they let us borrow one of their 3 cars for sightseeing and to get Sue to her many medical appointments.


Willemstad's colorful floating market and downtown area, by evening light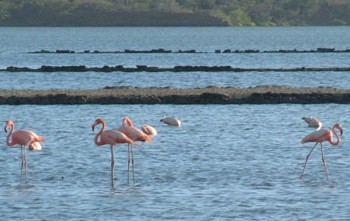 Wild flamingos at a Curacao preserve
(Sue) Curacao was a God-send for me with my back/hip/S-I joint problem. It was a great place for medical care both mainstream and alternative, all at very reasonable prices. I had a CAT scan done, saw a physical therapist and neurologist and found a wonderful chiropractor who got me sorted out enough that I could walk enough to enjoy an outing to the very Dutch town of Willemstad and a driving tour of the island. Actually, the God-send was that we met up with old cruising friends, John and Casey and their teen sons who now live ashore in Spanish Waters. We caught up on old times from the 80's Caribbean cruising scene, had lovely dinners together, and they very generously took me to medical appointments and loaned us their big station wagon. It was in Curacao that we had to say goodbye to our Dutch cruising friends on Tween, with their 3 great kids. But a family of friends arrived soon after to take our minds off the parting!
Cruisers: We are now publishing Downloadable Track Files in OpenCPN (.gpx) format and in MaxSea (.ptf) format (not all tracks are available in all formats yet - we're still working on it and they take time). You can download the track files either by clicking on the links in the tables below, or by clicking on the track in the Google Map below the table. The MaxSea files are in native format but the OpenCPN files are zipped so they download faster, and they need unzipping after they've been downloaded (which most operating systems do natively). If 2 files are shown, the smaller one has been edited to remove redundant points from straight tracks. This improves the speed of the download as well as performance once the file is loaded. Sometimes MaxSea Track files are separated from the Mark (chart notations) files. Download instructions are provided if you need them.
These files are provided free and we are actively soliciting cruisers to send us your track files so we can post them for others to download. If you would like to to participate, please email us your track files (as attachments to our HackingFamily account, not our Winlink acct) along with your boat name and draft. If you include your website and boat details, we'll link back to you from our Cruising Links page.
Disclaimer: While we always try to provide useful information, we can take no responsibility for its accuracy or usefulness. Prudent mariners will always navigate using all means at their disposal, and will not rely solely on electronic navigation.
Curacao Tracks
| | | | | | |
| --- | --- | --- | --- | --- | --- |
| Boat | Draft | Year | Comments | MaxSea | OpenCPN |
| Taniwani | 6.6' (2m) | 2005 | Spanish Waters | 3 KB | 4 KB |


See Taniwani's Curacao Tracks in a larger map.
Up | Bonaire | Curacao | Passage | San Blas | Portobelo | Chagres River | Canal Transit | Transit Cruising Info
Leeward Islands | Windward Islands | Venezuela | Southwest Caribbean | Panama Newsletters | SW Carib Flora/Fauna
Top Level: Home | Destinations | Cruising Info | Underwater | Boat Guests | Ocelot | Sue | Jon | Amanda | Chris | Site Map | Make a Comment
---
Lifetime
Commodores
of the
Seven Seas
Cruising
Association

If our information is useful,
you can help by making a donation
Copyright © 2000‑ Contact: Jon and Sue Hacking -- HackingFamily.com, svOcelot.com. All rights reserved.