Sapa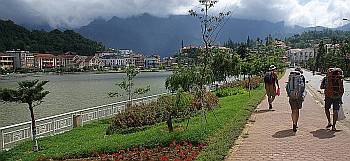 Walking into Sapa with friends from the bus
Dear Friends and Family,
The highlight of our 8 hour bus ride from Dien Bien Phu came in the late afternoon when we began a final climb to Ta Trang pass which leads into Sapa. The road snaked up and up the hills, the driver moving a bit faster than we liked. A plunge over the side would be certain death. Just near the summit a big truck had recently gone over the side and tumbled down the hillside, which certainly gave us pause.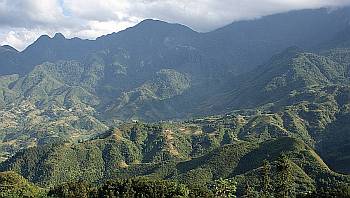 Fansifan massif from our hotel room - stunning view
Descending from the summit we could see the river valley dotted with villages, and the bright town of Sapa spreading out along a ridge, and covering many elevations. High above, the mountain of Fansifan rose into gray clouds. Instead of going to a station, the bus simply dropped us by the side of the road near a lake which didn't show on our guidebook maps. As we began walking towards a concentration of buildings we were met by groups of young Hmong women in colorful outfits. One, named Bao, joined us as we walked. Where are you from? What is your name? Her English was quite good, and we soon learned that she leads treks to her village and does home stays. Right then we were more interested in rooms for the night, something with a view. After all, why come to Sapa and stare out the window at another rooftop?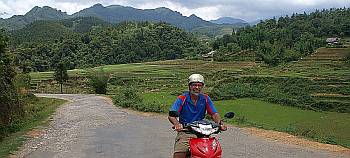 Riding through the highlands around Sapa
Bao helped us find several guest houses that we and our traveling companions from France and Chile had chosen, but none of them were appealing. Our last choice (as it was more expensive) was the Cat Cat Hotel, which Bao led us to, through the narrow staircase of the fresh market and out into the open, looking west. There area several Cat Cat hotels, of different vintages, but all under the same owners. The newest, Cat Cat View, was built up the hillside in at least 10 levels. The owner herself gave us a tour of the buildings and we bargained for a room at a reasonable price on the 4th floor that included breakfast and had an awesome view of the valley and Fansifan Mountain towering overhead. Breakfast was taken on an open‑air terrace on the 9th level, with flowering trees, butterflies galore and a panoramic view.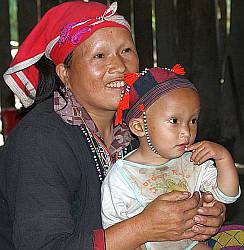 A Red Dao woman with her baby
Sapa is a trekkers' Mecca and reminiscent of the lower Himalayan town of Darjeeling (minus the Himalayas in the clouds). There are endless trekkers' shops selling walking poles, hiking boots, Gortex jackets, fleece vests, hats, and backpacks, all at very reasonable prices, as they were probably manufactured in China with bogus labels. Between the trekker shops were a gazillion restaurants to choose from, all with English menus outside.
That afternoon we walked the streets, reveling in the cool air and fresh pine scent and occasional incense. On open barbeques we saw skewered delicacies such as rat, birds, baby birds, and frogs.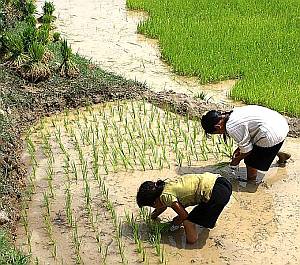 Replanting rice to spread it out
We were thinking about doing a trek, but first wanted to see something of the area, so the next day we rented a scooter ($5 for the day) across the street from Cat Cat and set out to the north to the village of Taphin. This is a Red Dao village, and all the women wear bright red scarves and red clothing they have woven themselves. There was virtually no traffic and we stopped where we wanted for photos or a picnic lunch. When we passed a group of women embroidering, we slowed to look, and they all put their needle work away and lured us into the village, down narrow footpaths between fields of corn, squash, beans, and new rice paddies. Sue joined them in a rather basic wooden house and admired their handicrafts, buying something nice from each of the 8 women. In the afternoon we scootered down a road above a lovely valley, taking lots of photos of the villages below and the peaks above.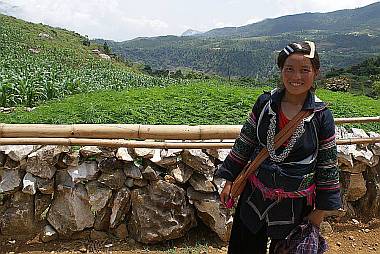 The hemp behind Bao is used for clothing, not smoking
The next morning we began a 2‑day trek with Bao. Five dollars bought a single modern trekking pole which Sue found very useful. Bao lead us up the city hill past the church and out the road towards Taphin. But soon we turned off up a footpath and found ourselves in a forest on a dirt path. We climbed past corn and hemp and great views out towards the north. They grow a lot of hemp here, but according to Bao they use it for textiles, not smoking! Bao was happy to chat about her way of life and her family. Like many Hmong, she is Catholic and she pointed out small churches in the villages we passed.
We had a trekkers' lunch in a tiny shop along the way: pho bo (noodle soup with beef) for Sue, apples and crackers for Jon, who's tummy was not feeling 100%. Interestingly, the family toilet was a ceramic squatty embedded in the floor of the basement, a place used to boil the slops for the pigs, and also the pigsty.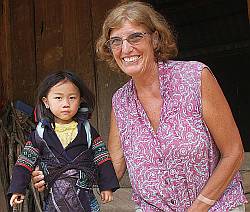 One of Bao's 2 daughters
We passed stands of bamboo with hundreds of golden butterflies cavorting in the leaves. Fansifan Mountain stayed under wraps, and Bao told us of the dangers in climbing it: rapidly changing weather and treacherous trails that are unmarked, plus the monsters. Monsters? Apparently there is said to be a creature with long hair and human‑like body which lives there and is considered dangerous. A yeti tale in the mountains of Vietnam?
After crossing over the summit of the ridge, we dropped through dry rice fields (the rains were late this year) and left the path to arrive at a modest wooden home surrounded by rice paddies. Bao's house had a new roof, but still had an earthen floor. We saw 3 rooms as we stepped over the high wooden lintel. There was a central living room with a formica topped table and low stools, a huge credenza/storage furnishing on one wall, with a TV in the middle, and locking doors for important stuff, including her weaving and the New Year's clothing. Off to the right was a room with a double bed with mossie net (Sue's for the night) then a wooden wall demarking the main bedroom with similar large bed off the floor. The kitchen was the whole width of the house to the left of the entryway, with a set of planks and shelves for baskets, cooking pots, grains, etc, and low work shelves. Bao sat on a low stool to cook over the open fire, which was in a pit in the floor topped with iron rungs to hold the pots or frying pans. Firewood was stacked in the corner. In winter the family lives in that space. We were trying to picture cold winter winds, with occasional snow filtering through the gaps.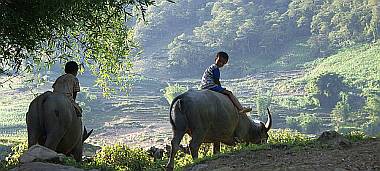 Village boys bring home the water buffaloes
Xai, Bao's husband, walked proudly into the front yard with a chicken. Dinner. He slit the throat and bled it. And while Bao and Sue walked Jon to the main path to find a scooter back to Sapa, the chicken was plucked and boiled. (Only Sue spent the night, as Jon was not feeling 100%.)
Sue enjoyed sitting in the kitchen on a low wooden stool, watching Bao's little girls play pick up sticks with colored pencils, then a version of jacks with rocks. Xai and 3 friends sat at the table and nibbled chicken and fried tofu, and drank endless small glasses of homemade rice wine. "Very strong," said Bao, who shook her head in disapproval. Apparently this was not an everyday occurrence, and not really Sue's favorite pastime: watching 5 men get roaring drunk.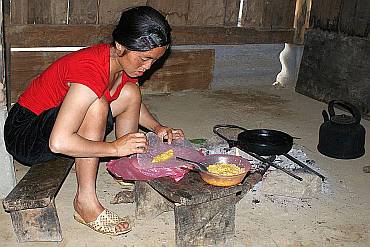 Bao making spring-rolls for breakfast - a nice treat
While Bao fixed the veggies and fried the tofu for the women, Sue asked where the toilet was. "Deep into the corn field," Bao said. Okay... Sue sauntered up the path, climbed a stone wall and hid deep in the cornfield. It was a magnificent bathroom.
The second day of trekking started with a fancy spring roll breakfast, which Bao's little girls thought was wonderful. Obviously a treat. Then Bao took Sue next door to where the neighborhood loom was stored, and where they boil up the vats of fresh indigo leaves to make their rich deep blue dye. We trekked downhill to the river valley, crossing the river to the far side, and meandering thorough other tribal villages, to return to Sapa by mid-day.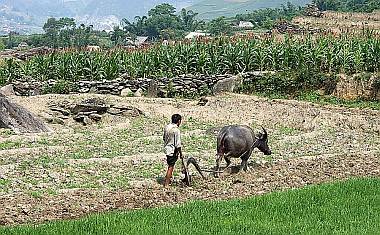 Fields are still plowed with water buffalo & wooden plows
We could have spent many more days in Sapa, but we were over budget at Cat Cat View and time was getting short. We caught an afternoon minibus in front of the tourist info center for Lao Cai, the gateway to China (to the north) and Hanoi (to the south). The story continues on our Meo Vac page.
Fair winds and calm seas -- Jon and Sue Hacking
Vietnam Letters: Up | Dien Bien Phu | Sapa | Meo Vac | Ninh Binh | Hanoi
Destination: Laos Letters | Vietnam Letters | India Letters | Nepal Letters | Indonesia Letters | Malaysia Letters | Thailand Letters | Sri Lanka Letters | Maldives Letters | Chagos Letters | Seychelles Letters | Madagascar Letters | Mayotte Letters | Africa Letters
Top Level: Home | Destinations | Cruising Info | Underwater | Boat Guests | Ocelot | Sue | Jon | Amanda | Chris | Site Map | Make a Comment
---
Lifetime
Commodores
of the
Seven Seas
Cruising
Association

If our information is useful,
you can help by making a donation
Copyright © 2000‑ Contact: Jon and Sue Hacking -- HackingFamily.com, svOcelot.com. All rights reserved.