Ninh Binh

Any flat surface was used to dry the rice harvest
Dear Friends and Family,
We had heard that the first bus to Hanoi left at 6am so we set the alarm for 5, ate some bananas and crept down the concrete staircase. Then we had the same trouble as we'd had in Dien Bien Phu – we were locked into the guest house! We knocked on doors near the family kitchen, spoke in loud voices and finally awakened someone so we could be let out.
We flagged down the first bus to Hanoi, a white 24‑seater, but it wasn't our preferred type as it was air‑conditioned, which meant the windows didn't open and it was stuffy, so no photography for the 6 hours to the capitol. Lunch was at a big roadside stop, and the menu on the wall was not for us, so we took the offered pho bo and augmented it with crackers and peanut butter.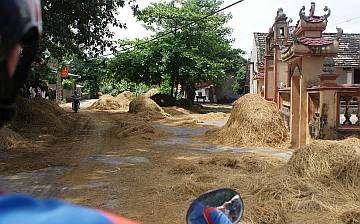 Threshed rice stalks were everywhere. Harvest time!
The huge bus station in Hanoi was chaotic and crowded, with busses jammed together and being shuffled from one locale to another. Luckily we were taken under wing by our assistant bus man who helped us find the next bus to Ninh Binh, and we got the first seats. Whew! We had worried we'd have to change stations to find a south‑bound bus, and that would have meant a cab ride in the big city, and more time lost.
We went south on a big freeway, from which we were very surprised to see numerous cathedrals spiking the sky line! Communist country? Catholic churches? The French seem to have left a big and lasting legacy.
A couple hours later we were driving down the main street of Ninh Binh, trying to figure out where the bus station would be, when we realized we'd passed city center and all the guest houses. We asked to be let off and walked back (yay for small day packs!) and found a nice place that put us on the 7th floor, with a great view of the limestone mountains to the west. For dinner we ate a Ninh Binh special, roasted goat, in the guest house restaurant, with vats of cobra wine (yes, the pickled snakes were in there!) staring at us in the cupboard.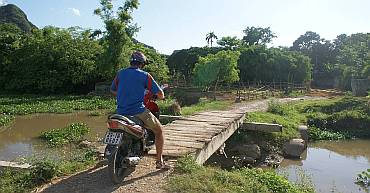 Exploring the countryside on our scooter was fun...
Breakfast was included, so we took our time, savoring the rich Vietnamese coffee, and studying the tourism guidebook. We figured we had at least 2 full days to spend in Ninh Binh, so it was a matter of figuring out what we wanted to do. The guest house had a great notebook of destinations and sights to be seen, all couched, of course, as day tours. But together with the maps we picked up from several guest houses, we were able to figure out how to get to the main attractions on our own. There were several guest houses that rented scooters, but most of the helmets were junk. As usual, the scooter we rented had no fuel, so the first stop was the petrol station a few blocks north on the main drag. A few dollars gave us enough fuel for the day.
Ninh Binh is famous for its scenery of karst mountains jutting out of green rice paddies and meandering streams. The best way to see it is in a boat, and there are 2 main places to do so: Tam Coc and the newer Trang An Grottoes.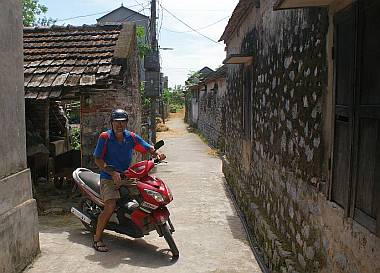 Getting lost in a small village, looking for a bird sanctuary
Trang An was a few miles outside of Ninh Binh, and it was fun to scooter through the rice paddies on small country roads. At the park entrance we were blasted by traditional music on loudspeakers but were happy to leave the noise behind when we boarded a small 4‑person sampan which held us and a young Vietnamese couple who were visiting Ninh Binh for the first time. A boatman sat behind us and rowed or poled us along the waterways.
The trip took 2 hours through waterways among rice paddies, old cemeteries, and through several hongs (caves, and yes, the same word as in Thailand). We stopped at 3 different temples set in the jungle. Strangely, the temples were honoring various ancient heroes, rather than deities. It was very relaxed and peaceful. Beautiful.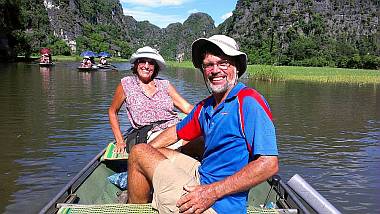 Floating through rice paddies under karst mountains
Since we had the scooter for the day, we went joy riding through the rice paddies and the vertical jutting karst hills. We ended up at the ancient (900's) capital of Vietnam, Hoa Lu, which was built behind these incredible karst mountains as protection from the invaders from China. Not much remains, though they have resurrected some of the administrative buildings and there are a few relics on display.
That night we ate at an upscale brewery and had a stein of their wonderful locally brewed beer with our beef meal.
The next day we hoped to get to a bird sanctuary outside town, but we got royally lost on the small country roads and ended up in the middle of a tiny farming village with the rice crop spread out all over the village paths. When we finally found the Bird Sanctuary, we strolled the marked paths through the forest by the lake for a long time, seeing no birds, but hearing a few. If the lagoon/lake was a sanctuary, then the birds hadn't been told. We later learned that there were no birds except in the winter (no one had bothered to point this out in the city!) but we did see another nice limestone cave with interesting stalactites, and we got a nice walk. The entrance fee had been exorbitantly high given that there was so little to see.
At famous Tam Coc we were shuffled into 4‑person sampans along with hundreds of other travelers (a group of 250 from Uruguay!) Most of the boat people here were women and they often rowed with their feet (presumably so they could face forward) which was fun to watch. Tam Coc is a long narrow waterway, with a parade of sampans moving along its entire length. There are about 7 caves to go through. We passed picturesque rice paddies, soaring karst mountains, flocks of white ducks, and a shy lone grebe.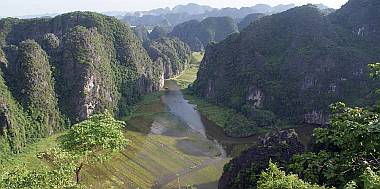 Tam Coc waterway from the top of the hills above it
Our last stop was Mua Cave, a place we had been told was only a so-so cave, but had a great view from the cliffs above. A long staircase bordered by a dragon lead us upwards to the hilltop where a statue of Quan An, the Goddess of Mercy greeted us. We had a fantastic view down to the Tam Coc waterways and east to the city of Ninh Binh.
Unfortunately, our scooter failed to start when we (finally) got back down the hundreds of steps. But the attendants phoned our guesthouse and they soon came out and rescued us, got the scooter started, and escorted us back to town. All Hacking road‑trips have to have some sort of mechanical breakdown along the way - it adds to the flavor of the trip...
Our final destination in Vietnam was Hanoi (now often spelled Ha Noi).
Fair winds and calm seas -- Jon and Sue Hacking
Vietnam Letters: Up | Dien Bien Phu | Sapa | Meo Vac | Ninh Binh | Hanoi
Destination: Laos Letters | Vietnam Letters | India Letters | Nepal Letters | Indonesia Letters | Malaysia Letters | Thailand Letters | Sri Lanka Letters | Maldives Letters | Chagos Letters | Seychelles Letters | Madagascar Letters | Mayotte Letters | Africa Letters
Top Level: Home | Destinations | Cruising Info | Underwater | Boat Guests | Ocelot | Sue | Jon | Amanda | Chris | Site Map | Make a Comment
---
Lifetime
Commodores
of the
Seven Seas
Cruising
Association

If our information is useful,
you can help by making a donation
Copyright © 2000‑ Contact: Jon and Sue Hacking -- HackingFamily.com, svOcelot.com. All rights reserved.