Meo Vac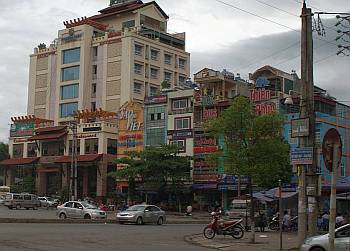 Downtown Lao Cai, near the train station
Dear Friends and Family,
After Sapa, we decided to see a bit of the very off‑the‑beaten‑track corner of northern Vietnam. Having heard about the road to Meo Vac from a website about motorbiking in SE Asia, we thought it sounded just like our kind of mountain scenery. We had hoped to rent a motorbike ourselves and self‑drive, but we knew we'd be lucky to pull it off in these non‑touristy places.
In Lao Cai we stayed at The Nest, a simple guest house that faced the square and the train station. All the other foreign travelers in town were leaving on the night train to Hanoi but we weren't part of that crowd, so we walked town a bit and bought our tickets for the morning bus ride. We had hoped for good seats either in front or by windows, but the men insisted that those seats were for mothers with children or pregnant women.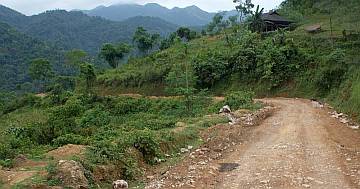 Part of the road to Ha Giang was dirt, but it improved
Our bus from Lao Cai to Ha Giang left at 7am, and we got there at 6am. We didn't get the best seats, but Jon did manage to snag the very front, and Sue got a widow seat where she was squished in with barely knee room, but at least she could see forward. We passed many tropical villages with thatch-roofed homes, and hit a long stretch of unpaved road that followed a river. It was muddy and narrow, but near Ha Giang we were back on good road.
Ha Giang is a provincial capital, and it is here that travelers are supposed to get permits to allow them to traverse the northern‑most roads of Vietnam, past Meo Vac and to the east. We arrived at noon and the bus dropped us on the street across from a big, almost empty bus station parking lot. There were many big sleeper buses all lined up ready to go to Hanoi, but we saw nothing for Meo Vac. In fact, the ticket sales people (who spoke no English) indicated that Meo Vac was not a destination from their bus station.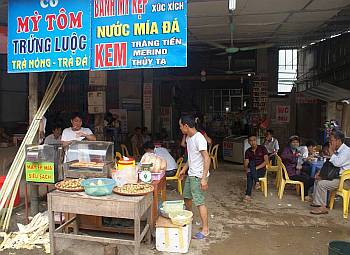 A typical roadside bus lunch stand
Hmm... There had to be a bus to Meo Vac from somewhere! We wandered a bit, looking for a guest house and restaurant where we could sleep and get a meal and maybe get some information but we found nothing. Obviously we were in the wrong end of town, and from the ride in, we figured it to be a pretty spread out place. On the street where we'd been let off, a red 24‑seater bus pulled up and its sign board read Meo Vac! So we asked, gestured, and finally figured out that that very bus was due to leave for Meo Vac in 30 minutes. We were hustled on board, and given the last seats, Jon in the center aisle, but forward, and Sue on an aisle seat on the left. It wasn't what we'd hoped for on a purely scenic ride, but at least it was going where we wanted to go. It wasn't until we were well underway that we realized we'd not gotten permits to go to Meo Vac. No one seemed concerned (we were definitely the only foreigners on the bus) and we decided to play dumb if we were challenged. All they could do is send us back to Ha Giang. We hoped.
It was an overcast day, but we could still appreciate the ever wilder and higher country through which we passed. The area was lush green with corn and rice fields under spiky karst mountains that rose from the fields, or formed a spine along the horizon. The road got narrower, and steeper, with endless switchbacks. The one lane road was not a problem as there was virtually no traffic other than an occasional motorbike or a pedestrian. And the Vietnamese love their truck and car horns almost as much as the Indians, so there was always notice of an approaching vehicle. The scenery was fabulous, just what we'd hoped for.
| | |
| --- | --- |
| The road up to Meo Vac, driving deep into the mountains | Anyone can open a small petrol station |
The 5-hour bus ride brought us into Meo Vac at dusk and the bus dropped us outside a skinny, new-looking guesthouse which looked just fine to us. We got a nice room with bath, tea and tea water, a clean, hard bed and no windows. Not bad for $9.
We found dinner (pho bo) at an open shed 2 doors down, where the food was cooked in the corner, and big tables were moved around on the concrete floor as needed. Everything was smiles and gestures. Not a word of English.
| | |
| --- | --- |
| Our viewpoint above Meo Vac - lots of steps up | The view down onto pretty Meo Vac, nestled in its valley |
After a day of rain and overcast we were thrilled to awake to a sky with splotches of blue. We set out to find breakfast which was an interesting exercise in ethnic adventure. The only place we found that was open had no menu, and definitely didn't seem to sell breakfast. But the family was welcoming, and with gestures and a few chosen words of Vietnamese (poorly pronounced, no doubt) we managed to ask if they could fix us a baguette with egg and some coffee. What arrived was a baguette with a fried egg on top and nice cups of rich Vietnamese coffee. Yum!
| | |
| --- | --- |
| The hills around Meo Vac were picturesque | Sue waiting for the bus back down the hill to civilization |
Meo Vac lies in a river valley, surrounded by high hills, and the town is not very big. After breakfast we walked out of town to a viewpoint. It was a lot of steps up, but the view was excellent! Groups of soldiers/police were on the road, stopping any motorcycle traffic that tried to go that way. We decided that the pass system was in affect from Meo Vac onward to the east. The officials weren't interested in us in the least.
We asked about the bus to Ha Giang, and learned it was to leave after lunch, at 1pm. So we packed up, then sat in the town square awaiting the bus. We were offered plastic chairs by the fried banana vendor who surprised us by also offering a power outlet so we could use the computer.
| | |
| --- | --- |
| The scenery back down was even more stunning | This stream suddenly disappeared underground |
We did get primo seats, Sue on the left to be able to see a new direction from the bus, and Jon to the front. All was well until we started circling the town, about 3 times, picking up new passengers and cargo. Soon we had a typically over‑full bus. The woman next to Sue looked green already in anticipation of the windy road and asked (gestured) for the window seat. Luckily a young boy, about 9, was alone in the window seat behind her, and with quick thinking Sue was able to arrange for the boy to sit by her and the sick woman to get a window seat behind them. As more people got on, it was necessary for the boy to sit on Sue's lap which was fun as he spoke excellent English and obviously played computer games, which was apparent from his exclamations and vocabulary. He was on Sue's lap for 4 of the 5 hours down out of the mountains.
| | |
| --- | --- |
| Even the lower elevations had a rugged beauty | The lowlands had more agriculture, with more rice than corn |
The sky never really cleared, but at least it stayed bright enough for picture taking. We arrived in Ha Giang at dusk, and this time kept an eye out for a guest house as we neared the bus stop. Only 8 blocks back into town we found a not real clean room for not much money, but it was the best looking place around. Dinner was in an open fronted room/restaurant, but there was a TV playing an X‑Men movie, and the patrons wanted to share rice wine with us and drink toasts with their 5 words of English. Except for the child‑sized chairs, it was not a bad way to spend a couple hours in Ha Giang. Our story continues on our Ninh Binh pages.
Fair winds and calm seas -- Jon and Sue Hacking
Vietnam Letters: Up | Dien Bien Phu | Sapa | Meo Vac | Ninh Binh | Hanoi
Destination: Laos Letters | Vietnam Letters | India Letters | Nepal Letters | Indonesia Letters | Malaysia Letters | Thailand Letters | Sri Lanka Letters | Maldives Letters | Chagos Letters | Seychelles Letters | Madagascar Letters | Mayotte Letters | Africa Letters
Top Level: Home | Destinations | Cruising Info | Underwater | Boat Guests | Ocelot | Sue | Jon | Amanda | Chris | Site Map | Make a Comment
---
Lifetime
Commodores
of the
Seven Seas
Cruising
Association

If our information is useful,
you can help by making a donation
Copyright © 2000‑ Contact: Jon and Sue Hacking -- HackingFamily.com, svOcelot.com. All rights reserved.