Hanoi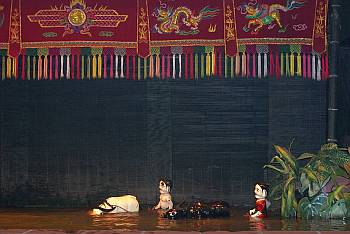 Water puppet show - puppeteers are behind screen
Dear Friends and Family,
After checking out of our Ninh Binh guesthouse, we waited on the main street for a Hanoi bus, and soon were zooming along the freeway towards the capital of Vietnam. A taxi ride took us from the bus station into the seething warren of Old Town, and we found a nice guest house, Epecene, near the lake and the St. Francis Cathedral, which made good landmarks in this crowded area of narrow alleys.
Near the lake we saw a sign for the Water Puppet Theater, and popped in. What luck! There was a show at 5pm so we bought tickets and then continued to walk around the lake for an hour.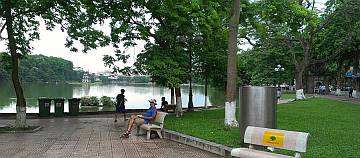 Jon relaxing in the park around Ho Hoan Kiem lake
The Ho Hoan Kiem lake is a central feature in the old town, and it was reminiscent of Green Lake in Seattle, with elegant planting and draping trees, wide walkways and benches, and folks walking, jogging, relaxing, or practicing Tai Chi all along it. We had walked almost the whole way round when the heavens opened and we had to duck under some awnings with our umbrellas to keep from getting drenched. Luckily, the puppet theater was not heavily air conditioned or we'd have been wet and cold.
The show was elaborate and colorful with live musicians and singers on each side of the pool that was the stage. We could see the shadows of the puppeteers behind a black mesh curtain, but mainly our attention was on the brightly colored puppets that bobbed and splashed about in the water. The puppets were enacting stories of rural life in ancient Vietnam complete with water buffalo, birds, farmers, forces of good and evil, and just everyday maids and men. After the show, the puppeteers waded out and bowed, and when they collected the puppets we got to see the big wading boots they wore and the sticks they used to control the puppets. Really a unique art form.
| | |
| --- | --- |
| Epecene Guesthouse, in Old Town | Typical Old Town back street - Vietnamese LOVE their scooters |
Our last day in Vietnam was spend leisurely wandering the narrow streets of the Old Town and the French Quarter, with the small shops, bustling markets, and vendors with shoulder baskets or on bicycles loaded with goods. We had nice meals wherever we stopped, and a great photography day. Vietnamese coffee, with its rich, almost mocha‑like flavor, could be bought at any number of coffee shops which were popular meeting places for the local people. There was WiFi, so lots of laptops on the tables next to steaming cups of java and cell phones in hand as people chatted while socializing. Hanoi is a vibrant city, with lots of character, very friendly people, and absolutely crazy (organized chaos?) traffic.
| | |
| --- | --- |
| Traffic is pretty chaotic, with drivers making their own rules | Colorful fruit stall: Mangosteen, Rambutan, Dragon... |
As to be expected, prices in the city were a bit higher than elsewhere. Our very modest room with a/c, private bath and double bed up a narrow flight of stairs was over $20/night. And dinner, as yummy as it was, came in at over $25 with 2 large Ha Noi beers. We didn't hit any of the museums but there's always Next Time. We felt like we'd just scratched the surface, and we look forward to coming back to explore some more.
Fair winds and calm seas -- Jon and Sue Hacking
Vietnam Letters: Up | Dien Bien Phu | Sapa | Meo Vac | Ninh Binh | Hanoi
Destination: Laos Letters | Vietnam Letters | India Letters | Nepal Letters | Indonesia Letters | Malaysia Letters | Thailand Letters | Sri Lanka Letters | Maldives Letters | Chagos Letters | Seychelles Letters | Madagascar Letters | Mayotte Letters | Africa Letters
Top Level: Home | Destinations | Cruising Info | Underwater | Boat Guests | Ocelot | Sue | Jon | Amanda | Chris | Site Map | Make a Comment
---
Lifetime
Commodores
of the
Seven Seas
Cruising
Association

If our information is useful,
you can help by making a donation
Copyright © 2000‑ Contact: Jon and Sue Hacking -- HackingFamily.com, svOcelot.com. All rights reserved.