Coral Reef
The Tropical Coral Reef Environment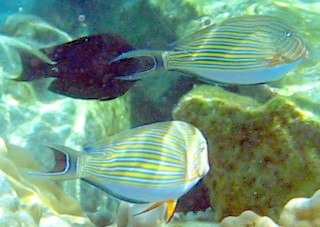 Blue striped surgeon fish blend into
the shallow reef environment
The word "coral" comes from the Greek "korallion" which referred to the precious red coral of the Mediterranean Sea. The group of animals known as corals belong to the Coelenterata -- which includes not only the commonly recognized hard corals, but also such things as jelly fish and sea anemones. These organisms have life-phases as medusas (when they are free-floating or swimming) and as polyps (when they are attached). Each polyp has a central mouth surrounded by a ring of tentacles which contain stinging cells, like poison darts, used for defense and to stun prey. Hard corals have some form of hard skeleton made of calcium carbonate or a horn made of tough fibrous proteins. Most corals are colonial, but some are solitary for their whole lives.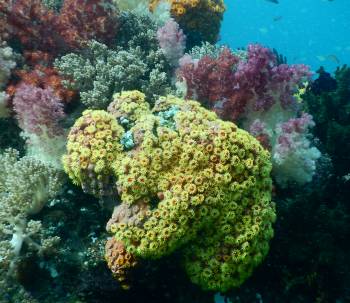 Soft corals are often very colorful
Corals are classified into two major types: reef-building (hard) and non-reef-building (soft). Reef-building corals have a symbiotic relationship with one-celled algae that live in the coral tissue. The coral uses byproducts of photo-synthesis from the algae to create the extra calcium carbonate which forms the reef. These corals are not brightly colored, tending toward yellow-brown, but they often have interesting patterns. The living polyps form a thin veneer on top of thousands of generations of dead coral. While the descriptively named "brain coral" is easily recognized as a hard coral (and is a reef-builder), there are many corals which appear to be more plant than animal such as sea fans, soft corals, and the colorful lace corals, most of which are not reef-building, and have no algal symbiosis. The majority of the world's coral reefs need warm, clear, relatively quiet water for optimal growth and are located mainly between 20 degrees North and 20 degrees South latitudes. Soft corals, such as sea fans, are found alongside the hard, reef-building corals, and thrive in areas of strong currents.
Other reef creatures include sponges (yes, they are animals!), sea slugs, sea anemones, marine worms, sea cucumbers, sea squirts, and starfish. Besides these creatures, and corals and fish, you'll find mollusks (sea shells), cephalopods (octopus and squids), plus lobsters and shrimps, and jellyfish all inhabiting the coral reefs in the tropical oceans. Each one has a role to play in the health of the coral reef environment.