Sri Lanka Flora/Fauna
Caribbean Destinations | Pacific Destinations | Indian Ocean Destinations | Pacific Newsletters | Indian Ocean Newsletters | Flora and Fauna
This section features the plants and animals of Sri Lanka including Sri Lanka tea,
macaque monkeys, Asian elephants, leopards, jackals, boars, Sambar deer and crocodiles.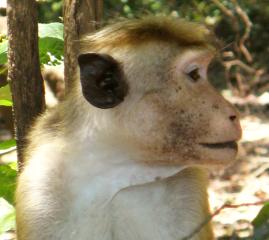 A Red Faced Macaque, Yala NP
Sri Lanka is a teardrop shaped island off the SE coast of India, and is geographically part of the vast region known as the Indian Sub-continent. While its extremes in climate and terrain are not nearly so immense as those of the whole sub-continent (which includes deserts, coastal marshes and the highest reaches of the Himalayas) Sri Lanka does have several distinct eco-regions. We traveled throughout the country's verdant hills and along the western southeastern coasts which are dotted with marshes and small inland lakes. The country has over 90 species of mammal (including elephant, leopard, bear and monkeys), hundreds of butterflies, over 80 snake species (including deadly cobras and vipers), and about 435 species of birds.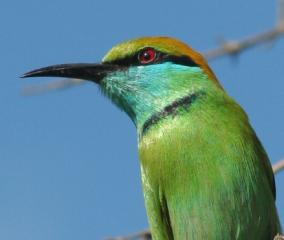 The colorful Green Bee-Eater
Sri Lanka has the distinction of having the world's oldest recorded wildlife preserve. More than 2000 years ago, in the 3rd century BC, a region in north central Sri Lanka was set aside by royal decree to be free of all hunting. Today, more than 8% of the land is preserved as national park or nature preserve. If you want to visit Sri Lanka it's best to get information on the state of the civil war there. We visited despite a US State Department Travel Advisory and had to troubles. But it's potluck. Colombo is the capitol and the main gateway into the interior. As sailors, we arrived in the port of Galle, on the SW coast. The town of Kandi (and other hill towns) are great for bird watching, and Yala National Park on the SE coast is a superb area for wildlife. You can learn more on our Sri Lanka Home and Sri Lanka Interior Newsletter pages.
Check out our pages on the birds of Sri Lanka and another of the other animals of Sri Lanka.
FLORA OF SRI LANKA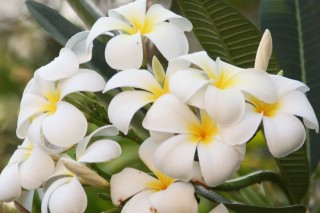 Fragrant frangipani, not a native, but common
Tropical rainforest covers much of the southwestern part of the island, where teak and ebony grow. Orchids abound in the lush forest. The hills in central Sri Lanka have the perfect climate for tea cultivation and whole hillsides are dedicated to growing this compact, dark-leafed camellia for its fragrant leaves. It is in the cool hills that most of the commercial vegetables such as peppers, carrots, cabbage, tomatoes, cucumbers and lettuce are grown. The coasts are more arid, with low scrub and grasslands, and it's here you'll see tall coconut palms lining the roads. Outside of the city, most homes have their own stands of papaya and mango trees, banana plants, breadfruit and jackfruit trees. Many of the ornamental plants that adorn temples and homes are not native to the Indian Sub-continent but are so familiar now that their origins seem unimportant. Indeed lantana, with its clusters of red and orange blossoms on a prickly shrub, is a native of the Americas but now grows in almost impenetrable thickets in parts of Sri Lanka. The fragrant frangipani, originally from the West Indies, with its white/yellow or pink flowers, is a common tree found outside homes and temples throughout the country.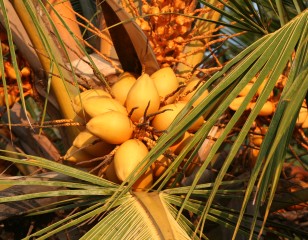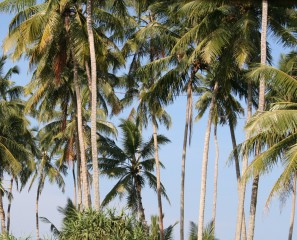 There is a saying that there are as many uses for coconuts Cocos nucifera as there are days in a year. These salt-tolerant trees may have originated in the South Pacific or the Americas, but are now ubiquitous on tropical coasts around the world. The trees grow to over 30m (100 feet) tall, and live for up to 100 years. In their most productive years (aged about 12 to 40) they can produce more than 60 nuts per year. Juice tapped from before and during the flowering period is collected for the fermenting of palm wine, and distilled to make arrack, a powerful coconut palm liquor. To access the small nodules that are sliced to allow the juice to run, men known as Toddy Tappers climb the trees, then use ropes strung from one treetop to the next to go from tree to tree (see right). Green coconuts provide a refreshing and safe drink year round, and the meat of the dried nuts can be eaten alone or in baking or cooking, such as curries. Commercially dried coconut, known as copra, is a prime ingredient in cosmetics and margarine. Rope is made from the husks and furniture from the wood.
| | | |
| --- | --- | --- |
| | The cultivation of tea Camellia sinensis has been a staple of the Sri Lankan economy for over 100 years. Sir Thomas Lipton and other British entrepreneurs brought tea plants from England (and probably China) and laborers from southern India to create a profitable agro-business that continues to this day. Tea grows on a small compact tree that reaches 3-4m, and has dark pointed, slightly toothed leaves and small yellow-white flowers like miniature ornamental camellias. The plants are pruned to convenient heights for picking, and it is the tips and top-most leaves that are hand plucked. One worker typically picks about 20kg per day. It takes about 20kg of shoots and leaves to produce 4kg of dried tea. In Sri Lanka there are numerous factories where the leaves are dried, rolled (crushed), fermented, sorted by grade and packaged for the world market. Green tea is a product of the same plant but the leaves are not fermented. Sri Lankan tea (also known as Ceylon tea) is famous around the world. | |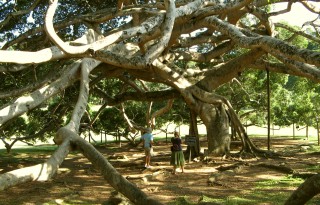 A Java fig, the ultimate shade & climbing tree.
For plant lovers, one of the most wonderful places to visit is the extensive and beautifully kept Peradeniya Botanic Gardens just outside Kandy. Originally a royal garden, the 60 hectares were maintained by the British and remain an international draw today. Some of the highlights are the avenue of cannonball trees (originally from Brazil), and the avenue of huge coco de mer palms (from the Seychelles). Introduced in the 1800's and growing for over 100 years is a Java Fig Ficus Benjamina that spreads over an area of 2,500 square meters. The well-laid out gardens and paths are resplendent with tropical plants from the around the world, including orchids and flowering trees. The gardens are home to a colony of fruit bats and many birds. Sri Lanka's largest river, the Mahaweli, forms a border of the park with its wild, meandering gorge. The Botanic Garden is also a great place for people-watching, as the Sri Lankans stroll the grounds and groups of uniformed school children take tours or go for picnics. In 1980 while visiting, Jon and I saw a man walking his pet on a leash around the gardens -- not a dog, but a large, hairy tarantula!
Up | Sri Lanka Birds | Sri Lanka Animals | Sri Lanka Home | Sri Lanka Newsletters | Sri Lanka Cruising Info
West Indies Flora/Fauna | Venezuela Flora/Fauna | SW Caribbean Flora/Fauna | Galapagos Flora/Fauna | Fr. Polynesia Flora/Fauna | Tonga & Fiji Flora/Fauna | Australia Flora/Fauna | Southeast Asia Flora/Fauna | Sri Lanka Flora/Fauna | Madagascar Flora/Fauna | Marine Mammals
Caribbean Destinations | Pacific Destinations | Indian Ocean Destinations | Pacific Newsletters | Indian Ocean Newsletters | Flora and Fauna
Top Level: Home | Destinations | Cruising Info | Underwater | Boat Guests | Ocelot | Sue | Jon | Amanda | Chris | Site Map | Make a Comment
---
Lifetime
Commodores
of the
Seven Seas
Cruising
Association

If our information is useful,
you can help by making a donation
Copyright © 2000‑ Contact: Jon and Sue Hacking -- HackingFamily.com, svOcelot.com. All rights reserved.