Heading East
1 November 2010, Labuan Marina, Malaysian Borneo
Dear Friends and Family,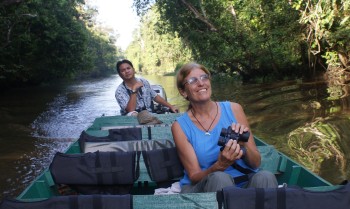 Sue & guide on the Kinabatangan river safari
Our last newsy-letter was as we approached Miri. We've actually been having some fun since then. We came up the north coast of Borneo with our Australian friends Suzette and Sandy. But they ran out of time (only 2 weeks) so we left Ocelot in the Miri Marina (about half way up the coast) and flew to Kota Kinabalu at the north tip of Borneo for a night and then SE to Sandakan, where we took a powerboat 90 km (55 miles) up the Kinabatangan River to a rather swank but fun eco-lodge arranged by Suzette. We took river trips 2‑3 times a day to see Proboscis Monkeys with their huge noses, lots of other monkeys, wild orangutans, crocodiles and LOTS of birds, especially colorful kingfishers and huge horn bills. Meals were out on the Eco-lodge's deck, overlooking the river. Our room was more luxurious than we're used to, especially for the jungle.
After Suzette and Sandy left us we continued sailing NE up the coast, stopping into Brunei briefly to pick up some cheap fuel. The Sultanate of Brunei sort of splits Malaysian Borneo in 2. Nothing much there except fuel - drilling rigs and etc are all over just offshore, making a bit of a hazard to navigation at night. Both diesel and gasoline were US$0.20/liter or about $0.75/gal. So we took on 350 liters (95 gal) of diesel and 80 liters (22 gal) of dinghy fuel, all for only just over $100 when you add in the $20 taxi van. Should last us a while...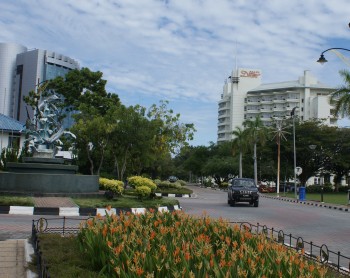 An elegant street in Victoria, Labuan, Borneo
We're currently on duty free Labuan Island, 20 miles off Brunei on this northern (Malaysian) coast of Borneo (Google Earth: 5°16.35'N 115°14.95'E). It was here that we met our dear friends on Vamp, who've sailed some 4,000 miles(!) up from Brisbane to meet us. Our first few days were a bit dodgy as this marina is not well constructed - like Malacca, the breakwater is just a series of pilings placed close together. This knocks down the waves but doesn't really stop the swells. We had a couple of good squalls (35+ knots) and found that the marina was coming apart! Several of the docks did not have pilings on their ends, so they were just cantilevered from the main dock, and the 1" (25mm) stainless steel bolts holding things together were popping under the pressure of the boats tied to the docks. We were pretty protected (our dock had a piling at the end so was not dependent on bolts) but Vamp spent a couple of nights on the other side of the bay, on anchor. Safer and more comfortable that way
We've spent several days exploring Labuan Island. The Japanese surrendered to the Australians here, and we visited the big memorial and cemetery, filled mostly with unknown Australian soldiers. We found the botanical garden but still have to explore it more thoroughly.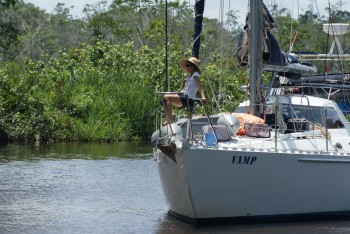 Rachel on the bow of Vamp on the Klias River
Jon also found a dentist to deal with his teeth, 3 of which had started falling apart in the US. Our dear US dentist, warned that we had no insurance, recommended that we have the work done here. So Jon's had 3 new crowns installed, at a total cost of about $600. Such a deal. The dentist here, recommended by the first 4 folks we asked, is very Muslim but after talking to her about why we're out here (educating our children and promoting peace by trying to understand the different cultures) she feels we're "good people". I guess you want your dentist to approve of you...
A few days ago we decided to take both boats up the Klias River, just across the bay to the north. If you bring up Google Earth, you can check it out yourself at 5°20'N 115°24'E. A bit hairy for Vamp (who draws 2m) getting over the bar but with us in front they knew they'd be warned of any problems. Then we spent the next 5 days slowly wandering 25 miles up the river to where some power-lines and a bridge prevented us from going further, and then back down again. The river is all about 30' (10m) deep and winds around a lot, so every twist and turn presented new possibilities. Again, we saw lots of Proboscis Monkeys, Silver Langurs, and other monkeys. One night was punctuated by lots of screaming and crashing of trees. Presumably some monkey troops were having a bit of a party. We only saw 1 crocodile, but that was enough. We saw several raptors, some with fish in their talons, but no hornbills. The river was surprisingly bug-free and was wide enough that we could anchor anywhere. Each morning and afternoon we took our dinghy up several side streams, exploring places we couldn't take Ocelot.
Since Labuan Island is nominally duty free we're having several boat bits flown in: low-power LED lights from China, an AIS transceiver from Seattle, a new feathering propeller from New Zealand to replace the one the whale bent, and a new Profurl roller gear bottom bearing unit. As soon as they arrive we'll be making our way back down Borneo towards Singapore.
Fair Winds and Calm Seas -- Jon and Sue Hacking
Malaysia Letters: Up | Leaving Borneo | Kinabatangan River | Top of Borneo | South China Sea | Malaysian Interior | On the S China Sea | Brunei to Kuching | Mt. Kinabalu | Heading East | Singapore to Borneo | Malaysia Arrival | Weh Island | Perfect Day | Bountiful Sea | Half Weh | Crossing the Indian | Return to SE Asia | Straits of Malacca
Related Pages: Malaysia Home | Malay Newsletters | SE Asia Flora/Fauna | Cruising Malaysia
Indian Ocean: Laos Letters | Vietnam Letters | India Letters | Nepal Letters | Indonesia Letters | Malaysia Letters | Thailand Letters | Sri Lanka Letters | Maldives Letters | Chagos Letters | Seychelles Letters | Madagascar Letters | Mayotte Letters | Africa Letters
Top Level: Home | Destinations | Cruising Info | Underwater | Boat Guests | Ocelot | Sue | Jon | Amanda | Chris | Site Map | Make a Comment
---
Lifetime
Commodores
of the
Seven Seas
Cruising
Association

If our information is useful,
you can help by making a donation
Copyright © 2000‑ Contact: Jon and Sue Hacking -- HackingFamily.com, svOcelot.com. All rights reserved.